It's all the craze right now. Sell everything you have and hit the road. Buy an RV and travel the country. But is RV living all it's cracked up to be?
YouTube influencers make it look like it's all canyon views and beach access. Make money creating videos and do what you want with your family.
But maybe this just isn't how reality is. We'll take a closer look into this lifestyle and see if it's the right move for you and your family.
Let's dive in!
RV Living Isn't All It's Cracked Up to Be, Here Are 5 Reasons to Avoid It
Although Keep Your Daydream and Less Junk More Journey may have embraced this RV lifestyle for many years, it doesn't mean it's the right lifestyle for you.
There are challenges and stressors that you don't encounter when living in a sticks-and-bricks house. Let's look at five reasons to avoid RV living.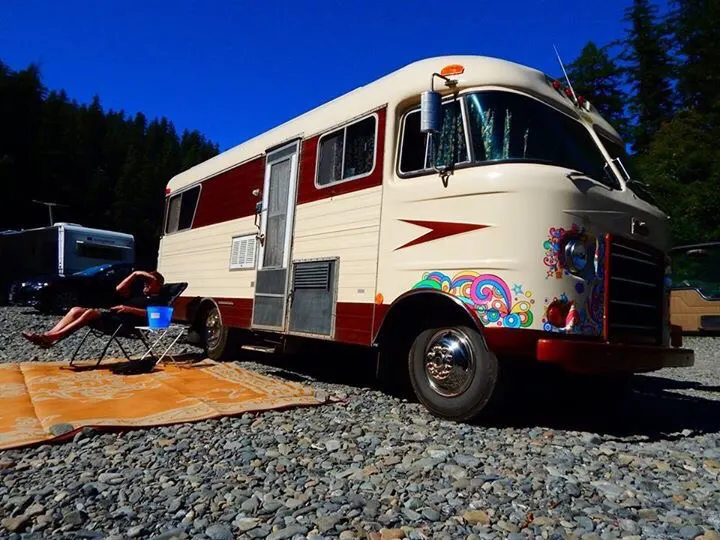 1. Seriously Cramped RV Living Space
The average home size in America has been increasing since the early 1900s. But each state is different. For example, in Alabama, the average home size is 1,800 square feet. In Colorado, the average home size is over 2,100 square feet.
However, compare that to 300 square feet of living space in a travel trailer. Even in a 45-ft Class A motorhome, the living space isn't going to be much more.
The idea of traveling around the country, visiting the National Parks, and exploring other cities sounds like a wonderful dream. But it can quickly turn into a nightmare if you aren't prepared for cramped living quarters. Especially if you have children, the tiny space combined with no privacy can equal disaster.
2. Difficult to Stay Comfortable in Extreme Temperatures
Even though you have this idea that you'll follow 70 degrees all over the country, there will be evenings and early mornings that dip below freezing. Remember, in Arizona, the desert might be 85 degrees during the day, but when the sun goes down, the temperature quickly drops.
But it's not just the cold you have to consider. Hot temperatures require air conditioning units to run often. Many travel trailers only have one air conditioning unit. This will not be enough to cool the entire living space when it's over 90 degrees in Florida.
Plus when an air conditioning unit doesn't function properly or goes out completely, it can be very uncomfortable and ruin your experience no matter what the view.
It can be difficult to live comfortably in extreme temperatures unless you spend a lot of money upgrading your RV. You might have to add an air conditioning unit or add tank heaters. There are options out there, but it will cost you.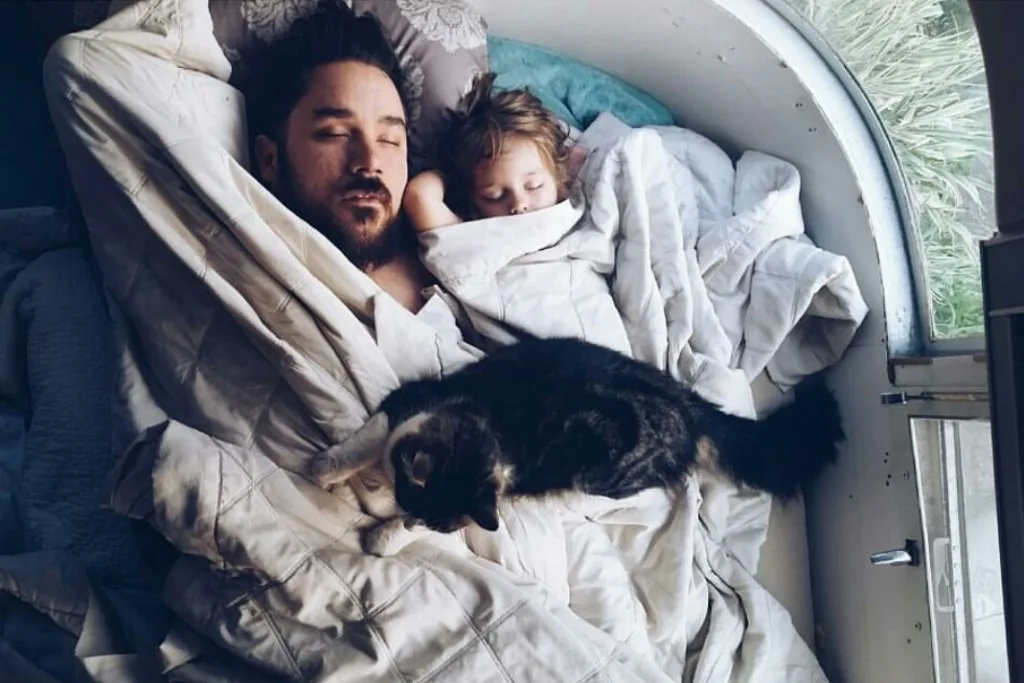 3. The More You Travel, The More Things Break
Any full-time RV traveler will tell you the more you travel, the more things break. You simply can't avoid broken parts when you're living in your RV. And when you have a travel itinerary, you don't have time to mess with repairs. Big repairs can derail a trip in an instant. Small repairs can create frustration and anger.
If you blow a tire traveling down I-40, you might be able to change it out and move on with your travel day. However, you might have to call a tow truck and stay overnight for several days until repairs can be made depending on the amount of damage.
When living in an RV with children, more things break. Handles fall off, drawers get stuck, pocket doors become unhinged. RVs are cheaply made even though they aren't cheap.
You aren't getting residential finishes in most RVs because those types of luxuries are heavier and make it more difficult to travel. It can be a weekly or even daily occurrence to deal with repairs.
4. Maintenance Is Expensive and Unpredictable
Along with the previous statement, maintenance is expensive. That tire blowout may just cost you a tire and a spare. Or it may cost you an entire rebuilding of the underbelly. No one plans for a tire blowout either. These types of challenges are unpredictable, which can add to the stress of an already stressful travel day.
Other maintenance items like repairing a roof or replacing a slide-out are also expensive and unpredictable. You happen to hit a tree branch backing into a campsite and puncture a hole in the roof.
One day the slide-out just stops working when you try to bring it in. If you don't have the tools or know-how to make the repairs yourself, it will be expensive and it will delay your travel.
Pro Tip: We spoke to an RV mechanic, these are the RV systems he says will break first
5. It Can Be Really Isolating
If you don't find a community on the road, RV living can be isolating and lonely. You're out on your own traveling the country and experiencing wonderful things, but when you come back to your campsite, you're alone. You can feel really far from family and friends.
Your kids can become homesick, too, and make RV living that much more undesirable. Families, couples, and individuals are all doing their own thing, so it can be hard to make friends and sustain those friendships.
Upsides to RV Living
Having said that, there are some amazing perks to RV living. There are reasons why it's all the craze and people are choosing this lifestyle.
It Can Be Cheaper Than a House
Although this greatly depends on your personal lifestyle, RV living can be cheaper than living in a house. Especially if your house is in a metropolis where rent or mortgage is very expensive, a monthly RV bill could be a welcome reduction in your living expenses. You aren't paying for utilities or city services either.
Stuff becomes less important (not to mention you have no place to put it) so you aren't spending money on more things to collect dust.
If you manage your budget well, RV living can be cheaper.
You Can Wake Up to a New View Whenever You Want
If you get tired of looking out over the Gulf of Mexico in Galveston, Texas, pack up and head north to Hot Springs, Arkansas. If you decide you've spent enough time touring Denver, Colorado, pack up and head south to Albuquerque, New Mexico.
The destinations are endless! Not many RVers will say they become bored with their travel lifestyle. And when they do, they choose to settle down somewhere.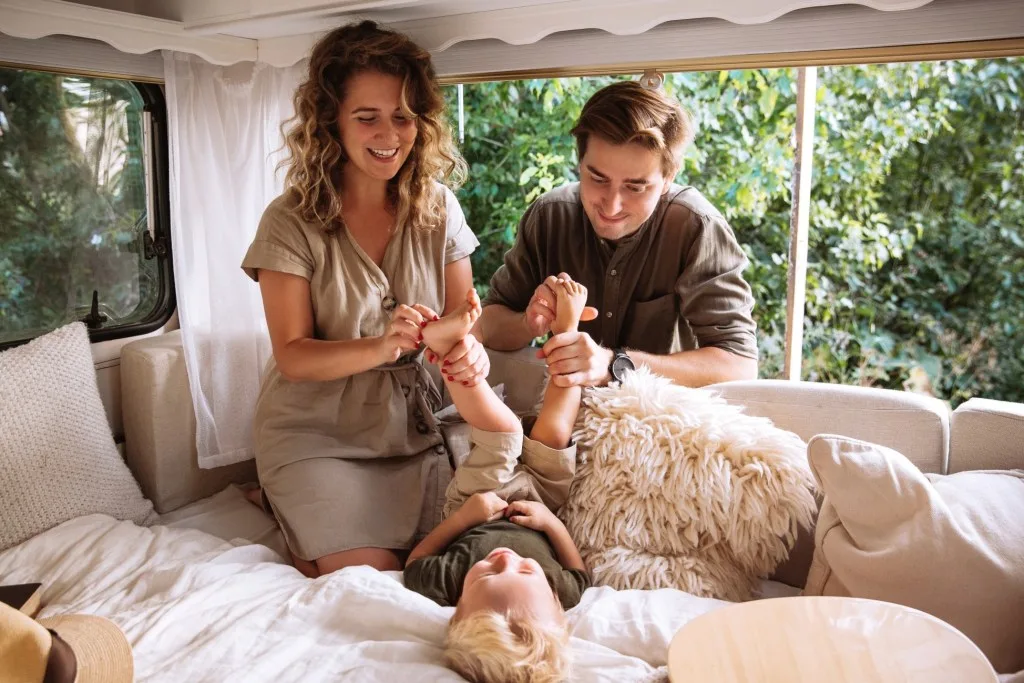 You're Forced Into Minimalism
When you live in an RV, you learn what's important. Material things don't take precedence. Experiences and memories become top priorities. So when you move into an RV, you can't take all of your stuff. You're forced into minimalism. Donate, sell, trash your 27 t-shirts.
In an RV, you might have room for five. And your kids' toys become less important. Instead of having a room full of toys they don't play with, they have two or three toys in their room and then have all of creation as their playground.
Minimalism can be a welcome change for many people or extremely difficult and burdensome for others.
Pro Tip: If RV life isn't what you were expecting, you aren't alone! Read about this readers RV Nightmare: Why Isn't My RV Life As Rewarding As I Expected?
RV Living Isn't For Everyone
So even though everyone is rushing out to buy an RV, don't join the fad unless you've considered the pros and cons. RV living might be for you and your family. On the other hand, weekend camping and occasional week-long trips may fit your lifestyle better.
Making the change from sticks-and-bricks living to RV living is stressful and hard. Don't jump into it without careful thinking and planning.
So now that we've discussed the good, bad, and the ugly, what does your future look like? Will you be jumping ship, selling everything, and heading across the country?
Or will you enjoy the security and lifestyle you currently have?
Discover the Best Free Camping Across the USA
To be honest with you, we hate paying for camping. There are so many free campsites in America (with complete privacy).
You should give it a try!
As a matter of fact, these free campsites are yours. Every time you pay federal taxes, you're contributing to these lands.
Become a FREE CAMPING INSIDER and join the 100,000 campers who love to score the best site!
We'll send you the 50 Best Free Campsites in the USA (one per state). Access the list by submitting your email below: