Film fanatics should head to Colorado to visit these movie locations in Denver.
You might consider seeing some of these spots if you love flicks and mountains. You'll enjoy great views while checking out real-life sets from your favorite films.
Today we'll go over the best areas for movie lovers to visit in Denver.
Let's hit the road!
Is Denver a Good Place to Visit Movie Locations?
Tourists flock to this Colorado city to enjoy the outdoors. Popular activities include hiking, biking, and even skiing. But did you know you can also visit filming locations throughout the city? The mountainous backdrops make this picturesque town the perfect set for the big screen.
From classics like Butch Cassidy and the Sundance Kid to newer comedies like Blades of Glory, numerous movies shot footage here. The city also appears on TV shows like Dynasty and Mark & Mindy. The cartoon Southpark has also illustrated several locations around Colorado, including the Denver airport.
When Is the Best Time to Visit Movie Locations in Denver?
Many tourists visit Colorado during the summer to spend time in the sun. Denver tends to be less crowded in the spring and fall but still has great weather and plenty of activities to enjoy. Consider coming during the shoulder seasons to avoid the masses.
In April and May, low temperatures may dip into the 30s, but things heat up to around 70 degrees during the day. We love to stroll through parks and gardens during this kind of weather. You can see wildflowers and birds all over at this time of year.
Visiting in September and October will have similar weather to the spring. You can do some leaf-peeping as the colors begin to change. This is also the best time of year for hiking and mountain biking.
If you're coming to Denver to scout your favorite movie locations, make the most of your trip by pairing it with your favorite seasonal activities.
Pro Tip: Lace up your hiking boots and head to these 11 Best Trails for Hiking in Colorado.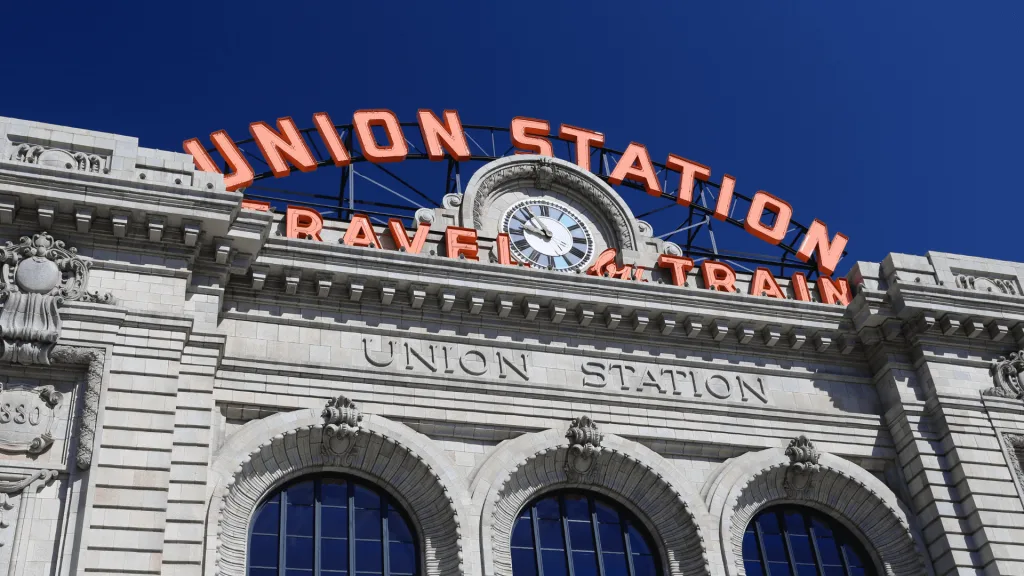 #1 Civic Center Park
The state capital and the Denver Art Museum surround this 12-acre area in the heart of the city. The park was founded over 100 years ago and is the city's only National Historic Landmark.
During the spring and summer, the park's gardens bloom with colorful flowers. Numerous events occur in Civic Center Park throughout the summer, including concerts and festivals.
You'll see the Civic Center on the big screen in Clint Eastwood's 1993 film In the Line of Fire. The action film about one of JFK's secret service agents features a big rally in this Denver park.
#2 Denver Union Station
Union Station first opened for business in 1881, making it nearly 150 years old. Its striking architecture has earned it a nickname, The Crown Jewel of Denver. The building sustained serious damage in a fire a few years later, but residents reconstructed it in 1914.
Today the station has an open-air platform to catch a ride on Amtrack or the airport shuttle. The large outdoor area also hosts the Union Station Farmers Market every Saturday from May to October.
Before your visit, get a glimpse at this historic landmark in the 1995 thriller Things to do in Denver When You're Dead. It features famous actors, including Steve Buscemi, Andy Garcia, and Christopher Walken.
#3 Colfax Avenue
Colfax Avenue has been called many things through the years. Originally named Golden Road by settlers heading west, it became known as Grand Avenue before residents renamed it Colfax Avenue.
You can take a stroll along the eastern portion of the street near downtown to visit many local attractions. Coffee shops, restaurants, and music venues line the road. The state's capital even sits on this well-known thoroughfare.
Many movies used this location in Denver, including About Schmidt. Jack Nicholson drives his RV down Colfax Avenue in the 2002 film. The 1970s films Every Which Way But Loose and Vanishing Point also use this picturesque street as a set.
Pro Tip: Snow bunnies will love These Are the Best Colorado Ski Resorts.
#4 Brown Palace Hotel and Spa
This hotel in downtown Denver, built in 1982, has nearly 250 rooms. It has six restaurants and bars, as well as a luxury spa. The real marvel of this spot is its unique architecture.
Brown hired prominent architect Frank E. Edbrooke to design his iconic hotel. They built it using terracotta, making it the second fireproof building in the U.S. It cost over $2 million to build this hotel, quite the sum of money in the 1800s.
You can catch the Brown Palace Hotel and Spa on Netflix in Our Souls at Night. Based on a book of the same name, the movie features Jane Fonda and Robert Redford, whose characters reunite in Colorado.
#5 Denver Botanic Gardens
Plant enthusiasts won't want to miss a chance to visit the Denver Botanic Gardens. You'll find areas displaying local flora as well as internationally-inspired plant installations.
The staff at the Botanic Gardens hosts various educational events throughout the year. You can learn about xeriscaping or take a guided tour of the exhibitions. Sometimes they even offer yoga and meditation. Check their online calendar before you go to see your options.
The Diane Keaton and Woody Allen film Sleeper features a sweeping shot of the Denver Botanic Garden. The 1973 science fiction comedy tells the story of a man who awakens 200 years after entering a cryogenic freeze.
Explore Your Favorite Movie Locations in Denver
Before your next trip to Colorado, you probably have some films to watch. Then, you'll be able to recognize all of these movie locations in Denver.
These unique spots around the city will be novel because they appear on the big screen but also warrant a visit for their historical value. No matter which former film sets you choose to explore, we know you'll have a blast!
Discover the Best Free Camping Across the USA
To be honest with you, we hate paying for camping. There are so many free campsites in America (with complete privacy).
You should give it a try!
As a matter of fact, these free campsites are yours. Every time you pay federal taxes, you're contributing to these lands.
Become a FREE CAMPING INSIDER and join the 100,000 campers who love to score the best site!
We'll send you the 50 Best Free Campsites in the USA (one per state). Access the list by submitting your email below: