Downtown Durango has no shortage of things to do. It may be a small town, but that doesn't mean it's sleepy.
This southern Colorado village packs a lot of history into a small footprint. If you're searching for the top things to see in town, look no further.
We've researched the best things to do in this mountain town so you don't miss a beat.
Let's get into it!
Visiting Downtown Durango, Colorado
This charming town is nestled in the San Juan National Forest of southern Colorado. It sits in the mountains at 6,500 feet above sea level. The Denver & Rio Grande Railroad founded Durango in 1880 to serve as a railroad depot. Today, you can still ride the scenic line connecting Silverton and Durango.
During the Iron Horse Bicycle Classic each May, cyclists race the train over the summit that connects the two small towns. In addition to bikers, endurance runners flock to the area for its infamous Hardrock 100, a 100-mile trail run. But don't worry, there's plenty to enjoy even if you don't want to ride your bike over mountain summits or spend 24 hours on your feet.
There's no shortage of hiking in and around Durango. It's also a popular destination for fly fishing because of its well-stocked streams. Durango even has a bustling downtown area with plenty of things to do if you want to spend your day in the city center.
Pro Tip: Spend the night at one of these 7 Best RV Parks in Durango, Colorado.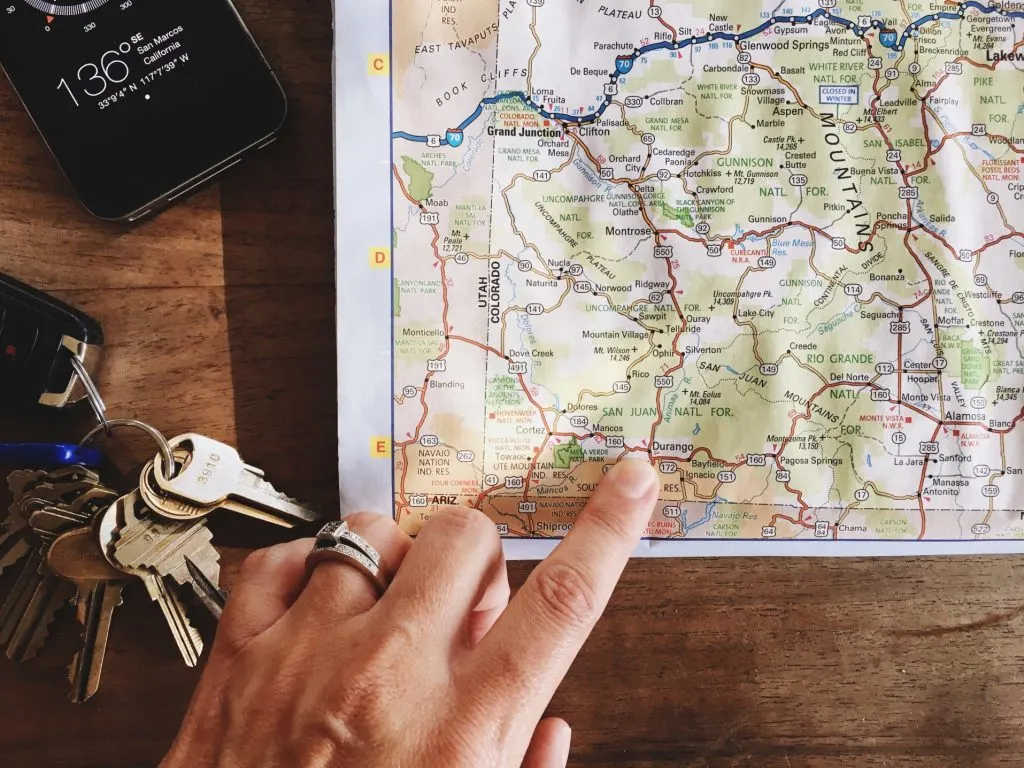 #1 Powerhouse Science Center
If you love to learn while traveling, you'll definitely want to stop by the Powerhouse Science Center. This hands-on experience sits on the shore of the Animas River in a historic coal-operated power plant. In addition to heading into the building to see the exhibits, you'll want to budget extra time to hang out on their riverfront plaza.
Recently, the Powerhouse featured a display about the evolution of guitars and another called The Science of Bikes. Before you go, you'll want to check their website to find out which exhibits to expect and double-check their hours.
On the first and third Sunday of each month, you can visit the Powerhouse for pub-style trivia on the patio. They have all sorts of drinks and food available. If you visit Durango during one of these trivia events, you should check it out.
#2 Durango and Silverton Narrow Gauge Railroad Museum
You don't want to miss your chance to visit one of America's most iconic railways. Built over 140 years ago, the railroad winds through the panoramic landscape of the San Juan Mountains.
It stays open year-round, meaning you can ride this historic train no matter when you plan your trip to Durango. From May to October, you can take the railroad over the pass to the nearby mining town of Silverton. During winter, it'll take you on a tour of Cascade Canyon.
You can also visit the D&S Roundhouse Museum for free in the downtown Durango depot to explore Colorado's mining and transportation history.
#3 Animas River Trail
The Animas River flows through downtown Durango. You'll find a nine-mile trail connecting parks and open spaces along its shores. But you don't have to do the whole route to enjoy the experience. It stretches from Oxbow Park and Preserve to River Road. The popular biking and jogging path may be the best way to see the city.
You can access the trail from several spots, leading to fun locations like the Powerhouse or the public library. Riverfront launches allow you to explore by kayak or tube during summer.
#4 Fish Hatchery and Wildlife Museum
Another spot along the Animas River Trail is the Durango Fish Hatchery and Wildlife Museum. The 120-year-old hatchery strives to keep the area's rivers well-stocked with native fish like cutthroat trout and kokanee salmon. Several miles of streams in this region have been deemed Gold Metal Waters, meaning they've been well stocked.
While at the hatchery, you'll want to check out the free museum too. It has over 50 species of fish to observe, as well as taxidermied wildlife like bobcats and bears. The whole family will find something to enjoy here. You can even get up close and personal with hands-on experiences like feeding the minnows.
#5 History of Durango Self-Guided Walking Tour
Take a walk through downtown Durango while seeing bits of history from the wild west. For a detailed guide, visit downtowndurango.org and print out all the information.
It starts at Rio Grande Land near the rail station and meanders towards Main Street. On nearly every block, you'll see buildings from the 1880s, including the Wetter Building. You can take a guided tour of spots like the historic Strater Hotel.
You'll see a lot of stone and brick buildings throughout the town. A devastating fire in 1889 destroyed seven blocks, so residents rebuilt downtown with less-flammable materials. Many of these 19th-century structures remain standing today.
#6 Durango Community Recreation Center
Those who enjoy hitting the gym will want to check out this next stop. The recreation center can be found just north of downtown Durango. The massive facility takes up nearly 72,000 square feet of space.
You can go lap swimming and bring your kids to play in the splash pad or go down the waterslide. If you plan ahead, you may even be able to join in on some of the classes offered, like yoga or Zumba. Visitors can also drop in to play sports like pickleball and basketball.
This facility has a full gym as well. Whether you're looking to lift some weights or spend time on the elliptical to burn off all those vacation calories you've been consuming, the Durango Community Recreation Center has covered you.
#7 Animas History Museum
You'll find the Animas History Museum about half a mile north of the recreation center. The building, constructed in 1904 as a school, still serves as a place to learn today. This charming local history museum doesn't open Sundays and sometimes closes Mondays, too, so be sure to check their website for museum hours during your trip.
During your visit, you'll see several exhibits, including a historic classroom. The museum also features a World War I display and a gallery of works by Indigenous peoples. Check their website for upcoming events, as the staff hosts a number of seminars on special historic topics throughout the year.
Pro Tip: We think you'll love doing these 9 Best Things To Do in Durango, Colorado.
Downtown Durango Has It All!
When we think of Colorado, we usually think of hiking and biking through mountainous landscapes and countless miles of trails. However, many towns in the state have bustling city centers full of rich history and engaging cultural attractions.
Downtown Durango is one of these places. It features a long list of places you'll probably want to explore. And don't worry, it's surrounded by the stunning wilderness we're all looking for on a Colorado adventure, so there's plenty of outdoor recreation to enjoy once you've taken in the sites.
Get out there and hit the town!
Discover the Best Free Camping Across the USA
To be honest with you, we hate paying for camping. There are so many free campsites in America (with complete privacy).
You should give it a try!
As a matter of fact, these free campsites are yours. Every time you pay federal taxes, you're contributing to these lands.
Become a FREE CAMPING INSIDER and join the 100,000 campers who love to score the best site!
We'll send you the 50 Best Free Campsites in the USA (one per state). Access the list by submitting your email below: