The annual Telluride Jazz Festival is one of the most unique events in this mountain town. World-class musicians take the stage over three days to perform for lively crowds.
But Colorado is no New Orleans. Is a jazz festival in the high mountains really that good?
Today, we're exploring this event to give you all the answers.
Let's get jazzy!
About the Telluride Jazz Festival
Music lovers head to southern Colorado every August to enjoy epic live performances. Since 1977, legendary artists such as Etta James, Muddy Waters, and Dizzy Gillespie have graced the stage. The 2023 lineup includes headliners like St. Paul & the Broken Bones, Gregory Porter, and Tower of Power.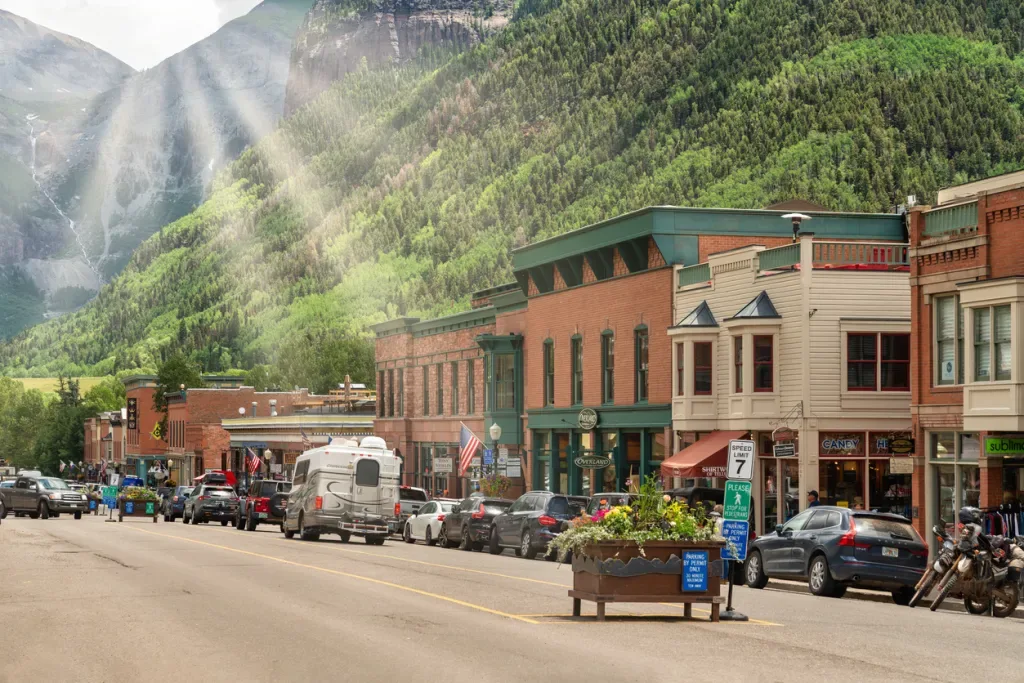 But it's much more than your average music festival. You can take a free yoga class every morning or go on a guided walking tour of historic spots around town. You'll find activities for kids and others for the whole family, like a New Orleans Second Line Parade.
Numerous food vendors serve tasty treats so you won't go hungry. Daily wine tastings let you sip selections from local vineyards. And if you purchase a VIP ticket, you'll have access to specialty cocktails from the festival's featured mixologist.
Know Before You Go: Visit the Telluride Jazz Festival website for all the musical details and to purchase tickets.
Where Is the Telluride Jazz Festival?
Idyllic Telluride, Colorado, is the ultimate mountain town. This tiny village in the southeastern portion of the state sits below 13,000-foot peaks that form the heart of ski country.
Much of downtown has a National Historic Landmark designation. You'll see perfectly preserved architecture houses, boutique shops, and gourmet restaurants as you stroll along the streets.
While winter brings in skiers and snowboarders, you'll find great things to do here year-round. When there's no powder on the ground, you can hike the town's countless trails, fly-fishing, or take in the sights on a free gondola ride. Depending on when you visit, you might be able to check out a yoga or film festival.
In contrast to some of the more pretentious resort towns, Telluride prides itself on being laid back and welcoming.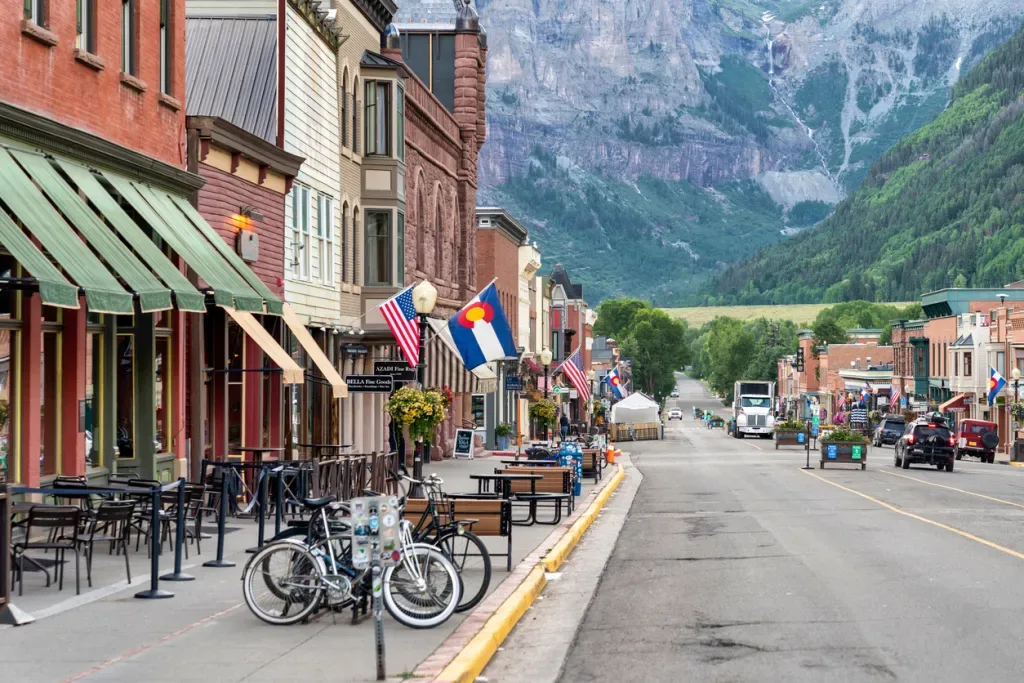 What Should You Bring to the Telluride Jazz Festival?
Like many events, the Telluride Jazz Festival regulates what you can bring onto the grounds and what you'll have to leave at home.
They suggest bringing lawn chairs, blankets, and tarps for sitting. You can even bring a pop-up tent to escape the sun. You'll just need to set it up in Shade Alley toward the back of the grounds.
Unlike many other events, they allow you to bring a cooler with unopened drinks and snacks. However, you won't be able to bring in alcohol. You'll have to buy that at the festival.
Other prohibited items include professional camera equipment, glass, weapons, and frisbees. Shelled nuts are strictly off-limits, and your four-legged friends will have to chill back home or at the hotel.
Festival organizers provide essentials like drinking water, bathroom facilities, and a medical tent.
Other Fun Things To Do Near the Telluride Jazz Festival
After you enjoy the Telluride Jazz Festival, you'll want to participate in some of the other excitement around town. Here are a few of the best things to do in the high country.
Ride the Gondola
The gondola from Telluride to Mountain Village offers unbeatable views of the surrounding landscape. There's one stop midway at Station St. Sophia, where you can grab a drink or access hiking trails and ski runs. If you hop off at Mountain Village, you'll find many shops and restaurants.
In keeping with the town's environmental focus, wind and solar power keep the gondola running. It'll transport as many as 900 people every hour in the busy season. This free mode of transportation runs in winter and summer, with a break between seasons for maintenance.
Go on a 4×4 Tour
Telluride was once a mining town, and today the rugged access roads are still open for business. Whether you have a four-wheel-drive vehicle or rent one, you can go off-road in the winding hills.
Many experts lead tours of the most intimidating passes, so you can get an adrenaline rush alongside someone who knows what they're doing. If you're new to off-roading, this is the best way to get your heart pumping!
Visit Bridal Veil Falls
Telluride is home to the tallest free-flowing waterfall in Colorado, Bridal Veil Falls. You can hike, bike, or take a four-wheel-drive vehicle to the falls. In winter, it's popular among ice climbers. A new trail leads to the base of the falls, but it's not recommended for beginners, as it's rocky and uneven.
There's a privately owned power plant at the top of Bridal Veil. This facility supplies about a quarter of the town's power supply, and the building is on the National Register of Historic Places.
Best Places to Stay Near the Telluride Jazz Festival
As a resort town, there's no shortage of excellent accommodations for the Telluride Jazz Festival. Book early so your top picks don't fill up before you make a reservation.
Telluride Town Park Campground
The most convenient place to stay for the Telluride Jazz Festival is right on the grounds. It's a communal campground without designated spots, so you can set up your tent wherever you like. Just note that on the weekend of the festival, you'll need a pass for the event and the campgrounds to stay there.
Very few RV spots are available, and they tend to fill up quickly. However, the tent camping experience is worth it. You're bound to make friends with your neighbors, making the long weekend even more enjoyable.
Dunton Town House
If you want a little more space from the excitement, Dunton Town House is the perfect place to unwind. This historic bed and breakfast is a nod to its Austrian heritage.
This inn has five rooms with communal spaces to relax after a full day at the festival. In addition, you'll wake up to a home-cooked breakfast each morning. When you're ready to head back out, you'll be steps away from downtown and the beloved gondola.
New Sheridan Hotel
For even more amenities, you can book a room at the New Sheridan Hotel. This historic accommodation features a highly-rated restaurant and bar on-site.
You'll also have access to the rooftop hot tub available to all guests. Plus, the New Sheridan is right on Main Street, so the best of downtown is just out your front door.
Is a Road Trip to the Telluride Jazz Festival Worth It?
The Telluride Jazz Festival is a fantastic event for music lovers! You'll enjoy live performances by world-renowned artists. And after the festivities, you'll have plenty to explore around town.
We suggest adding Telluride to your bucket list even if you can't attend the event. This historic town offers something for everyone.
Discover the Best Free Camping Across the USA
To be honest with you, we hate paying for camping. There are so many free campsites in America (with complete privacy).
You should give it a try!
As a matter of fact, these free campsites are yours. Every time you pay federal taxes, you're contributing to these lands.
Become a FREE CAMPING INSIDER and join the 100,000 campers who love to score the best site!
We'll send you the 50 Best Free Campsites in the USA (one per state). Access the list by submitting your email below: