Seattle is an iconic city that's popular among tourists, but we can think of plenty of reasons to avoid it this summer.
Luckily, the Emerald City isn't the only prime location to visit in the area. You can find many exciting destinations nearby.
Today we'll talk about some of the frustrations that come along with this destination and several great alternatives to explore instead.
Let's drive!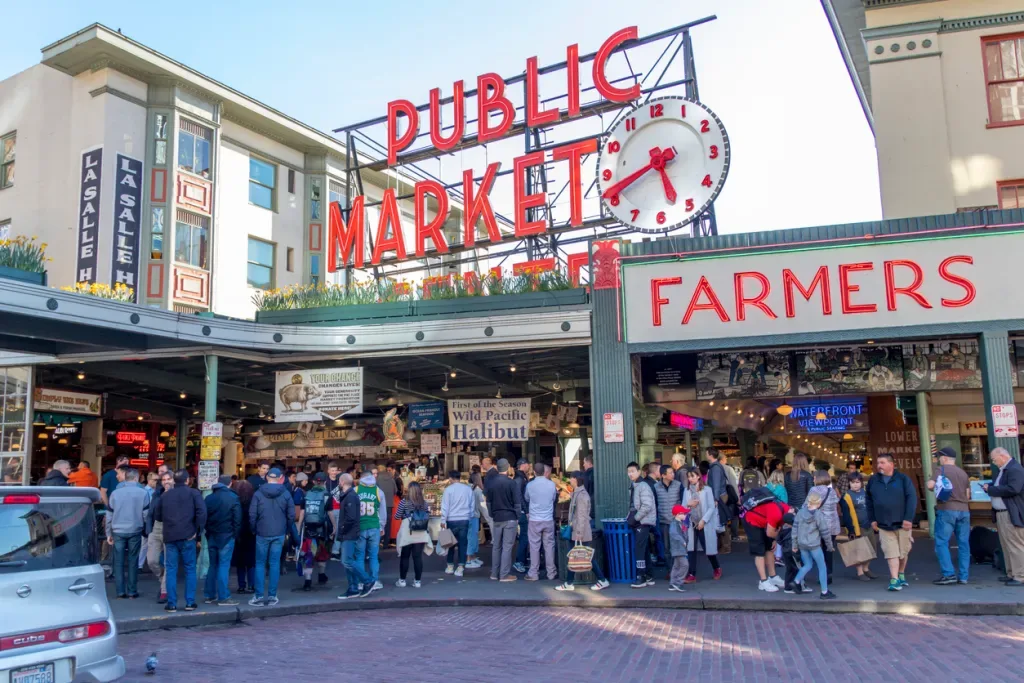 About Seattle
Seattle is a beautiful coastal city with a rich cultural history. It offers diverse neighborhoods to fit anyone's taste. And it's also in one of the most beautiful parts of the country.
The grunge scene may have peaked in the 90s, but this is still a major hub for music, art, and culture. You can enjoy plenty of indoor museums or, weather permitting, amazing gardens that take advantage of the temperate climate.
Seattle is surrounded by water, and locals love to kayak or paddle around. You can also find whale-watching tours or hike for a slow-paced look at the scenery.
Maybe it's the dreary weather or the hustle from all the tech companies, but Seattle has some of the best morning brews in the nation. Coffee tourism is a big deal here. And they have some excellent destinations for foodies.
But despite all that, we have to warn you to avoid Seattle in the middle of the summer.
Why You Should Avoid Seattle This Summer
Seattle has some of the best summers in the country. With warm weather that never gets grueling and plenty of clouds to keep the sun at bay, it's truly dreamy. Unfortunately, it's going to be a fight to enjoy it.
#1 The Traffic
Residents of Seattle spend too many precious hours of their lives stuck in traffic. The Interstate 5 crawl is one of the worst in the country, making it virtually impossible to stick to your schedule. Tourists only make it worse in the summer.
Even in the slowest times, the Emerald City routinely makes top ten lists of the worst traffic in the country. All the more reason to avoid Seattle this summer.
#2 The Crowds
Even after you leave the car, you'll still have to fight traffic. Summer is one of the worst times to visit Seattle if you want to avoid the crowds. And with those crowds come higher prices for hotels, plane tickets, and more.
If you want the best chance at trying your choice of restaurant or visiting the attractions with some shoulder room, try going during the rainier seasons. Just remember to pack your umbrella.
#3 Affordable RV Accommodations Are Hard to Find
While this is true of any city, it's especially relevant in Seattle. This metropolis doesn't have as much space for RV parks, and limited spots mean more competition to get a reservation, as well as a pricier stay.
On top of that, you'll have trouble finding a quiet spot in the city. If you want to enjoy a peaceful evening after a long day, you're better off looking outside the downtown area.
If you decide to go anyway: 5 Unique Tourist Spots in Seattle.
Bellingham, Washington, Is a Great Alternative to Seattle
While you may want to avoid Seattle in the summer, you don't have to stray too far to find a better alternative. Bellingham is still right on the coast and only about an hour and a half north of the big city.
You'll also get even more options for outdoor adventure here without missing out on the great food and excellent coffee. The Interurban Trail is a former railway with fantastic mountain views of the ocean. You can take a kayak on nearby rivers or enjoy a day on the water at Lake Whatcom.
And you can still find some big city highlights, like breweries, museums, and unique shops. You can also find fine wines at one of several local vineyards. The little city also boasts a diverse music scene, or you can catch a live show at Mount Baker Theater.
It's easy to make a day trip across the border to Vancouver or take a boat to the San Juan islands for a mystical experience. Whale-watching cruises are available if you want to enjoy some of the most majestic creatures on the planet.
You won't have trouble finding RV accommodations, but you'll need to book early for the best deals.
Visit the Olympic Peninsula to Avoid the Seattle Crowds
The Olympic Peninsula offers a small-town feel with tons of opportunities for adventure. You can explore four distinct rainforests in the area with great options for hiking and biking. Olympic National Park lets you explore each ecosystem at your own pace.
It also features the Tree of Life, a unique Sitka spruce growing between two cliff faces. The stream flowing beneath the tree carved through the ground, creating a spectacular view of the root systems.
But you don't have to stay in the park the whole time. Sequim is an old-school beach town with a genuinely laid-back attitude, and it also gets about as much sun as a Southern California city. You'll find all the artisanal fare you'd expect from the area and plenty of festivals to make your trip worthwhile.
Port Angeles is another seaside hub with an impressive array of outdoor and indoor art. You can see sculptures as you stroll downtown or visit the fine arts center for a break from the sun. The wharf offers many dining options with scenic views of the ocean, mountains, and interesting architecture all in one spot.
Avoid Seattle Traffic and Explore the Methow Valley Instead
This area celebrates art and culture while offering no shortage of outdoor thrills. North Cascades National Park will keep you busy for hours on end. In the winter months, you can find some of the best cross-country skiing in the country.
You'll still find plenty of chances to get outside, as hiking, biking, and fishing are incredibly popular here. This is also the birthplace of smoke jumping, and you can visit the base for a free tour to learn about the fight against wildfires in this part of the country.
The Methow Valley Chamber Music Festival happens in June each year, offering a different kind of awe. But the arts and music scene thrives year long. You'll also find everything from casual fare to upscale dining to get your taste buds watering.
Winthrop is a thriving old Wild West town with a rich history. It features some incredible pedestrian bridges that give you views of salmon spawning. But you can do more than watch. Get on the water for some fly fishing, river rafting, or tubing.
Summer in Seattle isn't Worth the Hassle
Washington offers some incredible outdoor experiences year-round, but if you're traveling in the summer, you may want to avoid Seattle. The crowds, traffic, and lack of affordable accommodations just aren't worth it.
But the Pacific Northwest has so much more to see. The surrounding areas offer great food, live music, and plenty of space to spread out so you can become one with nature.
Discover the Best Free Camping Across the USA
To be honest with you, we hate paying for camping. There are so many free campsites in America (with complete privacy).
You should give it a try!
As a matter of fact, these free campsites are yours. Every time you pay federal taxes, you're contributing to these lands.
Become a FREE CAMPING INSIDER and join the 100,000 campers who love to score the best site!
We'll send you the 50 Best Free Campsites in the USA (one per state). Access the list by submitting your email below: