If you miss good homemade pizza while you're on the road, consider buying a portable pizza oven. These mobile appliances give you the freedom to bring delicious crusty goodness wherever you go.
It doesn't matter if you like thin-crust or wood-fired pies. There's an oven to suit every taste. However, for all the highly-rated versions on the market, there are just as many duds.
We know it can be tough to sift through all the options, so we compiled a list to simplify your shopping trip.
Let's dig in!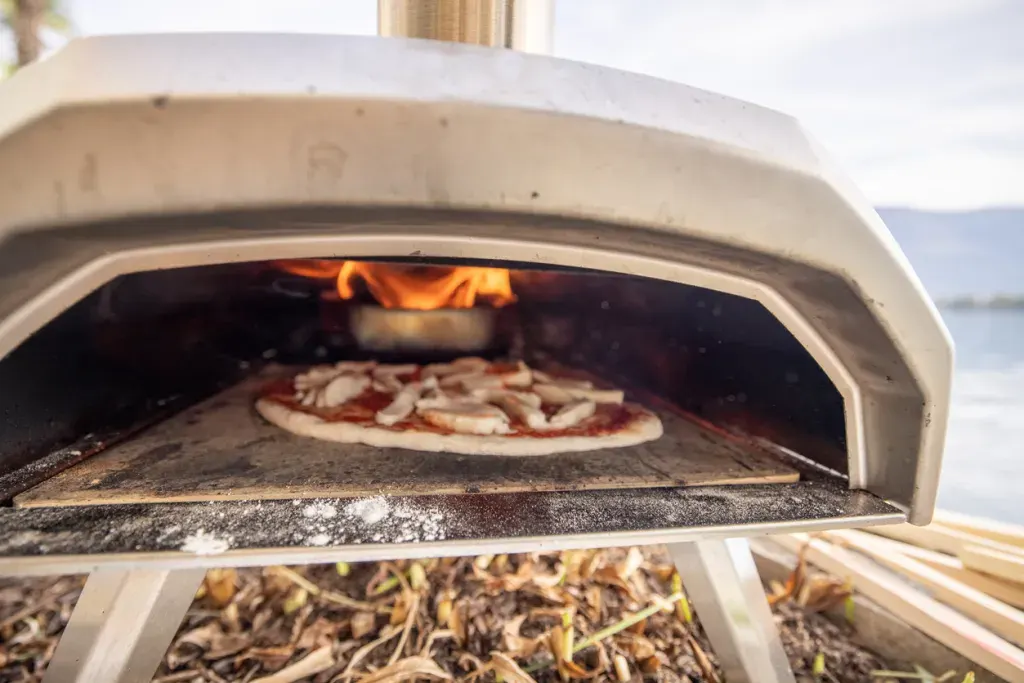 What Is a Portable Pizza Oven?
A portable pizza oven is a surefire way to get restaurant-quality pies anytime you like. And fortunately for RVers, tons of compact and lightweight models are on the market nowadays!
If you've ever wondered how your favorite pizza was made, the process probably involved a special oven. These appliances are designed specifically for making pizza and can reach temperatures as high as 950 degrees.
That high temperature creates the crunchy pizza crust, lightly browned cheese, and perfectly crisp toppings everyone loves. It also explains why restaurant and delivery pies taste so different from frozen and homemade ones. That high temperature allows every part of the dish to cook evenly in a short period of time.
The type you choose depends on your preferences and needs. Large standing wood-fired and brick ovens are available for pizza chefs who love to cook at home. But for RVers and folks on the go, a portable wood-fired or gas model may be your best bet.
Is a Propane or Wood-Fired Portable Pizza Oven Better?
Are you a seasoned pizzaiolo with specific needs? That's okay. You can find both propane and wood-fired portable pizza ovens in stores and online. If you're a novice, you may want to research before buying.
Propane-powered models are best if you enjoy a "set it and forget it" cooking style. You can program it and walk away while your pizza cooks. They're also great if you're gluten-free since many GF crusts require reduced baking temps. You'll be able to churn out quick, no-mess meals any day of the week.
Although they call for a little more effort, wood-fired ovens come with their own advantages. Most pizza chefs agree that wood-fired versions yield a totally unmatched flavor. These provide a smoky, crisp crust that propane just can't replicate.
Best Portable Pizza Ovens
Really good pizza is hard to find when you're on the road. But with tons of great, affordable, portable oven options, you can bring your favorite pie along for the ride.
Gozney Roccbox
The Gozney Roccbox is the Cadillac of portable pizza ovens. This appliance has a sleek, modern design and sturdy tripod base. It also comes in a variety of colors, from matte black to sunny yellow.
This is perfect for pizzaiolos of all kinds. It's dual-fuel capable, meaning you can heat it with wood or gas, depending on your preference. It's also super easy to transport.
The Roccbox starts at $499. While it may not be the cheapest model on the market, it's definitely one of the most versatile.
Ooni Fyra 12 Wood Pellet Pizza Oven
The Ooni Fyra is a wood-fired pizza lover's dream. Thanks to its wood pellet fuel system, it can reach temps up to 1,000 degrees. It weighs just 22 pounds, making it perfect for cooking on the go.
According to the manufacturer, it can take up to 15 minutes for it to reach its optimum temperature level. But this oven churns out a finished pie in just 60 seconds! You can't beat that cooking time.
The Fyra starts at $349. It's a budget-friendly option for that authentic wood-fired flavor.
Big Horn Outdoors Gas Pizza Oven
Do you prefer cooking with gas? The Big Horn Outdoors Gas Pizza Oven is one of the best gas-powered portable models on the market. It uses propane to reach a maximum temp of 1,180 degrees, hotter than many competitors.
This oven accommodates 13-inch pizzas and is super easy to clean. With its impressive heat range, you can enjoy fully-cooked pie in one minute or less.
The Big Horn Outdoors Gas Pizza Oven starts at $254. A precision-baking gas option for that price is a total steal.
FYI: We've got the 5 Best Portable Grills for you too!
Worst Portable Pizza Ovens
Not all portable pizza ovens are created equal. While we love the three options listed above, there are just as many that aren't worth your money.
Cuisinart Alfrescamore Portable Outdoor Pizza Oven
The Cuisinart Alfrescamore Portable Outdoor Pizza Oven looks like a great deal. But it doesn't stack up well against the competition.
The product is flimsy and something of a gas hog. As we discussed earlier, your oven should reach super-high temperatures to produce that artisan taste. This model burns through one-pound propane canisters quickly and fails to reach those high temps.
The Alfrescamore seems like a good deal, thanks to its $200-something price tag. But you're better off spending more money on one that can handle some heavy lifting.
Solo Stove Bonfire Pi Fire
The Solo Stove Bonfire Pi Fire isn't actually a portable pizza oven. It's an add-on for Solo Stove outdoor fire pits that transforms your sconce into a pizza kitchen.
As you might have guessed, this isn't as reliable as others. Since it's basically a platform that stands over your fire pit, it's hard to get a consistent temperature. You could end up with a burned crust or a soggy, undercooked one. It all depends on how your fire burns.
The Bonfire Pi Fire starts at $259. But for those prices, we'd rather have an actual oven instead of an attachment.
Alfa Moderno Portable Pizza Oven
Alfa Moderno's Portable Pizza Oven is sleek and modern-looking. It also churns out delicious pizza, thanks to its gas-fired design and accurate thermometer.
But this isn't exactly an RVer's dream. It weighs 77 pounds, and while it's technically portable, that's a pretty hefty load for one person to carry. By contrast, several of the other models we examined are under 50 or even 40 pounds.
The price tag is also a turn-off. The Moderno starts at a whopping $1,299. That's 2.5 times more expensive than the second-priciest model on our list!
Thinking about something different? Here's How to (Correctly) Use a Big Green Egg.
Make It a Party With a Portable Pizza Oven!
Living the RV life doesn't mean you need to sacrifice good food. And with all the available options, there's never been a better time to be an RVer who loves a good pie.
Whether you prefer the precision of gas-fueled version or the taste of wood-fired models, there's a portable pizza oven to fit your needs. Just read the reviews and consider the price tags before making your decision. Then crank up the heat and get your pizza party on!
Discover the Best Free Camping Across the USA
To be honest with you, we hate paying for camping. There are so many free campsites in America (with complete privacy).
You should give it a try!
As a matter of fact, these free campsites are yours. Every time you pay federal taxes, you're contributing to these lands.
Become a FREE CAMPING INSIDER and join the 100,000 campers who love to score the best site!
We'll send you the 50 Best Free Campsites in the USA (one per state). Access the list by submitting your email below: