If you're searching for America's best doughnut, Portland, Oregon, should be on your list! In fact, the city has become famous for the sweet treat.
But with so many options, how can you decide which ones to try?
Lucky for you, we're pretty obsessed with doughnuts, and we can tell you exactly where to get the best ones in the City of Roses.
Let's get snacking!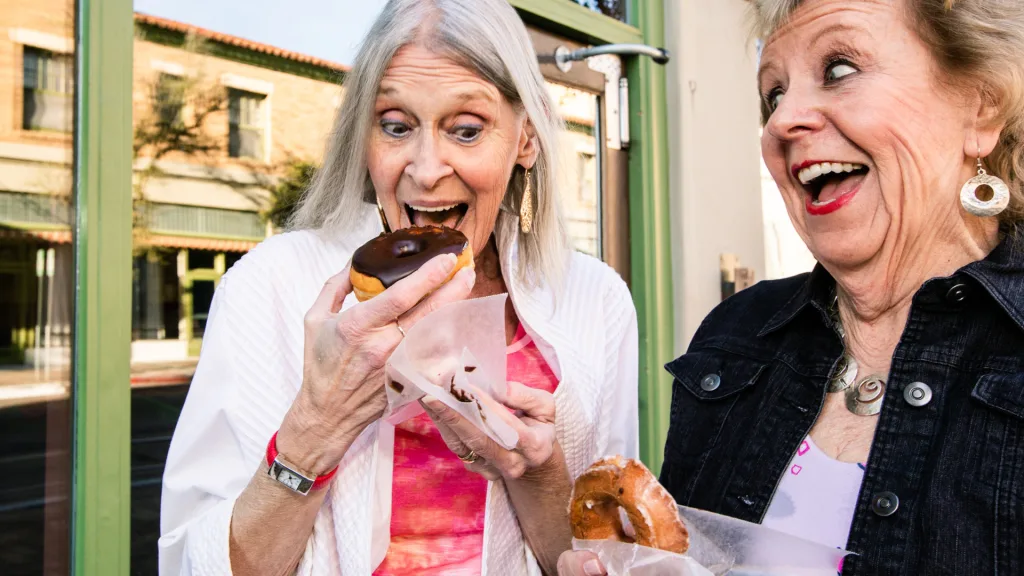 Why Is Portland, Oregon, Famous for Doughnuts?
Wherever you may travel, you'll find diverse local food to try. You'd taste brisket in Texas, and tourists flock to Kentucky for the bourbon. When in Portlandia, you've got to try the doughnuts. Whether you prefer simple classics or souped-up versions of this fried treat, you'll probably find the best you've ever had in the city.
The great debate in Portland over which shop makes the best doughnuts has been going on for decades. Many locals think that the ever-popular classics at Voodoo Doughnuts have been overhyped, and some say Blue Star charges too much for their unique recipes. Honestly, we just love having so many different doughnuts to try throughout this great city!
Where Is Portland, Oregon
Portland sits on the northwestern border of Oregon and Washington. This port city's rivers provided early populations with easy transportation of goods. In later years, it became a center for counterculture known for its progressive ideas. Today, many consider Portland one of the safest cities for cyclists in the U.S.
Outdoor enthusiasts love the city for its quirky culture and proximity to exciting adventures. You can get to the Oregon coast or the Mount Hood wilderness within a few hours. This city, the largest in the state, has mild winters and temperate summers, making it the perfect destination at any time of year.
Pro Tip: Do-nut say we didn't warn you. These are 5 Reasons to Avoid Portland, Oregon.
Portland's Famous VooDoo Doughnut
You've probably heard of Voodoo Doughnut. Maybe you've even had the privilege of trying one of the shop's delectable treats. Today the store has locations across the U.S., from Hollywood, California, to Orlando, Florida. The company had surprisingly humble origins.
The store opened in 2003 when friends Kenneth "Cat Daddy" Pogson and Tres Shannon realized that downtown Portland didn't have anywhere to purchase breakfast pastries. To make ends meet, they rented out the space after restaurant hours to hold events, including weddings and weekly Swahili lessons.
Within a month, Voodoo Doughnuts had already received national recognition. Foodies began traveling to Portland from around the world to try the maple bar at this shop. You can order classics or try something unique, like a cereal doughnut. Their second shop opened in 2008, and they plan to open their fourteenth in Boulder, Colorado, later this year.
Take the Portland, Oregon, Doughnut Trail
Before deciding which shop makes the best doughnut, you'll need to try them all. Luckily, you can book a tour to try Portland doughnuts. The Underground Donut Tour occurs every day of the week except for Mondays. It takes about two hours, and you'll get to try four different doughnut spots. You'll even get to skip the lines! Tickets tend to sell out, so you'll want to plan ahead.
If you'd rather take a self-guided tour, consider following the Oregon Donut Trail. The trip takes just under four hours and will get you to six different shops. With stops at Salem's Daylight Donuts and Beaverton's Sesame Donuts, you'll have the opportunity to check out stores off the beaten path.
Pro Tip: After exploring Portland, Oregon head to one of these 5 Must-See Ghost Towns in Oregon.
Where Can You Hike Off Those Carbs?
We believe you should try at least two doughnuts at each Portland shop so you can form an accurate judgment. After eating all those treats, you'll probably want to get moving a little bit.
Luckily, this region has some great hiking opportunities. Whether you want to head out for something rugged or take a pleasant stroll, Portland has the spot for you.
An Easy Hike at Tryon Creek State Natural Area
Located just 15 minutes outside Portland, the Tryon Creek area has great options for you to get outside. You can walk on the three-mile-long paved bike path or check out over eight miles of hiking trails. The park even has an accessible loop so that everyone can enjoy the lush, green forests.
Bird watchers will especially love this state-run natural area. Red-Tailed Hawks and Barred Owls have been frequently spotted at Tryon Creek. You'll almost certainly see some Stellar Jays and hear a variety of woodpeckers year-round.
Try The Wildwood Traverse Hike for a Challenge
You'll find this 30-mile-long trail about 20 minutes outside of Portland. This difficult point-to-point trail can also be extremely rewarding. Locals consider the Wildwood Traverse the most challenging hike in the area.
Hikers attempting the whole thing must arrange transportation back to the trailhead. Those who don't feel up to the challenge might try trekking only a few miles of the challenging trail and heading back to your car when you've had enough.
Go For a Hike with Your Dog
If you've traveled to Portland with your four-legged friend, you'll have no trouble finding dog-friendly spots. You can bring your pet along to the Tryon Creek State Natural Area or the Wildwood Traverse Hike if you have them on a leash no longer than six feet.
Plant lovers can also bring Fido along to the International Rose Test Garden or the Crystal Springs Rhododendron Garden. We think taking your dog to Dog Mountain Trail might also be particularly fitting.
To find more places to walk your dog, consider downloading the AllTrails app and selecting the "dog-friendly" filter. You can also use the app BringFido for help finding things to do with your pet.
Are Portland's Doughnuts Worth It?
Many states have great hiking, but none have better doughnuts than Portland. A trip to this city should be in order if you love temperate weather, being outside, and of course, doughnuts. You can even bring your four-legged companion. We honestly can't think of a better combo.
Whether you're scouring the country for the world's best doughnut or visiting the city for another reason, you won't want to miss out on Stumptown's vast assortment of the sweet treat! It's time for a road trip!
Discover the Best Free Camping Across the USA
To be honest with you, we hate paying for camping. There are so many free campsites in America (with complete privacy).
You should give it a try!
As a matter of fact, these free campsites are yours. Every time you pay federal taxes, you're contributing to these lands.
Become a FREE CAMPING INSIDER and join the 100,000 campers who love to score the best site!
We'll send you the 50 Best Free Campsites in the USA (one per state). Access the list by submitting your email below: