Newport, Oregon, offers plenty to see and do, but once you've hit the highlights, you may want to venture out for some day trips along the coast.
If you're planning a trip to this part of the country, you'll want to know all the best sites to hit. Every place along this stretch of the Pacific Coast offers something unique.
Today, we're exploring the sleepy Oregon shores to bring you the best of the Beaver State.
Let's ride!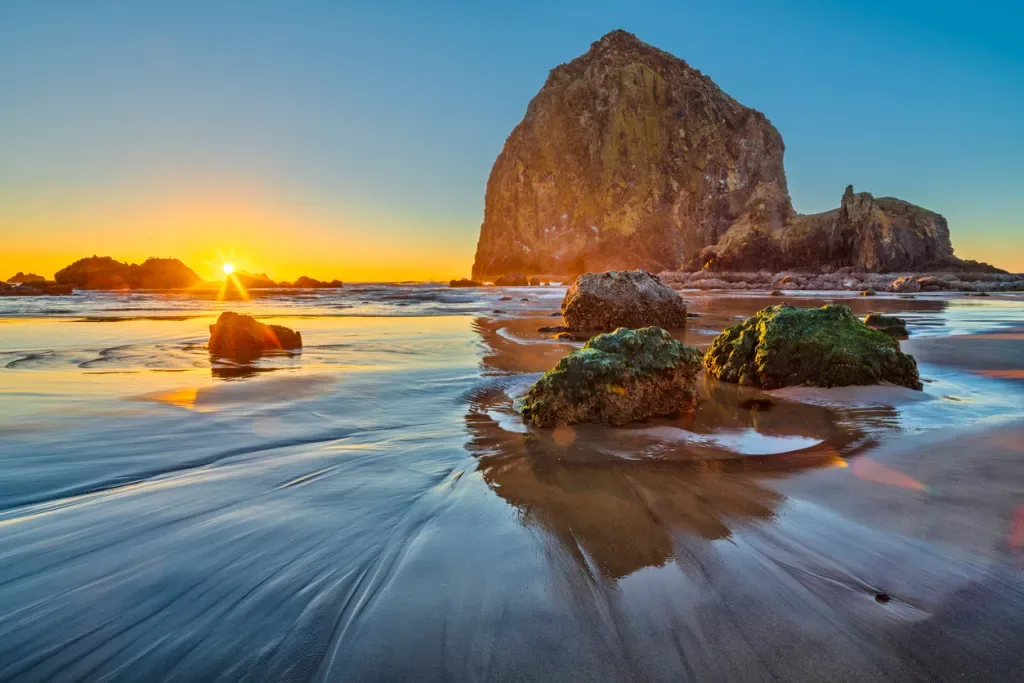 About Newport, Oregon
When you picture a seaside village in the Pacific Northwest, Newport is probably what you imagine. Rocky cliffs give way to sandy beaches, small seafood shacks overlook the waters of Yaquina Bay, and lighthouses dot the shore.
But there's a lot more to this town than its cozy aesthetics. Newport is home to the Oregon Coast Aquarium, where you can get up close and personal with all types of marine life and shorebirds. At the Yaquina Head Outstanding Natural Area, you might see tidepools or even whales swimming off the beach.
Newport isn't the only destination worth visiting in the area. You'll find many nearby sites that make great day trips along the Oregon coast.
Best Time of the Year for Day Trips from Newport
If you want to make the most of the area's natural environment, the best time to visit is between June and October. This is when the weather is warm and dry, perfect for exploring the great outdoors or having a picnic on the beach.
In winter months, chilly rains are common and will keep you indoors more often than not. So if you'd rather curl up by the fire with a good book and enjoy the drizzly weather from inside, keep the area in mind for a winter trip.
5 Best Day Trips Along the Oregon Coast
When you plan a trip to Newport, schedule extra time for day trips to some of the coast's other destinations. Here are five of our top picks you won't want to miss.
#1 Agate Beach State Recreation Site
If digging for your dinner sounds appealing, add the Agate Beach State Recreation Site to your itinerary. It's one of the most popular spots in the area for razor clamming. Early May is typically the peak season for this delicacy, but check local ordinances before you start digging.
However, don't be put off from this spot if shellfish aren't your thing. Agate Beach still offers unparalleled views of the Pacific and excellent surfing opportunities. And you won't need to set aside an entire day to visit, as it's only about five minutes north of downtown Newport.
#2 Cannon Beach
Breath-taking Cannon Beach, anchored by Haystack Rock, offers outstanding northwestern coastal views. The expansive waterfront provides plenty of space to walk or even ride a horse along the shoreline.
The sleepy town of Cannon Beach revolves around its oceanfront access, but it's more than just a beach town. You can see local glassblowers at work, visit the Cannon Beach History Center, or enjoy a hot cup of locally roasted coffee.
At two and a half hours from Newport, it's a bit of a drive. But the views and the town's charm are sure to be worth the trip.
Its natural beauty is stunning, but Is Cannon Beach, Oregon, Safe?
#3 Oregon Dunes National Recreation Area
Over 31,000 acres of wind-swept sand dunes look more like the Sahara Desert than the Oregon coast. This part of the Siuslaw National Forest is one and a half hours south of Newport, perfect for a day trip.
The four distinct areas, South Jetty, Siltcoos, Tahkenitch, and the Oregon Dunes Day Use, offer different experiences. You can explore most of the dunes on foot, but others allow you to rent a dune buggy for a thrill ride.
#4 Depoe Bay
Depoe Bay prides itself on being the World's Smallest Harbor and the Whale Watching Capital of the Oregon Coast. It also has unique geological formations like the Devil's Punchbowl Arch and the Spouting Horn that shoots water into the air during rough seas.
You can also cruise the Pacific Coast Scenic Byway for views of sea lions and shorebirds. Or stroll downtown to check out local shops and restaurants.
#5 Yachats
You'll want to carve out some time to visit Yachats for scenery you won't find anywhere else. Unlike other areas along the coast that offer sandy beaches, this tiny village is squeezed between the hilly Siuslaw National Forest and the black basalt rocks along the shore.
The 804 Trail offers views of the dramatic rock formations cropping out of the water. From there, you can venture down to the beach to check out the tidepools or search for natural agates stones.
Yachats is only 30 minutes south of Newport. So there's no reason to skip this unique locale.
Extend your trip with The Pacific Coast Highway Road Trip Guide.
Best Places to Stay For Oregon Coast Day Trips
These destinations make great day trips from Newport, but we wouldn't blame you for wanting to stay a few extra days. So here are a few of the best places to catch some rest between adventures.
South Beach State Park Campground
If you're RVing along the coast, the South Beach State Park Campground is one of the best spots around. You can walk or bike down the paved trails that lead through the dense forest to the sandy beach below.
The pet-friendly park features a dog run for your four-legged friends and a playground for the kids. The campground offers partial hookups with 20 and 30-Amp service, showers, trash service, and a dump station. The grounds are also ADA-accessible, so everyone can enjoy the area's natural beauty.
Agate Beach Motel
Another basecamp for your Newport day trips is the Agate Beach Motel. Each of the ten rooms comes with a kitchenette, fireplace, and a flat-screen TV. You can even enjoy panoramic sunset views from your private balcony. Barbeque grills and a picnic area are added perks.
This mom-and-pop accommodation is perched high above the crashing waves, and you can access the beach by a private staircase reserved for guests. You'll also be mere minutes from some of the town's best restaurants if you don't feel like cooking for yourself.
Hallmark Resort
The Hallmark Resort might be Newport's most popular hotel. They have all the amenities you'd expect from a high-end resort but with a laid-back atmosphere. There's an indoor pool, jacuzzi, sauna, and fitness center. And some rooms even come with their own spa tub.
Georgie's Beachside Grill offers breakfast, lunch, and dinner. And it's not just for hotel guests. Locals eat here too, so you know it's good.
Just like the Agate Beach Motel, you'll have splendid views of the Pacific and even easier access to the beach. So if you're looking for a fancier stay, the Hallmark Resort is worth checking out.
Are Day Trips Along the Oregon Coast Worth It?
Newport is a quirky town with a welcoming vibe, and the nearby sites mean you'll have plenty to check out on your various day trips. So whether you want to forage for your dinner or be transported to another planet at the local dunes, there's plenty to explore.
If you're planning a trip to the Pacific Northwest, don't pass up this sliver of coastline. We think the views alone are worth it!
Discover the Best Free Camping Across the USA
To be honest with you, we hate paying for camping. There are so many free campsites in America (with complete privacy).
You should give it a try!
As a matter of fact, these free campsites are yours. Every time you pay federal taxes, you're contributing to these lands.
Become a FREE CAMPING INSIDER and join the 100,000 campers who love to score the best site!
We'll send you the 50 Best Free Campsites in the USA (one per state). Access the list by submitting your email below: