Leavenworth, Washington, is a charming old-world village, but you may want to avoid it.
It all comes down to your personality. For example, certain party-pooper types would hate it.
Today we'll cover the things you may dislike about this beautiful mountain-side town. But they also happen to be all the things we love about it.
Let's hit it!
About Leavenworth, Washington
Leavenworth, Washington, started as a small logging village in the late 19th century. It's surrounded by stunning natural beauty.
The region offers opportunities for outdoor activities all year round. In the summer, you can try hiking, mountain biking, river rafting, and fishing in the nearby mountains and rivers. Leavenworth transforms into a beautiful winter wonderland with access to excellent skiing, snowboarding, snowshoeing, and sledding in the surrounding alpine areas.
With the second-largest sawmill in the state and a regional railroad office, the town initially thrived. However, it struggled for decades after the train relocated. They tried embracing tourism in the 20s with a ski jump. But it wasn't until the 60s that they went all in.
#1 Avoid Leavenworth if You Dislike Germany
You'll want to avoid Leavenworth if you hate German (Bavarian) foods, drinks, and aesthetic style. Civic leaders redesigned all the buildings to resemble an authentic Bavarian Alpine village. Walking around town, you'll see timber-framed structures, colorful facades, and traditional German elements such as window flower boxes, cobblestone streets, and charming storefronts.
But this theme goes further than the architecture. It's like Epcot turned up all the way to 11. Only you can actually go into all the shops and restaurant storefronts. The Nutcracker Museum, located in the heart of the village, is another popular attraction that showcases a vast collection of nutcrackers from around the world.
You'll find authentic Bavarian food, beer, and shops throughout the sleepy little town. They embrace locally made products, and many of the wines and beers are from the surrounding area. While some may love it, Germanophobes need not apply.
Explore 7 USA Vacation Destinations That Feel Like an Entirely Different Country.
#2 You Should Avoid Leavenworth if Festivals Annoy You
This little berg hosts festivals throughout the year that celebrate the European heritage it embraces.
Oktoberfest is the biggest and most notable. It sprawls multiple weekends with all the traditional beer, brats, and sauerkraut you can stomach. They also have events like keg rolling and log sawing to test your strength and agility.
Maifest celebrates the arrival of spring with colorful maypole dances, traditional music, beer gardens, and street performances. It's the kind of fun the whole family can enjoy every May.
But if you really hate German music, you should absolutely avoid Leavenworth in June. That's when the International Accordion Celebration happens, and you may be tempted to start dancing in the street if you're not careful. And we've only just scratched the surface of all the events they host each year.
Fair warning, though, the streets are usually packed with crowds during these festivals.
#3 If You Hate the Outdoors, You Should Avoid Leavenworth
With the glowering peaks of the Cascades towering over the town, mountain haters will surely avoid Leavenworth. Countless recreational opportunities mean someone is sure to invite you outside with them. In fact, you can find hundreds of miles of mountain and forest trails to challenge yourself by bike or on foot.
Whitewater rafting and kayaking are also readily available on the gorgeous mountain streams everyone can't stop going on about.
The crystal-clear glacial lakes are another sore spot if you hate fishing and other watersports.
And you'll also have to deal with temperate weather most of the year that rarely gets too hot. If you're hoping to work up a sweat when you do have to go outside, this isn't the place to do it.
Enjoy some of the most breathtaking scenery in the world around Leavenworth. Alpine Lakes Wilderness: The Complete Hiking Guide.
#4 Avoid Leavenworth if Mountain Landscapes Bore You
Whether you're afraid of heights or you think the Earth should stay flat, Leavenworth, Washington, isn't for you. The drive in is nothing but jaw-dropping vistas the whole way through.
You can glimpse whitewater rivers, jagged peaks, and beautiful sunsets along the Stevens Pass Corridor, a National Scenic Byway that leads to the village. You might also spot the train tracks going through the second-longest railroad tunnel in the Americas.
The beautiful forest scenery is interrupted in places where avalanches are common, and the peaks are reflected in beautiful glacial waters every few feet. While we find it awe-inspiring, it's not for people who prefer a lifeless horizon.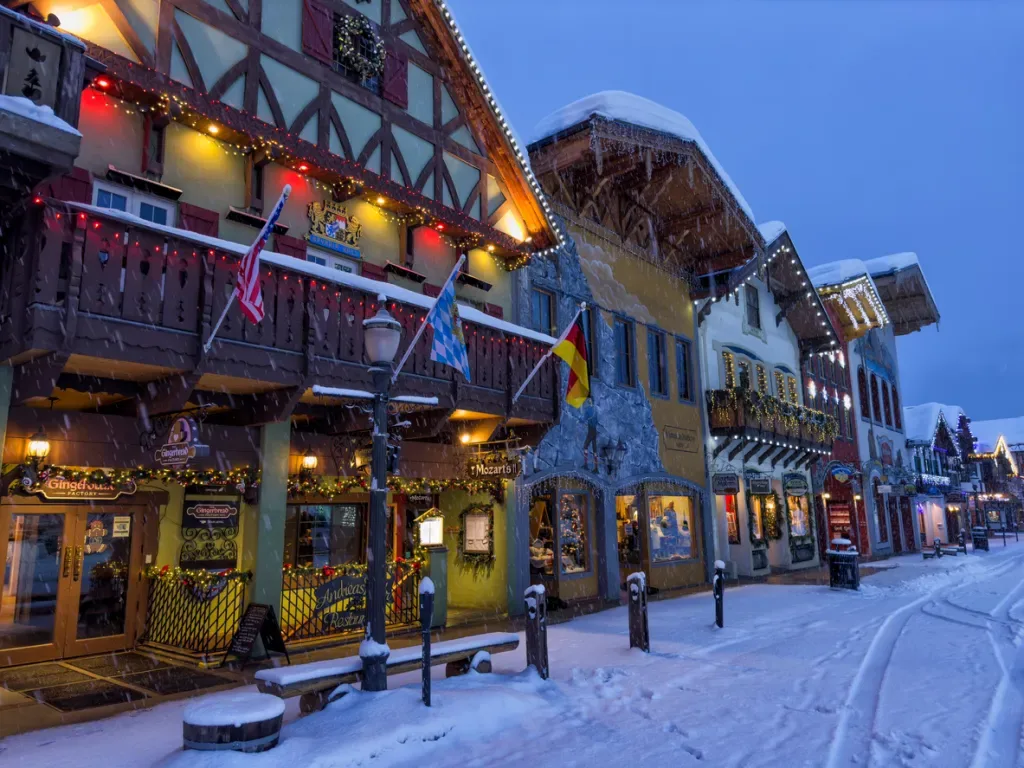 #5 If You Dislike Snow, You Should Avoid Leavenworth in the Winter
With over 80 inches of snowfall each year, this is not a destination for folks seeking an escape from the cold. This is especially true if you book your trip during Icefest. This winter celebration includes ice sculptures, snow sculpting competitions, ice carving demonstrations, live music, and other fun seasonal activities.
Of course, all the snow means the chance for some of the best skiing in the state. Stevens Pass has some fantastic spaces for snowboarding, or you can just put on your snowshoes and go for a trek across town.
And the winter weather brings a ton of cheer to the town. The holiday lights are unrivaled, and carolers fill the evening air with joy. The best part is the town stays lit through Valentine's Day, so you don't have to miss any family gatherings to enjoy them.
We Love This Bavarian Village
Maybe you're not into the kitschy theme or the beautiful outdoors. Perhaps you prefer IPAs to pilsners. If you want to avoid Leavenworth, Washington, that leaves more room for us to enjoy the festivities!
With so much open space, beautiful vistas, and places to explore, this is one adventure we can't get enough of. And it's worth a trip no matter what time of year you want to have your vacation.
Discover the Best Free Camping Across the USA
To be honest with you, we hate paying for camping. There are so many free campsites in America (with complete privacy).
You should give it a try!
As a matter of fact, these free campsites are yours. Every time you pay federal taxes, you're contributing to these lands.
Become a FREE CAMPING INSIDER and join the 100,000 campers who love to score the best site!
We'll send you the 50 Best Free Campsites in the USA (one per state). Access the list by submitting your email below: