While visiting Santa Fe, you'll have plenty of exciting day trip options without having to drive very far.
You've heard about places to hike, eat, admire art, or soak in hot springs around the area. But where do you find all these without spending hours on your computer?
We've got you covered. Join us as we explore the five best quick trips from the country's oldest capital city.
Let's hit the road!
Visiting Santa Fe, New Mexico
Sitting at an elevation over 7,000 feet above sea level, Santa Fe is a popular destination for travelers year-round. Once you arrive, you'll feel like you're stepping back in time. Even though you'll see new construction, much of the town still retains its original Spanish-style architecture dating back to 1610.
Santa Fe is a treat for anyone that enjoys art, history, and delicious food. You'll find numerous galleries and museums filled with beautiful Native American artwork.
In addition, Georgia O'Keeffe's gallery showcases her paintings inspired by the Southwest landscape.
And the variety of restaurants available seems endless. You can certainly get your fill of traditional New Mexican-style dishes, including red chile enchiladas, huevos rancheros, and carne adobada. But it also has an excellent selection of Italian eateries, steakhouses, and cafes.
While there's much to do within the city limits, Santa Fe is an excellent starting point for several day trips. You could easily hit all five of these locations during a week-long visit. So, get ready to plan your vacation to this Southwestern paradise.
While you're in town, check out 5 Unique Places to Explore in Santa Fe.
#1 Jemez Springs
This archeological wonder is about an hour and a half away from Santa Fe. The healing waters of the natural hot springs have been drawing people here for centuries. In fact, human remains found in the area date back to 2,500 BC.
Native Americans occupied the 15th-century Gíusewa Pueblo until the Spanish arrived around 1541. You can still see remnants of a stone mission built by Franciscan priests 400 years ago. In addition, a 1,400-foot interpretive trail winds through the ruins. Take a step back in time while learning the history of the people who lived on the land.
The 100-year-old Jemez Springs Bath House offers half-hour cool or hot mineral soaks for less than $15. Or you can visit one of the free primitive springs within a few miles of Jemez Springs.
#2 Bandelier National Monument
Bandelier National Monument is a perfect day trip from Santa Fe since it's less than an hour outside town. You'll visit the remains of dwellings built by Indigenous people nearly 900 years ago. Pay attention to the stone walls, as you might even see some ancient drawings known as petroglyphs.
With over 70 miles of trails, from easy to strenuous, you'll have plenty of options to choose from. The main loop in Frijoles Canyon is just over a mile and is partially handicapped accessible.
For a more adventurous experience, check out the hike leading to the Alcove House. You'll see ancestral homes built into the cliff walls as you climb 140 feet down multiple ladders and stone steps.
If you're into backcountry camping, you can pick up a permit for an overnight stay at the Bandelier Visitor Center. Juniper Campground, with 57 sites, is suitable for tents or RVs. However, they don't provide hookups.
Looking for a base camp? Check out these 7 Magical Santa Fe RV Parks & Campgrounds.
#3 Taos
While you could easily take one day away from Santa Fe for a trip to Taos, an overnight stay might even be better. There's so much to see in and around this ancient historical town.
Located an hour and a half north of the capital city, you'll have your pick of attractions to check out. Taos Pueblo, one of North America's oldest continuously inhabited communities, is both a World Heritage Site and a National Historic Site. Parking is free, but they do require an entrance fee.
At the heart of the town's historic district is the 225-year-old Taos Plaza. Initially, it was a walled fortress offering residents safety from potential outside threats.
Today, you'll find art galleries, a farmers market, locally-owned shops, and musicians playing live music. You'll also have a variety of museums available to learn more about the area's history.
And we can't forget to mention the array of eateries. Taos has everything from fine dining to casual hangout options. In addition, the town offers a selection of breweries, wineries, and distilleries to quench your thirst.
#4 Abiquiu Ghost Ranch
If you're a fan of Georgia O'Keeffe, you likely already know about Ghost Ranch. This is where the artist spent 50 years creating some of her most well-known paintings. It's a little over an hour away from Santa Fe and worth the drive.
The ranch is in Abiquiu (pronounced A-bih-kyoo) and spans 21,000 acres. You'll see impressive towering rock walls with vivid colors that change throughout the day.
Ghost Ranch operates two museums focusing on anthropology, archeology, and paleontology. This area is also rich in ancient artifacts. In fact, remains of a Coelophysis dinosaur were discovered in 1947. It's now the official New Mexico state fossil.
While you'll have a variety of activities to choose from on your visit, one of the most exciting might be the trail rides. These are 60 or 90-minute guided horseback tours. So get your boots and saddle up for a romp across the gorgeous northern New Mexico landscape.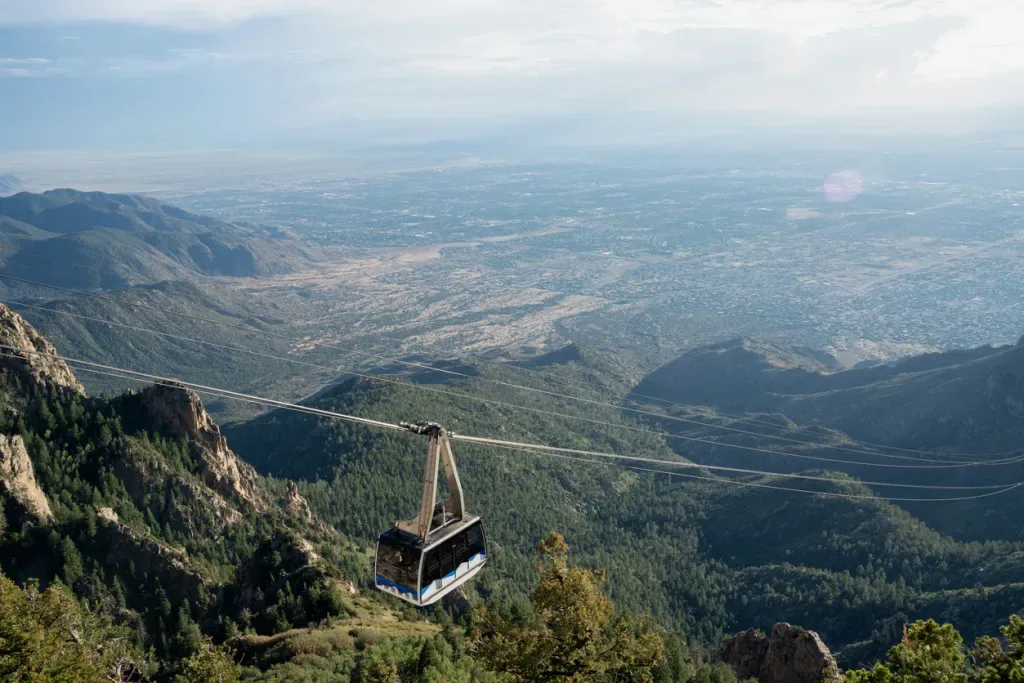 #5 Sandia Peak Tramway
Another short day trip from Santa Fe is Sandia Peak in Albuquerque. One of the area's best views is from the tram to the top of the mountain. Reaching over 10,000 feet above sea level, it's an impressive way to take in the full scope of the region.
After a 15-minute gondola ride, choose from several different trails to explore. You can purchase a round-trip tram ticket or a one-way fare and hike the 7.5 miles back to the bottom. Just be sure to bring enough water for the journey, especially if visiting during the warm summer months.
You'll have two different dining options when you get hungry or thirsty. At the base of the tram is Sandiago's, a casual restaurant offering Mexican and American dishes.
Then there's Ten3 at the top of the mountain for a more upscale dining experience. Or you can simply enjoy a fancy cocktail while taking in the beautiful view.
Plan a trip around the whole region with Frommer's EasyGuide to Santa Fe, Taos and Albuquerque.
Santa Fe Day Trips Are Worth the Drive
We're just scratching the surface of all the incredible day trips available from Santa Fe. You certainly won't run out of places to explore while visiting the capital of New Mexico. The region holds ancient history, beautiful landscapes, and fantastic food. We bet you'll be planning your next trip to Santa Fe before you finish the first one!
Discover the Best Free Camping Across the USA
To be honest with you, we hate paying for camping. There are so many free campsites in America (with complete privacy).
You should give it a try!
As a matter of fact, these free campsites are yours. Every time you pay federal taxes, you're contributing to these lands.
Become a FREE CAMPING INSIDER and join the 100,000 campers who love to score the best site!
We'll send you the 50 Best Free Campsites in the USA (one per state). Access the list by submitting your email below: