It's hard to beat the scenery at White Sands, but you'll want to know the dangers before planning a visit.
What could be unsafe about this national park? After all, plenty of tourists hit the dunes every year to sled and enjoy the views.
Today, we're digging into the risks and rewards of this desert locale so you'll know what you're in for.
Let's dive in!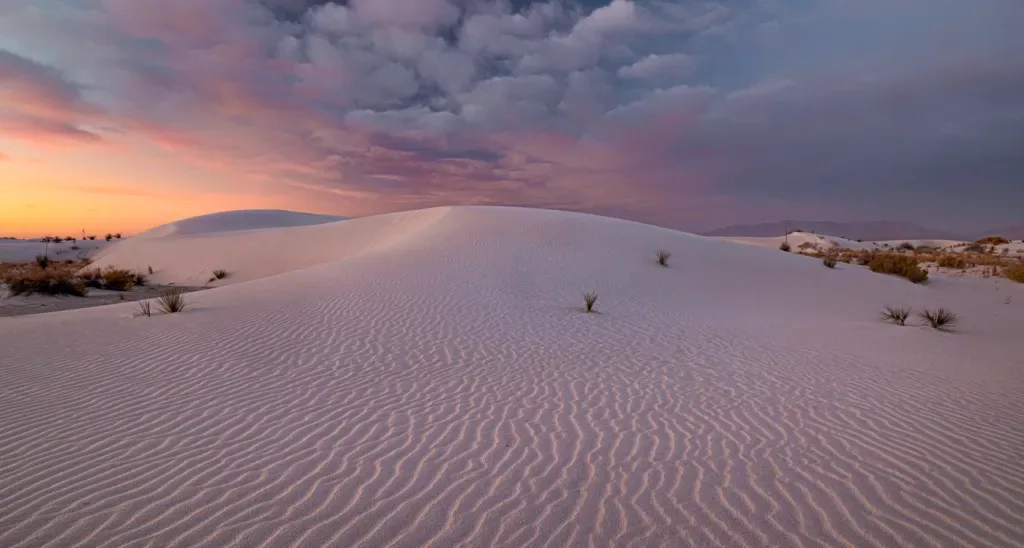 About White Sands National Park
If you visit White Sands National Park, prepare to do a double-take. It's easy to mistake the scenery for that of another continent or even a different planet. The otherworldly landscape features massive gypsum dunes shaped by the wind.
White Sands is at the northern end of the Chihuahuan Desert in southern New Mexico. While the park takes up around 115 square miles, the dunes cover more than double that footprint.
However, it's hard to pinpoint a precise number because strong winds move the sand about 30 feet annually, slowly pushing the dunes towards the northeast.
This geologic anomaly didn't form out of nowhere. There's a temporary lake at the western end of the park. As much as 80 inches of water evaporates annually, which is a lot, especially for an arid climate. What's left behind is a high mineral content that moves quickly by the breeze.
Despite its appearance, there's more going on here than endless waves of sand. Highly specialized plants and animals learned to adapt to the brutal conditions of the park. And fossilized footprints dating back as far as 20,000 years are considered the oldest in North America.
What Makes White Sands National Park Dangerous?
White Sands National Park is undeniably beautiful, but you'll want to be aware of the dangers before setting off into the unknown. Here are the top hazards to prepare for.
Getting Lost
Part of the beauty of White Sands is its vastness. Depending on where you are in the park, you can look in every direction and only see waves of glistening gypsum. That said, it's all too easy to get disoriented.
Fortunately, trail markers are plentiful, but if you can't spot the next one from your current location, it's better to head back. After all, the constantly shifting sands mean you can't simply retrace your footsteps to hike out.
Cell service can be spotty, so you won't want to rely on calling for help. It's a good idea to carry a small mirror or aluminum foil to signal for help if you become lost.
Know where you're going: White Sands National Park Map & Illustrated Trails.
Weather
White Sands is a desert environment, so it makes sense that dehydration is a significant threat to your safety. It's critical to wear appropriate clothing that shields you from the sun.
But drinking enough water is even more critical. Park officials strongly suggest bringing twice as much water as you think you'll need. They also recommend trekking back out when you're down to half your supply.
You'll also want to take plenty of healthy snacks with you. If you don't balance your water intake with food, you risk throwing your electrolytes out of balance. Munching on trail mix, crackers, or other salty treats will keep you going.
Excessive sun isn't the only weather-related danger in White Sands. Temperatures can vary by 40 degrees Fahrenheit each day, so bring warm clothing if you plan to camp overnight.
And while thunderstorms are rare, they pop up quickly and without warning. Don't expect your tent to protect you from intense rain and lightning.
Dangerous Creatures
Remember those highly specialized animals we mentioned earlier? Well, they evolved to survive more than just the elements. Many are venomous, such as rattlesnakes, black widow spiders, harvester ants, and scorpions. A bite or sting from one of these critters could spell disaster.
Keep your distance if you encounter one of these dangerous creatures in White Sands. Avoid vegetation or putting your hands into dark nooks, as this is where many of them hide. But if you stick to the trails, you should be safe.
Bright Sun
We've already discussed the threat of intense heat in the park, but the sun can also be deadly. Grass and trees typically help absorb sunlight, but no such luxury exists in the dunes. Here, light reflects off the gypsum sands, amplifying the brightness. Even in winter, you could risk severe burns if you don't adequately protect your skin.
Loose, light clothing, sunscreen, a hat, and plenty of water are necessary if you plan to spend any time in the park. Visit early in the morning or later in the afternoon to avoid extreme sun exposure.
Explore more: 3 Great National Parks With Sand Dunes.
The Danger of Climate Change at White Sands National Park
Although the dunes appear completely dry, the only thing holding them together is moisture from the ground. In fact, if you start digging just a few feet beneath the surface, you'll hit groundwater.
However, increasing temperatures are causing rapid evaporation. The water table is dropping, and soil moisture is becoming depleted.
While park officials expect a lot of sand movement during the dry season, they're beginning to see it year-round. Satellite images show a layer of gypsum stretching far beyond the park's borders. Scientists warn that White Sands is in danger of blowing away if temperatures continue to increase.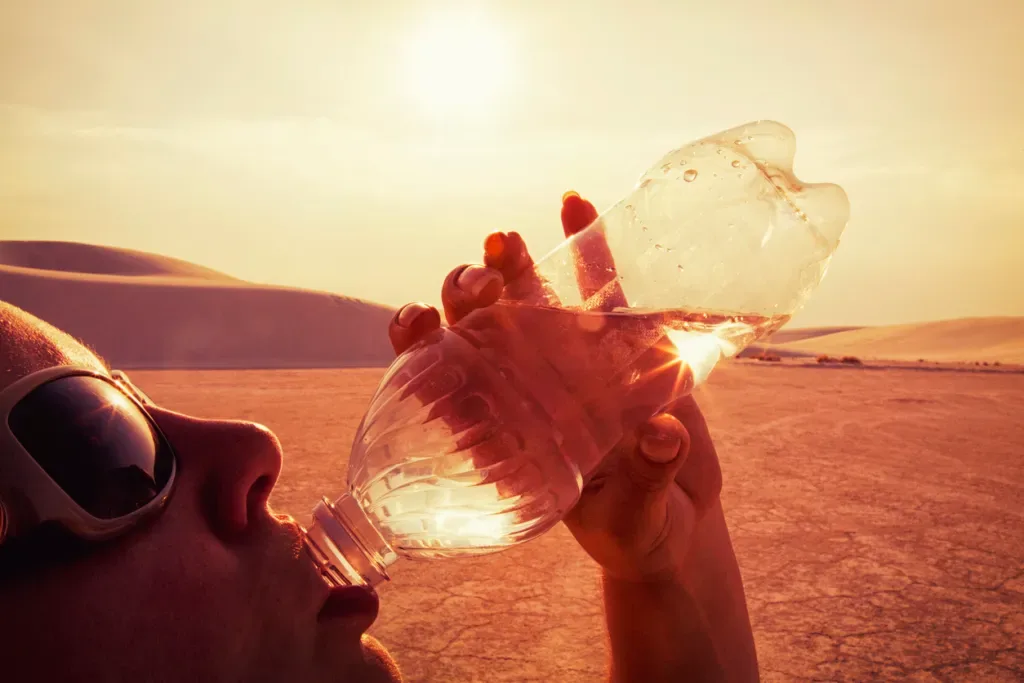 Best Places to Stay Near White Sands National Park
Make the most of your trip to White Sands by sticking around for a while. You'll have plenty of options for accommodations. Here are a few to choose from.
Lake Holloman Dispersed Camping
Boondockers won't find a better place to camp than Lake Holloman. It's on BLM land, so you won't have to pay. The location can get busy, but if you drive further down the road, you can usually avoid the crowds.
Be aware that there aren't any amenities here, just good old-fashioned dry camping. And although the lake looks inviting, it's no good for swimming. Follow the signs and stay out of the water.
We've got more camping options for you: The Best Camping at White Sands National Park.
Oliver Lee Memorial State Park Campground
The top-rated Oliver Lee campground is about 30 minutes from White Sands. Located in the Sacramento Mountains, you'll have spectacular views of the high desert.
Sites include partial hookups with water access. You'll have access to full restrooms, trash service, and a dump station. Plus, the grounds are big rig friendly.
Oliver Lee Memorial State Park features hiking trails to explore on your own or with a guide. You can spot lots of wildlife, particularly many bird species. You'll also be close to Lincoln National Forest if you can't get enough of the stunning scenery.
Classic Desert Aire Hotel
For more traditional accommodations with classic Southwestern vibes, book a room at Alamogordo's Classic Desert Aire Hotel. Each room has free WiFi and a flat-screen TV. Plus, you can use their fitness center and seasonal swimming pool. Additionally, you'll enjoy a complimentary hot breakfast each morning.
You'll be right in the heart of town, surrounded by shops and restaurants. And when you're ready to hit the dunes, you'll only be about 15 minutes away.
Is a Road Trip to White Sands National Park Worth It?
Despite the dangers of White Sands National Park, it's truly a one-of-a-kind destination. You probably won't see anything like it unless you plan to visit the Sahara Desert.
We suggest adding this spectacular location to your bucket list. Just be sure to follow proper safety precautions, drink plenty of water, and listen to your body. We think you'll be glad you took the risk.
Discover the Best Free Camping Across the USA
To be honest with you, we hate paying for camping. There are so many free campsites in America (with complete privacy).
You should give it a try!
As a matter of fact, these free campsites are yours. Every time you pay federal taxes, you're contributing to these lands.
Become a FREE CAMPING INSIDER and join the 100,000 campers who love to score the best site!
We'll send you the 50 Best Free Campsites in the USA (one per state). Access the list by submitting your email below: