If you're tired of fighting crowds or premium prices, we've found some hidden gems perfect for snowbirds. Whether you need a home for the winter or a few weeks, these cities are worth considering.
To get in while the getting is good, you better act fast. It may not be long before the masses discover these locations.
Today, we're sharing some of the best snowbird destinations in the US. Which one is right for you?
Let's take a look!
Seasonal residents migrate south for the winter to escape the cold, snow, and ice. Unfortunately, this is a growing trend, especially amongst retirees. Some of the more popular locations, like Quartzsite, Yuma, and all of Florida, are becoming very crowded.
Most people want to avoid cramming into a tight site or sitting on a crowded beach. Being close to theme parks, golf courses, and the beach may be fun.
But is this how you want to spend your time, with minimal space and privacy? We didn't think so.
Luckily, some secret locations outside of these areas are less overrun. They may not be near the most popular beaches or a magical princess castle. However, they can do the job and save you money and stress.
You'll likely find campgrounds less crowded and potentially with lower prices. Plus, you won't have to worry about fighting traffic and crowds when going to the beach or the grocery store.
You'll be able to enjoy retirement more and stress less.
Some of the finest hidden gems for snowbirds are waiting for you. Many are in or near popular cities, but flocks have yet to discover them. They offer some incredible opportunities that are perfect for retirees.
#1 Tombstone, Arizona
The town of Tombstone sits in the southeast corner of Arizona. It's approximately 75 miles southeast of Tucson, Arizona, and 35 miles from the US-Mexico border. While it can get chilly, the temperatures are generally mild. You don't have to worry about shoveling snow when you stay here.
The town has an Old West ambiance and plenty of saloons, old-fashioned shops, and reenactments to experience. It's easy to get lost in museums, tours, and theatrical performances while learning about the area's history.
Those with a sense of adventure can explore Kartchner Caverns State Park and Coronado National Forest. You could spend years hiking and viewing wildlife throughout the area.
Pace yourself because you've got years ahead of you to experience as much as possible.
The surrounding towns of Lowell, Bisbe, and Benson offer just about everything you could need. You can stock up on supplies and occasionally find opportunities to treat yourself at restaurants and entertainment venues. With fewer crowds, it's far less crowded than other spots.
#2 Jekyll Island, Georgia
Georgia's Jekyll Island might be what you need if you're looking for a picture-perfect spot. It's a barrier island with miles of beaches and trees dangling with Spanish moss. It's an ideal setting to walk your dog or stroll with a loved one.
This coastal town sits approximately an hour and a half south of Savannah and just over an hour from Jacksonville, Florida. For anyone who loves history or southern charm, Jekyll Island offers both.
Summers can be hot and muggy, but winters are cool and perfect for exploring. Low temperatures in January, the coldest month, are generally in the low-40s. While they can dip below freezing, they're far less intense than those up north.
Seasonal residents love that Jekyll Island has a few great locations to visit nearby. St. Simons Island, Amelia Island, and Tybee Island are just a few. Fort Pulaski National Monument on Tybee Island is a must-see if you enjoy history or exploring forts. There's so much to see and do at this hidden gem that snowbirds could spend several seasons here and still not do everything.
Spend some time exploring Georgia's spooky spots: Haunted Places in Georgia: Perfect Road Trip Destinations
#3 Gulf Shores, Alabama
Visiting Gulf Shores, Alabama, during summer means battling crowds on the streets and beaches. Luckily, when snowbirds flock to this scene, it's far less crowded. They may even get lucky and have the massive beach all to themselves.
This area features over 30 miles of shoreline with soft, sandy beaches. Temperatures tend to hover around the mid-60s. It may be too chilly to go for a swim, but at least you don't have to worry about frostbite.
One of the great things about Gulf Shores is that it has plenty of culture. Whether it's peak tourist season or not, there's always something to do. You can try your luck at fishing, explore the numerous historic sites, or play a round on one of the 15 golf courses.
Many people spend time in nearby Fairhope, Dauphin Island, or sneak into the Sunshine State of Florida and visit Pensacola. You don't have to spend all day in the sun and sand in Gulf Shores. How you enjoy your golden years is entirely up to you.
You'll find plenty of day trips around Gulf Shores. Plan a few with the Alabama Bucket List Adventure Guide.
#4 St. George, Utah
Florida and Arizona are popular with snowbirds; however, Utah quietly welcomes itself to the party. St. George sits in the southwest corner of the Beehive State near the Arizona border. Seasonal residents love that they can enjoy mild temperatures but drive into the snowy mountains when needed.
As far as opportunities for adventure near St. George, the possibilities are endless. Eight national parks, five of which are in Utah, are within five hours of St. George. While some are closer than others, they offer some of the best views in the country. Whether you want to visit the Grand Canyon, Death Valley, or Arches National Park, they're all relatively easy to do from St. George.
With approximately 100,000 people, you get most of the conveniences of urban life without the chaos. St. George combines comfortable weather, beautiful landscapes, and everyday amenities. As far as hidden gems for snowbirds, this is about as good as it gets.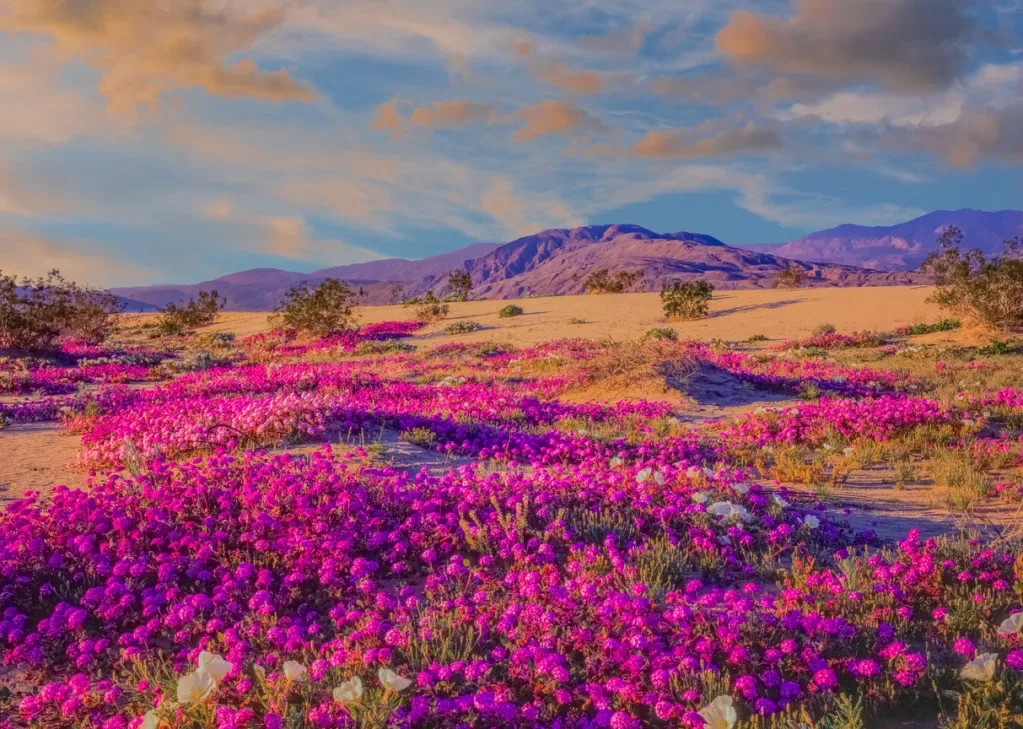 #5 Borrego Springs, California
California is another popular spot for retirees. Most of them land in Palm Springs or Palm Desert. However, if you venture further south to Borrego Springs, it's yet to reach peoples' radars.
This is an unincorporated section of San Diego County. It provides more than 600,000 acres of open land. You won't find hoards of people embracing the fast-paced lifestyle of those in large cities around California.
While some enjoy the slower pace, the 60 to 80-degree winter temperatures bring them here. Unfortunately, summers can be rather intense, and the record high for the area is over 120 degrees.
Wintering in Borrego Springs provides plenty of opportunities to explore Anza-Borrego Desert State Park. There's also the Christmas Circle Community Park, which serves as the hub for the town. If there's a community event going on, it's likely in this park. Watch the event calendar because these are great opportunities to get to know the community.
What to avoid when you're a snowbird: 7 Deadly Sins of Snowbirds.
It can be very challenging to find hidden gems for snowbirds. Those who know about them don't want the secret to get out. When it does, it's not too long before more and more people flood the area, making RV sites harder to find and more expensive.
Word of mouth is one of the best ways to find fantastic snowbird spots. It's important to form meaningful relationships with others in the community. They'll let you in on the tips and tricks they're unwilling to publish online. Look for some large Facebook or online communities of like-minded people.
Additionally, don't overlook resources like Airbnb and similar websites. Some homeowners rent out properties for weeks, months, or entire seasons. Generally, the longer you book, the better your chance of scoring a deal.
You may set your sights on a specific location, but we recommend keeping an open mind. This can allow you the opportunity to discover more convenient or affordable places. Making the most out of retirement often means getting the most bang for your buck.
We've shared five of the best hidden gems where snowbirds can make their nest. They may not offer the massive communities that the most popular spots do, but they're unique in their own way. To enjoy winter away from others and with more privacy, consider one of the spots we've shared.
Discover the Best Free Camping Across the USA
To be honest with you, we hate paying for camping. There are so many free campsites in America (with complete privacy).
You should give it a try!
As a matter of fact, these free campsites are yours. Every time you pay federal taxes, you're contributing to these lands.
Become a FREE CAMPING INSIDER and join the 100,000 campers who love to score the best site!
We'll send you the 50 Best Free Campsites in the USA (one per state). Access the list by submitting your email below: