Whitefish is a prime spot for day trips and adventure. This little mountain oasis is just 30 minutes from Glacier National Park. And it's just as fun in the summer as in the winter.
But the park isn't the only nearby attraction. Visit this northwestern Montana village to discover scenic drives, obstacle courses, and even a mysterious vortex or two.
Ready to learn more?
Let's explore!
About Whitefish, Montana
With just 10,000 residents, Whitefish is a relatively small town. However, its proximity to Glacier National Park means this mountain village is big on adventure.
Whitefish sits in the foothills of Big Mountain, near Whitefish Mountain Resort. The town is perfect for skiing and snowboarding in winter, plus hiking and cycling during warmer months. It also has its own lake beach where you can swim or kayak.
Exploring the outdoors isn't the only thing to do in Whitefish. You can also see a performance by the town's theatre company, which puts on nearly a dozen shows annually. There's also plenty of shopping in the historic district or along Central Avenue.
If you get hungry, check out Tupelo Grille for upscale dining or drop into the Bulldog Saloon and Grill for burgers and wings.
You could easily spend a week exploring Whitefish. But there's plenty to discover outside city limits, too. This quaint ski village is the perfect home base for various side adventures.
Here are five of the best day trips near Whitefish.
#1 Bowman Lake
Glacier National Park is one of the biggest attractions near Whitefish. The park is just 30 minutes away, spans over 1,500 square miles, and attracts millions of annual visitors. But if you want a quieter, more secluded way to experience the park, consider a day trip to Bowman Lake.
Bowman Lake is in the northwest corner of Glacier NP. It's only accessible via a rough, unpaved entry road that most park visitors avoid. That means the serene lake and its unspoiled surroundings are available to those brave enough to make the trek.
Enjoy a day of fishing and boating, hike the trails, or just set up camp and take in the beauty. Bowman Lake provides eight miles of water, dense forest, and peace and quiet.
Make sure you visit the Polebridge Mercantile, also known simply as The Merc, before driving to the lake. This general store and bakery was founded over 100 years ago and still serves as the area's "last best outpost." The huckleberry bear claws are legendary!
Make it a Montana fishing trip! Montana's Best Fishing Waters.
#2 Flathead Lake
Have you ever wanted to visit one of the biggest lakes in the U.S.? Then, plan a day trip to Flathead Lake. This freshwater giant is just 25 miles south of Whitefish.
The lake offers 200 square miles of water and nearly as much shoreline. Access points include fishing areas, recreation areas, and two different state parks. Boating, waterskiing, and swimming are hugely popular here.
Flathead Lake is worth visiting year-round. Hiking, camping, and picnicking are just a few fun summer activities. Don't forget to check out the roadside stands that sell regional in-season fruit.
If you visit during the winter, you can ski, sled, or snowshoe. Some folks even try ice fishing in the lake's more shallow areas.
Before you go, be advised that the southern portion of the lake belongs to the Confederated Salish and Kootenai Tribes Flathead Reservation. You'll need to buy a recreation permit from the tribal council before exploring this area.
#3 Montana Vortex and House of Mystery
You'll find plenty of natural wonders in northern Montana between the lakes, mountains, and forests. And according to the Montana Vortex and House of Mystery owners, there are plenty of supernatural wonders too.
This day trip is only 13 miles east of Whitefish and is well worth visiting.
The Montana Vortex and House of Mystery opened in 1970. Visitors can experience the vortex, an energy field that supposedly shrinks and expands anything that crosses its path. Many people who enter it describe a powerful, otherworldly feeling, which has led some to call it "The Portal."
The nearby House of Mystery is a perfect spot for photo ops. This fun-house-style structure was built at an angle, creating optical illusions at every turn. You can even discover the color of your aura, or energy field, at the Aura Spot.
Whether you believe in the power of the vortex or not, one thing's for sure. It's a fun place for kids and adults of all ages.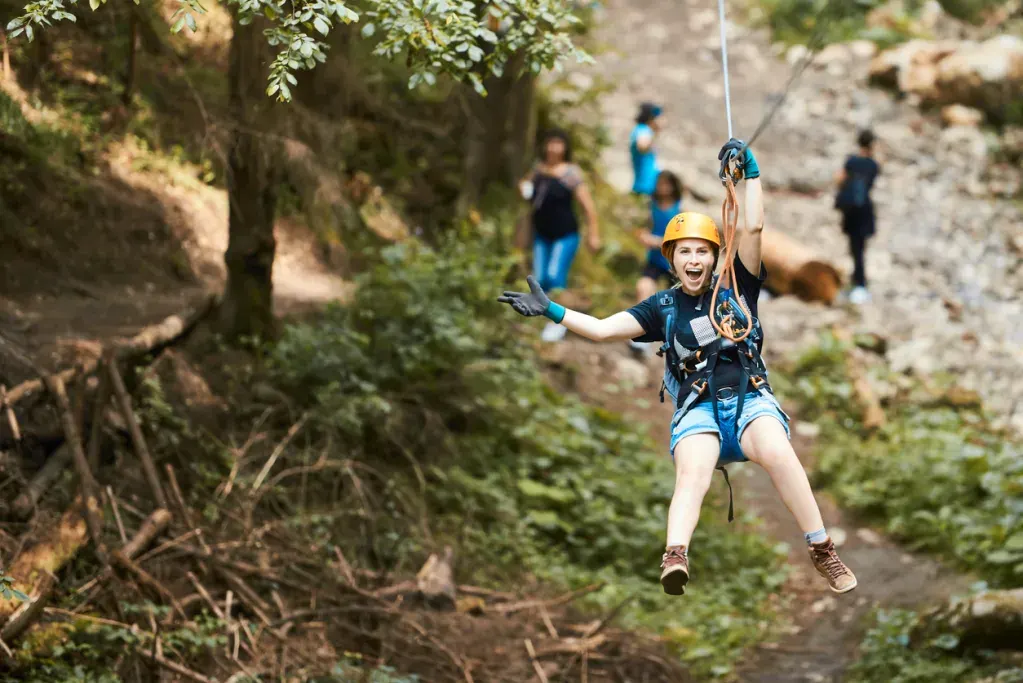 #4 Going to the Sun Road
Maybe you'd like to visit Glacier National Park, but hiking isn't your favorite pastime. That's where Going to the Sun Road comes in. This self-paced day trip is just 60 miles northeast of Whitefish and provides some of the most scenic views in Montana.
Going to the Sun Road is the most direct highway route through the Glacier area. It's 50 miles long and takes three to eight hours to drive, depending on how many stops you take. You can explore Lake McDonald Lodge, walk the Trail of the Cedars, or stop at Logan Pass, the highest elevation point on the journey.
In addition to fun side activities, Going to the Sun Road offers stunning vistas. You'll see waterfalls, mountains, valleys, and, yes, glaciers. There's plenty of animal and plant life to observe as well.
Some parts of the road may close depending on weather conditions; however, Going to the Sun Road is beautiful at any time of year.
Be careful in the wilderness around Whitefish: The Most Dangerous Creatures in Glacier National Park.
#5 Glacier Highline Adventure Park
For a day trip under 20 miles from Whitefish, look no further than Glacier Highline Adventure Park. This is your chance to live your Ninja Warrior dreams.
Bring your family here for outdoor challenges like ropes, obstacle courses, and rock climbing. Summer visitors can enjoy an inflatable ground course and water slide to cool off.
If cargo nets and Tarzan swings aren't your thing, try the Glacier Highline zipline. The ziplines allow you to get a peaceful view of the park without breaking a sweat.
Once you work up an appetite, head to the Tower Grill for burgers, sandwiches, or a salad. You can also book an onsite condo or cabin to get the most out of your adventure.
Buy an Adventure Pass for unlimited access to the inflatable course and water slide, plus two hours of ropes, zipline, and rock climbing time. Kids' passes start at $25, and adult passes at $65.
This might be a great place to stay: North American RV Park – West Glacier, Montana.
Whitefish, Montana, Is Worth the Trip
Whitefish is the perfect place to escape to, whether in summer or winter. This charming alpine town offers plenty of opportunities to relax. And with so many nearby day trip options, there are plenty of opportunities for fun as well.
If there's a better way to explore northwestern Montana, we haven't found it. Start planning your trip to Whitefish now!
Discover the Best Free Camping Across the USA
To be honest with you, we hate paying for camping. There are so many free campsites in America (with complete privacy).
You should give it a try!
As a matter of fact, these free campsites are yours. Every time you pay federal taxes, you're contributing to these lands.
Become a FREE CAMPING INSIDER and join the 100,000 campers who love to score the best site!
We'll send you the 50 Best Free Campsites in the USA (one per state). Access the list by submitting your email below: