Walmart isn't in the battery manufacturing business, so we wondered who makes the house brand batteries they sell.
Are they all made by the same manufacturer? Are these batteries good enough for your car, or should you choose an alternative?
Many have tried to answer this question, and we found a lot of conflicting information. But we waded through the details to uncover which companies manufacture Walmart's EverStart brand batteries.
Let's take a look!
Which Companies Make Walmart Brand Vehicle Batteries?
Walmart isn't the only store chain to have its own battery brand. However, among all retailers, including auto store chains, Walmart is the only one that gets its car batteries from multiple manufacturers simultaneously.
Walmart's car batteries are typically supplied by the nearest manufacturer with the lowest prices. There's a lot of conflicting information online, and people argue this point when, in fact, all the information is valid.
Clarios
As of May 2019, Clarios is the new name for Johnson Controls. Before the sale, the company had a relationship with numerous brands, including Walmart. Clarios continues these partnerships.
As an industry leader, one-third of all cars in the world use Clarios car batteries. The company also owns and distributes, Optima Batteries, Varta, MAC Batteries, Heliar, and many other brands.
Milwaukee, Wisconsin, serves as Clarios's regional headquarters, with more than 5800 workers in 18 facilities. Additionally, Monterrey, Mexico, has over 3000 workers in nine facilities.
East Penn Manufacturing
East Penn Manufacturing is a massive corporation that builds and distributes batteries and chargers. The company is a subsidiary of Energy Products Inc.
The midwest company has four automotive battery plants and supplies batteries to other manufacturers.
Their relationship with Walmart is well-known, and they've supplied EverStart batteries to Walmart for years.
Exide
Exide Industries Ltd is an Indian multinational battery manufacturer headquartered in Kolkata. The company is the largest manufacturer of lead-acid batteries in India and the fourth largest in the world.
The company has seven factories located across the country. Additionally, Exide is the only company that provides submarine batteries to the Indian Navy.
Exide incorporated in 1953 after buying out Chloride Electric Storage Company, which had operated since 1916.
Pro Tip: When buying batteries at Walmart make sure you know these 10 Unwritten Rules for Shopping at Walmart.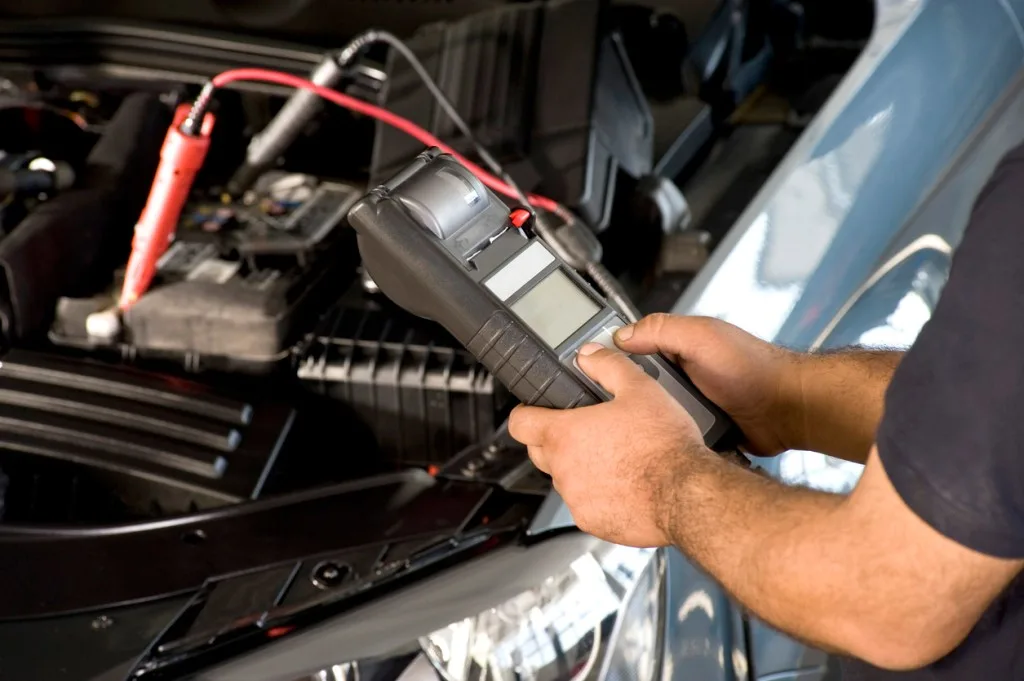 What's the Difference Between the Walmart Vehicle Batteries?
Walmart's EverStart brand car batteries are excellent, affordable, and reliable batteries built by reputable companies. At full power, they can withstand any weather or conditions.
The Walmart brand EverStart comes has three different levels of battery: EverStart Value, EverStart Plus, and EverStart Maxx. Each of them has its advantages.
EverStart Value
This is an entry-level car battery with dependable power and a great price. You can get one for under $50, but there's a catch. Although it's reliable, it only has a one-year replacement warranty.
Nevertheless, some customers reported that this battery lasted over three years.
EverStart Value will be sufficient for most cars in cold-cranking amps. But it all depends on vehicle specifications and on what you really need.
The battery comes in various sizes ranging from 490 CCA to 650 CCA. These will fit most cars on the market.
EverStart Plus
EverStart Plus is Walmart's mid-range battery. This is an excellent deal with a starting price of under $80 and a two-year free replacement warranty.
The battery has a cold cranking rating of 525 to 750 CCA. As with the EverStart Value, this is a good choice if you're buying a new battery for your vehicle.
With an extra year of free replacement, EverStart Plus is a better choice giving you peace of mind. With good maintenance, it should last well over the warranty period of two years.
EverStart Maxx
Walmart's top-of-the-line EverStart battery is the Maxx, which boasts maximum starting power. You can likely get one for under $120.
The Maxx series has a power range from 370 CCA to 850 CCA and will fit almost all the cars on the market today.
Because it's a premium quality battery, it offers a three-year free replacement warranty. There are numerous reports that the EverStart Maxx series has lasted for over five years for some consumers.
If price isn't an issue, a premium battery like EverStart Maxx is the way to go if you need a new one for your vehicle. It has plenty of power for multiple starts in any weather conditions.
Are Walmart Brand Vehicle Batteries Good Quality?
When it comes to vehicle batteries, Walmart's EverStart brand is trusted by many drivers. Known for their excellent quality, these batteries are used in many cars, SUVs, and trucks across the United States
Additionally, EverStart batteries are priced well against the competition. With convenient locations, battery fitting, and an excellent return and warranty policy, Walmart batteries may be a perfect choice for many different types of car owners.
Pro Tip: We got to the bottom of Is Walmart Doing Away With Plastic Bags?
Does Walmart Install Vehicle Batteries?
When you purchase an EverStart battery, many Walmarts will install it for free. However, you must buy the battery from a Walmart that has an automotive center to get the free installation.
If they don't have that department, you must bring it to a mechanic or install the battery yourself.
You can also get a discount by giving Walmart your old battery. This is called a core charge.
Not only will they handle disposing of the old battery for you, but you also get cash back. Plus, the company will recycle your old battery. It's a win-win for both parties.
Does Walmart Sell and Install RV Batteries?
Walmart sells, charges, and installs RV batteries at many locations with auto care centers. Check with the store to ensure they can work on your rig and particular batteries.
Walmart is an excellent place for RVers to replace a battery. They have a long list of different batteries to choose from that go far beyond the EverStart brand.
You can check online whether your battery is in stock at the nearest stores before making the trip. Whether you need lead acid, AGM, deep cycle, or lithium, Walmart has you covered.
And the best thing about buying from Walmart when on the road is that they're almost everywhere.
Are Walmart Brand Vehicle Batteries Worth It?
The EverStart Value car batteries are made by reputable companies. And they're likely to have more cold cranking amps than your stock battery.
They also come with good warranties and should last several years with proper maintenance. Additionally, many consumers have given good reviews stating that the batteries lasted longer than the warranty.
Discover the Best Free Camping Across the USA
To be honest with you, we hate paying for camping. There are so many free campsites in America (with complete privacy).
You should give it a try!
As a matter of fact, these free campsites are yours. Every time you pay federal taxes, you're contributing to these lands.
Become a FREE CAMPING INSIDER and join the 100,000 campers that love to score the best site!
We'll send you the 50 Best Free Campsites in the USA (one per state). Access the list by submitting your email below: