Oktoberfest can be a perfect way to celebrate fall. Between the great food and excellent brews, you'll find plenty of options to help you warm up as the weather cools.
Some places really know how to mark the occasion, but how can you narrow your choices?
If you want to dance and drink through the festivities in style, we've got the best spots on this side of the Atlantic to enjoy your favorite German holiday.
Let's polka!
The History of Oktoberfest Celebrations
Oktoberfest celebrates Bavarian culture, especially beer, food, and music. It's also the biggest beer festival in the world. The main event happens in Munich each year in the days leading up to October.
This party dates back to 1810 when Crown Prince Ludwig married Princess Therese. He invited citizens to join the fun in the fields in front of the city gates. They held a horserace to add to the spectacle, with wine and beer tastings for the guests.
Everyone loved it so much that they decided to do it again the following year. Games like tree climbing and bowling became part of the fun, and the party started to stretch out over two weeks.
The tradition continues to this day in these same fields. Named Theresienwiese in honor of the bride, it kicks off when the mayor of Munich taps the first keg. It's an outdoor camping party where you can load up on old-world food and drinks.
Luckily, you don't need a passport to enjoy this annual event. In fact, we know of a few awesome spin-offs across the US.
#1 Oktoberfest Zinzinnati, Ohio
Dating back to 1976, this Oktoberfest happens to be America's most extensive. The city transforms the downtown area on 2nd and 3rd into a Bavarian village with food, drink, and fun.
Some fan-favorite events include the world's largest chicken dance and the brat-eating contest. But perhaps the cutest part of the celebration is the Running of the Wieners, a dog race looking to crown the fastest dachshund in Cincinnati.
This family-friendly event is free to attend and spans four days. They typically have 30 or more live music acts to enjoy and more food than you can hope to try in one trip.
You may have trouble finding a hotel because it's a free event that draws hundreds of thousands of people. However, Tucker's Landing RV Park is a great option right on the Ohio River. It's about 15 minutes drive from downtown, but expect lots of traffic to slow you down.
This is an affordable spot with full hookups and 80 concrete pad sites. The views of the river and rolling hills are a peaceful way to recover from your day at the festival.
Some places transport you every day: 7 USA Vacation Destinations That Feel Like an Entirely Different Country
#2 Leavenworth, Washington, Oktoberfest
Few towns outside of Germany know how to replicate the sights, tastes, and sounds of a genuine Oktoberfest like this tourist-friendly burg.
That's because Leavenworth transformed into a Bavarian village back in the 1960s and has committed to the bit ever since. While they have festivals year-round, they pull out all the stops for this one.
This celebration stretches for three weekends, and they book authentic Bavarian acts to bring the music. Everyone participates in the festivities, including the breweries and wineries that provide local takes on German tradition. Plus, the root beer garden and carnival games will let the whole family indulge in this adventure.
With so much outdoor space to explore, plenty of places to camp nearby exist. But we recommended checking out Icicle River RV Park. It's in 50 acres of beautiful forest, a little farther from Main Street than others but much quieter.
The campground is still minutes from downtown Leavenworth and seconds from the river. You can choose from over 100 sites, and it offers all the amenities you need, including free WiFi.
Fair warning: 5 Remarkable Reasons to Avoid Leavenworth, Washington.
#3 Fredericksburg Oktoberfest, Texas
Fredericksburg is in German Hill Country, a Central Texas area that once drew many immigrants from Germany. You can still see their influence in architecture and food. However, nothing celebrates it as much as their take on Oktoberfest.
As the polka-capitol of Texas, one of the best things about it is all the local music. You can take it easy by sampling the best local breweries and wineries, but you'll also find plenty of activities if you want to get competitive.
The Kraut Run, stein hoisting, and costume contest are just a few ways you can up the stakes of the festivities.
Hill Country is beautiful, and the weather should be perfect for enjoying the outdoors. But you'll want a reliable place to relax. Oakwood RV Resort has everything you need to recoup from your indulgences.
If you book a poolside RV site, you'll be seconds away from a relaxing swim or soak in the hot tub. It's also a short drive from Enchanted Rock, where you can hike or climb those extra calories off.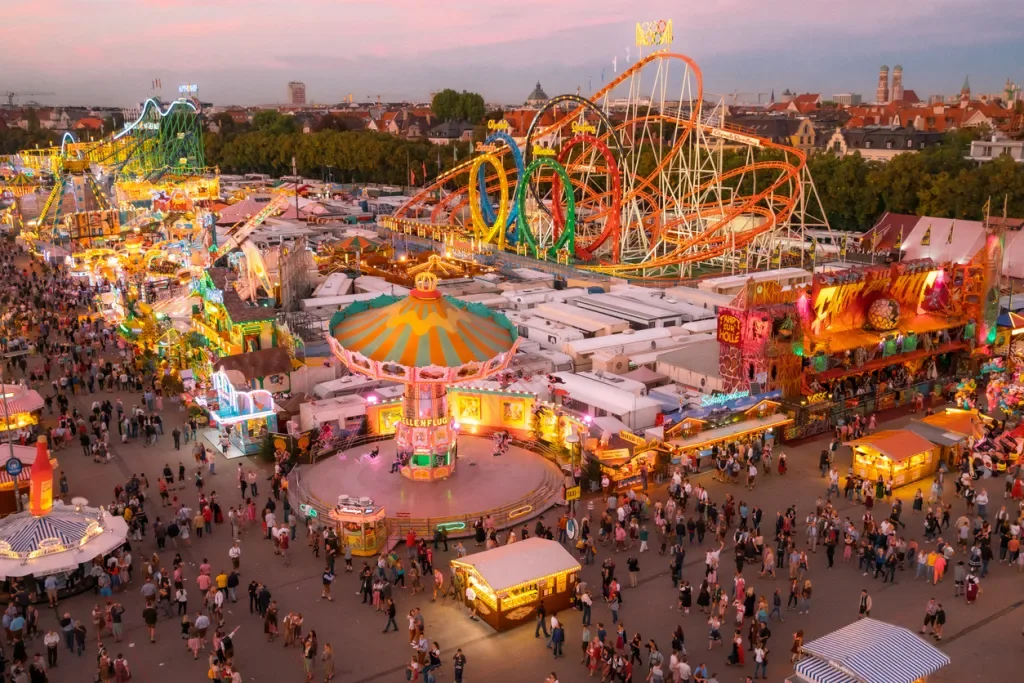 #4 Helen, Georgia, Oktoberfest
As the longest-running Oktoberfest celebration in the US, the Bavarian-themed village of Helen must be doing something right. It's also easy to fit into a less flexible schedule. The festivities run most weekends throughout September and daily throughout most of October.
They kick everything off with a parade downtown, followed by tapping the first keg in the riverside festhalle, where you can find the party throughout the season. Everyone likes to dress the part, so expect dancing in traditional garb while enjoying German tunes.
We recommend booking a spot at Unicoi state park, right in the foothills of the Appalachians. They offer thousands of acres of scenic forests and gentle mountain views. While there, we suggest you hike to Anna Ruby Falls or enjoy local vineyards if you need a break from beer.
You can book a cabin or select one of the RV or camping. They have primitive hammock spots and glamping sites with furnished safari tents, depending on the level of luxury you're looking for.
Look the part with this German Trachten Hat for Oktoberfest.
#5 Frankenmuth Oktoberfest, Michigan
Frankenmuth is the only Oktoberfest celebration outside of Germany to have official sanction from Munich. They serve authentic Bavarian beers that are hard to find on this side of the Atlantic.
The festivities take place in and around the Harvey Kern Community Pavilion, a scaled-down German beer hall that can accommodate 5,000 festival goers. The wooden dance floors and authentic music bring life to the party.
Between the fantastic food, the wiener dog races, and the nonstop music, you're sure to have an authentic experience.
Pine Ridge Campground is a wonderful place to stay within minutes of town. The tree-shaded sites are peaceful and affordable, with plenty of room to relax. Any space you book will have full access to hookups, and pop-up campers are welcome.
The Whole Family Can Enjoy this Bavarian Celebration
Oktoberfest may be all about beer for some, but the whole family can find fun. The music and games can lift everyone's spirits as the fall foliage starts to turn. No matter which one you choose, each destination offers tons of other sights and sounds to see while you're there.
So make some space on your calendar and in your tummy for some Bavarian culture and hit the road!
Discover the Best Free Camping Across the USA
To be honest with you, we hate paying for camping. There are so many free campsites in America (with complete privacy).
You should give it a try!
As a matter of fact, these free campsites are yours. Every time you pay federal taxes, you're contributing to these lands.
Become a FREE CAMPING INSIDER and join the 100,000 campers who love to score the best site!
We'll send you the 50 Best Free Campsites in the USA (one per state). Access the list by submitting your email below: