A hidden room with a view in a travel trailer sounds like something from a fiction book. But it's not as make-believe as it sounds.
When you ask RVers what they want more of in their rigs, the answer is often storage. And if that means a secret area that's not easily noticeable, all the better.
Today, we're sharing details on travel trailers with unique hidden rooms.
Let's get rolling!
What Is a Travel Trailer?
When it comes to recreational vehicles, you'll hear several terms thrown around. You've got Class A, B, and C models, which don't require towing because they're drivable as one whole unit.
But other styles, such as the non-motorized fifth wheel and travel trailer, need hitching up to another vehicle. That is if you intend to bring them along on your camping adventures.
The tow-behind trailer, out of all the various kinds of campers, is by far the most popular. That's because most SUVs can tow them since the smallest models weigh no more than about 2,000 pounds. And the price points typically start around $15,000. They're very manageable, both in size and cost.
Travel trailers are generally 13 to 30 feet long. If you're looking for something bigger, you'll probably want to check out fifth wheels. While the smallest trailers are suitable for one or two people, larger ones can sleep up to five.
FYI: These are the best travel trailer brands.
If you've been eyeing campers for your family excursions, you're likely familiar with all the standard layouts. But the new Salem 29View travel trailer, also called Salem View, is unique because it has a hidden bunk room.
We think this feature is very cool, and your kids probably will too. The Salem View has one slide-out, and that's where you'll find the additional beds.
To access this travel trailer's hidden room, you open a cabinet next to the entertainment center to locate a door handle. No one would even guess the space was there!
In addition to a flip-down bunk bed, another space for a small mattress on the floor is below it. While you might think the hidden room would be dark and unwelcoming, it's quite the opposite. Several windows allow natural light to enter the area. There's also a desk that swings down when not in use.
Multiple Views and Ample Storage Space
Aside from the hidden bunk room, the Salem View offers many excellent features. To start with, it's on the larger end of travel trailers, measuring 34 feet long, and sleeps up to six people.
At the front of the unit is the bedroom with a king-size bed that tilts up for easy TV watching or reading. The tilting function also provides more walking area between the wall and the foot of the bed. And we all know additional space is a good thing in any RV or trailer.
The opposite end of the rig is a spacious kitchen with fantastic natural light. It also includes an oven, three-burner stovetop, microwave, 11-cubic-foot fridge, and bar seating for four facing the windows.
One downside of this dining setup is that you can't face others eating with you. However, if weather permits, head outside to a picnic table for your meals.
Other features include a living space with a comfortable pull-out lounger couch, an entertainment center, and lots of storage space throughout the unit. You'll even get more window views than many other trailers of similar size.
The Salem View also has a 40-gallon freshwater tank and large-capacity gray and black tanks. So boondocking is definitely an option in this trailer!
More places to stash camping gear are below the rig, with a roomy pass-through storage area. You'll be able to bring just about anything you want with you on your adventures.
The MSRP on the Salem View is around $50,000. That's not bad for a trailer with all these great features.
Who Makes the Salem View Travel Trailer?
Forest River is a company trusted by many in the RV industry. They produce nearly every style of camper on the market. But they also manufacture other units, including commercial buses, cargo trailers, and pontoon boats.
They're doing things right because their name doesn't get people in an uproar like other brands do. Started in 1996, Forest River prides itself on producing quality, dependable recreational vehicles. The company's mission is to help all owners of their RVs enjoy their experiences thoroughly.
Another aspect of their outstanding reputation is the ability to fulfill new orders promptly. They build units in several facilities throughout the Midwest and West Coast.
Other manufacturers tend to have one central production headquarters. But Forest River's multiple locations allow them to make customers happy quickly with their new rigs.
So not only will the 2024 Salem View offer a comfortable camping experience, you'll know you're getting a top-quality unit. You won't have to worry about it falling apart minutes after driving it off the lot.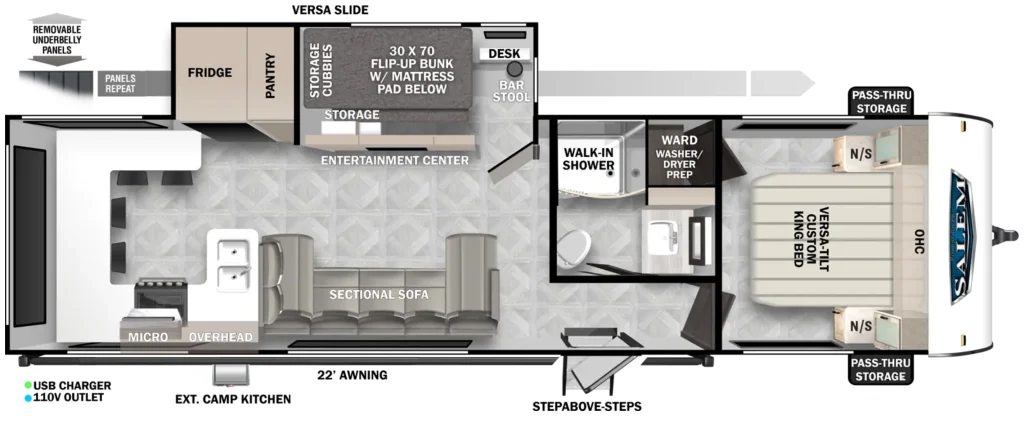 The Salem 29View travel trailer isn't the only camper with a hidden room. We found a few more that might suit your needs just as well or perhaps even better.
Salem Cruise Lite 24VIEW
Forest River's Salem series offers another travel trailer with a hidden room for bunk beds. The Salem Cruise Lite 24View is just under 30 feet long, so a little shorter than the 29View. Most of the layout, however, is very similar to the other model.
You'll find the secret room behind the entertainment center and fireplace, just like in the 29View. The Cruise Lite travel trailer sleeps six and features excellent viewing options from windows all the way around the unit.
And the storage capacity is plentiful. You'll have numerous areas inside and in the basement of the trailer for stowing gear.
The MSRP on the Cruise Lite 24View is about $45,000. And you'll likely get a better price than that when you start shopping around.
Keystone Outback Ultra-Lite 291UBH
We can't say this travel trailer has a secret bedroom. However, it does have a hidden pantry. Behind the TV is a floor-to-ceiling area with shelving to store kitchen items or other essentials. It's always nice to have unique RV layouts with storage space in mind.
The Keystone Outback Ultra-Lite 291UBH also has space for up to nine people to sleep. In addition to the queen bed, you have the pull-out sofa, bunk beds, and dinette conversion for more sleeping areas.
Freshwater capacity is 54 gallons, while black and gray tanks combined hold 90 gallons. The MSRP on this unit is around $53,000.
Dutchmen Atlas 2702RB
As with the previous travel trailer, the hidden room is a large space behind the TV. But rather than just shelving, you can add a washer and dryer since it includes lines for both. Or you can keep the area open for more pantry or gear storage.
The Atlas 2702RB measures a little shy of 32 feet long but only sleeps three to four people. It has a king-size bed and a dinette that converts into an additional bed. So if you don't have a big family, this unit might be perfect for you.
This unit's holding tanks are similar to the other trailers we discussed. However, the gray waste capacity is much larger at 78 gallons. If you enjoy boondocking, having more space for kitchen and bathroom rinse water is a crucial feature.
The starting MSRP on this rig is about $42,000. It's a nice rig if you don't require additional sleeping room for kids or friends traveling with you.
We think the feature of a hidden room in travel trailers is a fantastic use of space. Whether for beds, a pantry, or an additional storage area, you can never have enough places to stash your belongings in your RV.
The price of these units is reasonable, especially when you consider the living and sleeping capacity of most of them. You might want to check some of these out if you're in the market for a new trailer.
Discover the Best Free Camping Across the USA
To be honest with you, we hate paying for camping. There are so many free campsites in America (with complete privacy).
You should give it a try!
As a matter of fact, these free campsites are yours. Every time you pay federal taxes, you're contributing to these lands.
Become a FREE CAMPING INSIDER and join the 100,000 campers who love to score the best site!
We'll send you the 50 Best Free Campsites in the USA (one per state). Access the list by submitting your email below: