A sun shade protects your vehicle from dangerous UV rays. They also insulate against muggy, hot summer days and bitterly cold winter nights.
While they might seem like an optional convenience, they're essential for preserving your vehicle's interior.
Today, we're sharing ten of the best sun shades available for your car, truck, or RV.
Let's jump in!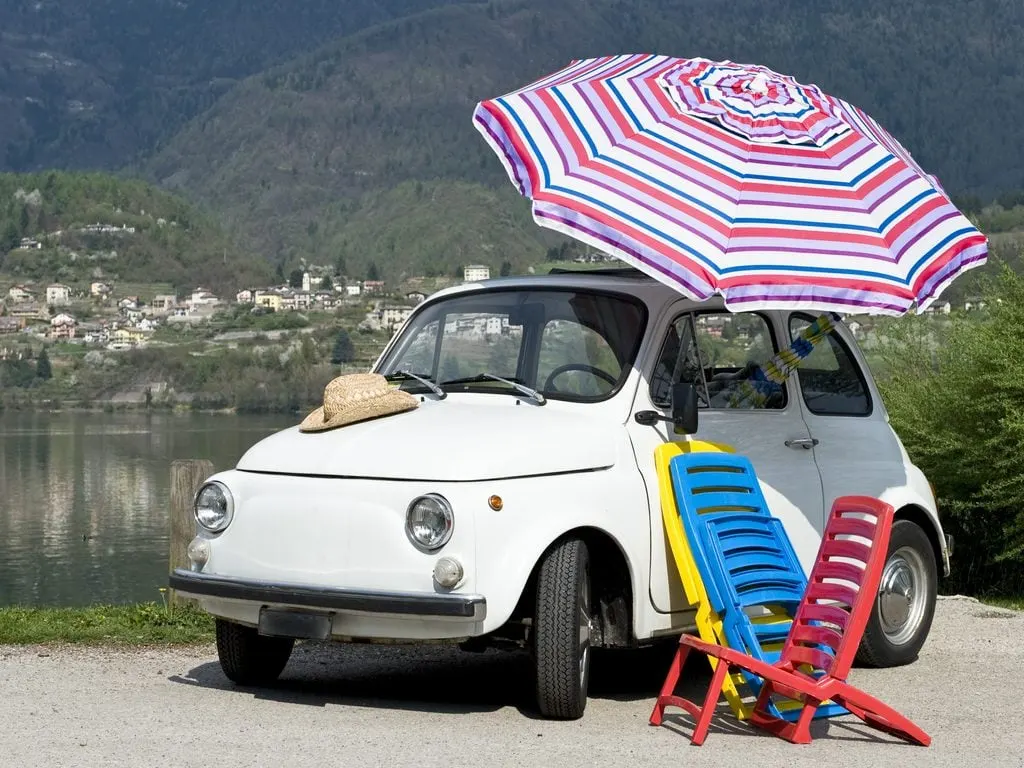 Why You Need a Vehicle Sun Shade
A sun shade is your vehicle's best friend. These accessories are inexpensive, easy to find, and significantly increase your car or RV's lifespan and market value.
The shades protect your dashboard and other interior surfaces from sun damage. UV rays and heat cause wear and tear over time. But the right covering will slow that process down or stop it altogether.
Window shields also keep your RV comfortable to be in during warm weather. They repel light and heat during the hot summer months and prevent your windows from frosting during winter. Test one out when temperatures rise over 90 degrees, and you'll notice a big difference.
These simple accessories offer tremendous benefits. But with so many options available, how do you choose the right one?
We'll look at ten of the best sun shades on the market to help you make the right choice for your vehicle.
Speaking of the sun: How to Protect Your RV from Sun Damage.
#1 WeatherTech TechShade Sun Shade
The TechShade Sun Shade is an all-weather solution for your vehicle. Made from flexible foam, this window shield is super easy to use.
Keep the heat-repellent side with its silvery film facing out to keep your car cool during the summer. Once winter hits, flip the shade to the fabric-covered heat-absorbing side.
Best of all, the TechShade Sun Shade features a strap system that makes storage simple. Buy a single unit for basic coverage, or splurge on shades for all your windows.
Size and Price Check: WeatherTech TechShades.
#2 Covercraft Sun Shade
The Covercraft Sun Shade provides an extra level of protection. Instead of a one-size-fits-all approach, this window shield is custom-fitted to your vehicle's exact specs. The customization helps add better coverage to avoid heat, cold, and harsh light.
Covercraft's Sun Shade comes with an insulating foam core that helps your vehicle maintain its inside temperature. It's also a sleek-looking accessory. You can choose between a silver or blue metallic color.
Size and Price Check: Covercraft Sun Shades.
#3 Magne Shade RV Sun Shades
A Magne Shade RV Sun Shade is the perfect solution for your rig's climate control issues. The mounting magnets make it easy to set in place.
Unlike many window shields, this product installs on the exterior of your rig's windows. Some RVers report that this design provides extra protection from sun and heat.
The Magne Shade window covering doesn't just help with heat and cold, though. Since it covers your windshield entirely, it also offers total privacy for camping. In addition, it comes in four colors you can match to your camper.
Size and Price Check: Magne Shade RV Sun Shades.
#4 A1 Shades Car Sun Shade
The Car Sun Shade from A1 Shades is an affordable choice for your vehicle. This window shield comes in seven sizes, making finding the right fit for your car easy.
According to A1 Shades, this accessory blocks up to 99% of UV rays. It comes with both a reflective and absorbent side.
Storing this shade is easy. Simply fold it in half and twist it to make it extra compact. All A1 Shades' window shields come with a bag for convenient storage.
Size and Price Check: A1 Shades Car Sun Shade.
#5 Coverking Sunshield
When Coverking says their Sunshield is custom-fitted, they aren't exaggerating. They construct their sun shades to your vehicle's specific make, model, and year.
You can expect better results with this product than with many one-size-fits-all models. In fact, the company says you may be able to keep your car up to 40 degrees cooler than outside temps.
The Coverking Sunshield features a foam core coated in multiple layers of mylar. The outer surface is shiny and aluminized to repel UV rays. And it rolls up for simple storage when not in use.
Size and Price Check: Coverking Sunshield.
#6 EcoNour RV Windshield Sunshade
The EcoNour RV Windshield Sunshade is another excellent solution for keeping your rig cool. It protects your vehicle with two circular panels connected by soft fabric.
EcoNour uses reinforced nylon polyester in this window shield. The ultra-strong material is nearly indestructible and blocks cold and hot air year-round. It also repels UV rays.
While it may not be custom-fitted, its one-size-fits-all design works for nearly all RV makes and models. It even fits most buses, making it perfect for schoolies.
Size and Price Check: EcoNour RV Windshield Sunshade.
#7 Dash Designs Retractable Windshield Sun Shade
The Dash Designs Retractable Windshield Sun Shade is a convenient option for keeping your car cool. And as their name suggests, their products come in all kinds of fun designs and colors. Not many shades offer your car extra style!
But the real draw for Dash Designs' product is the retractable feature. Instead of rolling or stuffing into a bag, the sun shade attaches to one side of your vehicle's windshield. Just pull it across the window accordion-style, then push it back when not in use.
Size and Price Check: Dash Designs Retractable Windshield Sun Shade.
#8 Enovoe Car Window Sun Shade
Enovoe's Car Window Sun Shades provide your vehicle's side windows with much-needed protection. After all, the windshield isn't the only part of your car that gets sun exposure. These accessories are ideal for rideshare drivers and folks with kids.
The shades come in sets of two and four. They also feature semi-sheer mesh that blocks up to 90% of UV light, protecting your passengers and keeping the interior cool. The shades attach to your windows using static cling, which means no fussing with suction cups or adhesive.
Size and Price Check: Enovoe Car Window Sun Shade.
#9 Magnelex Windshield Sun Shade
Magnelex's Windshield Sun Shades are ideal for bigger vehicles like trucks, SUVs, and motorhomes. Their shields come in five sizes, ranging from extra small to an XXL intended for RVs.
The sun shade features reflective polyester to repel heat and UV rays. Its two-ring design makes it easy to fold and stuff into a bag for quick storage.
Best of all, this product comes with a bonus item. When you buy a Magnelex Sun Shade, you'll receive a complimentary steering wheel cover, perfect for super-hot summer days.
Size and Price Check: Magnelex Windshield Sun Shade
#10 Carhartt Windshield Sun Shade
Carhartt's Windshield Sun Shade is another accessory that keeps your vehicle cool and protected through customization. Every Carhartt window shield fits a vehicle's specific make, model, and year.
This folding sun shade uses triple laminate and a foam core. The foam insulates the inside of your vehicle while the reflective laminate repels UV rays.
While it costs a bit more than others on this list, the reviews are overwhelmingly positive. Carhartt has a reputation for making quality, heavy-duty items, and their sun shade is no exception.
Size and Price Check: Carhartt Windshield Sun Shade
Add Life to Your Vehicle
When it comes to maintenance, a sun shade for your vehicle may not seem like the most significant detail. But these affordable accessories can save you a lot of money and trouble.
Sun shields protect your car from cosmetic issues and severe damage. They also keep you and your passengers comfortable during extreme temperatures. In addition, whether you drive a car, truck, or RV, protecting your vehicle from the elements will give it extra life.
Discover the Best Free Camping Across the USA
To be honest with you, we hate paying for camping. There are so many free campsites in America (with complete privacy).
You should give it a try!
As a matter of fact, these free campsites are yours. Every time you pay federal taxes, you're contributing to these lands.
Become a FREE CAMPING INSIDER and join the 100,000 campers who love to score the best site!
We'll send you the 50 Best Free Campsites in the USA (one per state). Access the list by submitting your email below: