The Badlands National Park was high on our priority list as we journeyed west. The large expanses of land paired with an endless sky seemed like the perfect scenic combination. We searched the internet for free camping in the area and found plenty of options. Buffalo Gap National Grassland was our choice – the site is one mile from The Badlands National Park's west entrance and five miles from the town of Wall.
Here's the breakdown:
[youtube https://www.youtube.com/watch?v=0hV2LPgwN1E%5D
Location: Wall, South Dakota
GPS: 43.8898, -102.227
Date/Temp: During the first five days we camped at Buffalo Gap the highs bounced between 85 & 90, with evening temps dropping quickly to the high 60s. Unfortunately, it heated up during the last two days camping there; the highs were in the 100s, peaking at 106!
Amenities: Buffalo Gap offers no hookups or bathrooms. We filled up our water in town at an RV park before setting up camp. We later discovered that the Wall City Park offers free water & a large trash receptacle. There's also easy water access at the Conoco station for filling jugs.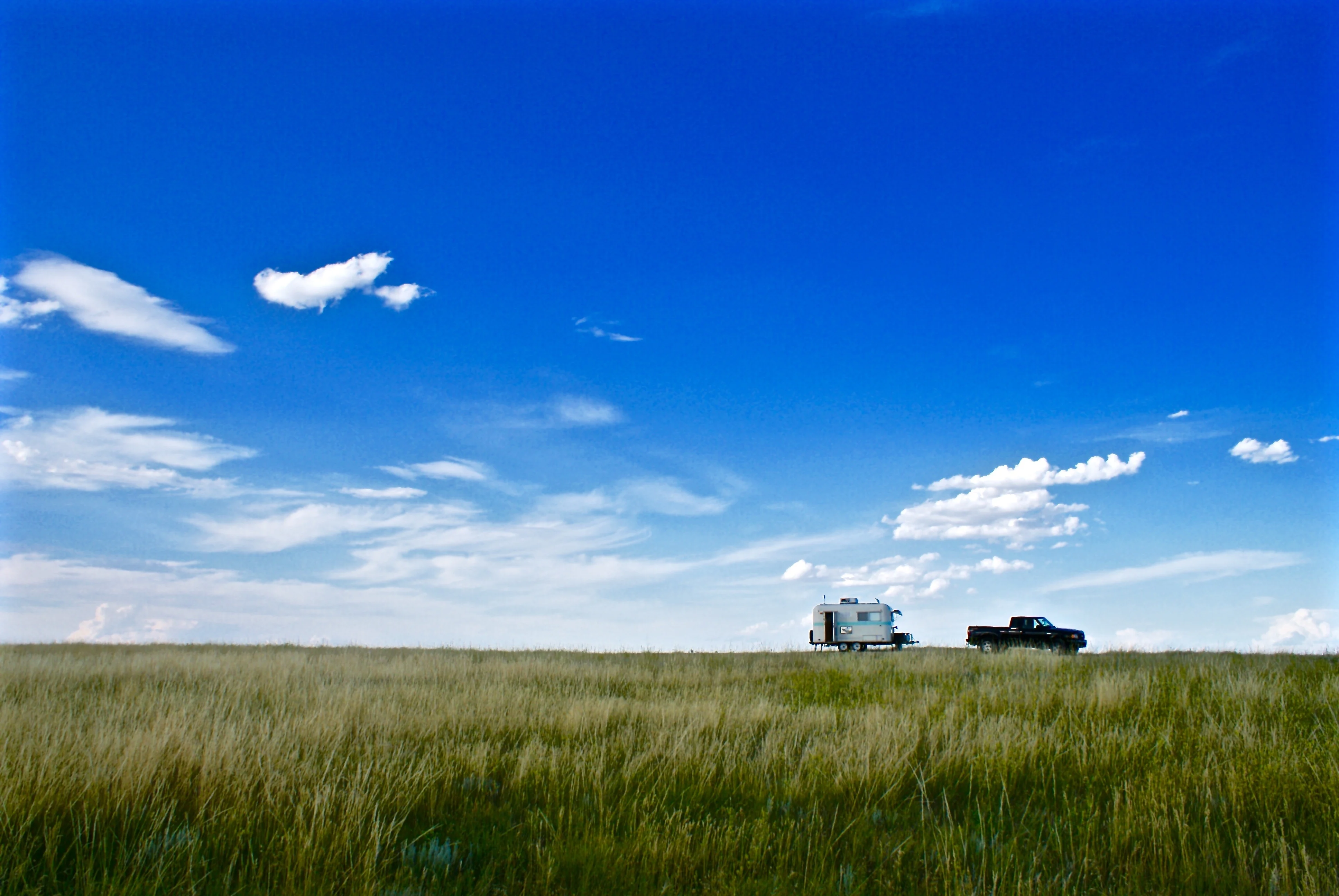 Noise: This campsite was so quiet & peaceful. Many nights we were the only campers; but even when we had neighbors, they were at least 100 yards away and never disturbed our relaxation. The loudest noise was the constant wind blowing; most of the time it was a cool relief from the heat, but at other times it shook the whole camper.
Wifi/Cell: Our T-Mobile hotspot received fast 4G LTE during 95% of our stay. Occasionally, an afternoon storm would drop us down to 3G service, but never for too long. AT&T also has strong 4G service at Buffalo Gap.
[youtube https://www.youtube.com/watch?v=lVs-v3C6hoo%5D
Groceries/Errands: Wall, South Dakota (5 miles away) is the largest town in the area. It's famous for the Wall Drug tourist trap, but the town does offer a few additional services. There's a laundromat, grocery store, auto shop, and post office all within a mile radius. We did a little grocery shopping and got an oil change during our stay.
Dog Friendly: River had a blast playing in the tall grass at Buffalo Gap. We didn't see any snakes here, although we heard some concern from other campers. The town of Wall is also dog friendly and provide doggy-clean-up bags throughout the streets.
Entertainment: It's all about nature. We were entertained daily by the wildlife we encountered at our campsite and in the Badlands National Park. The stunning views also provided hours of entertainment. When we were itching for some touristy thrills, we drove into Wall and checked out Wall Drug.
[youtube https://www.youtube.com/watch?v=SpRW4JInFTA%5D
Thanks for reading our blog. Help support our mission – to live freely and deliberately – by checking out our Etsy store or shopping Amazon through our link.