We Renovated a Vintage Airstream, Here's Why We'll Never Again
Vintage Airstreams are the things of idyllic dreams. That feeling of the open road, paired with the perfect Instagram pic, is all the inspiration millennials need.
To be fair, Airstream dreams extend far beyond millennials. Boomers, Gen Xers and even The Greatest Generation have all taken to the tin can.
We, as well, saw the appeal.
In February of 2018 we bought a 1979 Airstream Argosy and began the renovation process.
A Little Context to Start
This wasn't our first rodeo. In 2015 we bought a vintage camper (a 16 foot, 1985 Fiber Stream) and completed minor updates.
We installed new floors, solar panels, cabinets and even gave it a lift.
Over the next three years our Ford Ranger pulled that little trailer around the USA multiple times.
This taught us what we loved and hated about that camper.
With clarity and innocent enthusiasm, the idea of an Airstream renovation seemed like a fun way to build our dream home-on-wheels.
Vintage Airstream Blues
The first lesson we learned: the deeper you dig the more problems you'll find.
We dug all the way to the bottom.
In Airstream terms, we dug to the point of "The Full Monty." This is when you remove the aluminum shell from the frame.
From that point (the lowest of the low) we ended the demolition phase and began renovating.
Why Won't We Renovate Again?
We weren't handymen. In fact, we weren't even hobbyists. We were (and still are) full time RV travelers.
The renovation was a way to build our ideal Airstream and save money doing it.
We initially spent $2200 on the vintage Airstream and countless dollars once we began the process.
Didn't Have The Space
We didn't have a space to renovate. Sure, we had a yard…but, no shelter whatsoever.
Taking on a project like this will never happen again if we don't have a proper area to do it.
Alabama summers are hot and wet. Not only is it hard to work in the rain, it's extremely frustrating to see your new subfloors get wet in a down pour.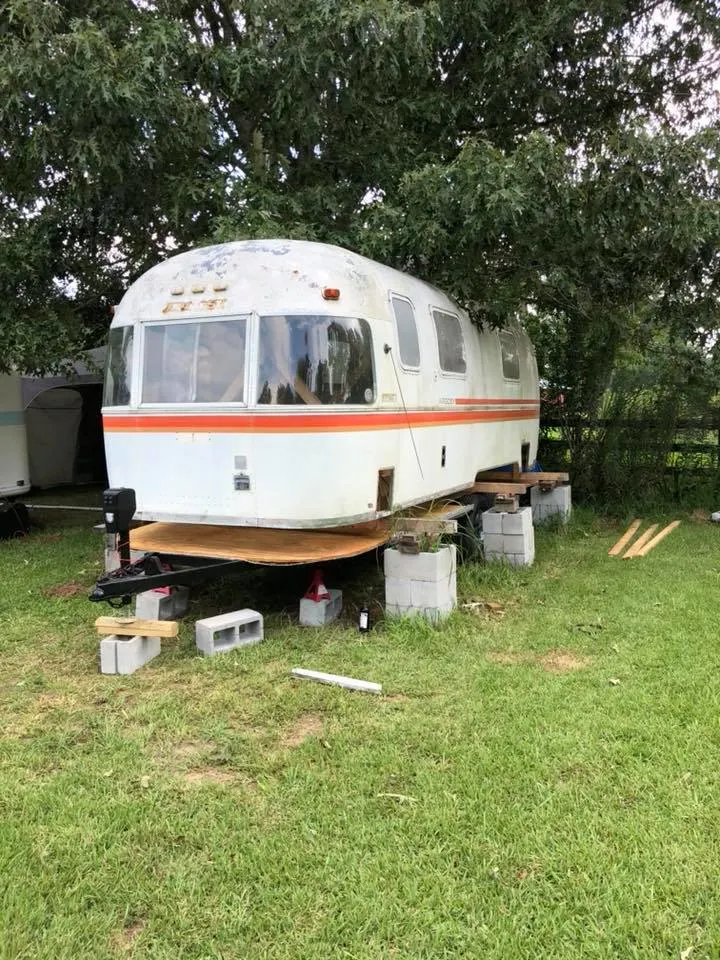 Didn't Have The Tools
Every day we drove to Home Depot to buy tools. This cost us a fortune! We didn't have a drill, a rivet gun, an air compressor, or even a saw horse.
We'll never take on a project like this again if we don't already have the tools.
Didn't Have The Passion
Don't get me wrong, we're full of passion. We have the passion to explore, to connect with nature, to create music and meet new friends.
We don't have the passion to build cabinets, install subfloors or wire the electric system.
This Airstream renovation was our ticket to getting back out on the road. Every passing day the price of admission seemed to raise higher and higher.
We became trapped by the project.
This was far from the feeling of freedom we dreamed about.
Emotional Challenges Were a Heavy Burden
Working together as a couple was difficult. We've successfully accomplished many goals prior to the Airstream renovation. However, this was a completely different animal.
Here's the thing:
Neither of us had project knowledge
We both felt entirely stressed out
Our work area was in our families back yard
Stationary life took it's toll on us
This combination kept tensions high.
We finally learned how to work together (after 12 months in) and were able to tame the emotional aspect of the renovation.
Physical Challenges for the Entire Project
It took us 18 months to complete our vintage Airstream renovation. During the entire time our bodies hurt.
Fingers stayed scratched.
Shoulders sore.
Muscles we never knew we had ached.
We're not getting any younger.
This is another reason we won't renovate a vintage Airstream again.
Do We Regret Renovating and Airstream?
Hell no! We learned so much and feel a great amount of pride for what we accomplished.
Our Airstream (take the full tour here) is an awesome, off-grid trailer with so many features we love.
But, would we do it again? No.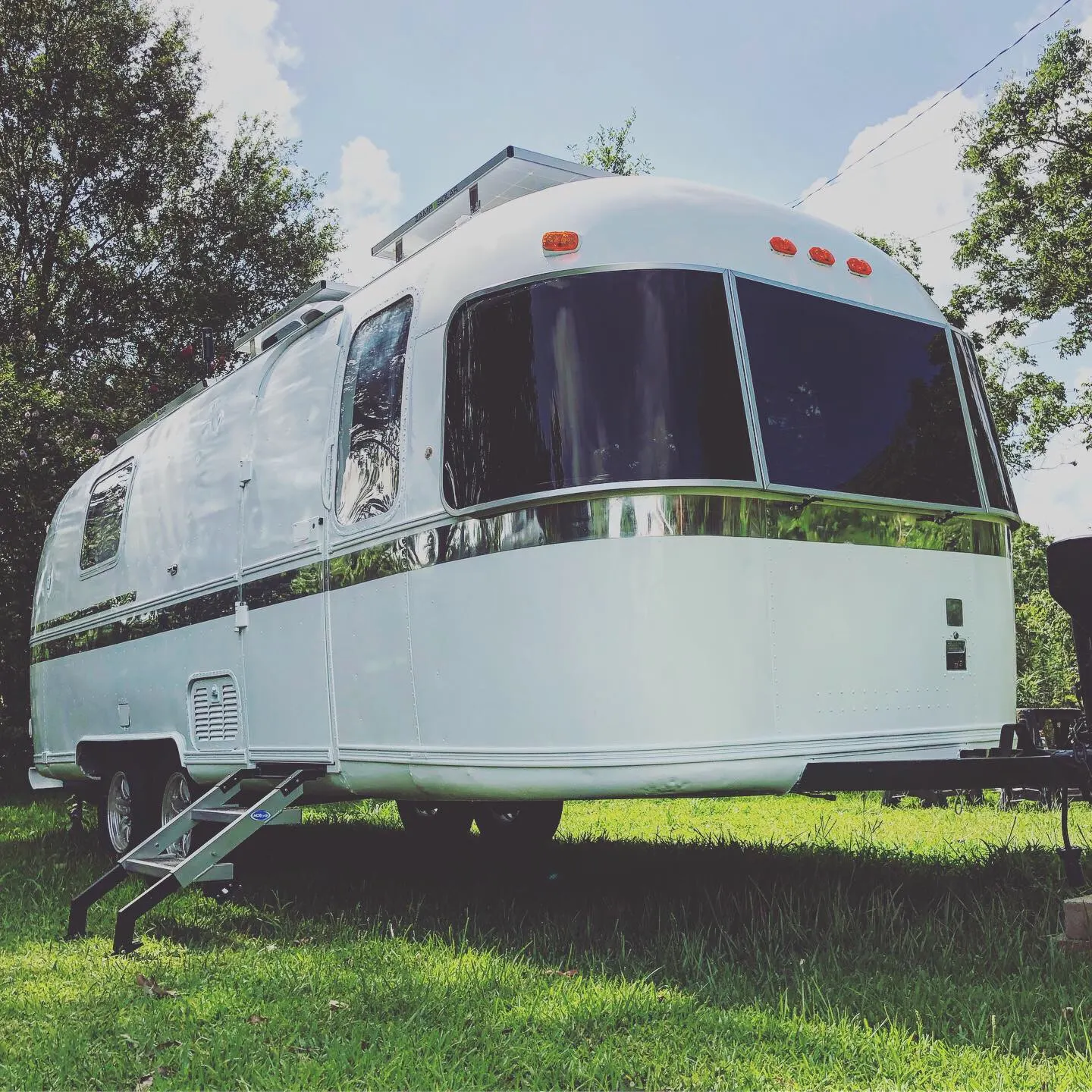 Our Advice to Those Willing to Renovate an Airstream
If you have the burning desire to renovate a vintage Airstream, by all means, you should do it.
Be patient: delays will happen (daily). Set a goal completion date, but allow yourself to change it.
Be kind: whether you're working with a partner or by yourself, remember to be kind. Mistakes happen. Certain projects will need to be repeated. It's all part of the arduous journey.
Failure is an option: if it becomes too much, let it go. Many renovators never finish (and that's ok).
Forums are a double edged sword: read the advice, take some of it, and never ask for opinions on a completed task. BTW, AirForums is the best source of online info.
The Best FREE Camping in the USA
We love camping across this amazing country. And, we really love it when its free. Here's our list of the 20 Best Free Campsites in the USA.
If you haven't tried free camping before, also known as boondocking, take a look at our beginners guide to boondocking filled with everything you need to know to get started.
Become a FREE CAMPING INSIDER and join the 100,000 campers that love to score the best site! Simply enter your email below.