Lake Powell Campgrounds: Decent, Better Best
If you're visiting Arizona and get the opportunity to be next to or on the water, you take it. These Lake Powell campgrounds are located in the northernmost part of Arizona alongside the Arizona-Utah border, right outside of Page, Arizona.
But why take the time to drive up to northern Arizona for a weekend at the lake? Here's everything you need to know about what to do, why it's more than just a lake, and where to stay.
Why We Love Lake Powell
Lake Powell isn't like many other lakes in the United States. Surrounded by canyon walls, you can experience both lake and desert simultaneously without skipping a beat (and without the heatstroke!).
Lake Powell has some great history behind it, too, which makes it an ideal stop for those who want an additional lesson in Grand Canyon exploration as the lake is named after John Wesley Powell, one of the first real explorers of the canyon. You can find a museum dedicated to Mr. Powell in Page before you hit the lake.
No matter why you choose to visit Lake Powell, you won't be sorry. As someone who loves the Southwest landscape, this lake has views that are hard to beat.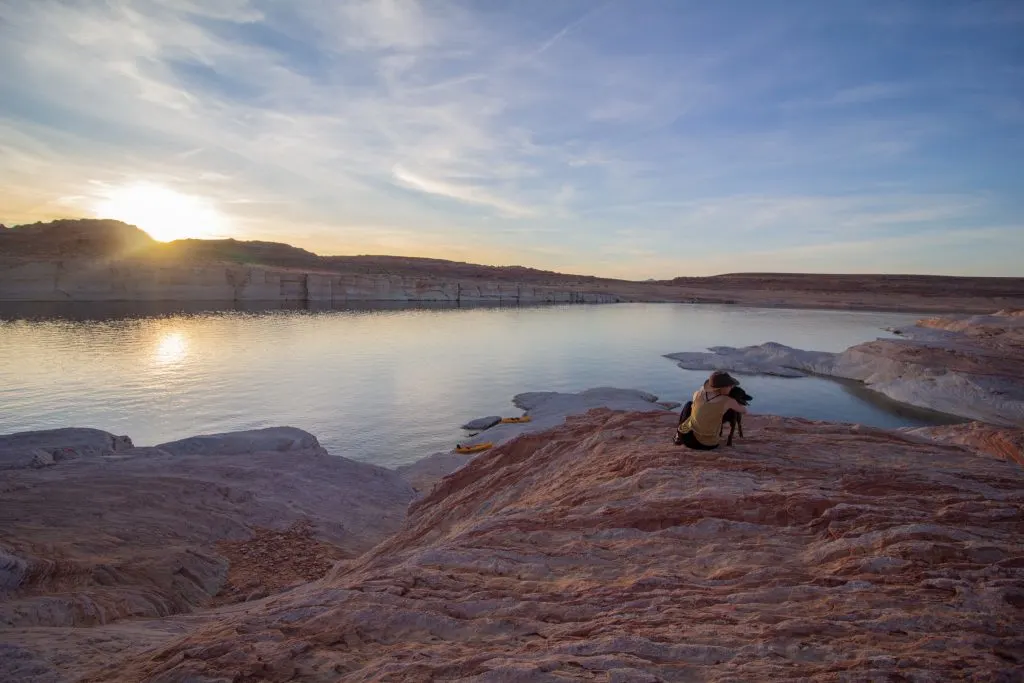 What to Do at Lake Powell
As with most lakes, the majority of things you can do is on the water rather than on land. Outside of Lake Powell, you'll have access to full amenities, a grocery store, restaurants, and rental shops. While you're on the lake, you can expect to pack in and pack out your food, water, trash, and gear.
Here are a few of our favorite things we do when we visit Lake Powell and the surrounding area.
Boating, Kayaking, and Paddleboarding
Every time we visit Lake Powell, we find new nooks and crannies to explore. Whether by motorized boat or kayaking or paddleboarding, you can experience the beauty of the desert on the water without the stress of getting lost in a dry, desolate canyon.
In some areas, you can find land access to slot canyons and other backcountry vistas if you know where to look, but it takes some time to look over satellite maps to find them!
Beach Camping
When we visit, we spend a long weekend at the lake camping on one of the many beaches available at Lake Powell to soak up the sun and wash away the summer heat when it becomes a little too much.
Take in the View from the Hite Crossing Bridge
You'll take the Hite Crossing Bridge as you cross over from the Arizona side to the Utah side of Lake Powell. This bridge gives you a great view of how Lake Powell is dammed and also the beginning of Horseshoe Bend. It's worth it to stop and see because you'll get a bird's eye view of the lake, dam, and slot canyon that Lake Powell sits in.
Relax at the Marina
Depending on what section of the lake you choose to stay at, you can spend time at the marinas and resort.
Stop by Horseshoe Bend
On your way out or into the Lake Powell area, take time to stop by Horseshoe Bend. The view of Horseshoe Bend has been seen in almost every crevice of the internet, but seeing it in person is worth the short hike. It's best to stop early in the morning or late in the day without the hustle and bustle of crowds.
Where to Stay at Lake Powell
There are plenty of places to stay at and around Lake Powell, but we've selected three sites that are ranked from decent to best.
1. The Decent Campground: Hite Camping Area
A relatively new NPS-created campground is Hite Camping Area right inside Glen Canyon Recreation Area. It's free to camp and offers some amenities like tables, grills, fire rings, a dump station, toilets, and showers! Don't expect to have cell service here, but do expect to have great views of the surrounding area and access to the river if you're interested in walking a little to get there.
2. The Better Campground: Stanton Creek Campground
Another place to set up camp for the night is Stanton Creek Campground. For $6 per person or $12 per vehicle. This campground is primitive, and sites are first-come, first-serve. You'll have service within the campsite area and quick access to supplies and restaurants nearby. There isn't any access to water here, so be sure to bring your own, especially in the heat of the summer.
3. The Best Campground: Bullfrog Marina RV Park & Campground
Though a little further away from Wahweap and Page, the Bullfrog Marina RV Park & Campground is the best bet for RV camping with hookups. Roughly 280 miles north of Wahweap, you'll find this campground offers 20 pull-through spaces and four back-in spaces. Every RV space offers full hookups and is accessible for rigs up to 50 feet long. 30 AMP power only, but you'll have access to restrooms and showers. Pets are also allowed here! You must call ahead to reserve a space as prices are seasonal. Expect to pay a $30 entrance fee to the park before you get to the campground.
Lake Powell Camping Tips
When we visit Lake Powell, we always spend several nights camping out on the lake. There's nothing like sleeping under the stars while the sound of the lake echoes around you in the canyon. I highly recommend you spend at least one night in a tent sleeping on the lake to get the full experience!
Experience Arizona Beyond the Desert
When you visit Arizona you may expect to be lost in red rocks and sandy dunes, but there's much more to this area than meets the eye. Lake Powell proves that there is much more to Arizona than the dry heat and desert landscape. If you make the trip, you'll be glad you did, even if it's just for some relief from the Arizona heat.
Free Camping Beyond Lake Powell
On Your Way To Monument Valley, Take Advantage of the Ample Free Camping
To be honest with you, we hate paying for camping. There are so many free campsites in America (with complete privacy). You should give it a try! As a matter of fact, these free campsites are yours.
Every time you pay federal taxes, you're contributing to these lands.
Here's our list of the 20 Best Free Campsites in the USA.
Become a FREE CAMPING INSIDER and join the 100,000 campers that love to score the best site! Simply enter your email below.