What Is Stealth Camping?
Stealth camping is becoming more and more necessary for some travelers as road-tripping increases in popularity every year.
Whether you're traveling in a small van or a big rig, you can do things to keep your profile on the down-low when traveling through not-so-RV-friendly cities and towns.
Let's talk about stealth camping's ins and outs to see if it makes sense for your travels.
What Exactly is Stealth Camping?
Stealth camping is what it sounds like. You do your best to camp without making a scene about it. It can be thought of as a form of overnight parking.
Basically, you do your best not to be seen camping to avoid unwanted attention or to sleep in a spot that isn't always kosher with local authorities or neighborhoods (although we don't condone this!).
Camping stealthily can come in handy in other situations as well.
If you're on BLM land or want to find yourself in the backcountry to get lost in the solitude, stealth camping is ideal.
You'll want to slink back into the woods and find a spot that doesn't attract much attention to continue your weekend away from the city's rush and noise.
Why Do People Stealth Camp?
Stealth camping is a big deal in traveling communities like full-time van dwellers because they often live in their vehicle full-time in bigger cities and towns that aren't always accepting of where they live.
Many people choose to live in a more stealthy vehicle when full-time traveling because it draws less attention when they're out and about in town and when they're getting lost in the wilderness.
Just like you like to have your privacy at home, camping stealthily allows full-time travelers to have some privacy and sense of security that isn't always readily available when you live in a vehicle.
Others stealth-camp to avoid drawing attention to their favorite campsites outside of town. By staying out of sight and out of mind, a site can become its own little oasis for travelers who want peace and quiet for a few days.
You can also save a lot of money, when choosing to stealth camp over staying in a city's RV park.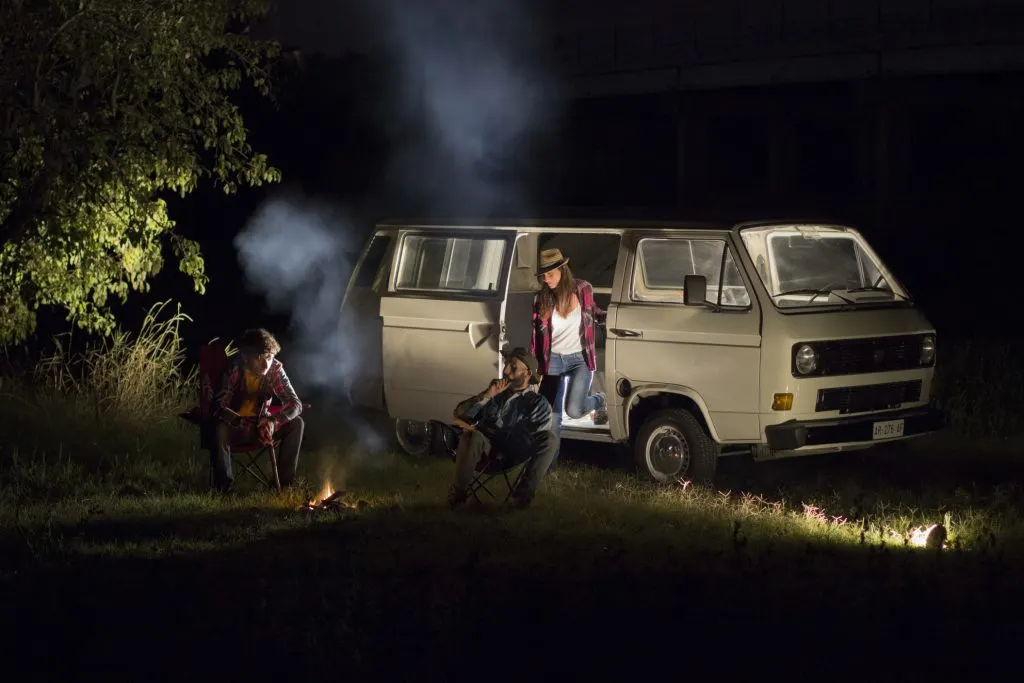 Tips for Stealth Camping
Stealth camping can be easily done in most small rigs like vans or truck campers, but other RVs or travel trailers may find it a little more complicated. Here are a few tips to help you camp more sneakily:
Don't go wild with the paint.
RVs and vans that are painted in bright or outrageous colors can easily attract more attention than a plain white van. If you want to camp in secret, tone down the colors with more natural paint like white, cream, or even forest colors if you find yourself in the woods a lot.
If you know you want to steal camp, keep this in mind during your DIY camper van build.
Be mindful of your behavior.
If you want to stealth camp, you can't be loud or do just anything you want. Running a generator or playing loud music can easily bring attention to your campsite and your vehicle.
Find the right location for stealth camping.
You may think it's easy to stealth camp in a city down the road from where you want to go, but trust us when we say that camping illegally is never ideal. You'll waste a good night's sleep on wondering if someone will come to tow your vehicle or bang on your vehicle in the middle of the night. Stealth camping is all about finding the right spot that's away from everything and safe from any kind of retribution.
Limit the visibility and signs that you camped there.
If you're a true stealth camper, you'll make sure that your rig is out of sight of the road while also allowing you to see who might be coming your way. When you leave the site, you'll want to make sure that there are no traces that you were there in the first place so do your due diligence to follow Leave No Trace principles every time you camp.
Stealth Camping Isn't for Everyone
At the end of the day, stealth camping isn't for everyone. Bigger and longer RVs and trailers will have a more difficult time sneaking away into the forest where no one can see them. But there are many benefits to stealth camping for both travelers and the places we frequent, too!
As travel continues to grow in popularity, making sure our favorite places stay the way they were intended to be seen is just as important as our time spent in them. By stealth camping, you can contribute less of a footprint when you travel in the backcountry and avoid crowded places that are already overrun by tourists.
Discover the Best Free Camping in America
To be honest with you, we hate paying for camping. There are so many free campsites in America (with complete privacy).
You should give it a try!
As a matter of fact, these free campsites are yours. Every time you pay federal taxes, you're contributing to these lands.
Become a FREE CAMPING INSIDER and join the 100,000 campers that love to score the best site!
We'll send you the 50 Best Free Campsites in the USA (one per state). Access the list by submitting your email below: