What Is A Class B+ RV?
RVers are always looking for the perfect rig, be it a travel trailer, fifth wheel, truck camper, or motorhome. Each has its own perks and downfalls. However, there has been a surge in popularity in Class B RVs, especially Class B+ RVs.
Being self-contained, agile, and having the ability to park almost anywhere makes this class of RV super popular.
Let's discover what all the hype is about these RVs.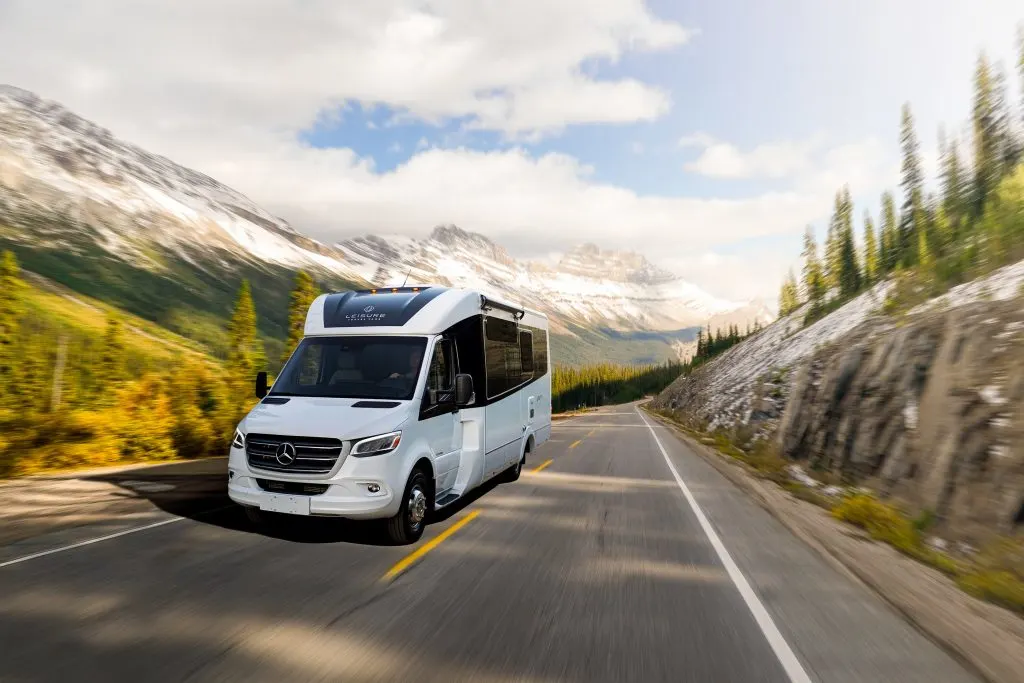 What are Traditional Class B RVs?
Class B RVs are the smallest drivable RVs available. They are built on van chassis, can vary in length, but are under the size needed to park in a regular parking spot. Class Bs don't always look like RVs, unless you know what you are looking for.
Many people use them for stealth camping on city streets because they can. Class Bs typically get better gas mileage, more like a van than a bigger rig.
What is a Class B+ RV?
Class B+ is a relatively new term that crosses over between the small, nimble driving ability of a Class B with more space and width of a Class C. (Class Cs are built on a truck base with the extra space, usually a bed, over the cab.)
The B+ RVs don't have a bunk over the driver and passenger seats, like the Cs.
Sometimes you'll see them with a skylight, instead, letting in extra natural light.
And it's important to note, technically speaking Class B+ RVs are actually a type of Class C RVs. This is in terms of federal regulations.
Differences Between Class B RVs and Class B+ RVs
Bathrooms in the Class B+ RVs differ from those in a Class B because of space. Typically, the Class B bathrooms are "wet baths," meaning that the shower stall also contains the toilet and sink. The entire room gets wet when one showers.
The amount of storage space is a large difference between the two classes. Many Class B van owners have gotten creative when it comes to storage in their rigs. Vans usually don't have outdoor storage, but have a large "garage" section under the bed in the back of the van to store outdoor toys, tools and other items.
Class B+ RVs also have larger storage tanks for water and for the gray and black waste.
They have more capacity for towing than Class B vans. They also look like RVs with paint jobs that don't blend in with traditional vans or cars, making it unsuitable for stealth camping.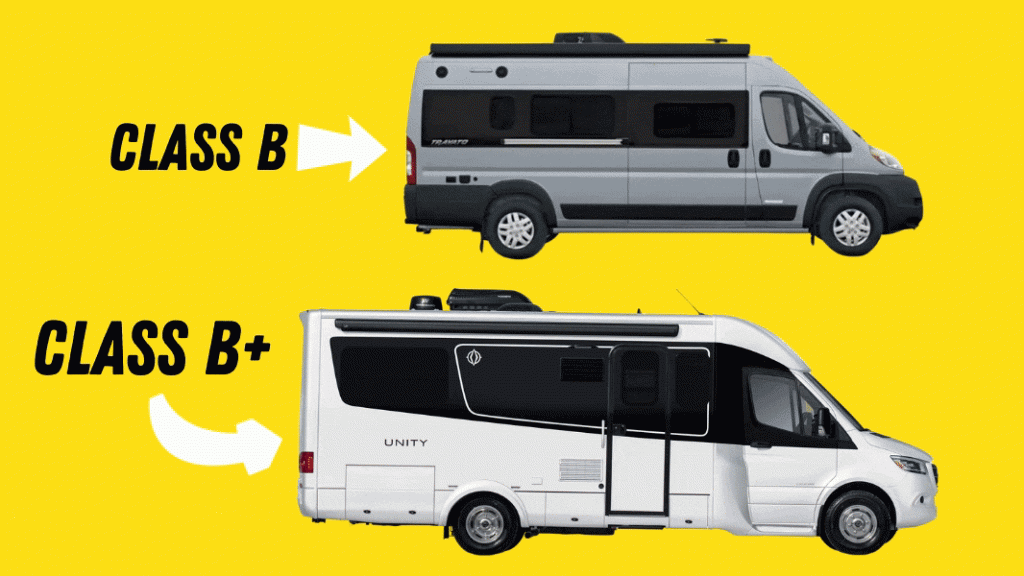 Differences Between Class B+ RVs and Class C RVs
Some of the differences between the Class B+ RVs and the Class C RVs, start with length. Class C's can be anywhere from 27 feet to 32 feet, but there have been some that are 39 feet. This also means that more people can travel with you. Class C RVs also tend to have more storage because they contain more space.
Class B+ RVs tend to be more expensive than Class Cs because they are fitting more amenities into less space. They both come in gas or diesel, but B+ units get better gas mileage than Cs. Class B+s also do not have the bulkhead over the driver cab like the Cs.
Class B+ RVs may be considered easier to drive (more aerodynamic). They fit many places that other, larger RVs don't, like driveways and National Parks. These RVs are better suited for two people, but at times have the space to have another person along.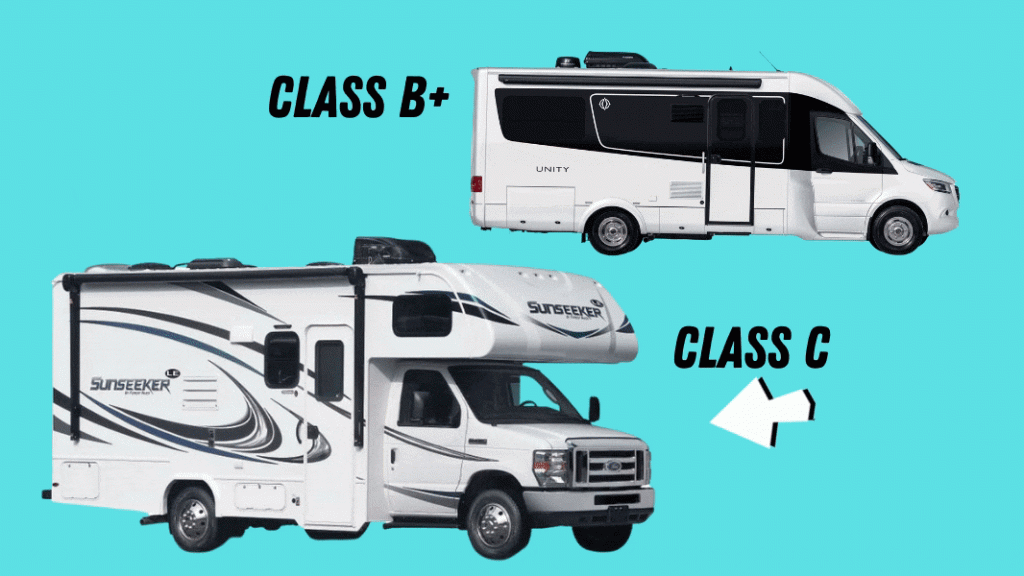 Features and Amenities of Class B+ RVs
Class B+ RVs have more features than a campervan, but are limited by the space as to the extra amenities, like a dishwasher, of a Class A RV.
Some of the positive features and amenities are the gas mileage is better than average, the chairs at the front swivel to make more living space and seating, and there is a queen bed option in most Class B+s, be it a Murphy bed or stand-alone queen bed.
Parking is easier in a B+. With the maneuverability of a small box truck, getting in to tight camping spots or parking in a traditional parking spot can be done with ease.
Pros and Cons of Class B+ RVs
Pros:
Nimble driving ability. It's easier to drive than most RVs
Parking spots are more accessible.
Gas mileage outperforms other classes of RVs
Cozy living space.
Dry bathroom – The shower is separate from the sink and toilet.
Cons:
Price.
Class B+ RVs tend to be more expensive than Class C RVs.
Even used unites are more expensive than some Class As and Cs.
Storage is at a premium, especially outside the RV.
Newer Class B+ RVs in the shorter size tend to have beds that have to be flipped up like a Murphy bed, or a bed that is folded into two when bringing in the slide.
Decent towing capacity compared to a Class B
Sleeps fewer people than other RVs except the Class B vans.
3 Popular Class B+ RV Models:
Phoenix USA Phoenix Cruiser
Phoenix USA Phoenix Cruiser is a stylish RV. The factory has chassis sizes from 21'7" to 30'10". Most have slide outs for more space, electric awnings, and automatic leveling jacks. Through Phoenix USA RV you can build your ideal unit to fit your budget and taste.
Called the "sports car of motorhomes" by Gulf Stream Coach, the Gulf Stream BT Cruiser has 8 different floor plans to choose from. The units have great kitchens for those who enjoy cooking, including a large sink, stove, oven and microwave. The length ranges from 22'1" to 32'1".
Leisure Travel Unity U24MB
The Leisure Travel Unity U24MB is a great unit for those who want compact living with the convenience of a residential bathroom. It features a Murphy Bed in the living area as well as a nice sized refrigerator, a small sink, cooktop and convection microwave. This rig is 25'1" long.
Is a Class B+ for You?
A Class B+ RV has many benefits over it's larger and smaller brothers and sisters. It's great for those who are part time RVers or who travel alone.
Depending on the size of the rig, and how much you like your travel companion, it could be a great choice for long term living.
The options vary as do the sticker prices, so do you your research and see if these RVs are the perfect rig for your lifestyle and your adventures on the road.
Discover the Best Free Camping Across the USA
To be honest with you, we hate paying for camping. There are so many free campsites in America (with complete privacy).
You should give it a try!
As a matter of fact, these free campsites are yours. Every time you pay federal taxes, you're contributing to these lands.
Become a FREE CAMPING INSIDER and join the 100,000 campers that love to score the best site!
We'll send you the 50 Best Free Campsites in the USA (one per state). Access the list by submitting your email below: