Can The Honda Pilot Tow a Camper Trailer?
The Honda Pilot has been cruising the roads for the better part of two decades now. In that time, it has developed a solid reputation for its versatility. It consistently gets good marks for its roominess and reliability, and it packs a lot of power, too.
This handsome midsize SUV is the biggest one that Honda makes. Is it hefty enough to handle the job of towing an RV trailer?
Let's find out.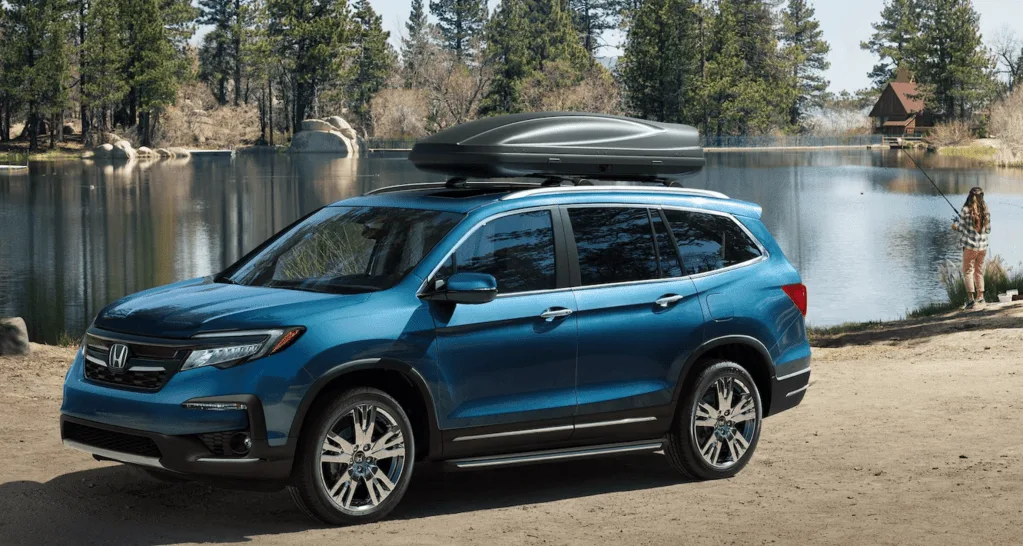 Honda Pilot Details and Specs
First launched in 2002, the Honda Pilot is built on the same car platform as the popular Honda Odyssey van. This makes it what's known as a "crossover" SUV. Larger, full-size SUVs have a truck chassis. (Such as the Chevy Tahoe and the Ford Expedition, just to name a couple).
The three-row Pilot is designed to seat up to eight people and still have lots of room for other stuff. Fold down a seat or two and you'll wind up with a lot more cargo space.
The Pilot is available in several different trim versions, including the LX, the EX, the EX-L, the Touring, the Elite and the Black Edition. Pricewise, they range from just under $32,000 to slightly over $50,000.
Each is powered by a 280-horsepower 3.5-liter V-6 that's paired with either a 6- or 9-speed automatic transmission. Front-wheel drive is standard on most versions, but all-wheel drive is also available.
Dimensions are 197″ L x 79″ W x 71″ H, and the MPG rating is 20/27.
Honda Pilot Towing Capacity
So, how much can a Honda Pilot tow? When the standard trim Honda Pilot LX is equipped with 2WD, the magic number is 3,500 pounds.
That's pretty impressive, but it gets a lot better. With an upgrade to what Honda calls its Intelligent Variable Torque Management AWD System, the towing capacity reaches 5,000 pounds.
In addition, the Pilot has a payload capacity of up to 1,625 pounds.
The Pilot has additional features designed with towing in mind. These include Hill Start Assist, in which sensors detect when you're on a hill and notify the system to apply the brakes as you move your foot from the brake pedal to the accelerator.
Does the Honda Pilot Have a Tow Package?
For folks like us, Honda also offers a tow package. This will allow you to make the most of the Pilot's towing capabilities.
The Honda Pilot towing package includes a trailer hitch receiver (ball mount receiver, retaining pin and clip), trailer hitch harness (7-pin round-style connector), trailer hitch locking pin (for added security) and trailer hitch ball (1 7/8 inch or 2 inch).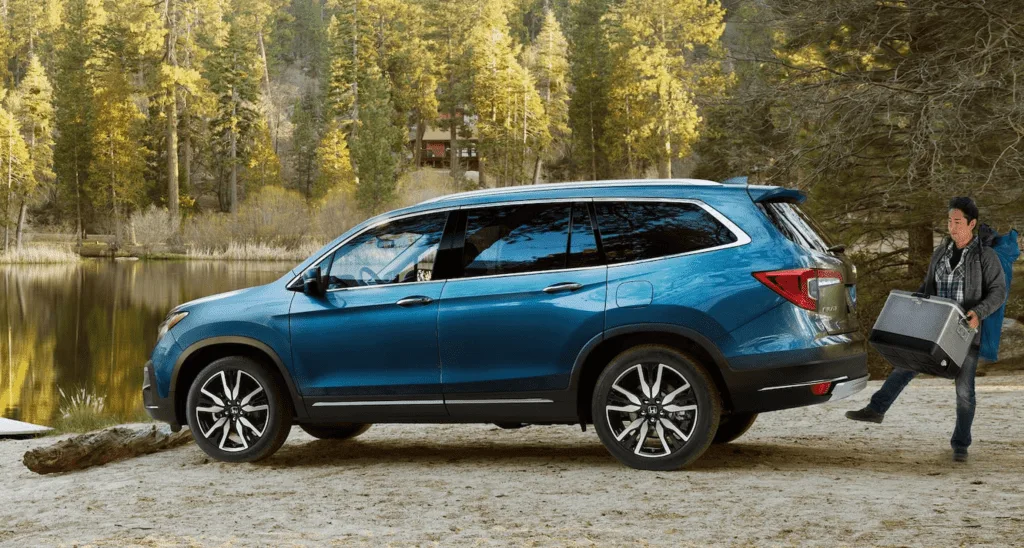 What Kind of Campers Can Be Towed by the Honda Pilot?
A towing capacity of up to 5,000 pounds means that you can tow some RV campers. But certainly not all of them. There are many travel trailers that are way too heavy to be towed by any of today's midsize SUVs.
However, there are many trailers that do fall safely within the capabilities of the Honda Pilot. In fact, there's a trend toward smaller, lighter camper trailers, so you're definitely in luck if you're looking to use a Honda Pilot as your tow vehicle.
Besides the tiny teardrop trailers that are designed for one or two people, there are other lightweight options that are commonly called stand-up campers (because you can stand up in them). They're really compact and have lots of amenities, including full-sized bathrooms.
Many of these smaller RV trailers have a dry weight of 3,000 pounds or less. With a towing capacity of 5,000 pounds, you can set your sights even higher (or heavier) and tackle lots of pop-up style travel trailers, as well.
Pro Tip: Here are the 7 Best Small RVs.
Pop-ups, which are sometimes called tent campers, are not as heavy as some other kinds of campers because their sides are made of canvas or some other kind of lightweight material.
Some pop-ups are big enough for a full family, and because they collapse into a low, compact shape, they're easier to tow because they don't have a lot of wind resistance.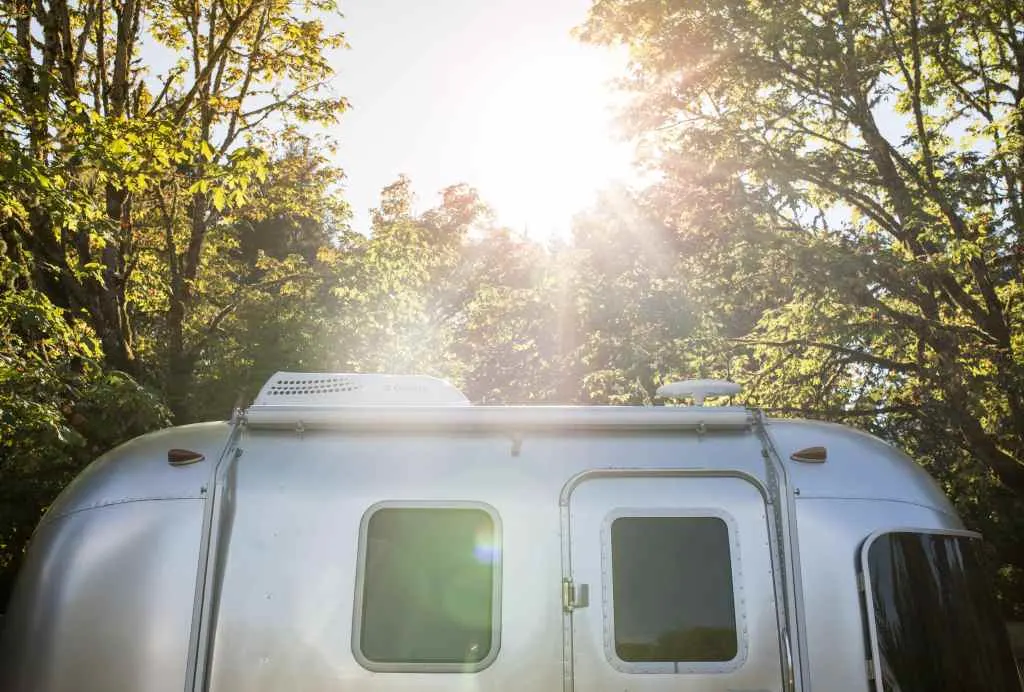 Let Your Pilot Lead the Way
Always play it safe when calculating how much you can tow. Look carefully at the numbers to determine the overall weight of the travel trailer when it's fully packed to make sure you are safely within the limits. Keep other factors in mind, too, such as the high winds and hilly roads you might encounter.
As long as you don't try to pull too much weight, there's no reason you can't have a Honda Pilot lead the way on your RV excursions.
Discover the Best Free Camping Across the USA
To be honest with you, we hate paying for camping. There are so many free campsites in America (with complete privacy).
You should give it a try!
As a matter of fact, these free campsites are yours. Every time you pay federal taxes, you're contributing to these lands.
Become a FREE CAMPING INSIDER and join the 100,000 campers who love to score the best site!
We'll send you the 50 Best Free Campsites in the USA (one per state). Access the list by submitting your email below: