The Bodie Ghost Town Road Trip Guide
Ghost towns have a way of eliciting wonder and superstition even in the most skeptical people.
If visiting and learning about ghost towns sounds like fun to you, you're in for a treat! In this article, we're diving into the history of the Bodie Ghost Town in central California.
In the late 1800s, Bodie was one of the biggest towns in the state! This ghost town is well preserved and even comes with a curse on any who dare take something from it.
Let's get into it!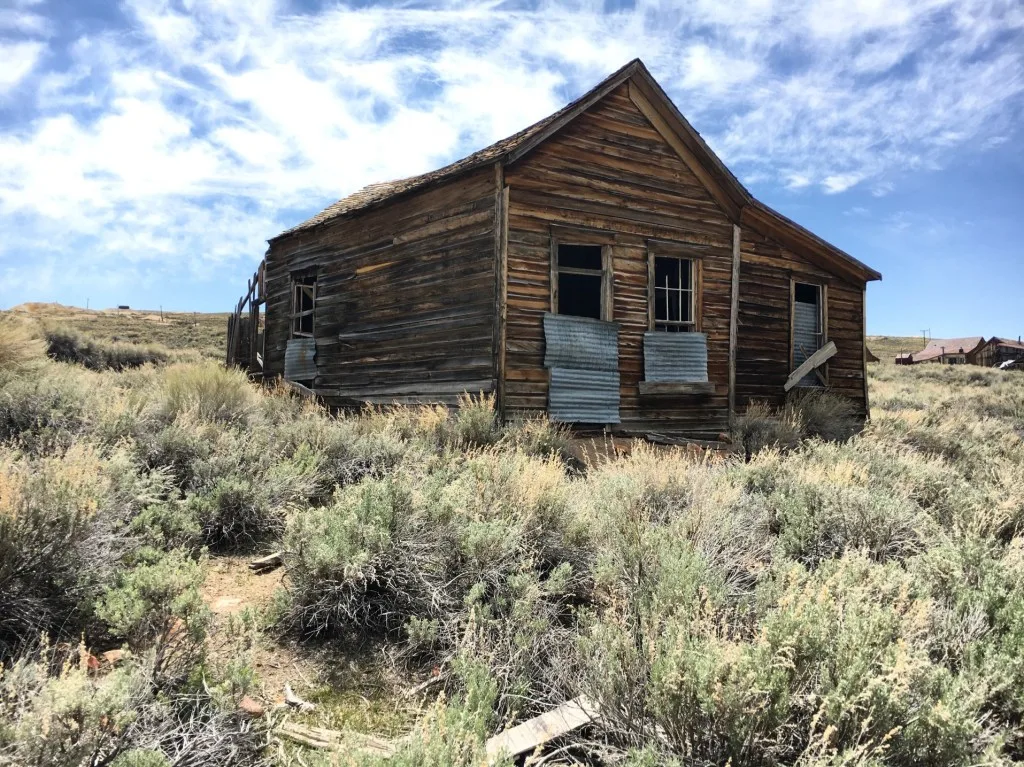 Where Is Bodie Ghost Town and How Did It Come to Be?
What was once the township of Bodie is now a ghost town and state park in central California near the Nevada state line.
Bodie began in the summer of 1859 with four prospectors searching the area for mineral wealth. The prospectors found a stream with gold that seemed promising enough for them to set up camp. But they had to leave for winter.
News of Bodie's gold didn't spread quickly; in fact, it was almost forgotten entirely. It wasn't until 1880–some 20 years later–that the population of Bodie exploded to 10,000 residents and became a full town with neighborhoods, a vibrant business district, saloons, brothels, opium dens, taverns, and more.
At its peak, Bodie had 22 operating mines, a post office, two churches, two newspapers, a telegraph station, and so much more.
But in 1892, a kitchen fire erupted that burnt down half the town. Although some residents rebuilt it, many others moved away in the aftermath. Prolific mining ended in 1915, and in 1932 another fire started that, again, destroyed most of the town.
Bodie was left to decay and became a National Landmark in 1961 and a California state park in 1962.
Pro Tip: Here are the 5 creepiest ghost towns in California.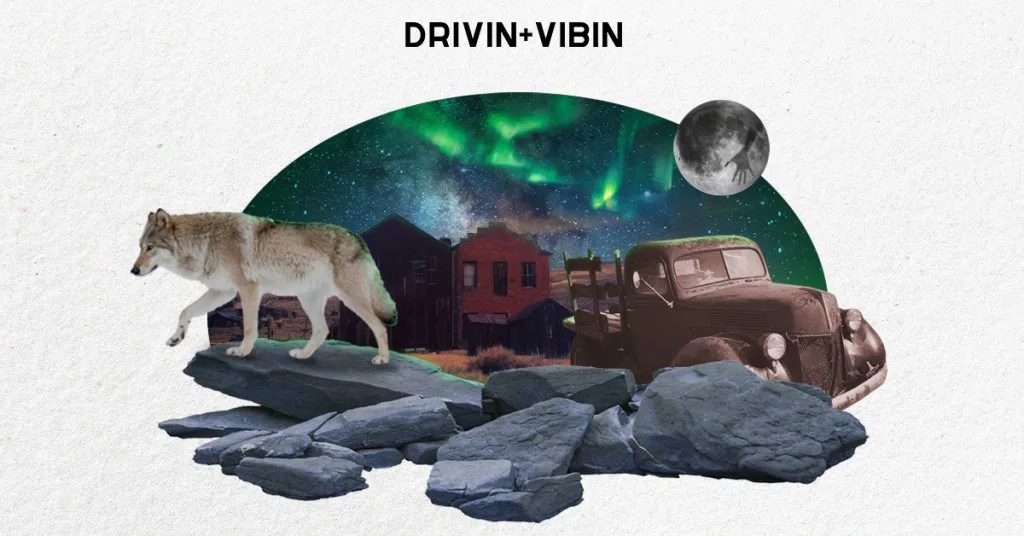 What Is the Bodie Curse?
The Bodie Curse is a legend that states if a visitor takes anything from the ghost town of Bodie, they will experience bad luck and misfortune in their lives.
This curse has many people feeling extremely superstitious, with the state park office regularly receiving packages of rocks and trinkets visitors took from the park. They send them back, asking park officials to return them to their rightful place after experiencing a terrible string of bad luck.
Interestingly, the "Bodie Curse" didn't start because of superstition. Park officials began the rumor because they were tired of visitors stealing from the preserved buildings.
Real or not–people seem to experience misfortune after taking things from the area.
Have you had that experience? It's not something we want to try to find out!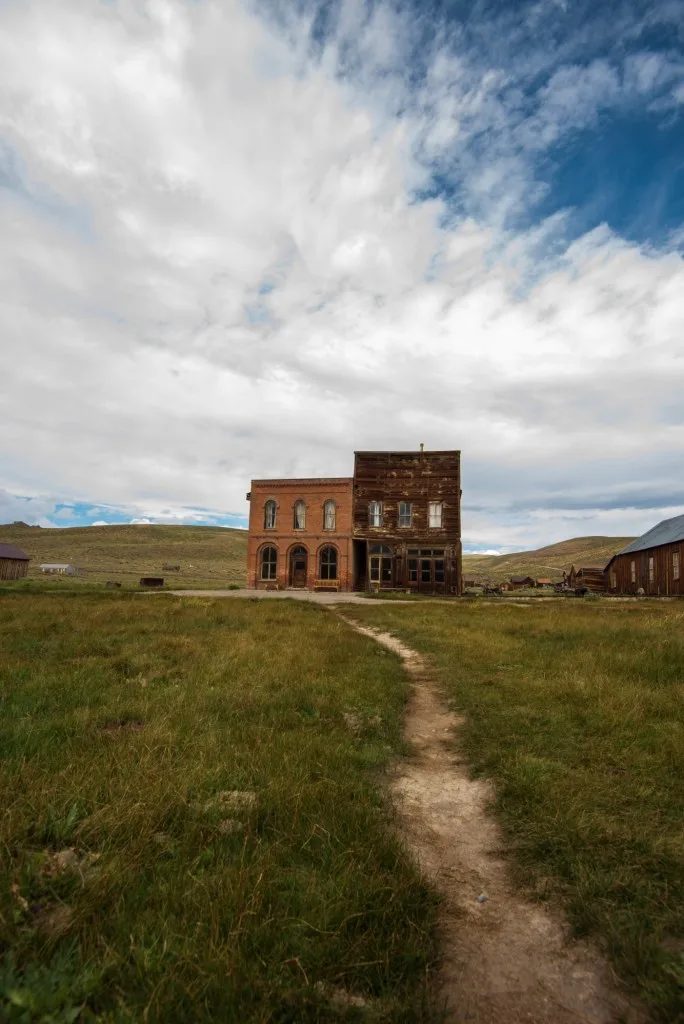 Is There Still Gold in Bodie, California?
Major mining operations stopped in 1915 and small-scale in the late 1940s to early 1950s.
Many believe there's still be gold in the Bodie Hills, but not much–at least, not enough to set up a large-scale mining operation.
Is Bodie Worth Visiting?
Bodie is one of the best-preserved ghost towns in the United States. Besides it's gold production, Bodie was also home to the world's first long-distance electrical transmission network–AKA power lines.
The remains of the town and buildings are definitely worth visiting. You can wander through the deserted streets and imagine what it was like in its heyday.
Just don't take anything with you when you leave!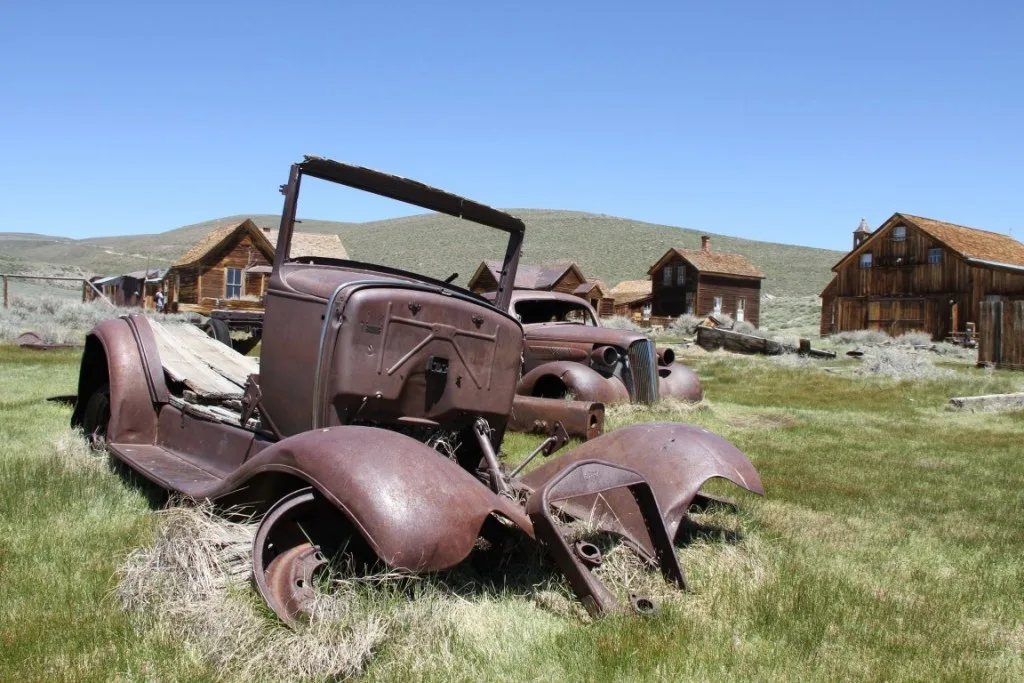 The Best Trails to Experience Bodie Ghost Town
Since Bodie was once a sprawling city, there are many areas you'll want to check out.
The California Parks Department has developed a decent trails system so you can look around without disturbing the scenery. Here's what we recommend.
Bodie Ghost Town OHV Trail
If you've got an off-highway vehicle (OHV), check out the Bodie Ghost Town OHV trail! This 30-mile trail winds through the Bodie Hills and visitors sometimes use it as a back entrance to the ghost town.
Barney Lake Trail
There's also the nearby Barney Lake Trail that's just over 9 miles long and features exquisite views of Barney Lake. The scenery on this hike is incredible, and it's the perfect way to spend a day while camping near Bodie ghost town.
The Best Campgrounds Near Bodie Ghost Town
When it comes time to rest your head for the night, you need a good campground. Preferably a non-cursed one. Here's where you can go.
Travertine Hot Springs Dispersed
Address: 38.2591 N, -119.2135 W
Why You'll Love It: This incredible free camping spot is near Travertine Hot Springs with stunning views of the Sierras. Located just about a 40-minute drive from Bodie, you'll love the proximity to the ghost town and the ability to soak the day away in the nearby hot springs.
Price: Free
Pro Tip: Here are the 7 best free campsites in California.
Bridgeport Reservoir RV Park & Marina
Address: 1845 CA-182, Bridgeport, CA 93517
Why You'll Love it: If dispersed camping isn't your thing, check out the Bridgeport Reservoir RV Park & Marina in Bridgeport, California, just 35 minutes from Bodie. This campground is right on the Bridgeport Reservoir and has all the water activities you can think of, plus the amenities of a full-service RV campground.
Price: $40 – $42 per day
Enjoy Your Visit!
Bodie is one of the best-preserved ghost towns of the wild west and worth a visit. There are so many things to do and see in the surrounding area–you might as well stay a week or more!
Discover the Best Free Camping Across the USA
To be honest with you, we hate paying for camping. There are so many free campsites in America (with complete privacy).
You should give it a try!
As a matter of fact, these free campsites are yours. Every time you pay federal taxes, you're contributing to these lands.
Become a FREE CAMPING INSIDER and join the 100,000 campers that love to score the best site!
We'll send you the 50 Best Free Campsites in the USA (one per state). Access the list by submitting your email below: