7 Best Free Campgrounds in Ohio
Not always, but sometimes the best things in life are free. We love to stay overnight in places we don't have to pay for, and Ohio offers lots of free campgrounds.
You may not think of the Midwest as a travel destination, but we find Ohio incredibly scenic. Once you get outside the cities, there are diverse and beautiful landscapes to enjoy.
These areas include unspoiled wilderness as well as gorgeous rivers, lakes, and waterfalls. Ohio can also be a terrific place to beat the summer heat.
Let's explore!
What is Free Camping…is there a Catch?
Free camping is sometimes referred to as dispersed camping or boondocking. It simply means camping without any amenities, usually in areas that have been specifically set aside for that purpose.
There's no electricity, no water, no restrooms—just you and nature, off the grid. There may be some other campers nearby, and maybe not.
Many popular boondocking sites are in national parks or on lands under the federal Bureau of Land Management's jurisdiction. In Ohio, there are nearly 300 campsites on lands that were once used for coal mining.
These have since been reclaimed and turned into vibrant recreation areas
Amazingly, these places exist, and many of them offer free camping. We're always extra careful not to cause damage and to clean up after ourselves. This "leave no trace" philosophy is our way of showing our gratitude. Really, we consider it as holding up our end of the bargain.
We'd hate to see any of these beautiful campsites shut down because of misuse. (Here's a recent example)
Many RVers love boondocking because of the sense of independence it brings them. It feels good to provide for yourself without assistance from others. That only goes so far, though. It's important to not just head out off the grid without a solid plan – and a backup plan, too.
Before You Try Free Camping…
Make sure you're familiar with the route you're taking and what's nearby. As always, verify beforehand that the campsite is open. If availability is on a first-come, first-served basis, make sure you have a Plan B that's within driving distance.
You'll also need an option to cover your basic needs in case your battery or generator fails. Come up with an alternative, at least for the short term, so you don't go without food, water, or heat.
Finally, be sure and reach out to a friend or family member.
Let them know exactly where you are going to be and for how long. It just makes things safer, especially when free camping.
Important Boondocking Tools
Generator: It's pretty much essential to have a generator on board as a source of power when free camping. A generator runs on fuel and allows you to charge your RV's batteries and operate your appliances.
Some of them are really noisy, so try to run them as little as possible if you have neighbors. We use this Honda 2200 when we're camping off-grid.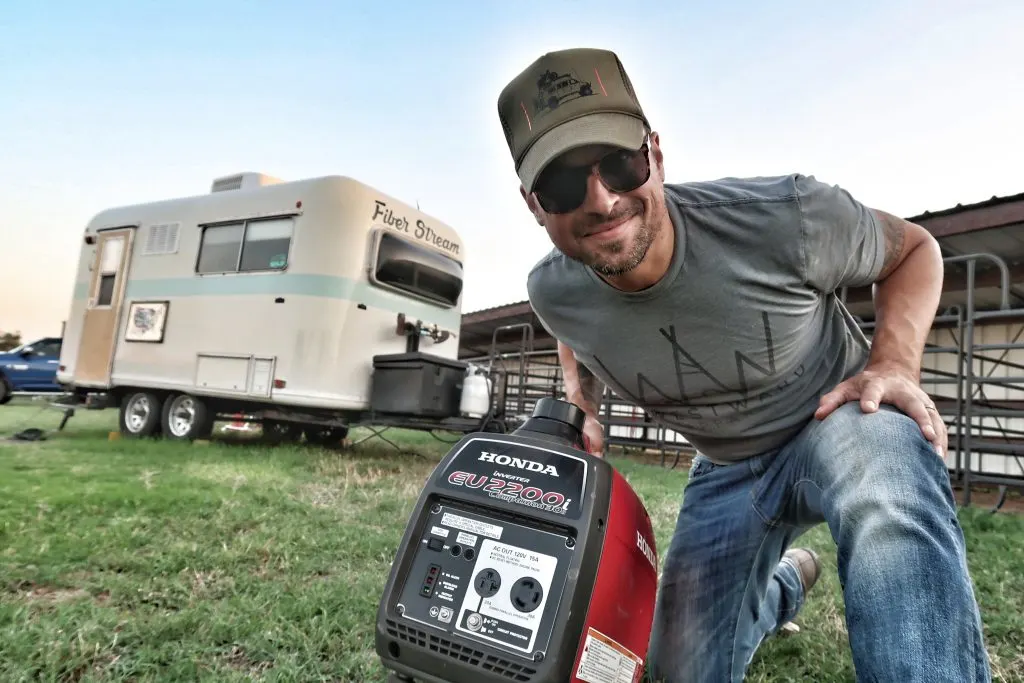 Solar Panels: Installing solar panels on your roof will also help you keep your batteries charged. You can give your generator a rest and be able to stay off the grid for longer periods. If your solar kit doesn't have a built-in inverter and charge controller, you will need to buy them separately.
Cell Booster: Having an internet connection is a must for many of us, at the very least for emergency use. A cell booster can usually turn one-bar of unusable cell service into four-bars of streamable connectivity.
First Aid Kit: Speaking of emergencies, make sure you always have first-aid supplies on hand and easily accessible. You never know when an accident will happen while out free camping, and you'll need some basic medical supplies. Popular items include bandages and gauze, antiseptic cream, eyewash, tweezers, rubbing alcohol, and disposable gloves.
The Best Free Campgrounds in Ohio
These are by no means the only free camping areas in Ohio, but they are our favorites. Many of them are American Electric Power (AEP) recreation lands that were coal mining areas. Read on to learn why we singled out these campsites.
#1 – Hook Lake Campground
GPS: 39.7279, -81.7079
About the Campsite: In the southeastern part of the state, Jesse Owens State Park is Ohio's newest state park. Hook Lake Campground, also known as Campground A, is one of the park's four separate no-fee campgrounds.
It's on the park's east end, and each site is primitive, with only a picnic table and fire ring. The campground has vault toilets spread around the campgrounds and a dumpster near the entrance. There are wooden pavilions and two fishing lakes, an archery range, and great hiking trails.
Hook Lake Campground is mostly shaded and is open seasonally, usually from April 1 to mid-December, with a 14-day limit. The town of McConnelsville is just a 20-minute drive away. You can load up on supplies there or venture in to explore quaint shops, restaurants, and a brewpub.
Reported Cell Service: Three bars of service reported by both Verizon and AT&T users.
Ohio Free Camping Vibes: 9.1/10. Not as secluded as some other sites, but surrounded by beautiful rolling woodlands and convenient to a cool little town.
GPS: GPS: 40.3342, -80.7642
About the Campsite: In northeastern Ohio, Hidden Hollow Campground is often called a hidden gem. It does have paved pads, but otherwise, you can expect a rustic experience. The 22 sites here have no other amenities besides vault toilets, fire rings, and picnic tables. There are plenty of trash cans, too, so there's no excuse for littering.
The area is part of the 3,023-acre Fernwood State Forest. It's made up of lands reclaimed by the state after being strip-mined for coal decades ago. There's a 14-day limit on free camping here. In addition, you may hear gunshots from hunters or the nearby shooting range.
Reported Cell Service: Verizon and AT&T users report decent service.
Ohio Free Camping Vibes: 8.9/10. Besides the amazing outdoors opportunities, camping here allows an opportunity to learn about the coal mining heritage of the region. The city of Steubenville is less than 10 miles away, so it's a great day trip.
#3 – Sand Hollow Campground
GPS: 39.7349, -81.7317
About the Campsite: Also located at Jesse Owens State Park, this area is known as Campground C. It's located on the north end of the park and borders Horse Run Lake. Several sites are right on the water, and there's a boat ramp for lake access.
As mentioned above with Campground A, the sites are primitive with only a picnic table and fire ring. The campground has a wooden shelter and vault toilets. It's usually open from April 1 to mid-December.
Reported Cell Service: Not great. You may have to head up the hill for better reception.
Ohio Free Camping Vibes: 9.4/10. Sand Hollow gets even higher marks because it's quiet and the waterfront location is so relaxing.
#4 – Ronsheim Campground
GPS: 40.3303, -80.9898
About the Campsite: Ronsheim Campground, in Harrison State Forest, has only seven paved spaces, so you won't have many neighbors. It's located in east-central Ohio near the town of Jewett, in Harrison County.
There is a small lake nearby, with a hiking trail that leads directly to it. Besides the asphalt road and pads, everything else is primitive. There are plenty of containers for trash. Amenities are standard: vault toilets, fire rings, and tables.
The hilly terrain here is gorgeous, and it's a great place for viewing wildlife. There are also trails that are popular for horseback riding.
Reported Cell Service: OK with Verizon, better with AT&T.
Ohio Free Camping Vibes: 9.2/10. There's less activity here, so it encourages a relaxed pace. History buffs may want to make the short drive to the birthplace of General Custer.
#5 – Maple Grove Campground
GPS: 39.7071, -81.7257
About the Campsite: Back in McConnelsville, Maple Grove sits adjacent to Hook Lake and Sand Hollow. It is also known as Campground G at Jesse Owens State Park and has just 10 sites.
While the sites up front have some road noise, others toward the rear offer a nice sense of seclusion. A primitive trail leads to some nice scenic overlook sites. There is a dumpster for trash and the typical vault toilets, tables, and fire rings.
Reported Cell Service: Signals are typically weak.
Ohio Free Camping Vibes: 8.8/10. Its grass sites offer a more rustic experience and more solitude, especially toward the back of the campground.
#6 – Bicentennial Campground
GPS: 39.774, -81.6451
About the Campsite: This is a great place if you like quiet seclusion on a lake. Near Caldwell in southeastern Ohio, the campground is a great place to get off the grid for a while.
The campground has no amenities other than vault toilets, fire rings, and benches. Each site has its own trash can. While some sites are shaded, others are in the open.
It's also a trailhead for the Buckeye Trail, which offers great hiking in either direction. Don't stray too far, though – the trail covers 1,400 miles!
Reported Cell Service: Spotty at best.
Ohio Free Camping Vibes: 9.4/10. One of the best free campgrounds in Ohio. It's a great place to literally unplug for a while. Good fishing opportunities, too.
#7 – Trailriders Campground
GPS: 40.3395, -81.0258
About the Campsite: Trailriders Campground has 20 primitive sites in a beautiful and isolated area of Harrison State Forest. They are paved and wonderfully maintained. Moreover, the park has a nice private feel to it. There are nice, gently sloping grassy areas and more hilly sections, as well. Amenities are basic and typical of the other campsites in the area.
Great fishing and hiking opportunities, and it's also popular for birding.
Reported Cell Service: Inconsistent.
Ohio Free Camping Vibes: 8.7/10. A nice place to enjoy the outdoors and beat the crowds.
Plenty of Free Campgrounds in Ohio
For many people, Cleveland and Cincinnati might come to mind when they think of Ohio. We think of the outdoors. Because of a major project to reclaim lands once used for mining, we can explore thousands of acres.
And, maybe best of all, it's free!
Discover the Best Free Camping Across the USA
To be honest with you, we hate paying for camping. There are so many free campsites in America (with complete privacy).
You should give it a try!
As a matter of fact, these free campsites are yours. Every time you pay federal taxes, you're contributing to these lands.
Become a FREE CAMPING INSIDER and join the 100,000 campers that love to score the best site!
We'll send you the 50 Best Free Campsites in the USA (one per state). Access the list by submitting your email below: