Can the Subaru Outback Tow a Camper Trailer?
Ah, the Subaru Outback. It's been a popular vehicle among outdoor enthusiasts and adventurists as a reliable, rugged crossover since its debut in 1994. But for a true test of its versatility, we have to ask – what is the Subaru Outback towing capacity?
Depending on the answer to this question, the Outback just might be a camper's dream crossover vehicle.
Let's find out!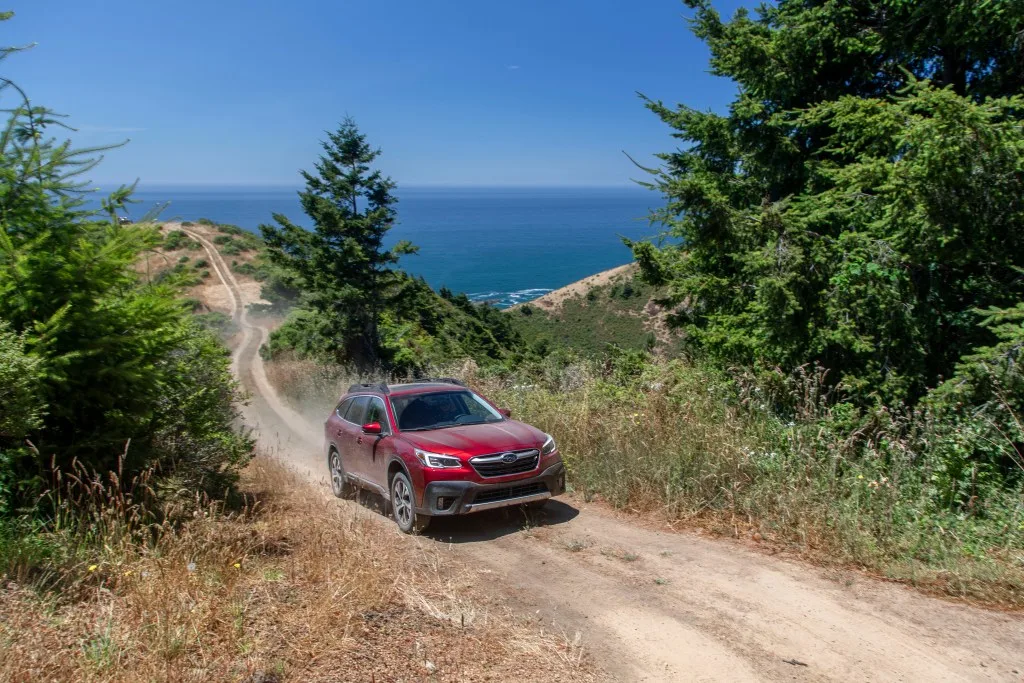 What is the Subaru Outback Towing Capacity?
The Subaru wagon's towing capacity varies from model to model (each with several trims offered) and year to year. So, let's turn to the 2021 Outback models for an answer to our question.
Subaru offers the 2021 Outback with a choice of two engines, and the towing capacity differs for each.
The 2.5-Liter 4-cylinder engine is standard on the first four trim levels of the 2021 Subaru Outback. These include the Outback, Premium, Limited, and Touring. As a result, this is a light-duty towing vehicle with a maximum towing capacity of 2700 pounds.
The 2.4-Liter 4-cylinder Turbocharged engine is capable of heavier towing. It comes standard on the Outback XT version and provides the capacity to tow 3500 pounds.
The Towing Capabilities of Subaru Outback and it's Family
The Subaru Outback is long-loved among loyalists as a standout in its class with a reputation for reliability and rugged performance. It was designed nearly 30 years ago to bring Subaru into the then-trending sport utility vehicle market.
Subaru named their new model for the Australian desert known as the Outback, which has a reputation for being challenging and unforgiving. The idea was that the Subaru Outback was up to the task of driving offroad in the notorious Australian desert. Subaru even hired Paul "Crocodile Dundee" Hogan to endorse the Subaru Outback.
Since this is an article about Subaru Outback towing capacity, let's see how the Outback compares with its siblings' towing capacity.
The Subaru Crosstrek in the standard model can tow 1,500 pounds while the hybrid model can tow 1,000 pounds.
Another Subaru SUV, the Forester, is capable of towing up to 1,500 pounds.
Subaru's Ascent is the largest SUV ever made by Subaru. In its standard version, the Ascent can tow 2,000 pounds. But the highest trim levels of the Ascent can pull up to 5,000 pounds!
Finally, the iconic Subaru Outback wagon has a towing capacity of 2,700 pounds in standard models and trim packages. Moreover, the Outback XT models can tow 3,500 pounds. This is the maximum towing capacity ever for a Subaru Outback to date. Currently, it's available only in the 2020 and 2021 Onyx XT editions of the Outback.
Subaru Outback Features and Specs
The standard models of the 2021 Subaru Outback feature standard symmetrical all-wheel-drive. They have 8.7 inches of ground clearance and 75.7 cubic feet of cargo volume.
They have the 2.5-Liter 4-cylinder, 182 horsepower-driven engine with a torque of 176 lb-ft. The Outback trims using this engine see gas mileage of 26 in the city and 33 on the highway. Respectable for an all-wheel-drive vehicle in this class.
The standard models of the Subaru Outback start at $26,795. Higher trim levels, of course, offer more features and command a higher price.
The 2021 Subaru Outback Onyx Edition XT features a standard symmetrical all-wheel-drive. Additionally, it provides advanced capabilities on challenging roads, including steep inclines and declines, with Subaru's X-MODE. This feature allows the driver to select between two modes, "snow/dirt" and "deep snow/mud." In fact, pressing the X-MODE button will provide optimal performance in some very tricky driving conditions.
A 260 horsepower engine drives these vehicles with 277 lb-ft of torque. Available on the Onyx Edition XT, the Limited XT, and the Touring XT trims, these Outbacks will give you 23 mpg in the city and 30 mpg on the highway.
The Subaru Outback Onyx XT editions start at a price of $35,145.
Do Subaru Outbacks Have a Hitch?
Subaru doesn't offer a standard tow hitch on all Subaru Outbacks. But they can all be equipped with one.
Are Subaru Outbacks Reliable?
Subaru Outbacks have a reputation for reliability, endurance, and longevity. And, according to JD Power, the 2021 Subaru Outback has a predicted reliability rating of 3 out of 5.
Additionally, critics rated the 2021 Subaru Outback as an overall 8.4 of a possible 10. They also gave the vehicle a performance rating of 7.1, an interior rating of 8.2, and a safety rating of 9.8!
Subaru Outback Pricing
The 2021 Outbacks begin at $26,795, one of the lowest starting prices in its class (wagons). The Outback accordingly rises to a starting price of around $39,945 for a top-of-the-line Touring XT model.
What Kind of Camper Trailer Can You Tow With a Subaru Outback?
The Subaru Outback can tow many campers! From teardrops to popups to various travel trailers, Outbacks are capable of some fairly heavy towing.
With the standard 2021 Outback able to tow 2,700 pounds, they can pull not only one but two ATVs! And with the XT Outback lineup capable of towing 3,500 pounds, they can pull an Airstream Basecamp!
Some of the popular campers and travel trailers that may be able to be towed with a Subaru Outback include: Forest River R-Pod, Casita, 13' Scamp, Aliner Scout and Classic, Palomino Base Camp, Coachman Clipper, Little Guy Mini Max, Nucamp TAB, as well as the vintage Keystone Village and Casita Liberty!
Do your research based on which model of Subaru you have or are considering buying. For example, you could search "travel trailers under 2,700 pounds" and "travel trailers under 3,500 pounds".
But you want to keep your overall gross vehicle weight rating in mind at all times. For example, you don't want to tow a fully-loaded travel trailer that's noted to be 2,500 pounds when empty with a standard model Subaru Outback.
It's only rated at a 2,700-pound towing capacity, after all. (Could you? Probably. Should you? Hmm…)
What a Wagon!
The question of the Subaru Outback's towing capacity may best be answered with a resounding "a lot"! Remember to check the GVWR and keep your overall weight under that number.
Otherwise, you can safely tow many toys, trailers, and campers with your Subaru Outback. What a wagon!
Discover the Best Free Camping Across the USA
To be honest with you, we hate paying for camping. There are so many free campsites in America (with complete privacy).
You should give it a try!
As a matter of fact, these free campsites are yours. Every time you pay federal taxes, you're contributing to these lands.
Become a FREE CAMPING INSIDER and join the 100,000 campers that love to score the best site!
We'll send you the 50 Best Free Campsites in the USA (one per state). Access the list by submitting your email below: