5 Best Van Conversion Companies in 2021
Van life dominates Instagram, Tiktok, YouTube, and more. Seeing all these images and videos of beautifully built vans in epic locations is sure to leave anyone with a good amount of wanderlust.
So what do you do when you want a beautiful, custom campervan but don't have a single craftsman bone in your body?
Hire a van conversion company!
What is a Van Conversion Company?
If you want a campervan but you don't want to build it yourself, you can hire a van conversion company. There are hundreds of them in the US alone.
Depending on which business you hire and what you want to have done, a van conversion company can do a partial build, a full-build, solar, and more.
Why Choose a Conversion Company over DIYing?
Let's face it: building your own camper van is not only intimidating… it's hard work. It's expensive, and it takes a ton of time. Plus, if you're solo, it can seem impossible sometimes!
If you're the kind of person who doesn't want to build a campervan yourself or can't or prefer the convenience of having someone else do it, then hiring a conversion company is a smart choice.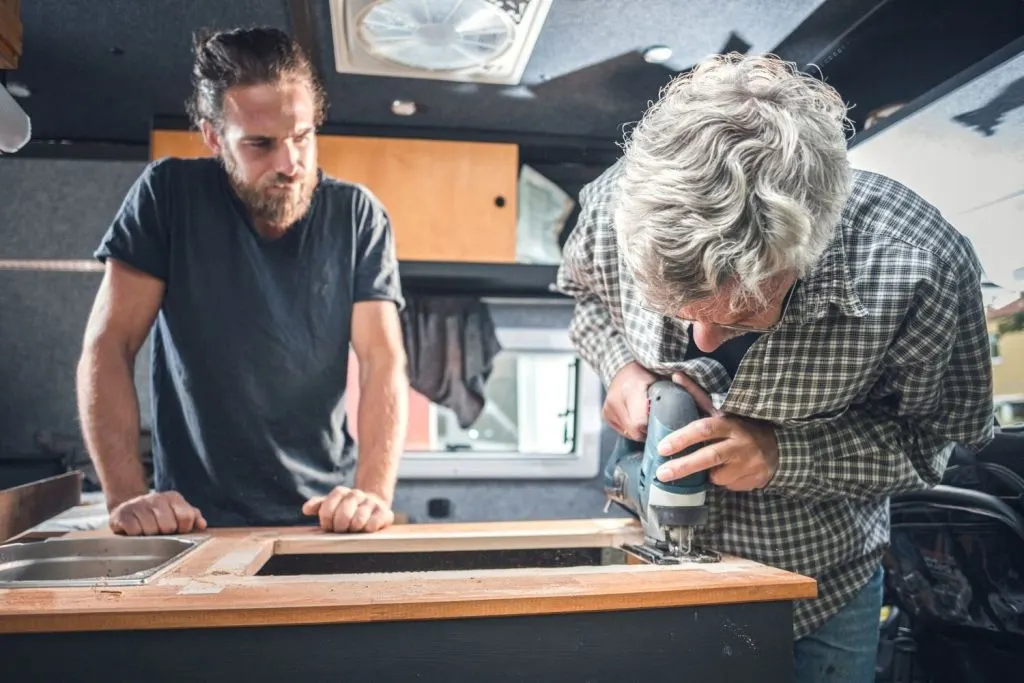 Things To Consider Before Choosing a Van Conversion Company
There are many factors to consider before choosing a van conversion company. These factors will be personal to you and what you are wanting or needing to have done. Here's a list of some things you should keep in mind.
Overall Price
Most conversion companies will give you the overall price of the build before they start any work. The price may include only the conversion cost or the cost of the van itself plus the conversion.
Wait Time
Another thing to consider is the wait time. Some companies are booked out up to a year in advance.
Van Type
Some van conversion companies will work on any van. But, with others, they have a specific model or two that they prefer building out.
Financing
If budget is a concern, do they offer financing in-house?
Shipping
If the van conversion company is not near you, do they offer shipping and delivery when the rig is completed?
Custom or Template Builds
Depending on the company you choose, they may prefer to work from a template instead of custom building to meet your desires. This is definitely an important thing to consider.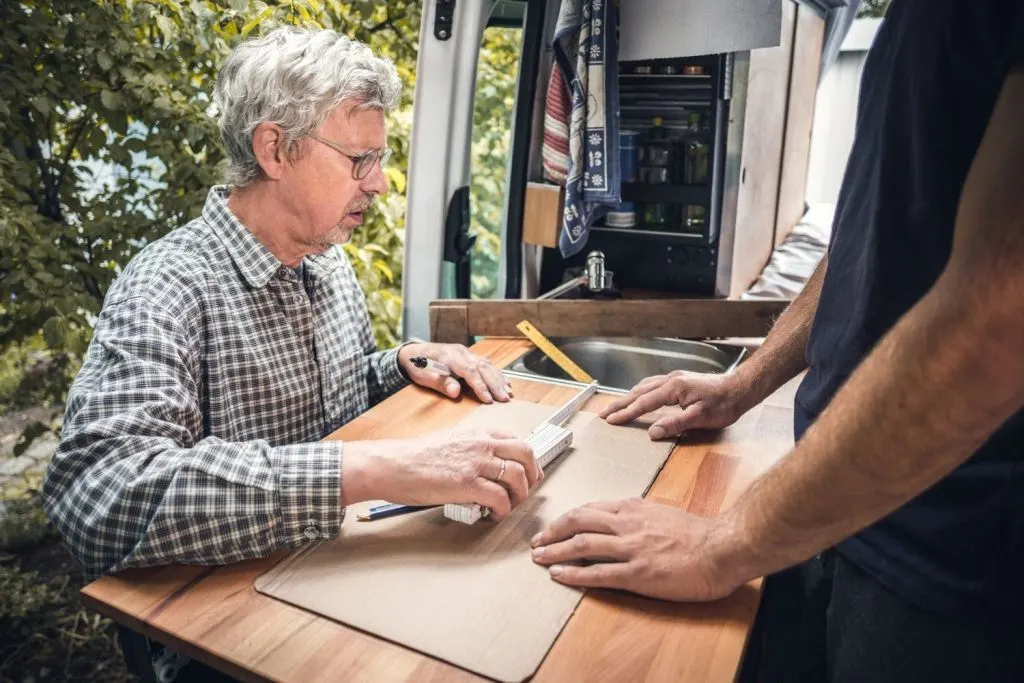 5 Best Van Conversion Companies in 2021
#1: Sportsmobile
Sportsmobile is one of the oldest names in the game when it comes to van conversion companies. This company has been creating awesome custom campervans since 1961.
They also have a large selection of pre-owned campervans to choose from if you don't want to wait for a new conversion.
#2: Boho Camper Vans
Boho Camper Vans is a conversion company based in Arizona that makes cozy and functional van builds for renting or purchase. This company has been featured on Shark Tank and has a large portfolio of van build work.
Check out our article about Boho Camper Vans here.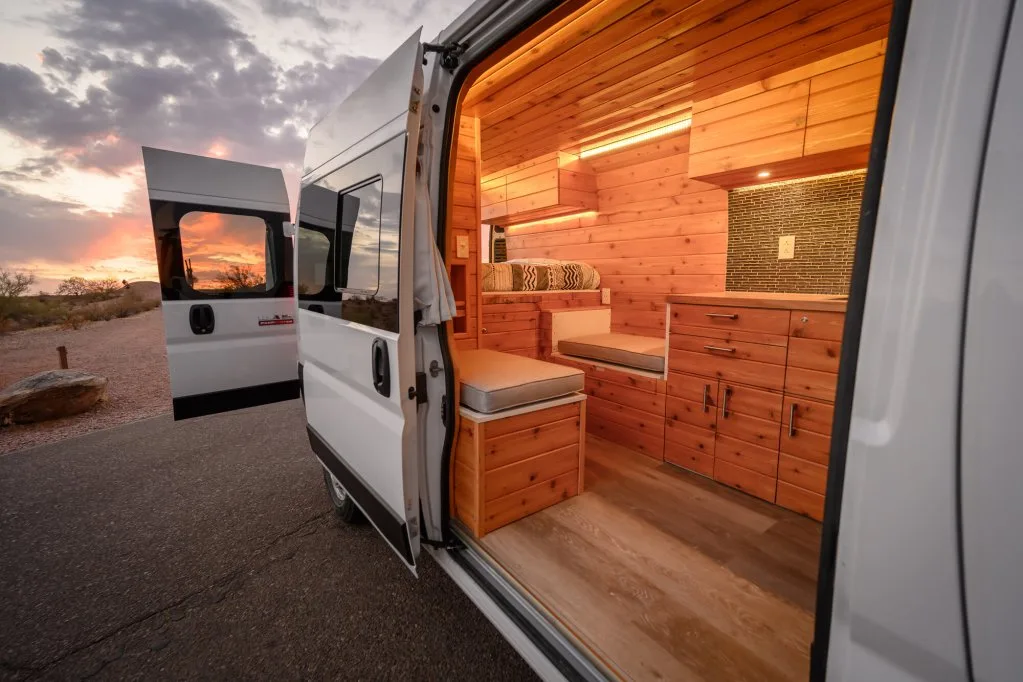 #3: Rossmonster Vans
Rossmonster creates custom camper vans for any adventurous lifestyle. This company is located in Colorado. The Rossmonster team is a group of craftsman with a passion for the outdoors, creating custom vans to suit the outdoor lovers unique lifestyle and needs. Not ready to buy a van yet?
They have rentals out of Colorado where they are based.
#4: Vanlife Customs
Vanlife Customs is a custom conversion company based in Denver, Colorado. They build functional and custom vans to suit any desire.
Not only are their vans custom, but they are elegantly designed, too. This company works on Sprinter, Promaster, and Transit vans only.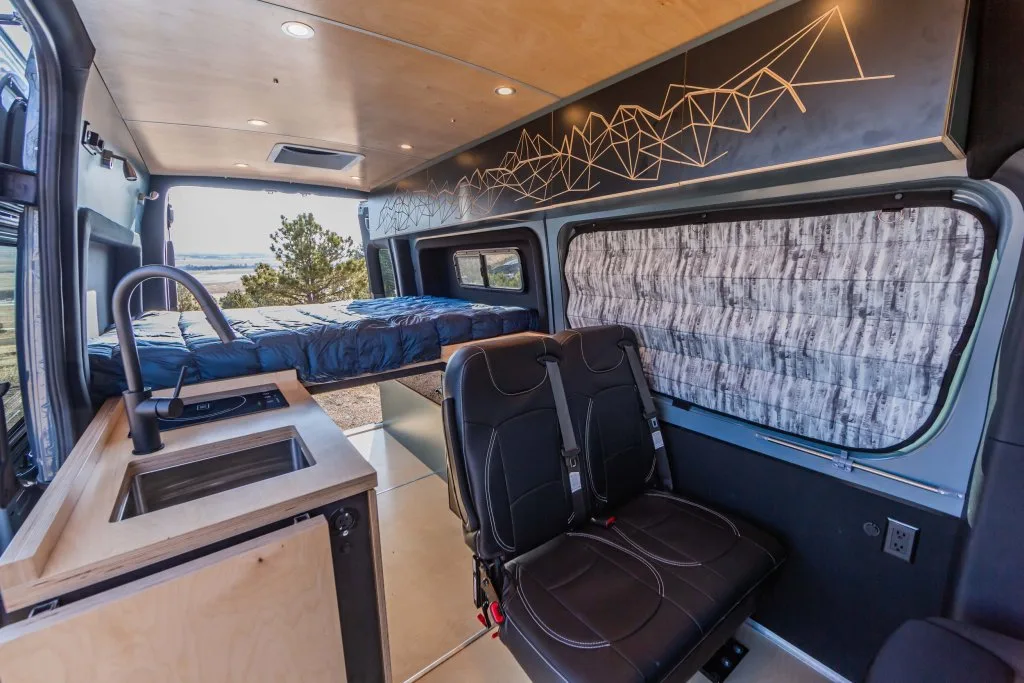 #5: Contravans
Contravans is a unique conversion company building on many types of vehicles. This includes minivans and box trucks!
With such a wide range of available vehicles they will build on, there is sure to be something for everybody with Contravans. One of the most affordable van conversion companies out there. Prices start at around $25,000.
Get Your Dream Camper Van Custom Built
Hiring a van conversion company can save you tons of time and frustration! And the best part is that you end up with an amazing custom-built camper van specifically designed for you and your lifestyle. Unless you're a craftsman yourself, you won't find that in a DIY build!
If you have the money and the patience, we definitely recommend any of these 5 van conversion companies for your dream campervan.
Discover the Best Free Camping Across the USA
To be honest with you, we hate paying for camping. There are so many free campsites in America (with complete privacy).
You should give it a try!
As a matter of fact, these free campsites are yours. Every time you pay federal taxes, you're contributing to these lands.
Become a FREE CAMPING INSIDER and join the 100,000 campers who love to score the best site!
We'll send you the 50 Best Free Campsites in the USA (one per state). Access the list by submitting your email below: