What Is an Airstream Ocean Breeze?
Ah, the Airstream. That sleek, silver home on wheels is recognizable to everyone who sees it. Airstream introduced its first travel trailer in 1936. Since then, Airstreams have developed in various ways over the years, and they're still among the most recognizable RVs on the road.
In 2007 the Airstream released the Ocean Breeze package in a 25-foot model to great applause. The Ocean Breeze package was so well received that Airstream carried it through the entire model line in 2008!
Let's dive into the Airstream Ocean Breeze to see why this particular Airstream continues to be so popular more than a decade after its introduction.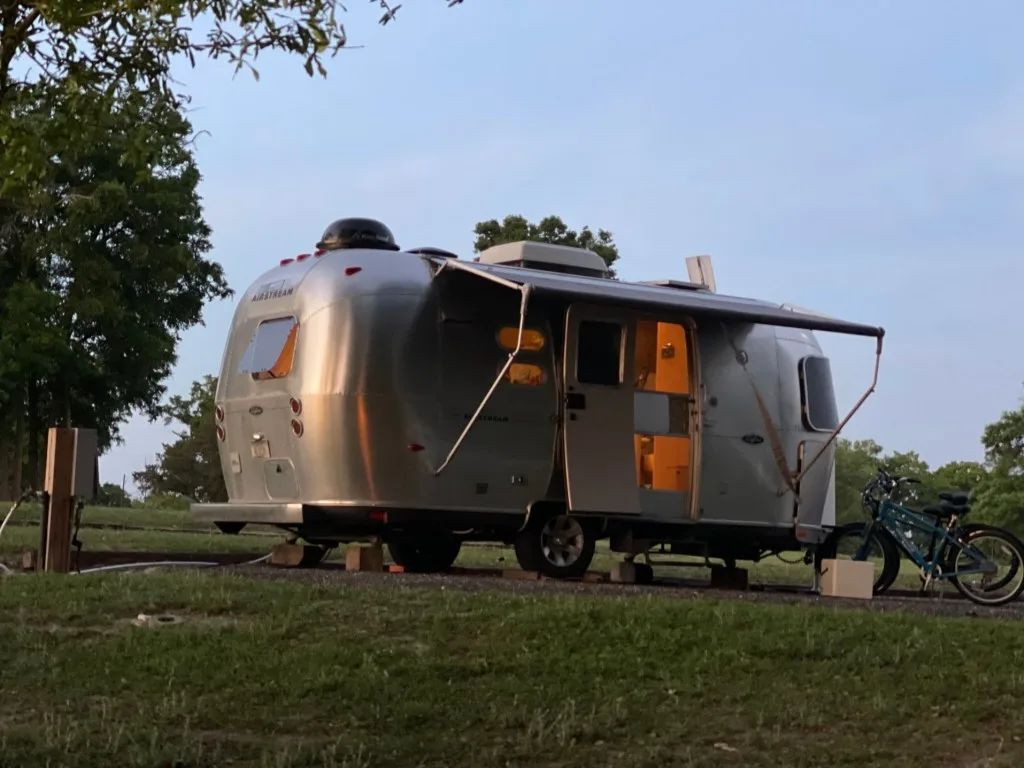 What is the Airstream Ocean Breeze?
Airstream designed the Ocean Breeze to bring a beach-like theme to their line of popular RVs. As a result, windows are in place all around the unit, giving these RVs a lighter, airier feeling.
Building on the ocean and beach theme, Airstream integrated wicker into the sliding cabinet doors and other decor, such as lamps. Meanwhile, curtains have a blue tropical theme, and interior walls have a billeted silver appearance unique to the Ocean Breeze package. Furthermore, the International version of the Ocean Breeze comes standard with cork flooring and side and rear awnings.
How Much is a 2008 Airstream Ocean Breeze Worth?
A 2008 Airstream Ocean Breeze's value varies widely depending on several factors. These include which model is being considered, the location, and the particular condition of the Airstream being assessed.
Let's take a look at the 2008 Airstream International 16-foot model (a Bambi!) with the Ocean Breeze package as an example.
The suggested list price of a 16-foot 2008 Airstream International model with the Ocean Breeze package is nearly $43,000. JD Powers notes the current retail price to be around $24,000, but again, this may vary widely depending on the unit's condition and location being assessed.
As anyone who has ever shopped for an RV knows, "retail price" rarely takes into account the actual market value of an RV. Airstreams are very popular RVs and have long been in demand. In good condition, they command a higher price based on that demand.
Specs of the 2008 Airstream International 16-Foot Ocean Breeze
A 2008 Airstream International 16-foot Ocean Breeze pulls in at a length of 16.58 feet. This unit is 8 feet wide and 9.33 feet tall, with an interior height of 6.38 feet.
The dry weight of a 2008 Airstream International 16-foot Ocean Breeze is 2825 pounds. The payload capacity is 675 pounds, and the GVWR is 3500 pounds. (GVWR or Gross Vehicle Weight Rating is the maximum weight this trailer should carry, including the trailer itself.) The hitch weight is 430 pounds.
Additionally, this Airstream Ocean Breeze unit has three holding tanks. The freshwater tank holds 23 gallons, and the gray and black water tanks each hold 21 gallons. There are two 20-gallon propane tanks on board for a total of 40 gallons of propane.
The body and sidewall construction is aluminum, and there are no slideouts. This particular unit has one 6 x 7 foot (80-inch) awning.
Lastly, this 16-foot model has one overhead fan, a two-burner stove, a compact electric/propane refrigerator, and sleeps 3 people using one double bed and one convertible sofa bed. The unit contains a bathroom with a curtained shower, and the water heater is a combination propane/electric six-gallon unit with bypass. The air conditioner is 11,000 BTU, and the heater is 12,000 BTU. The unit comes standard with 55 battery converter amps.
Tips for Buying a Used Airstream
When buying a used Airstream, several features should be carefully assessed and considerations made.
#1 – Do Your Research
Know the retail and market values of the particular model and package you'll be looking at when shopping for an Airstream. Knowing what to look for in any given model of a used RV is imperative, as there are always unique areas of weakness, no matter the manufacturer or model.
#2 – Ask Questions
Ask the seller as many questions as possible in advance of your visit, and ask many more targeted questions when visiting the Ocean Breeze in person. You'll want to know the trailer's history, including where it's been used and how many previous owners there have been. Secondly, has it been garaged or left out in the elements? In what locations has it been stored? Has it been exposed to excessive heat or cold? And finally, has it been used in winter and driven over salty roads or spent a lot of time near the salty ocean?
Write down all of your questions before you even start looking at the actual units. And create those questions based on your research in preparation for shopping.
#3 – Check For Damage to the Interior, Exterior, and Frame
The interior, exterior, and frame of the Ocean Breeze should be very carefully inspected. Take your time with this important endeavor, and do not make the mistake of feeling rushed or pressured. If the seller is obviously trying to bypass certain areas of assessment, move along in your shopping because he or she may be trying to hide anything from water damage to rodent damage.
The floor perimeter is an area that should get your full attention as even minor amounts of water between the inside and outside shell can damage the floor, and this can be a costly issue to address.
In addition, thoroughly check the rear window because it's a common leakage area. Look carefully for any indication of leaks throughout the unit, and feel carefully for soft spots in the floor.
When looking at the outside skin of an Airstream Ocean Breeze trailer, note any areas of filiform corrosion. This is not an uncommon occurrence on the famous Airstream aluminum exterior. In addition, look for dents in the aluminum.
Don't be afraid to get right under the Airstream with a powerful flashlight and make your way around the frame and undercarriage. Inspect thoroughly for any rust or damage, including damage to wiring.
Frame damage is a very expensive problem, and you don't want it. Thoroughly vetting the frame of the Airstream you're eyeing is absolutely imperative.
#4 – Don't Be Afraid to Negotiate
Based on your assessment, don't be afraid to negotiate with the seller. The refrigerator doesn't work properly in all modes? Know in advance the cost to repair or replace a similar refrigerator, and use it as a negotiation point. Cushions in need or recovering? Know in advance the rough cost of new material and associated labor and use that to negotiate price, even if you only intend to wash the cushions. It's fair to request reasonable and appropriate price movement based on the overall and specific conditions you find.
Come prepared to walk away. Don't be overly eager to show up and buy an RV because it looked good in the ad, and you have your heart set on a unit like this. There are lots of RVs for sale that will fulfill your dreams. Enter your shopping experience prepared to walk away if you cannot strike a deal that suits you. You may lose the opportunity, but you may also receive a phone call from the owner later that day or the next accepting the offer that you feel is fair.
#5 – Get an RV Inspection Before Purchasing
Always have a used RV professionally inspected before purchasing. You can even offer to buy the RV contingent on such an inspection. But have the RV professionally assessed by someone who knows when they see frame damage, water damage, or any number of issues that may be "hidden" from the unprofessional eye but very obvious to a trained professional inspector.
The Airstream Ocean Breeze Freedom
The Airstream Ocean Breeze package has been an incredibly popular Airstream success. The light, breezy, open ocean vibe has been a hit with consumers since Airstream released the first Ocean Breeze back in 2007.
If you're interested in a used Airstream model with an Ocean Breeze package, assess both the unit and the deal being offered carefully. Then have it professionally inspected. And, if all goes well, join the Airstream family. We'll see you on the road to RV freedom and adventure!
Discover the Best Free Camping Across the USA
To be honest with you, we hate paying for camping. There are so many free campsites in America (with complete privacy).
You should give it a try!
As a matter of fact, these free campsites are yours. Every time you pay federal taxes, you're contributing to these lands.
Become a FREE CAMPING INSIDER and join the 100,000 campers who love to score the best site!
We'll send you the 50 Best Free Campsites in the USA (one per state). Access the list by submitting your email below: