The Cheapest RV Motorhome in 2021
The words "motorhome" and "cheap" don't normally go hand in hand. Some of the most luxurious models can cost over a million dollars.
If you are on a budget but still want to get a motorhome in 2021, you are in luck.
Today we're sharing the perfect budget-friendly motorhome for you. And, keep in mind, we're using the word cheap to signify price, not quality.
Meet the Coachmen Freelander 22XG
The Coachmen Freelander is a compact motorhome with a lot to offer. At only 24'3" it is easy to navigate on your journey and allows you to fit into most campgrounds.
This motorhome features 2 queen-sized beds plus a dinette that converts to a bed, giving plenty of sleeping room for the family. The Coachmen Freelander 22XG has a 15' awning perfect for extending your living area at your campsite.
With a 55-gallon fuel capacity, this unit is ready for adventure.
Pro Tip: The other benefit of the Coachmen Freelander is that it's great for boondocking adventures. Here are our 21 favorite boondocking sites (many are a perfect fit for this unit).
How Much Does It Cost?
The MSRP for the 2021 Coachmen Freelander 22XG is $88,067.00.
Keep in mind, it is common to find this unit on dealer lots for around $65,000, but prices will vary from one dealership to another. The MSRP is an artificial number.
Be sure to shop around to find the right deal for you. The current trend in RV sales is not in the buyer's favor. Visiting multiple dealers will almost always find you a better deal.
What We Like About The Coachmen Freeelander
There is a lot to like about the Coachmen Freelander 22XG. While many features make this a great unit, we've picked a few of our favorite aspects of this motorhome. Let's see why this is a top pick for us when it comes to an affordable motorhome.
It Has A Back Door
It may not seem like much, but having an additional door on the back can be a useful tool. This back door makes it easy to slide large items in for transport. At 5 feet in height, it can even be used to load up toys such as bikes or even a kayak!
Large Refrigerator
Because this RV has enough room to sleep 6, you need plenty of room for your food. The Coachmen Freelander 22XG boasts an impressive 12-volt refrigerator with 10 cubic feet of space. Not only is the refrigerator functional, but the modern double door style will also make you feel right at home.
Murphy Style Bed
Remember that useful back door for loading up your toys? They need a place to go once you get them in the door. In this unique floorplan, the murphy style residential queen bed locks in place during transit giving your toys a place to be secured.
While parked at a campsite the bed can be in the upright position to allow for extra floor space for the family to spread out. This comes in handy for those rainy days!
Ford Or Chevy Chassis Available
Another unique feature of this RV is the option of either a Ford or Chevy chassis. Normally you just get whatever the manufacturer happened to choose for that model, not here!
You get to choose based on your preferences. The Coachmen Freelander 22XG provides a choice of a Ford F350 or Chevy 4500.
What We Don't Like
No RV is perfect, they all have aspects that could be improved. Here are a few areas that we feel this RV falls short. Only you can decide if they are deal-breakers or not.
No Slides
When your RV is only 24' including the cab, you need all of the space you can get. With a lack of slides, those 24' can feel even tighter. Ideally, at a minimum we'd like to see at least one slide which would expand the living area, giving you precious additional floor space.
If we are really pushing it, we'd love to also see the bed on a slide, which would make the bedroom feel more residential.
Awkward Toilet Placement
With the way the toilet is placed in the bathroom, you almost have to walk around it to get to the sink and shower.
In smaller rigs such as this one, there is not a lot of space to work with, but it would be nice if the bathroom was reconfigured in a way that allowed the toilet to not feel so in the way.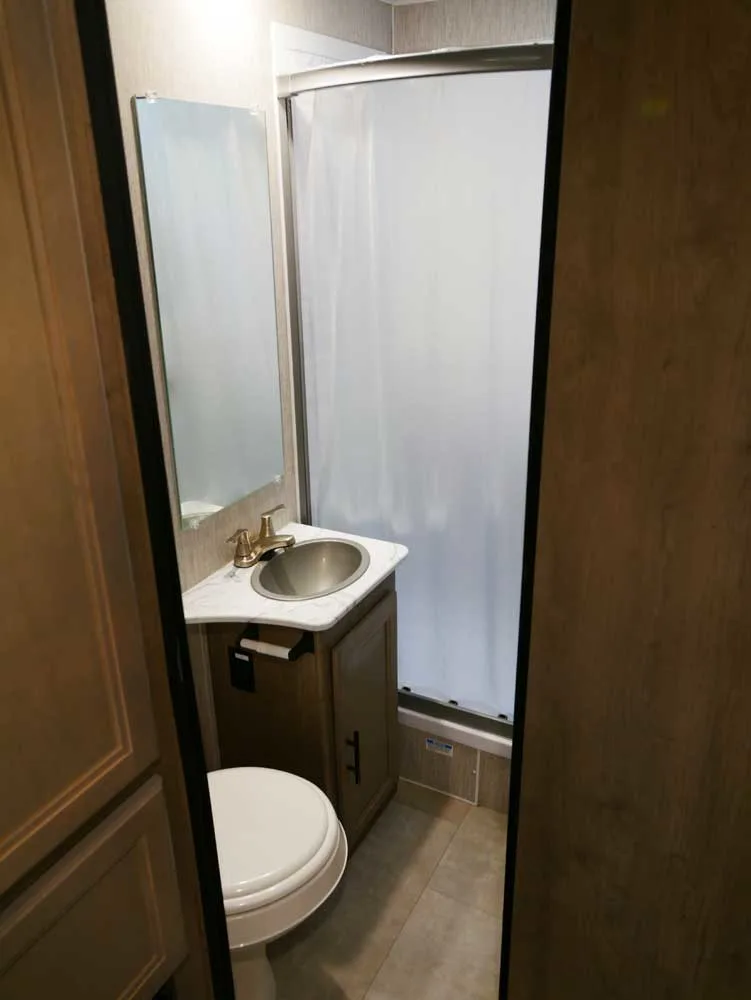 Tiny Kitchen
With the lack of a slide in the living area, the kitchen in the Coachmen Freelander 22XG leaves a bit to be desired. There isn't a lot of space for many extras in the kitchen.
While the large refrigerator is nice, it makes up a bulk of the tiny space allotted to the kitchen. There is virtually no counter space, making it difficult to prepare meals.
Pro Tip: Here are a few kitchen storage hacks for small RVs.
The Cheapest Motorhome, Yes or No
For those looking to keep the cost on the lower end, the Coachmen Freelander 22XG can be a great option. While it doesn't have a lot of the fancy features the more expensive units have, it does check off a lot of boxes. Could you see yourself traveling in this unit?
Discover the Best Free Camping Across the USA
To be honest with you, we hate paying for camping. There are so many free campsites in America (with complete privacy).
You should give it a try!
As a matter of fact, these free campsites are yours. Every time you pay federal taxes, you're contributing to these lands.
Become a FREE CAMPING INSIDER and join the 100,000 campers who love to score the best site!
We'll send you the 50 Best Free Campsites in the USA (one per state). Access the list by submitting your email below: