5 Best Lightweight Travel Trailers in 2021
In the world of RVs and campers, lightweight travel trailers have often been overlooked. Until now.
One of the many changes in 2020 was a massive culture shift to work and live remotely. The mobile lifestyle has certainly never been more accessible, and many people find that downsizing has a major appeal.
Lightweight travel trailers are a great fit for those wanting the RV life but with a smaller eco-footprint. And we've gathered the five best for you to check out.
Let's jump in!
What is a Lightweight Travel Trailer?
So what distinguishes a lightweight travel trailer from other trailers? For this list, we'll be looking at campers under 5,000 pounds. They're designed with towing in mind. SUVs or crossover vehicles can often tow these little campers.
Not only is this more fuel-efficient, but it permits owners to skip the obligation to buy a heavy-duty truck to pull it.
5 Best Lightweight Travel Trailers in 2021
2021 has been a home run derby of options for lightweight travel trailers. The top five options compiled on this list are all of superior quality. Knowing this, there might be specific features that are more important for certain buyers to prioritize. We recommend considering the towing capacity of the vehicle you plan to tow with.
With that in mind, each option will begin by listing the base weight or Unloaded Vehicle Weight (UVW) of each unit straight from the manufacturer. This number does not include the water or cargo weight.
The CCC (Cargo Carrying Capacity) is the maximum weight that the trailer can carry for water, cargo, or other equipment.
Pro Tip: Here are the best Crossover SUVs for towing a small camper.
#1 – Airstream Bambi 16RB
The UVW of the Airstream Bambi 16 RB is 2,900 pounds, with a CCC of 600 pounds.
Measuring just 16 feet in length, the Airstream Bambi sleeps up to 4 people. The rear of this lightweight travel trailer has a full bed, and the dinette converts to a bed for additional sleepers. The interior ceiling height is 6'4", so it should accommodate most people comfortably.
The Airstream Bambi features an exterior shower head, so you can rinse off muddy feet and gear before entering the cabin. Obviously, you can also use it for an exterior shower if the setting permits.
The backup camera is located near the roof and comes with a microphone, so your spotter can verbally guide you to the hitch. The retractable awning is also tiltable, allowing you to adjust the awning angle to the best shade at any time of day.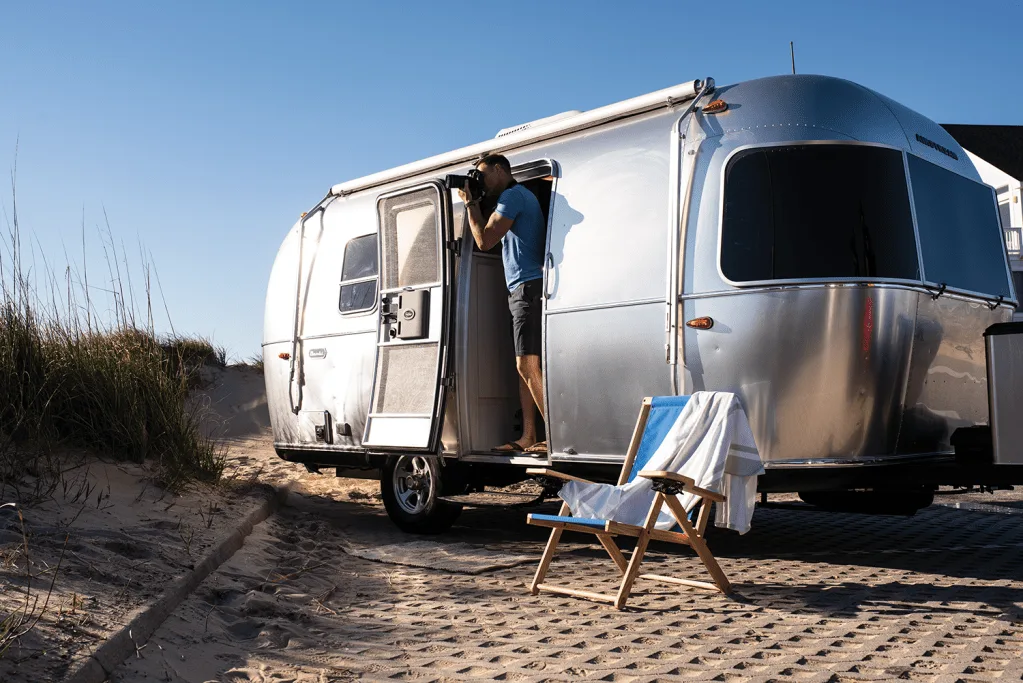 #2 – Little Guy Mini Max
The UVW of the Little Guy Mini Max is 2,320 pounds, with a CCC of 1,180 pounds.
This Little Guy is just over 17 feet long, sleeps two to three people, and has an internal ceiling height of six feet. The dinette converts to a queen bed for a larger sleeping area at night but allows for more space during the day.
This allows for a larger wet bath area than many of the other lightweight travel trailers available. Another area given generous extra space is the five cubic-foot refrigerator, which spans almost floor to ceiling.
#3 – Casita Freedom Deluxe
The UVW of the Casita Freedom Deluxe is 2,480 pounds, with a CCC of 943 pounds.
The Casita Freedom comes in a Standard and a Deluxe model. Both are 17 feet long, but the Freedom Deluxe sleeps two and comes with a large bathroom area. On the other hand, the standard substitutes the bathroom for bunk beds. So, the Standard will sleep four, but the Deluxe model has a bathroom. As a result, we recommend the Deluxe over the Standard model.
The Casita also has an exterior shower head for outdoor cleaning. A major plus for this lightweight travel trailer is that the entire camper is manufactured in only two pieces. A top and a bottom half-shell create only a single horizontal seam throughout the trailer, which protects the camper from potential water leaks in the future.
#4 – Jayco Jay Feather Micro 199MBS
The UVW of the Jayco Jay Feather Micro is 4,660 pounds, with a CCC of 1,090 pounds.
The Jayco Feather is the largest on our list, being just over 23 feet long, and sleeps five to eight people. If you're looking for a large lightweight travel trailer, this is a great option.
This camper has a pop-out dinette and a shower/tub in the bathroom, making it a more spacious option for how lightweight it really is. Another great feature on the Jayco Feather is the outdoor griddle attachment, placed under the awning for relaxed outdoor cooking.
The storage space in this area is incredible for such a compact space. There's even a cabinet behind the tv, with a removable shelf that you can convert into a hanging closet. This camper is also the only one on the list with a 3-seat sofa available, which converts to a bed for extra sleepers.
Pro Tip: Here are the 5 Best Travel Trailers that Jayco Manufactures.
#5 – Forest River R-Pod RP190
The UVW of the Forest River R-Pod is 2,979 pounds, with a CCC of 828 pounds.
The Forest River is just about 20 feet long and sleeps up to four people. What's unique about this camper is that the toilet and shower are completely separate, allowing for a little more privacy for potential guests to use the bathroom facilities. The shower space is quite generous for a lightweight travel trailer and features a skylight.
The dinette area is a pop-out space that retracts when traveling. The front of the camper has a double bed and the dinette converts for additional sleepers.
This camper also has ample storage that can be accessed externally and internally, making the storage options virtually limitless. Whether you're carrying dry pantry items or slightly more odorous fishing gear, you can store it inside your camper and potentially access these items from the outside.
Lightweight Travel Trailers for Tiny Life on the Road
Tiny houses started as a trend and have gained enough traction to become a legitimized lifestyle. Now, lightweight travel trailers are a convenient way to take that same way of life on the road.
You can zip off for a quick weekend with your partner or settle in for an extended solo retreat. Either way, you don't have to sacrifice your experience – as long as you have the right travel trailer to fit your adventure.
Discover the Best Free Camping Across the USA
To be honest with you, we hate paying for camping. There are so many free campsites in America (with complete privacy).
You should give it a try!
As a matter of fact, these free campsites are yours. Every time you pay federal taxes, you're contributing to these lands.
Become a FREE CAMPING INSIDER and join the 100,000 campers who love to score the best site!
We'll send you the 50 Best Free Campsites in the USA (one per state). Access the list by submitting your email below: