New Mexico's Enchanted Circle Road Trip Guide
The Enchanted Circle is one of the most breathtaking and captivating parts of New Mexico.
Many people know New Mexico is nicknamed the Land of Enchantment. But few are familiar with this incredible scenic drive that takes you around mountains, through canyons, and along lush river valleys.
We're your guides for this trip. So hop in the passenger seat as we hit the road on this enchanting southwest adventure.
Let's go!
About the Enchanted Circle
The Enchanted Circle is a region in north-central New Mexico, centered around Wheeler Peak – New Mexico's highest mountain.
It includes small but unique towns like Taos, Questa, Red River, Eagles Nest, and Angel Fire. In its entirety, the circle is approximately 84 miles (or 136 kilometers) in circumference.
How Long Does it Take to Drive the Enchanted Circle?
Driving straight through without stops or traffic will take two to three hours. You may be able to appreciate some of the scenery from behind the wheel. However, this trip is best made with plenty of stops.
In fact, depending on how many towns you check out or activities you participate in, this trip can easily fill a full day, weekend, or longer.
Enchanted Circle: Taos
Taos is one of New Mexico's best smaller towns and a perfect starting point for your Enchanted Circle road trip. The Taos area certainly offers something for everyone. The town itself is an artists' colony, filled with incredible and unique galleries. In addition, lovers of history and Native American culture should visit the nearby Taos Pueblo.
Native Americans have lived in these humble but strong adobe dwellings for over a thousand years! It's also the only active Native community designated both a World Heritage Site by UNESCO and a National Historic Landmark.
The Taos Ski Valley is also a top spot for outdoor activities in every season. Hiking, biking, skiing, and snowboarding are all available.
Pro Tip: Here are the 9 best things to do in Taos, New Mexico.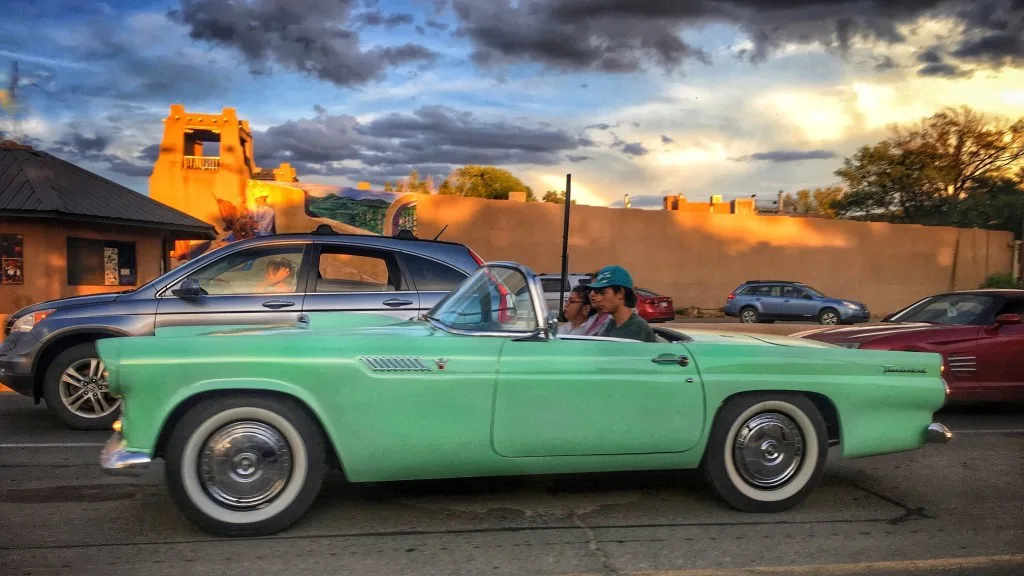 Enchanted Circle: Questa
Heading north along the Enchanted Circle, we come across Questa, where New Mexico's natural beauty shines. In fact, the town bills itself as "the Heart of the Rio Grande del Norte National Monument." This small, historic village is a stark contrast to some of the resort towns we'll see on other parts of our road trip.
You'll have access to trails down into the Rio Grande Gorge and up into the Sangre de Cristo Mountains, as well as incredible fishing opportunities. If you have time, check out Questa's mid-19th century church that dates back to its early days as a frontier town.
Free Camping Tip: Right outside of Questa is one of our favorite free campsites. Here's the GPS & details.
Enchanted Circle: Eagle Nest
If you're itching to get out on the water during your Enchanted Circle road trip, Eagle Nest is a perfect opportunity. Continuing along the Enchanted Circle to the east and a little south, we find Eagle Nest Lake State Park is certainly the biggest attraction here. The lake is a reservoir of the Cimarron River and is surrounded by the Sangre de Cristo mountains and Cimarron Range.
Located at more than 8,000 feet in elevation, the area can be an oasis in New Mexico's hot summers. The park offers boating, fishing, camping, hiking, and more. It's a great spot for wildlife and birdwatching.
Eagle Nest is also a great base for visits to nearby Cimarron Canyon State Park.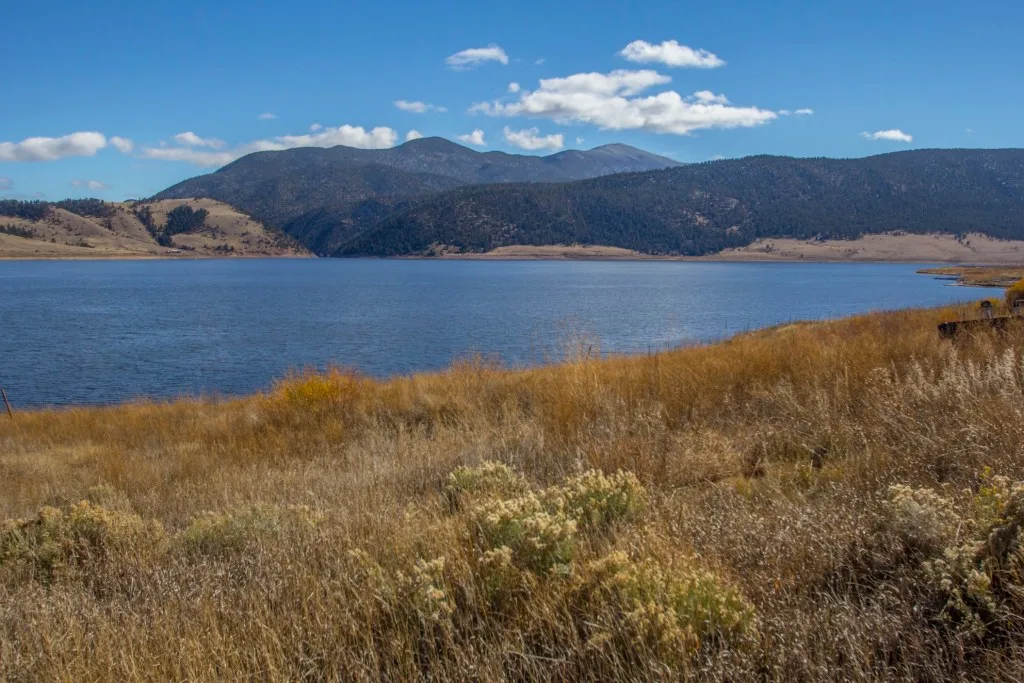 Enchanted Circle: Angel Fire
Angel Fire is a town that offers amazing activities in all seasons. The area is a mountain biker's paradise and home to Angel Fire Bike Park. The park is the largest in the Rocky Mountains and has been voted best in the southwest for seven years!
Or, for a view of New Mexico unlike any other, try a zipline tour that sends you soaring through the mountains. Those who'd prefer to keep their feet firmly on the ground can take advantage of the many hiking trails in the surrounding area. Angel Fire Resort offers some of the area's top skiing, snowboarding, and snow tubing in the winter, with more than 80 runs available.
We camped at Monte Verde Campground and loved it!
If you have time, stop by the nearby Vietnam Veterans Memorial. A local man who lost his son in the war created the first major American memorial dedicated to Vietnam Vets. In fact, he completed it more than a decade before Washington, DC's famous memorial wall.
Best Hikes Along the Enchanted Circle
New Mexico is absolutely packed full of natural beauty and fascinating geography, which means plenty of amazing hikes. And the Enchanted Circle is home to a few of the best!
Clear Creek Falls
One of the best hikes through the rugged, beautiful northern New Mexico mountains is the Clear Creek Falls trail. Located in Cimarron Canyon State Park, this trail runs just over four miles out and back. It begins with a fairly steep climb as you follow the path of Clear Creek while it tumbles downhill next to you.
The trek will treat you to incredible views and multiple waterfalls along the way. Some reviewers noted they had a bit of trouble finding the trailhead, so make sure you're on the right track before heading off on this hike!
Red River Nature Trail
Get better acquainted with the Red River that flows through the area (and the town that shares its name) on the Red River Nature Trail. After initially crossing the river from town, you'll travel along the side of a gorgeous mountain that runs parallel to the river.
Points along the trail include informational signs on local flora and fauna, plus picnic tables and benches along the river. At 3.2 miles out and back, it's a perfect length for good views and exercise without being too long or strenuous. However, reviewers warn it's poorly marked in spots, so be careful to stay on track.
This is a great hike if you're driving the whole trail in a day. Its easy and you can stretch your legs a bit.
Best Camping Along the Enchanted Circle
Angel Fire RV Resort
Angel Fire RV Resort promises "luxury living outdoors," and it delivers. You'll enjoy high-end amenities like deluxe bathhouses, hot tubs, a fitness center, a dog park, propane fire pits, and a playground for the kids.
You can even get an on-site massage! In addition to traditional utility hookups, you'll have access to wifi and cable TV as well. Plus, you can't beat the location because it has direct access to Carson National Forest from the back gate of the campground.
Elephant Rock Campground
If you're feeling like a more rustic camping experience, try Elephant Rock Campground in Carson National Forest. This campground doesn't have many amenities, with only drinking water and a few vault toilets provided. But this site is a fisherman's paradise, with excellent access to the Red River and Eagle Rock Lake. It's also a great jumping-off point for backcountry hiking.
You'll need to travel a few miles into the town of Red River for supplies, showers, and laundry, but the price is also right for this campground, at just $20 a night.
Is an Enchanted Circle Road Trip Worth It?
If you find yourself in New Mexico, a trip around the Enchanted Circle is absolutely worth exploring. This road trip provides amazing outdoor recreation opportunities for everyone all year round.
You'll also be able to take in incredible art and food in Taos, hike in Questa, take a boat ride on Eagle Nest Lake, and zip line in Angel Fire – all on one unique journey. It's certainly one of New Mexico's most brilliant hidden gems in a state full of them!
Discover the Best Free Camping Across the USA
To be honest with you, we hate paying for camping. There are so many free campsites in America (with complete privacy).
You should give it a try!
As a matter of fact, these free campsites are yours. Every time you pay federal taxes, you're contributing to these lands.
Become a FREE CAMPING INSIDER and join the 100,000 campers that love to score the best site!
We'll send you the 50 Best Free Campsites in the USA (one per state). Access the list by submitting your email below: