5 Best 50 Amp RV Generators
A 50-Amp RV generator is one of the most cost-effective and convenient ways to power your RV when you're off-grid.
RVing in some of the most epic camping locations often means going without plug-in power. And, when you're without hookups, you have to supply all of your own water and power.
If you want generator power for your 50-Amp RV while camping off-grid, keep reading.
Let's jump in!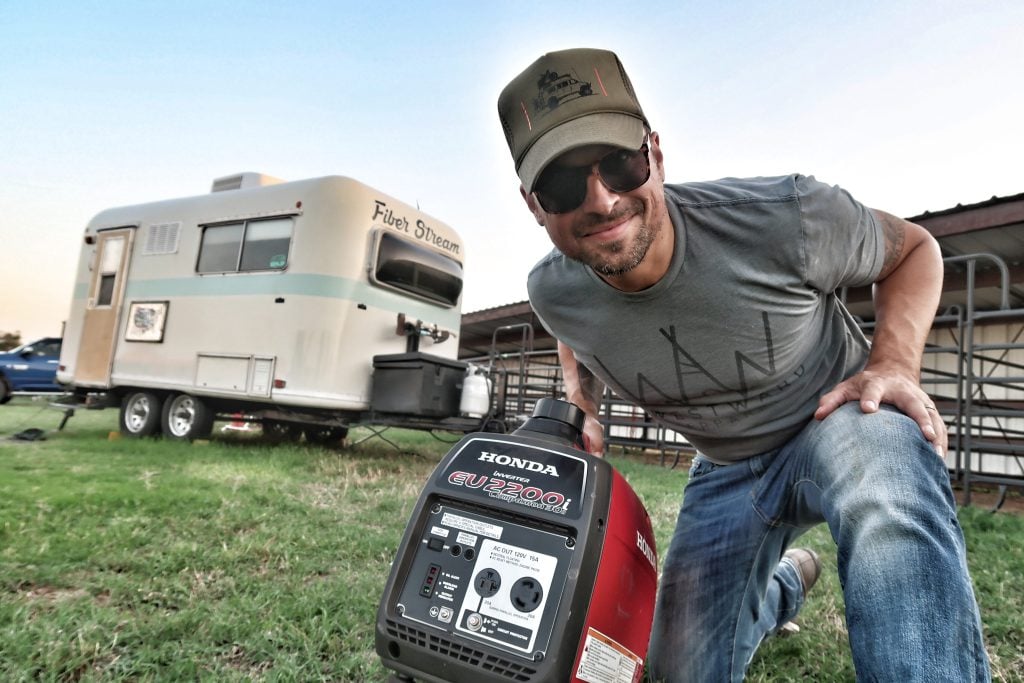 What Size Generator Do I Need for a 50-Amp RV?
A 50-Amp power connection creates 12,000 watts of power. This wattage is more than enough to run multiple air conditioners, TVs, and electronic devices in your RV. However, you likely won't need every single one of those 12,000 watts the entire time you're using your RV.
Before buying a generator, you should know how much power your RV requires. Appliances like air conditioners, microwaves, and coffee makers require a massive amount of energy when in use. However, you won't need them 100% of the time. Being mindful of what appliances you're using can allow you to purchase a smaller generator to power your rig.
A 12,000-watt generator will produce the massive amount of power required to run all the electronics in your RV; however, they're also expensive. By being flexible and mindful of the electronics you use while camping off-grid, you can get by with 3,500-4,000 watts, which is 25 to 30 Amps and substantially cheaper.
Can I Run a 50-Amp RV on a 30-Amp Generator?
Yes, you can use a 30-Amp generator to power your 50-Amp RV. However, it'll require power management. A 30-Amp generator creates approximately 4,000 watts. This wattage is often enough to run an air conditioner and other standard electronics.
Using a 30-Amp generator is essentially the equivalent of plugging your 50-Amp RV into a 30-Amp power pedestal. In both circumstances, you'll require a relatively cheap converter to connect your RV's power cable to the power connection.
Typically, a 30-Amp generator running your 50-Amp RV is only a problem when you're in extremely warm or cold climates. Air conditioners and space heaters both require massive amounts of power. If you're using a 30-Amp generator with your 50-Amp RV, plan around the weather.
5 Best 50-Amp RV Generators
Having a 50-Amp RV generator unlocks a whole new way of adventuring in your RV. You want a generator that will power your RV and is reliable for years to come.
#1 – DuroMax 12,000 Watt Generator
This DuroMax generator has plenty of power for your RV. It produces 12,000 watts and 9,500 running watts and can power not only your RV but many residential appliances as well. The DuroMax RV generator is a dual fuel generator, which allows you to choose between propane or gasoline fuel sources.
Not only does this generator have a heavy-duty 50-Amp outlet to connect to your RV, but also two 120-volt household outlets and two styles of 30-Amp outlets. The robust wheels allow you to maneuver all 224 pounds of this generator easily.
Here's how much the DuroMax costs.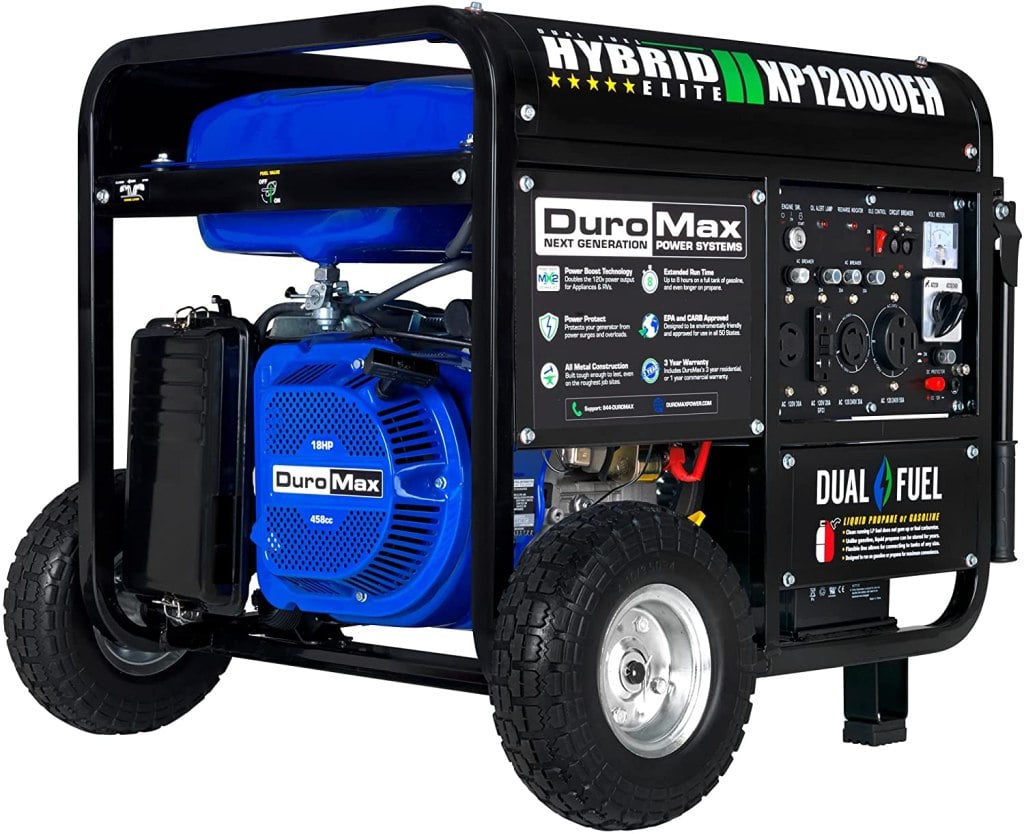 #2 – Westinghouse Generator
The Westinghouse 50-Amp RV generator can create 15,000 starting watts and 12,000 running watts. With such an incredible amount of power, it's no surprise that this is a behemoth of a generator and weighs 352 pounds. The large wheels will only assist you once you get the generator out of your truck. You may need help lifting it, however.
This gas-powered generator has an electric and remote start. Using the included key fob means not having to venture out of your RV to fire up your generator in the morning. The 10.5-gallon fuel tank can keep you going for up to 16 hours. You'll have two 120-volt GFCI receptacles, two 30-Amp outlets, one 50-Amp RV-ready outlet, and two USB ports.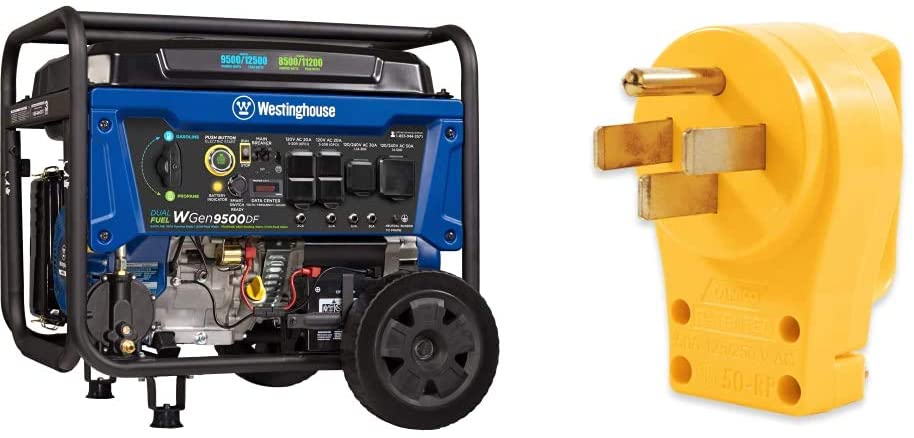 #3 – Champion Generator
Champion's 50-Amp RV generator creates 15,000 starting watts and 12,000 running watts. When you fill the 10.9-gallon tank with gasoline, you can expect nine hours of power. It's a heavy generator at 330 pounds.
The unit comes with multiple power outlets, including two 30-Amp outlets, a 50-Amp outlet, and four 120-Volt GFCI outlets. The built-in surge protector will help protect any appliances you connect to the generator.
#4 – Generac Generator
The Generac 50-Amp RV generator creates an astounding 22,500 watts of starting power and 15,000 watts of running power. At 373 pounds, you may need help maneuvering it.
The hardened steel tubing construction helps this withstand the bumps and bruises from RVing. The Generac generator has two 120-volt, two 120-volt GFCI, one 30-Amp, and one 50-Amp connection. This unit packs more than enough power for your RV during off-grid camping or a blackout.
#5 – WEN Generator
The WEN DF1100T is a dual fuel generator that uses gasoline or propane. When using gasoline, it can create 11,000 starting watts and 8,300 running watts. However, when using propane, it produces 9,500 starting watts and 7,500 running. The 6.6-gallon fuel tank will allow you to use this generator at 50% load for 8.5 hours from gasoline and three hours when using propane.
While this is a smaller generator in terms of power and size, it still weighs 214 pounds. You can use the four 120-volt outlets, one 30-Amp outlet, or a 50-Amp outlet to meet all of your electronic needs. Using the 9.5-inch wheels makes it incredibly easy to navigate this generator wherever you need to use it.
Conclusion
Having a generator can make for some epic RVing adventures. On the other hand, it can be a lifesaver should you encounter a power outage in your RV park. Certainly, being self-reliant in terms of your RV power can make for a more enjoyable RVing experience. How has having an RV generator enhanced your RVing experience?
Discover the Best Free Camping Across the USA
To be honest with you, we hate paying for camping. There are so many free campsites in America (with complete privacy).
You should give it a try!
As a matter of fact, these free campsites are yours. Every time you pay federal taxes, you're contributing to these lands.
Become a FREE CAMPING INSIDER and join the 100,000 campers that love to score the best site!
We'll send you the 50 Best Free Campsites in the USA (one per state). Access the list by submitting your email below: