Couple Transforms 1987 Dodge Van into Luxury Camper
Cody and Hannah renovated their 1987 Dodge into a luxury camper van. They've sold everything and are ready to explore!
In this interview with Cody, we talk about their RVing history and future, as well a how they updated their van to be the ultimate home on wheels.
Let's dig in!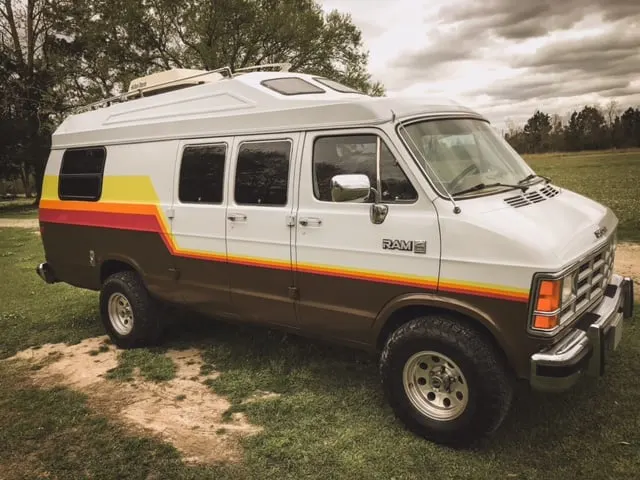 Can you give us a brief introduction about yourself?
My name is Cody, I'm 32 years old, and I'm from Baton Rouge, LA. My travel buddy, partner in crime, and beloved girlfriend is Hannah, also from Baton Rouge.
We are both in the medical field and have been since our early twenties. Now, 10-15 years later, we are burned out on the 9-5 life and long for more freedom, so we decided to sell all of our possessions for a life of full-time travel!
How long have you been RVing?
We are currently in the process of getting our house sold so we can set out in our van, which is roughly a month away. So exciting! We have taken several van trips in the past. Our first van trip was in Iceland, where we rented a van and road tripped the entire island. Something I would highly recommend!
Our latest trip was in our own van we bought and remodeled. It was considered a trial run as well so we could see what changes we needed to make to the van as well as if any mechanical issues would arise.
What type of RV are you currently traveling with?
Our beloved van, Don Vahn, is a 1987 Dodge Ram Roadtrek. Originally built in '87 as a campervan, [he] has made it all the way until we bought him in 2020 with only minor modifications to the interior. So, needless to say, he was due for some upgrades.
Why did you choose to renovate a Dodge Van? What inspirations did you draw from?
Honestly, renovating a van and doing the vanlife thing was never really something we had thought about doing. We are originally backpackers that loved to travel abroad but when the pandemic hit and all the borders closed up we had to find something else to satisfy our travel spirits so we started to pay attention on social media to people doing the vanlife thing.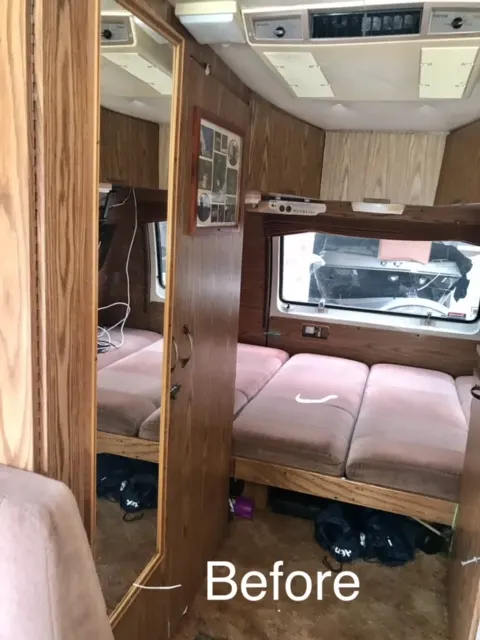 We had enjoyed our time road tripping in Iceland, but the van there was barely large enough to fit our backpacks in so it wasn't something we thought of as a long-term lifestyle. Once we figured out that we could buy a van and large enough for us and our things and convert or remodel it, we decided it could be an option.
So one day, as I was driving home from work, I saw a van on the road for sale that looked to be a campervan. I quickly turned around to peek inside the windows and get the details, and after about a week's worth of negotiations with the owner, we were able to bring Don Vahn home!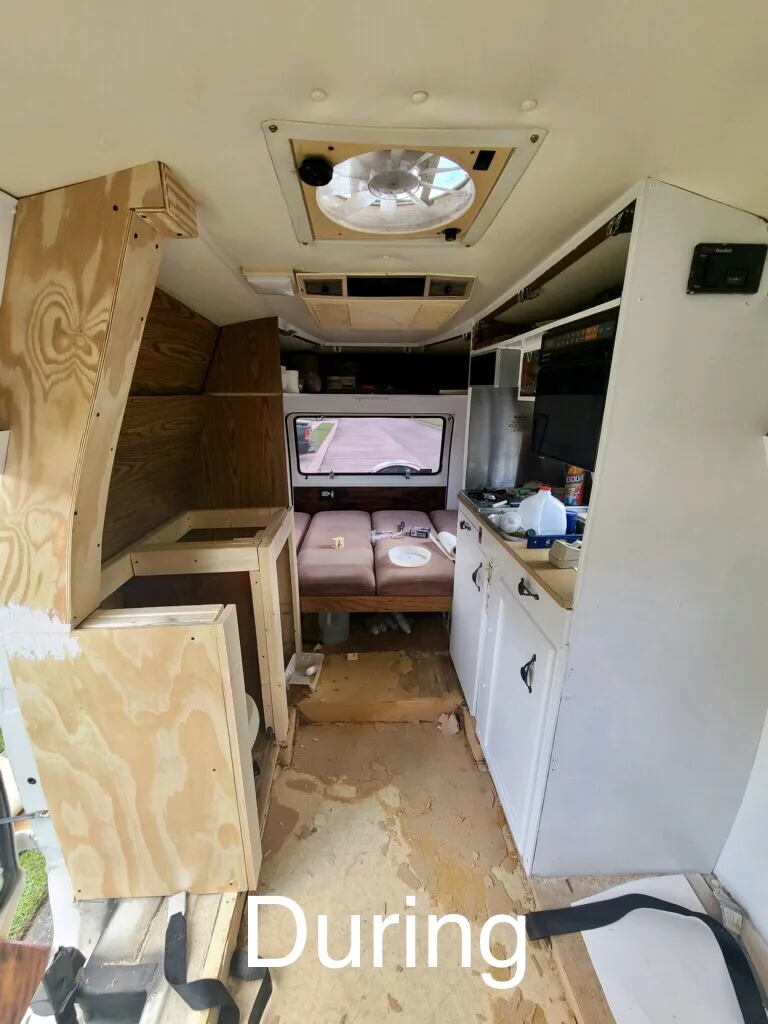 Can you tell us a little bit about how you renovated each of the following areas of your van?
As I mentioned earlier, our van was manufactured as a campervan, so most of everything was already in place. What we did was remodel/upgrade versus a complete van build-out like you'll see a lot of on social media.
Van Living Area Renovation
The living room area consisted of two passenger seats along with a fold-out table and included the two front seats as they are able to spin around and face the back. Since it's just the two of us we decided to remove the two back seats and fold down table to allow for more space.
Where the back left seat was is now where we keep our 65-liter ice chest, which can also double as a seating area. And for a table, we decided to just use a portable fold-down camp table that we can use inside or outside.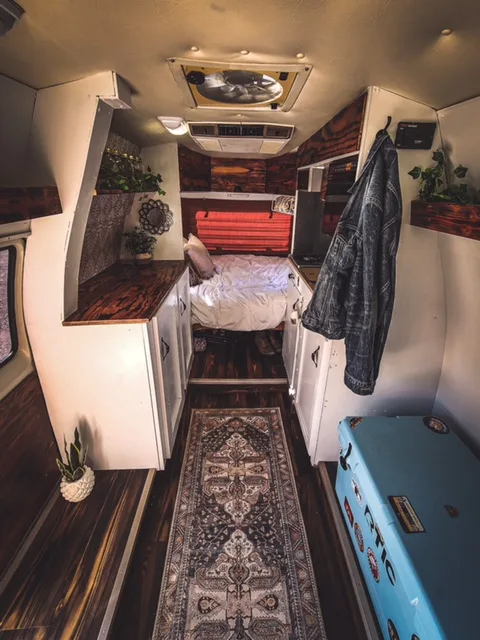 The entire front was kept original so we can still spin our front seats around and open up our table to eat inside if we'd like. All of the walls were sanded and primed and painted white to give it a more open look. Also, all of the 1987 pressed faux wood shelving, cabinet doors, and door paneling were replaced with real wood with a torch and stain look.
Van Bedroom Renovation
Originally our bed was able to convert from a seating area to a bed, but the previous owner decided to turn it into just a stationary bed.
We tossed around the idea of converting it back but ultimately decided to leave it that way so we could add a 4-inch memory foam topper on the existing cushions for maximum sleeping comfort! Our backs are happy with that decision.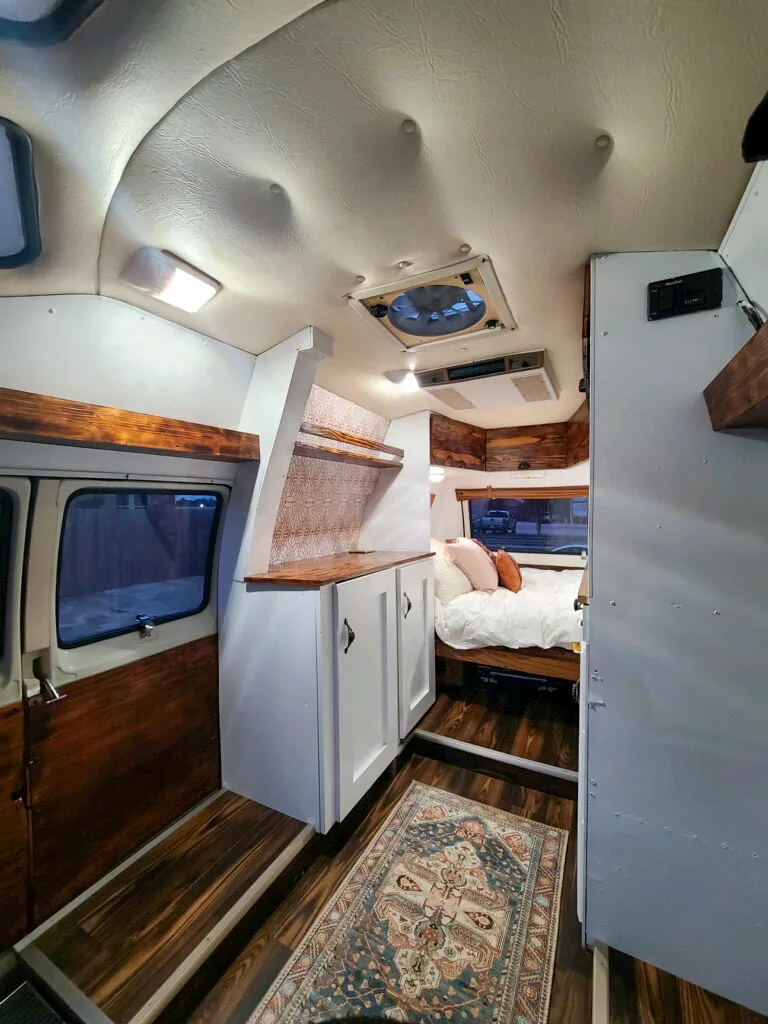 Van Kitchen and Bathroom Renovation
The kitchen area, which is on the left side midway through the van, includes the stove, sink, and microwave. All of which are original besides the cabinet doors. However, it also received a fresh coat of paint.
Opposite the kitchen side is the counter space, prep area, and toilet. Yes, you read that correctly, toilet. Originally there were two large doors which housed the toilet and a large closet space behind each door. Although a large closet space is definitely desirable, what we needed more was counter space. I figured we had enough storage for clothes in the back cabinets so I decided to take those doors off, cut the dividing walls in half, and lay wood down on top to make for more counter space.
I also cut the section of the new counter above the toilet out and put it on hinges so you could lift it up when you need the toilet. I framed up two smaller doors to house the toilet and new smaller storage in the old closet area.
Exterior
When we bought the van, it was completely white on the outside, and we were ok with that until a family member opened up an auto painting shop and offered us a discount to paint the van. We jumped at the offer and had some retro stripes painted along each side.
It really brought the van back to life! We also installed an 8' x 10' awning over the side doors so we can have shade whenever we need it.
What tips do you have for folks interested in renovating a van?
If I can give any tips to someone looking to build out a van or do a renovation, it would be to do a lot of research, remember to be patient, and prepare to run into obstacles, and don't let it discourage you. All renovations are a headache, but it's all worth it in the end!
What was the most important tool while renovating your van?
The most important tool I had when renovating was probably my cordless drill, and in a close second would be my miter saw. I don't think I could've done it without those two. Screwdrivers and manual saws just don't cut it these days!
Where can people follow you?
Anyone who would like to follow us on our journey can follow my Instagram account @ctxandre. It is encouraged and much appreciated! Happy travels!
Discover the Best Free Camping Across the USA
To be honest with you, we hate paying for camping. There are so many free campsites in America (with complete privacy).
You should give it a try!
As a matter of fact, these free campsites are yours. Every time you pay federal taxes, you're contributing to these lands.
Become a FREE CAMPING INSIDER and join the 100,000 campers that love to score the best site!
We'll send you the 50 Best Free Campsites in the USA (one per state). Access the list by submitting your email below: