The National Parks Glory Days Are Well Behind Us
Some say that the glory days for National Parks are well behind us. Are they?
There's been a constant stream of tourists heading into the national parks all over the country for many years. Initially, recreational visits started in 1904 at about 120,000 then increased to 237 million in 2020. In fact, the highest number of recreational visitors ever recorded was almost 331 million people in 2016.
From these stats, it appears that the glory days for national parks may be lessening as crowds continue to increase. Many national parks believe so and have implemented a few changes in response.
Let's take a deeper look.
How Does Visiting The National Parks Look Different In 2021?
One of the biggest changes people will notice when visiting some popular national parks in 2021 is a reservation system. The parks service implemented this in 2020 because of overcrowding during the pandemic. However, they're continuing it into 2021 post-pandemic, as well.
Some of the most popular national parks in the country have tens of thousands of visitors daily. As a result, they're seeing overcrowding at the most popular sites. Sites such as Old Faithful or Going-to-the-Sun-Road can quickly feel more like a shopping mall than an excursion into nature.
And with a boom in RV rentals and sales, you're bound to see even more visitors entering the national parks this year.
Another difference you may notice when visiting national parks today is less space for boondocking opportunities outside the park. Because many of these sites are on U.S. Forest Service Lands, some sites may stay closed temporarily in an attempt to lessen crowds and deter travelers.
This all means you'll have to do a bit of planning before you drive up to the entrance. Maybe even more so than you normally would.
Pro Tip: Here are 5 underrated national parks that probably won't be crowded.
How Does The New Reservation System Work?
There are 63 national parks in the U.S., and each of these requires an entrance fee or a park pass. Today, there are six national parks that also require a reservation ticket along with that fee to enter the park. Each park has a different requirement for what's accessible via the reservation ticket.
In addition, all reservation tickets are sold online and not available at the park entrances. For tickets, go to recreation.gov and check out each park's website for complete details about the advanced reservation tickets.
Acadia National Park – Maine
For Acadia, you'll need a reservation to drive up Cadillac Mountain to join others in greeting the morning sun. However, if you're exploring anywhere else in the park, you currently won't need a reservation ticket.
Glacier National Park – Montana
When visiting Glacier National Park, you'll need a reservation for entrances anywhere along the Going-to-the-Sun Road corridor. Many Glacier, Two Medicine, and the Polebridge entrances don't require a reservation ticket.
Haleakalā National Park – Hawaii
Haleakalā National Park in Hawaii requires a reservation to enter the park between 3:00 am and 7:00 am. It seems like a strange time to need a reservation, right? Haleakalā is quite the popular spot to watch the sunrise, and apparently, everyone knows it. As a result, the park added its reservation system in 2017 and it continues today. Not interested in viewing the sunrise from 10,000 feet? You won't need reservations after 7:00 am.
Rocky Mountain National Park – Colorado
One of Colorado's most famous national parks is Rocky Mountain National Park, and this year it requires advanced reservations. The two types of reservation tickets each offer a two-hour entry timeframe. You can stay past the two-hour window once you enter.
You'll need a specific ticket for visiting Bear Lake Corridor, plus you can still explore the rest of the park. If you're not interested in Bear Lake Corridor, then you'll only need a reservation for the general park.
Yosemite National Park – California
Yosemite National Park also requires an advanced reservation unless you have an in-park reservation for camping or other activities. These are good for three consecutive days. And you'll be able to enjoy the park at your leisure once you have the ticket.
Zion National Park – Utah
You'll also need an advanced reservation to access some of Utah's famous Zion National Park sites this summer. Upper Zion Canyon and Scenic Drive are currently closed to cars. But they're accessible via a reservation ticket on a timed entry shuttle bus.
Once you're on the bus, you can hop on and off all day long to enjoy the park. Be sure to check out its most popular attractions, such as Angels Landing and the Emerald Pools. On the other hand, you won't need a reservation for the visitor center area or any hikes along Zion-Mount Carmel Highway and Kolob Terrace Road.
Are Boondocking Sites Near National Parks Still Open?
Campgrounds within national parks fill up quickly, before, during, and post-pandemic, and they'll continue to do so. Because of the increased popularity of many parks, some people choose to boondock outside of the park system. But are these boondocking sites still open?
That answer all depends on where you're boondocking. Some national forests have either shut down or have limited camping sites this past summer and in 2021. Other sites are on state-specific public land or Bureau of Land Management (BLM) land. For these, it all depends on the areas in which you're attempting to camp.
The best way to determine if your favorite boondocking spot is still open is to do your research ahead of time. Check out the sites at Campendium, the U.S. Forest Service, or your favorite website or app to know where you'll be spending your nights.
Will This Summer Be The Busiest Yet For National Park Visits?
When the pandemic hit, national parks saw a decrease in visitors in the early months. Some of this was due to park closures. But it was also because people weren't sure about traveling during a pandemic. Being a legitimate concern, it's easy to see why numbers initially decreased.
However, the pandemic continued into the spring and summer months, and schools and jobs went virtual. Then people realized they could travel and still quarantine within their little bubble. National parks quickly became busy, and the work of keeping people socially distanced while allowing them to enjoy the outdoors became a daunting task.
Today, visits are trending upwards once again as more and more people make their way back into the world of travel, road trips, and national park tours. It could be because people are increasingly working and schooling remotely. Or due to on-the-road lifestyles becoming more popular. But it doesn't really matter why. What matters is finding a way to handle crowds that avoids overwhelming an already taxed national park system.
So, be patient.
Understand that you might be turned away if you don't have a reservation as needed. And have a backup plan for fun in the outdoors. Just because you can't access a national park doesn't mean your day of exploring the outdoors is over. It just means you'll explore another area today and a national park later.
They're breathtaking in the off-season. And still open.
Are National Park Entry Prices Going Up?
Each of the 63 designated national parks has a fee to enter. Most range anywhere from $20-$35 per vehicle. Over the last couple of years, some park entrance fees have increased around $5 to $20 per vehicle. Since parks have recently increased their fees, most will remain the same for a while.
One of the best ways to combat park entrance fees is to purchase an annual park pass. Several options are available, with the most popular being the America the Beautiful pass priced at $80 for the year.
Is Visiting The National Parks Still Worth It?
Whether you're the type that plans far in advance, already in possession of a coveted reservation ticket, or you fly by the seat of your pants, visiting the national parks is still worth it. There are many places to explore within the national parks. Skip the most common areas, and you'll find some hidden gems.
Check out a sunrise or sunset. Or go during the off-season when there are fewer people and still beauty everywhere. If you're prepared to be flexible and patient, you'll be rewarded with the calm and peacefulness that's Mother Nature at her finest.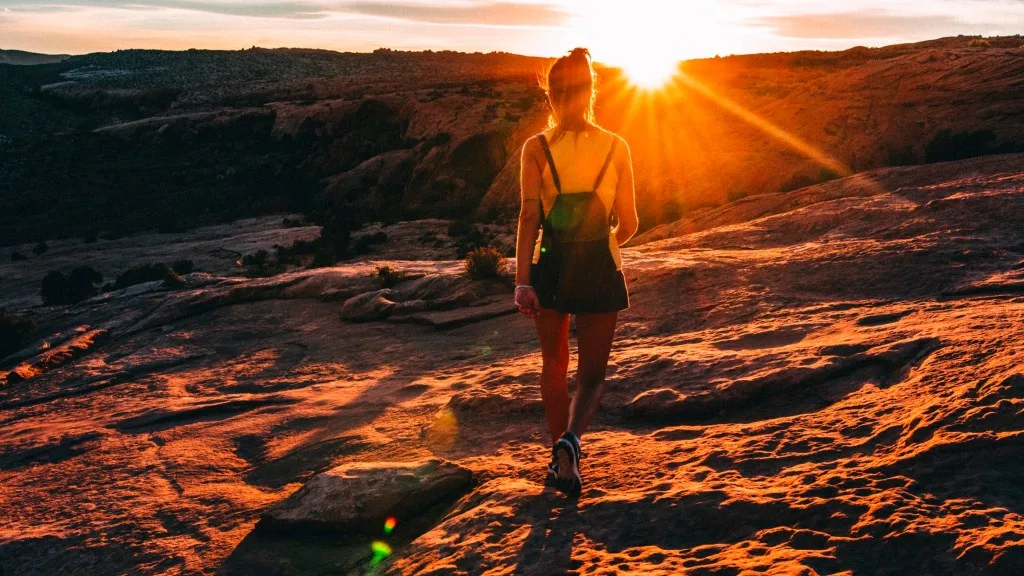 National Parks Glory Days May be Gone, But the Beauty Isn't
Easy access to national parks may be behind us because of increased crowds, limited access, and more involved planning. And so, as with anything that gains popularity, the parks have to adapt.
As a result, we need to change with them so we can continue experiencing the vibrant wildflowers, the powerful whitewater rapids, or the majestic wildlife. All it takes is a little patience and perseverance to make our beloved national parks still worth visiting.
Discover the Best Free Camping Across the USA
To be honest with you, we hate paying for camping. There are so many free campsites in America (with complete privacy).
You should give it a try!
As a matter of fact, these free campsites are yours. Every time you pay federal taxes, you're contributing to these lands.
Become a FREE CAMPING INSIDER and join the 100,000 campers that love to score the best site!
We'll send you the 50 Best Free Campsites in the USA (one per state). Access the list by submitting your email below: