The Beartooth Highway Roadtrip Guide
Beartooth Highway is widely considered one of the most beautiful drives in America, but don't plan to use it in the winter. The highway closes for much of the year because of massive snowdrifts and dangerously high winds.
However, in the summer and early fall, the conditions are usually right for a drive on the wild side. So strap yourself in and enjoy amazing views of some rugged high country out west.
Let's explore!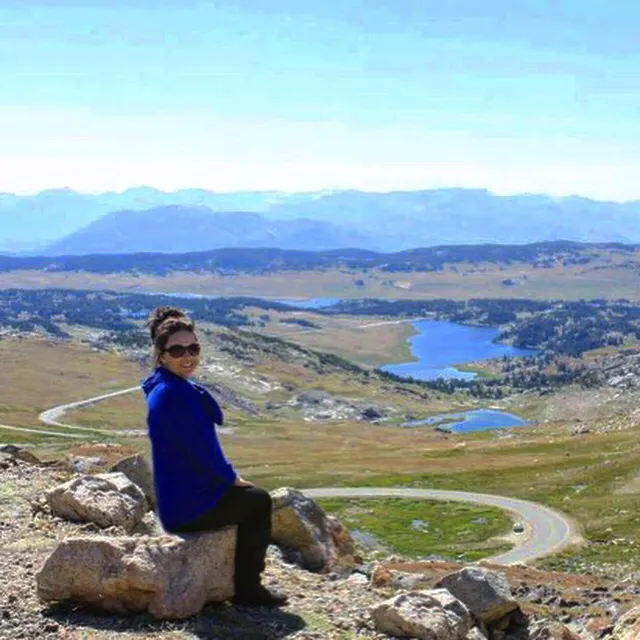 About Beartooth Highway
Built in 1936, Beartooth Highway is a 68-mile length of U.S. Route 212 near Yellowstone National Park. In fact, it stretches between the northeast corner of Yellowstone, near Cooke City, up to Red Lodge, Montana.
This vast wilderness of nearly a million acres includes the majestic Absaroka and Beartooth mountains. This scenic area, which takes in parts of the Custer, Shoshone, and Gallatin National Forests, is known as the Beartooth Corridor. Like the highway, it gets its memorable name from the shape of one of the many pointed peaks along the way. Beartooth Highway is designated as a National Scenic Byways All-American Road because of its natural beauty.
It's a high road, too. It reaches 10,947 feet above sea level at one point in Wyoming. On the Montana side, its highest elevation is 10,350 feet. Some of these mountains top out at over 12,000 feet, and many of them have glaciers on their north sides.
Is Beartooth Highway Dangerous?
Winter snowstorms make the road impassable, and in fact, it can take months to clear the snow. Even when the weather conditions are good, a cruise along Beartooth Highway isn't for the squeamish. It has sharply curving switchbacks and dramatic inclines. And because of those high elevations, sudden strong winds are a danger, too.
Even in the summer, there can be hazardous hailstorms. You have to watch out for fog and heavy downpours, too. Both can reduce visibility and make driving unsafe.
Some of Beartooth Highway's tricky curves are scary, for sure, so take it slow and easy. In some places, there are only low and narrow guardrails between you and some deep ravines. With such distracting scenery, keeping your eyes on the road is sometimes easier said than done!
How Long Does It Take to Drive Beartooth Highway?
Driving steadily, it takes about two hours to go from Red Lodge to the Cooke City area (or vice versa). You'll likely want to pull over for a better look at some of the sights, though. Plan on three hours to fully enjoy the experience at a relaxed pace. Go ahead and make a day of it if you can. Read on for some suggestions on places to stop and visit.
When is the Beartooth Highway Open?
After the winter shutdown, Beartooth Highway typically reopens on Memorial Day and stays open through Columbus Day. In other words, it's usually safe to travel from late May to almost mid-October. There's no guarantee, though. Sometimes it stays closed later or has to be closed again in the summer because of bad weather.
What to See on the Beartooth Highway
To best experience Beartooth Highway, don't think of it as a race from start to finish. There's a lot to see along this scenic route. If you can make the time for them, here are a few don't-miss attractions.
The "Bear's Tooth"
The namesake jagged mountain spire stands tall at 11,920 feet inside Custer National Forest in Carbon County, Montana. This is part of an area called the Absaroka-Beartooth Wilderness in Custer National Forest. We're not sure what kind of bear inspired the name, but today's visitors might spot a black bear or grizzly.
You can get a great view of the 315-foot tooth-shaped peak from the highway at the West Summit Beartooth Pass Overlook area. The truly adventurous have managed to climb the peak.
Top of the World Store
This legendary shop has grown into a rustic resort but has modest beginnings as a country store. It's 38 miles from Red Lodge and 25 miles from Cooke City and is situated at 9,400 feet above sea level. Stop for gas and groceries or pick up some gifts. It's also the kind of place where you can rent a canoe, paddleboat, rod, and reel.
Scenic Overlooks
Pulling over for a better look is common on Beartooth Highway, especially when the aspens turn their gorgeous golden shade. One of the most popular observation sites is the Pilot and Index Peak Overlook, which offers a terrific view of Clark's River Fork valley. (By the way, Pilot Peak is similarly shaped, so it's often mistaken for the "bear's tooth" itself.)
For a closer look at the Yellowstone River valley, make a stop at the Clark's Fork Overlook. Closer to Yellowstone, the Clay Butte Lookout Tower offers an amazing view just a few miles from the Wyoming-Montana boundary. It's about a half-mile off Beartooth Highway to the north.
Alpine Lake
The numerous high mountain lakes are another incredible attraction along the Beartooth Highway. In a way, they somehow seem out of place at such altitude, but they help make this area so inviting. These alpine bodies of water, including Beartooth Lake and Island Lake, provide incredible opportunities for outdoor recreation.
Best Hikes From Beartooth Highway
Besides camping, fishing, and nature watching, hiking is one of the most popular activities along the Beartooth Corridor. Some of the trails are extremely challenging, while others are a fairly easy stroll. Here are some details about two of them.
Near Cooke City and the Yellowstone entrance, Woody Falls is steep enough to earn a moderate rating. It's just under three miles out and back, and the elevation gain is 859 feet.
The three-tiered Woody Creek Falls is a worthy reward, and so are the wide views of the expansive river basin. It is well-shaded, and the trail itself is dirt with some rocks. Keep your dog on a leash and watch for bears.
This popular forested loop is also close to Yellowstone and is right at 3 miles long. Like Woody Falls, it's a bit strenuous in places. The centerpiece of the walk is the stunning mountain lake. Expect to see a variety of wildlife, such as deer, badgers, and bears. Horses share the trail, too. You can enjoy a variety of plant life, as well, including wildflowers.
Best Camping on Beartooth Highway
Outside Cooke City, this popular campground has 21 sites for tents and RVs and some basic amenities. Potable water and vault toilets are available, and there's a store nearby that sells supplies.
There's no cell service, and the maximum campsite length is 32 feet. The U.S. Forest Service operates this first-come, first-served campground. The cost is $15 per night.
Just under four miles to the east is another highly coveted landing spot. Island Lake is another Forest Service campground with similar amenities. It's $15 per night with a 16-day limit. Because of its boat launch, it's especially popular with anglers and boaters. Please note that neither of these campgrounds is accessible for those with mobility issues. Also, don't expect any cellular service here.
Is a Beartooth Highway Road Trip Worth It?
Simply put, the Beartooth Highway offers the road trip of a lifetime. It's known as a gateway to Yellowstone, but zigzagging up and down Beartooth Highway is an adventure in itself.
This amazing mountain route will open your eyes to a part of the west that's still wild in many ways. So, if you're in this part of the country and have the time, go for it. Just make doubly sure that the weather is on your side. We certainly can't imagine anyone having any regrets about making this spectacular drive.
Discover the Best Free Camping Across the USA
To be honest with you, we hate paying for camping. There are so many free campsites in America (with complete privacy).
You should give it a try!
As a matter of fact, these free campsites are yours. Every time you pay federal taxes, you're contributing to these lands.
Become a FREE CAMPING INSIDER and join the 100,000 campers who love to score the best site!
We'll send you the 50 Best Free Campsites in the USA (one per state). Access the list by submitting your email below: