The Best Day of the Week for RV Travel
If you can help it, there are certainly better days and times to travel in your RV. Whether you're heading home or out to the campground or driving to the next RV park, understanding when to do it is important.
In fact, knowing the best days and times for RV travel can help you avoid headaches, stress, or even an accident.
So, let's dig in!
RV Travel Best Day Factors
When looking at which days and times are best for RV travel, we thought about traffic, campground availability, and access to necessary businesses such as mechanics and hardware stores. We also looked at statistics from the Insurance Institute for Highway Safety (IIHS) and other resources.
Best Day of the Week for RV Travel
Statistically, the best day of the week for RV travel is Wednesday, with Tuesday coming in a close second. Most RVers agree that driving on Tuesdays is better and include Mondays as their favorite travel days. They cite a few reasons for traveling on those days.
Firstly, traffic is generally lighter except for rush hours in larger cities. You also won't be trying to find a spot in that first-come, first-served campground with dozens or hundreds of other people. In fact, you'll be all settled and out exploring the area when the weekenders roll in.
And, lastly, more service-related shops and stores will be open in case of an emergency.
Worst Day of the Week for RV Travel
According to IIHS, the day of the week with the most vehicle accident-related fatalities is Saturday. Friday is a near second, followed by Sunday. This clearly shows that traveling on weekends is not your best option compared with weekdays.
That said, RVers tend to chose Sunday as the worst day for travel. The traffic alone, people headed home after their own weekends away, can be nightmarish depending on your location.
In addition, many businesses including mechanics and hardware stores, close on Sundays – especially in smaller towns. So, if you have a problem breaking camp or on the road, you could be stuck waiting for parts or repair help until at least Monday.
However, we know many of you are weekend warriors.
If you can, we suggest taking a long weekend so you can travel on Thursday and Sunday. If you're limited to the weekend, at the very least try to leave early in the morning. In fact, many RVers say Sunday mornings are the best times to drive through larger cities.
Pro Tip: Here are the worst USA cities for RVing.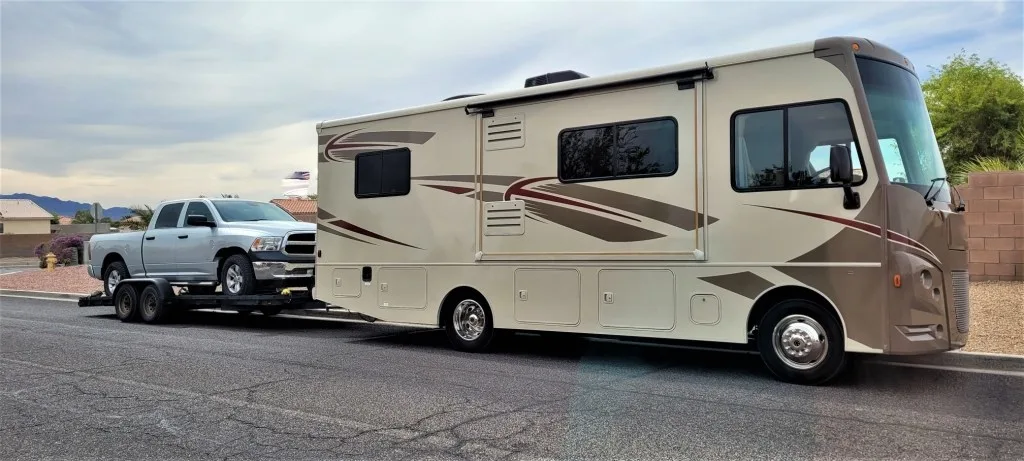 Best Times of Day for RV Travel
Most RVers agree that the best time of day to travel in your RV is in the morning. People suggest leaving anytime between dawn and 10:00 am. This can help you avoid city traffic depending on the timing. In warmer weather, it also keeps your RV's fridge out of the hot afternoon sun while it's shut off.
You may also want to time your RV travel based on the direction you'll be driving.
For example, if you're heading due west, you may want to stick with morning driving to keep the sun out of your eyes. Afternoon driving, if it's not super hot outside, is ideal when you're traveling eastward.
Worst Times of Day for RV Travel
Nearly everyone agrees the worst time of day for RV travel is when it's dark.
Even if you're heading home to your driveway, it's more difficult to see and be seen at night. On the other hand, trying to set up even the basics after arriving at an unfamiliar campsite can be a big challenge leading to much frustration, injuries, or damage to your RV.
Statistics back this up showing 6:00 pm to 9:00 pm as having the most driving fatalities, and 3:00 pm to 6:00 pm the second highest. Coming in next highest are the hours between 9:00 pm and midnight. This certainly shows steering clear of city rush hours and nighttime driving is best.
Keep in mind: Here are the Don'ts of RV Travel Day.
Special Days
We're all aware that holidays are typically higher accident days, and July 4th leads the pack on this. Memorial Day and Labor Day are additionally bad times to be on the road.
Interestingly, September has the most 'worst days' for driving, according to the IIHS. These include September 3rd, 16th, and 30th. The 3rd could certainly be a Labor Day statistic, but there's no accounting for the latter two dates.
Discover the Best Free Camping Across the USA
To be honest with you, we hate paying for camping. There are so many free campsites in America (with complete privacy).
You should give it a try!
As a matter of fact, these free campsites are yours. Every time you pay federal taxes, you're contributing to these lands.
Become a FREE CAMPING INSIDER and join the 100,000 campers who love to score the best site!
We'll send you the 50 Best Free Campsites in the USA (one per state). Access the list by submitting your email below: