How Big are Fifth-Wheel RVs?
A fifth-wheel RV is like having an apartment on wheels.
Some rival luxury penthouses. With their high ceilings and roomy slide-outs, many models increase living space versus other types of RVs.
Let's check out just how big fifth wheels can be, including the smallest and largest ones.
How Do You Measure a Fifth-Wheel RV?
Typically, you measure from the back bumper to the center of the kingpin. However, there are a couple of things to keep in mind when you're shopping for a fifth wheel. First, not all RV manufacturers measure their products the same way.
Therefore, you should ask the manufacturer how they measure their RVs so you can get an exact number.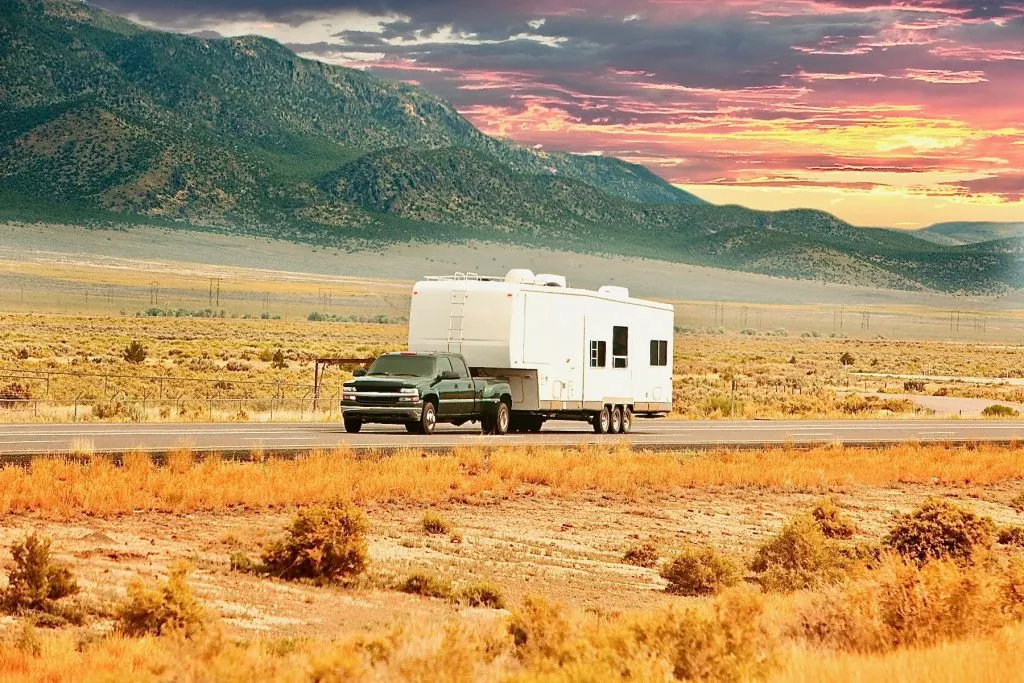 How Big Are Fifth Wheels?
Fifth wheels range in size across brands and models. First, let's look at the average length, height, and width of fifth-wheel RVs.
Average Length
The average length of a fifth wheel is 32 feet. However, that average is likely changing as we speak, with many purchasing larger units. It's pretty common to see 36- to 40-foot fifth wheels on the road.
Average Height
Fifth wheels average nine feet in height. However, the indoor measurements can vary. For example, the living and central areas typically have taller ceilings than the front, upper space of the RV.
Average Width
The average width of a fifth wheel is eight to 10 feet. Keep in mind that an eight-foot width makes it easier to navigate a large fifth wheel than a wider unit.
What Are the Smallest Fifth-Wheel RVs?
There are some great lightweight and short fifth wheels on the market. Among the smallest are the Scamp 19' Deluxe, Escape 5.0, and Forest River Rockwood Ultra Lite 2442BS.
At 19 feet, the Scamp 19' Deluxe is the smallest 5th wheel RV out there. The Escape 5.0 is slightly longer at 21.2 feet. Finally, the Forest River Rockwood Ultra Lite 2442BS is just under 29 feet long.
How Big Are the Largest Fifth-Wheel RVs?
Several RV manufacturers have big fifth wheels on the market. Some of the largest include the Grand Design Solitude 390RK, Cedar Creek Silverback Edition 37MBH, and Chaparral X Edition 355FBX.
The Grand Design Solitude 390RK is 41.5 feet long and 13.5 feet high. Forest River's Cedar Creek Silverback Edition 37MBH is a little shorter at 40.8 feet. But it's also 13.5 feet high. Finally, Coachmen's Chaparral X Edition 355FBX is the largest at a whopping 42.7 feet long. It's 12.5 feet high.
How Large of a Truck Do I Need to Pull a Fifth Wheel?
The truck you use to pull your fifth wheel will depend on the RV's loaded vehicle weight and hitch weight. Heavier fifth wheels will require a ¾ to 1-ton truck. A half-ton truck can pull some smaller fifth wheels.
Research the towing capacity of a truck before purchasing it. Don't only rely on what the dealer tells you. Read the manual and look up the specs online. No matter which truck can pull your fifth wheel, you might need modifications like suspension airbags.
Pro Tip: Here are the best dually trucks for towing.
Will a Fifth Wheel Fit in Any RV Park?
Unfortunately, not every fifth wheel will fit in any RV park. Mainly older parks have not updated their campsites to reflect the length of newer RVs. Even some national park campgrounds can't accommodate an RV more than 30 or 35 feet long.
Think about how you want to RV before purchasing a fifth wheel. If you plan to stay in state parks and national parks often, you may want to shop for a short fifth wheel. Many RV parks across North America can accommodate RVs up to 45 feet long, but be aware that those spaces may be limited. Make reservations in advance.
What type of fifth wheel suits you? No matter what you're in the market for, we hope you get out there and camp this year. If you're currently traveling in a fifth wheel, do you feel like it gives you the space you were hoping for?
Discover the Best Free Camping Across the USA
To be honest with you, we hate paying for camping. There are so many free campsites in America (with complete privacy).
You should give it a try!
As a matter of fact, these free campsites are yours. Every time you pay federal taxes, you're contributing to these lands.
Become a FREE CAMPING INSIDER and join the 100,000 campers that love to score the best site!
We'll send you the 50 Best Free Campsites in the USA (one per state). Access the list by submitting your email below: