5 Best Electric Tongue Jacks for Camper Trailers
When using your travel trailer, whether electric or manual, tongue jacks are essential. Without a properly functioning tongue jack, you can't unhitch from your tow vehicle or level as intended.
Electric tongue jacks sometimes malfunction and need to be replaced, or maybe you have a manual jack and are tired of cranking it. Today, we'll get a better understanding of these jacks and help you decide if you need one.
Let's dig in!
What Is an Electric Tongue Jack?
Tongue jacks bolt to the A-frame of travel trailers. The jack raises and lowers the travel trailer to hitch and unhitch from the tow vehicle. Once unhitched, the jack also functions as a leveling tool as it adjusts the height and angle of the camper.
Electric jacks get power from the camper's battery or right from the truck. This power option allows for use even when you're not hooked up to shore power.
What are the Benefits?
If you've ever hand-cranked a heavy travel trailer in extreme weather, you already know some of the benefits of an electric jack. Having an electric jack means you'll rely on the battery instead of brute strength. Aside from convenience, it's also faster than hand cranking.
Keep in Mind: While going electric means no hand cranking, it does require use of your battery. Keep your battery working as it should by avoiding these things: How to Completely Destroy Your RV Battery.
How Big Does a Tongue Jack Need to Be?
Everything comes down to ratings. If your travel trailer weighs 5000 pounds, you don't need to purchase a heavy-duty electric tongue jack rated at 15,000 pounds. If you have a 15,000-pound trailer, it would be unsafe and ineffective to use the same jack you would on the 5,000-pound trailer.
Remember: Jacks are rated based on the tongue weight, not the overall weight of the trailer. A travel trailer's tongue weight is about 10-15% of your overall loaded weight.
The 5 Best Electric Tongue Jacks
If you've decided a tongue jack upgrade is your future, it can be overwhelming to filter through the many options. We've gathered a few of our top picks. Take a look!
Take a look around your RV, and you'll probably see the name Lippert a few times. They're a well-known and trusted company. It comes as no surprise, then, that Lippert jacks rate highly amongst users.
This tongue jack can lift 3,500 pounds. The two-way to seven-way plug power system is an industry first. The jack comes with a built-in safety chain storage ring to help you avoid dragging your chains on the ground. Simply clip or hang the chains on the storage ring.
The Husky Electric Tongue Jack is ready for some heavy lifting. It's rated at 4,500 pounds. Not only is it strong, but it's also fast! It has a travel speed of 10 inches in only 38 seconds.
It provides 18 inches of full stroke with a six-inch adjustable drop-down leg. This leg not only reduces time to set jack but creates less wear and tear on the unit. Having a built-in drop-down leg can also give the jack more stability. Less movement in the camper is always a win!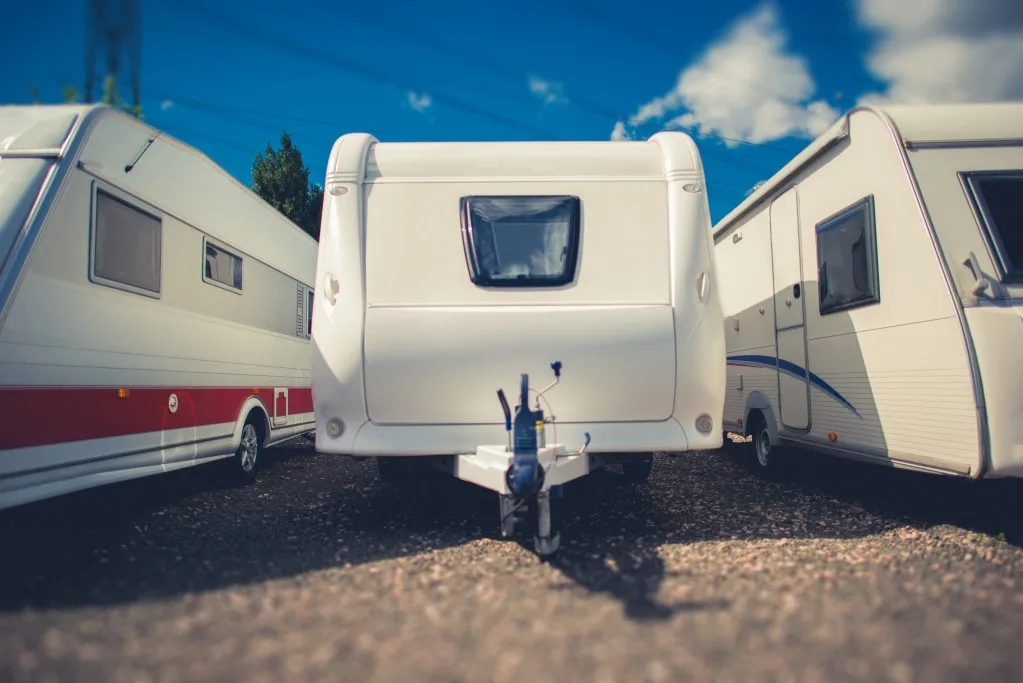 Those with a Bulldog Electric Tongue Jack will appreciate the 4,000 pounds of lift capacity. This strong jack will make hitching up easy with three LED lights that illuminate the coupler area. If you find yourself with dead batteries, you can override the electrical system and hand crank the jack.
This unit provides 14 inches of full stroke jack and an eight-inch adjustable drop-down leg. The drop-down leg makes stabilizing the trailer even more manageable.
The LIBRA Electric Tongue Jack can lift a maximum of 3,500 pounds. It's 20% faster but still powerful and quiet. Not only will the jack do the job quickly and efficiently, but it also has an emergency hand crank. You hope never to need it, but an emergency hand crank is a great option when your battery bank is dead.
The tongue jack also includes a motor cover that helps protect against rain and sun damage. Stainless steel screws and bolts hold the motor assembly together and resist rust.
The eight-inch adjustable drop leg supports the RV with a 5.5-inch footplate that can provide optimal stability for your RV. Whether you're extending the drop leg the full 14 inches or just a few inches, it's an excellent choice for your RV.
The Uriah Electric Tongue Jack can lift 5,000 pounds from nine inches to 31.5 inches. Instead of drawing off the RV's battery, the seven-way adapter from the tongue jack plugs into the truck's seven-way connection. The plastic holder will keep the seven-way connector in place when not in use and help avoid damage.
You'll still be able to use the manual crank if there's an electrical issue. The bright LED light also makes it easy to see, so you don't miss an important step. This jack is an excellent addition to your RV and will make hitching and unhitching substantially easier.
Pro Tip: Before you can connect your towing vehicle to your trailer, you will need to find your perfect trailer. We found the 5 Best A-Frame Camper Trailers to get you out and exploring.
Make Life Easier with an Electric Tongue Jack
An electric tongue jack is a travel trailer tool that will make enjoying your RV much more manageable. If it malfunctions or is no longer performing optimally, you have to address it. Have you upgraded your travel trailer's tongue jack? Was the upgrade worth it?
Discover the Best Free Camping Across the USA
To be honest with you, we hate paying for camping. There are so many free campsites in America (with complete privacy).
You should give it a try!
As a matter of fact, these free campsites are yours. Every time you pay federal taxes, you're contributing to these lands.
Become a FREE CAMPING INSIDER and join the 100,000 campers that love to score the best site!
We'll send you the 50 Best Free Campsites in the USA (one per state). Access the list by submitting your email below: