How to Get a Title for an RV Trailer Without a Title
Typically there's one piece of very important paperwork for an RV trailer: the title.
If you've ever bought an RV, you likely know that some of the paperwork can be painstakingly annoying. However, for a multitude of reasons, the owner might not have the title for the trailer.
All hope is not lost. Today we'll share how to get a title for a trailer without a title.
Let's get started!
Can You Get a Title for a Trailer Without a Title?
A vehicle's title provides legal proof as to who owns it. Trailers typically have comparable registration requirements to passenger vehicles. So if your trailer didn't come with a title, yes, you probably can and should get one. This process will vary from state to state, so a quick visit or call to your local DMV can help get you started.
However, no matter which state you're in, there are a few documents you'll need. You must complete a title application and bring a driver's license, bill of sale or certificate of origin from the manufacturer, inspection certificate (where required), and the lien status document.
Again, your local DMV will probably help you with either acquiring or completing these documents.
Do You Have to Have a Title?
A vehicle's title is proof of ownership. Without a title, the seller could report the RV trailer stolen, and you would be in a legal mess and out any money you paid. Having a title is often a requirement for registering the vehicle with the state. It can be cumbersome to acquire a title for a trailer that didn't come with one.
Buyers should be very cautious when buying a trailer that doesn't have a title because of the potential legal mess.
Pro Tip: Buying an RV is challenging and there are a lot of things to keep in mind. Make sure when buying your RV to not do any of The Don'ts of Buying an RV.
What Is a Certificate of Title?
A certificate of title is an official document that identifies the owner of a vehicle. "Pink slip" is a slang term for this document. It contains information about the owner and the vehicle itself. This document could help prove the rightful owner of a vehicle.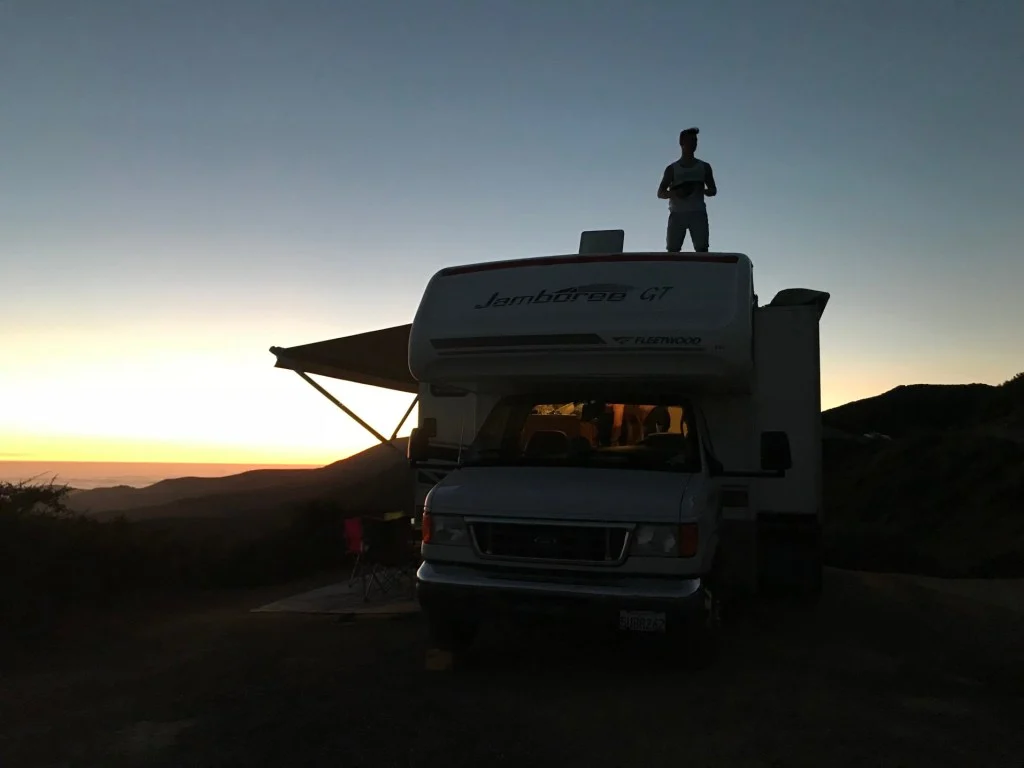 How to Get a Title for a Trailer Without a Title
There are a few things you'll need to gather. Make sure you have all of the necessary documents before heading to the DMV.
Gather Required Paperwork and Head to the DMV
The required paperwork will vary from state to state. The type, age, and size of your trailer may determine what paperwork you need. We strongly recommend calling or visiting the DMV to confirm what you need.
Apply for the Title
Now that you have all the necessary paperwork, the local DMV will help you apply for the title. This is typically a legal document that you fill out and submit to the DMV. The process may vary based on your state, but the DMV usually submits the title on your behalf.
If you purchased the trailer outright, there's a good chance that they'll mail the title to you in a week or two. However, if there's a lien on the trailer, the title would go to the bank that gave you the loan. Once you've paid the loan in full, the bank will mail you the title.
What Paperwork Do You Need to Apply for a Title?
The necessary paperwork will vary from state to state. However, you'll likely need an application for the title, bill of sale, certificate of inspection, proof of lien status, and certificate of origin.
If you have all the necessary paperwork, you may not even need to go to the DMV. Some states allow you to complete the process by mail. Once the DMV receives your paperwork and processes it, you'll likely get your license plates and other documents in the mail in a few weeks.
Read More: A title tells you who owns the RV, but Can you Find a Vehicle Owner By License Plate? Let's find out!
What Is a Bill of Sale?
A bill of sale is an official document that details the sale of a vehicle from one individual to another. This document will often include the price and date of sale, the vehicle identification number, personal information on the buyer and seller, tax status, and other essential information.
If this is a private sale, you might need the signatures of both the buyer and seller, completed in front of a notary or other witness. This can help avoid potential legal issues down the road. Make sure that both the buyer and seller receive copies for their records.
How Long Does It Take to Get a Title for a Trailer Without a Title?
It can easily take a few weeks to get a title for a trailer without a title. If you're under a deadline, it's essential to do what you can as quickly as possible. The faster you can gather the correct documents and submit them to your local DMV, the sooner you'll have an official title in hand.
Don't forget that while you're in a hurry to get your title, DMV workers aren't likely as rushed. This can be a lengthy process. Any errors or incomplete information on essential forms will only delay the process even further.
Some States Don't Require a Title for Vintage Campers
If you've got a vintage trailer, some states won't require a title. There are several reasons why the DMV exempts vintage campers. It might be that the trailer never had a title in the first place, or the DMV classifies the trailer as a collector's item. So if your trailer is 30 years old or so, you may get lucky and not need to worry about a title.
Buying an RV is an exciting adventure, but the necessary paperwork can dampen the thrill. However, we hope you now see that it's possible to get a title for a trailer without one. Doing a bit of homework and being organized can go a long way in this process. Do you have any experience buying a vehicle that didn't have a title?
Discover the Best Free Camping Across the USA
To be honest with you, we hate paying for camping. There are so many free campsites in America (with complete privacy).
You should give it a try!
As a matter of fact, these free campsites are yours. Every time you pay federal taxes, you're contributing to these lands.
Become a FREE CAMPING INSIDER and join the 100,000 campers who love to score the best site!
We'll send you the 50 Best Free Campsites in the USA (one per state). Access the list by submitting your email below: