How to Take a Clothing Optional Camping Trip
Did you know there are clothing optional camping opportunities around the country?
While many businesses follow the "no shirt, no shoes, no service" policy, some campgrounds encourage patrons to wear less.
Today we'll take a peek at what clothing optional camping looks like and how you can give it a try.
Let's get started!
Are There Any Places You Can Take a Clothing Optional Camping Trip?
Yes! There are clothing optional camping sites all over. It might take a bit more research, but you can definitely find them if you do your homework.
Is Clothing Optional While Camping on BLM or Public Lands?
Maybe. The U.S. Forest Service and the Bureau of Land Management don't have a federal law that bans nudity. However, local and county laws could land you a ticket. Make sure you check the local laws before camping in the buff.
Get Closer to Nature with These Clothing Optional Camping Locations
If you're hoping to enjoy nature without the burden of clothing, we've got some suggestions. Here are a few great places where you can enjoy the great outdoors in the nude.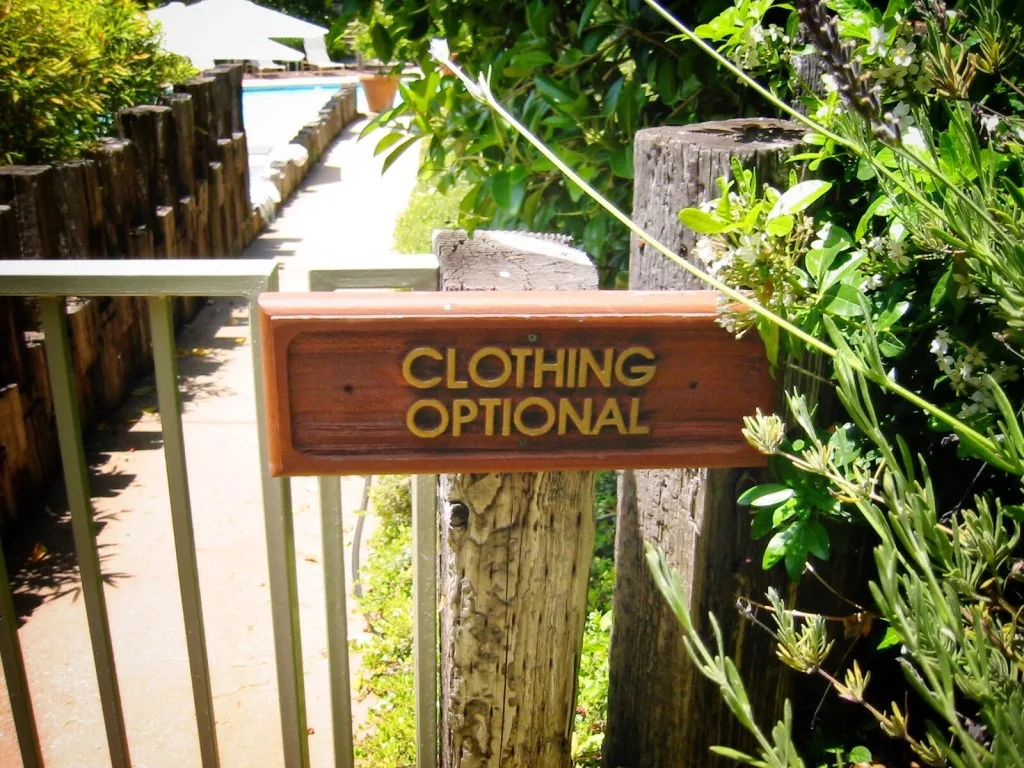 Olive Dell Ranch in California
In Colton, California, Olive Dell Ranch is the perfect spot for a clothing-optional campground due to its excellent weather. The Ranch allows nudity in all areas of the property at all times, though they also permit clothing. The exception is that nudity is required when utilizing the pool and jacuzzi areas.
There are many events and activities to participate in at Olive Dell Ranch. There are volleyball tournaments and hiking trips to keep you active. There's also an annual 5k that's a highlight for many campers. The pool and jacuzzi are great for cooling down.
You need to pay annual dues to become a member. Those camping can pay $20 a night for dry camping or $45 for electricity and water. There are also daily gate fees, which vary for members and non-members.
Valley View Hot Springs in Colorado
Valley View Hot Springs in Colorado is the perfect place to let loose and relax. Take a dip in the hot springs or learn about the diverse ecosystem located nearby. Clothing is optional throughout the camp property.
Daily fees are between $15 and $17 per person. However, they aren't currently allowing day visits. Overnight camping costs $30-$34 per person, depending on the season. You can tent camp or get a cabin for a bit more.
Spruce Hollow Campground in Michigan
Spruce Hollow is in northern Michigan. While they're only open seasonally, they pack in enough fun to last for the whole year. You won't find yourself bored with a pool to lounge by and events such as parties complete with DJs.
Sunday through Thursday rates for a rustic campground are $40 a couple, while an electric site is $60. Fridays and Saturdays, the rate goes up to $60 and $100, respectively. The site cost includes the day-use fees.
Willamettans Family Nudist Resort in Oregon
Those traveling the northwest will enjoy making a stop at the Willamettans Family Nudist Resort in Oregon. Here, you'll enjoy a family-friendly resort complete with a pool and playground. The pool is even usable during the cold winter months due to the dome covering, which keeps it at 88 degrees.
There are more than 100 RV sites as well as tent sites. You'll pay $18.50 to $25 per night, depending on your site preferences. In addition to overnight costs, you'll pay a day-use fee of $16 to $20 per person.
Oaklake Trails Naturist Park in Oklahoma
Oaklake Trails Naturist Park in Oklahoma is exactly what you'd expect out of any other campground, minus the clothing. There are even RV sites to fit big rigs, not something commonly found in specialty campgrounds such as this. Campers will enjoy more than six miles of trails, a pool, and a hot tub. There's also a bistro on site.
Daily rates range from $24 to $48 a day for individuals and $32 to $63 per couple. Members get a discount. Campers will pay $20 to $35 a night in addition to the daily rate depending on site type.
Pro Tip: Looking for more clothing-optional camping spots? We think these are The Best Nude Campgrounds in the USA.
Tips for Your Clothing Optional Camping Trip
If you've decided you're ready to dive in, it's time to start planning. To fully enjoy your clothing-optional camping trip, keep these tips in mind.
Research Your Campground
As with all adventures, research is essential. Be sure you're comfortable with the rules and regulations of the campground. Some campgrounds are family-friendly, while others aren't. Does it have the amenities you want? If you're having trouble finding your answers online, don't be afraid to give them a quick call.
Research Local Laws
Know the local laws regarding nudity. If you're in an established private nudist campground, the rules will differ from public lands. Always follow the local regulations for nudity to ensure you don't receive a fine or have an uncomfortable situation.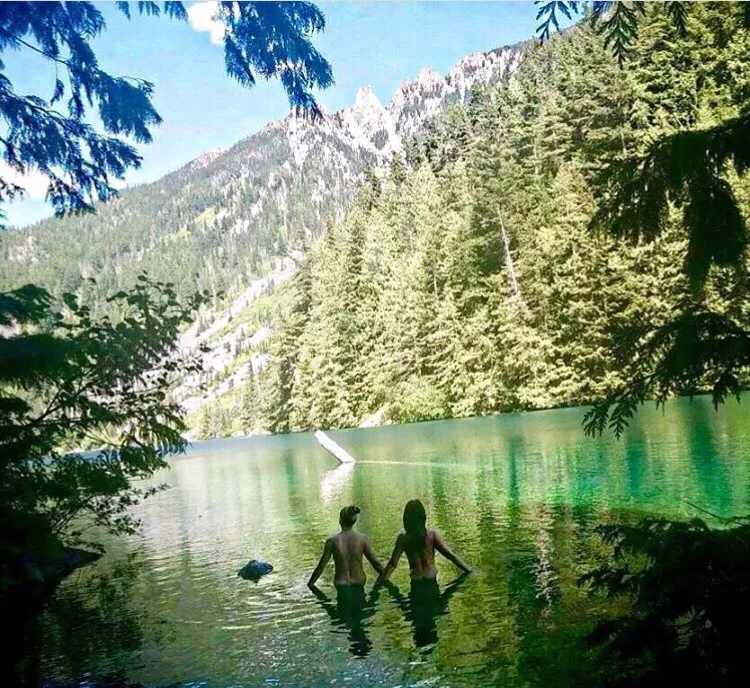 Be Prepared
To enjoy your trip make sure to come prepared. You may be a bit nervous if this is your first experience with clothing-optional camping, but there's no need to be. Nudist communities aren't there to judge. The campground and other campers should make you feel welcome and comfortable. Follow the rules and come ready to let your guard down. You just might be surprised at how much less weight you have on your shoulders while nude.
Bring a Towel
It's customary and often required to lay a towel down on any surface you'll be sitting on while in the nude. While nudity should be a freeing experience, it shouldn't be unsanitary. Always bring a towel with you, even if you don't intend to sit.
Pro Tip: Before you strip down for a swim while camping in a public space, make sure to read up on Is Skinny Dipping Okay (and Legal) When You're Camping?
Follow Camera Rules
Nudist campgrounds regulate photography. Some campgrounds ban all devices with cameras, while others simply ask that you cover the camera with a sticker. Some allow photography as long as you're only photographing consenting members of your party. Ignoring these camera rules is a quick way to get escorted off the grounds.
Respect Others' Personal Space
Not every camper is looking for a buddy. The loner you see in the corner of the pool could be enjoying their solitude, not looking for a friend. That's not to say campers are unfriendly; it's simply important to read the situation. When speaking with a new friend, give them space. This is good general life advice that's not limited to nudist communities.
Would You Try Clothing Optional Camping?
While clothing-optional camping isn't for everyone, it's a freeing option for many. Some feel removing the barrier of clothing also removes preconceived notions of beauty and insecurities. Would you consider camping at a nudist campground?
Discover the Best Free Camping Across the USA
To be honest with you, we hate paying for camping. There are so many free campsites in America (with complete privacy).
You should give it a try!
As a matter of fact, these free campsites are yours. Every time you pay federal taxes, you're contributing to these lands.
Become a FREE CAMPING INSIDER and join the 100,000 campers who love to score the best site!
We'll send you the 50 Best Free Campsites in the USA (one per state). Access the list by submitting your email below: