Can Anyone Visit the Georgia Guidestones?
The Georgia Guidestones are sometimes referred to as America's Stonehenge, owing to the mystery of their creation.
Located in northeast Georgia, the Guidestones are five granite monoliths, each 20 feet tall. In addition, a list of ten enigmatic guidelines is carved on the stones in a total of 12 languages.
Who would put them there, though, and why? And can you see them for yourself?
Let's explore!
Where Are the Georgia Guidestones?
The Georgia Guidestones are in Elbert County, Georgia. Elbert County is in the northeast part of the state, in the Piedmont region.
The exact address is 1031 Guidestones Road in Elberton.
About the Georgia Guidestones
In 1979, a man using the pseudonym R.C. Christian approached the Elberton Granite Finishing Company about building the Georgia Guidestones. He claimed to represent a small group that had planned the Guidestones for 20 years.
Thinking Christian a nutjob, a granite company employee gave a quote several times higher than usual. However, Christian offered land he had purchased and a scale model. Throughout the process, Christian sought to retain anonymity, always maintaining he represented a group of like-minded individuals.
As with other mysterious monuments, the speculation around the Georgia Guidestones seems to feed on itself.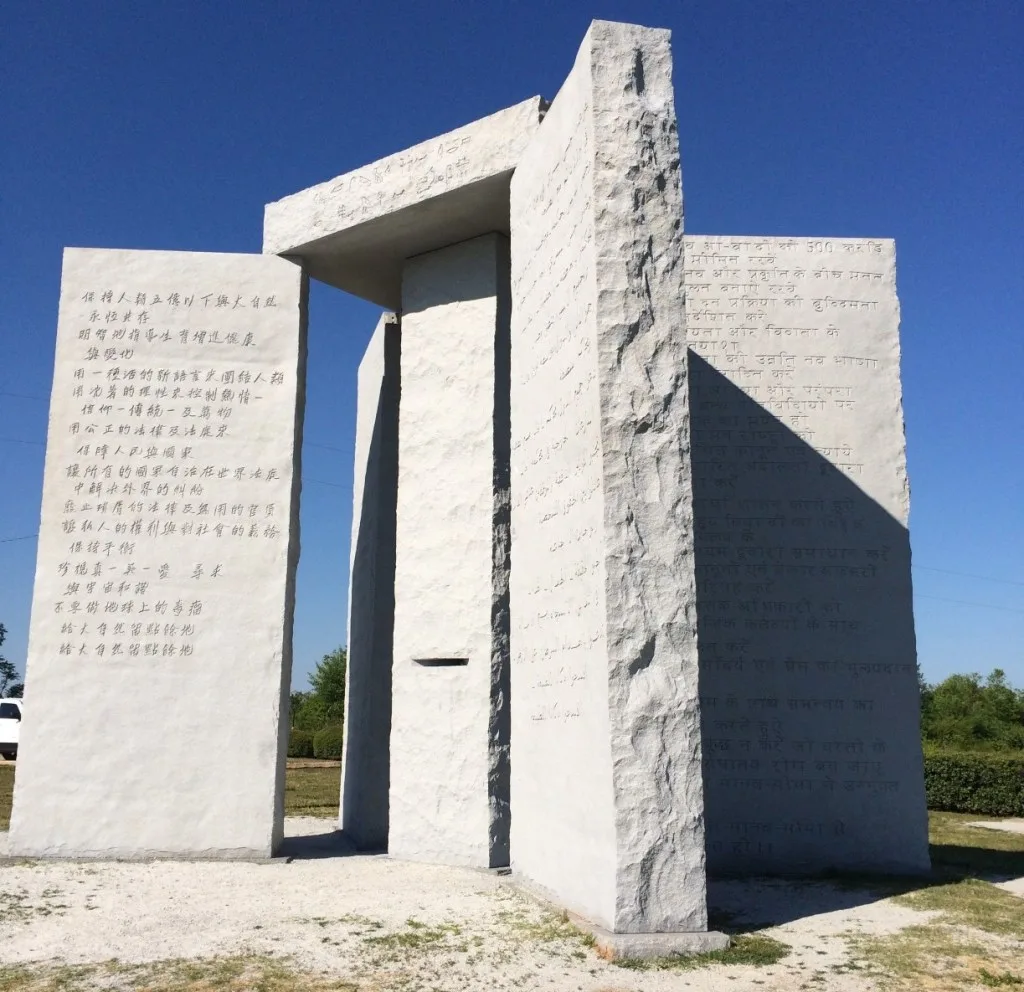 What is Written on the Georgia Guidestones?
The Georgia Guidestones contain ten instructions.
In fact, they're all printed in eight modern languages and four dead ones.
The first two guidelines have to do with population control. "Maintain humanity under 500,000,000 in perpetual balance with nature" and "Guide reproduction wisely — improving fitness and diversity."
"Unite humanity with a living new language" seems to be about bringing the world together. And "Rule passion — faith — tradition — and all things with tempered reason" about balance.
Then, they discuss ruling and law. "Protect people and nations with fair laws and just courts," it states. Next, "Let all nations rule internally resolving external disputes in a world court" and "Avoid petty laws and useless officials."
Finally, the last admonishments discuss individual ideals. "Balance personal rights with social duties" moves on to "Prize truth — beauty — love — seeking harmony with the infinite." And, lastly, "Be not a cancer on the earth — Leave room for nature — Leave room for nature."
Another stone boasts a carving of the astronomical correspondences of the structure and mentions a time capsule buried there.
The most popular interpretation of these rules is that they provide instructions for survivors of an impending apocalypse. Yet, no theories have been proven true or false.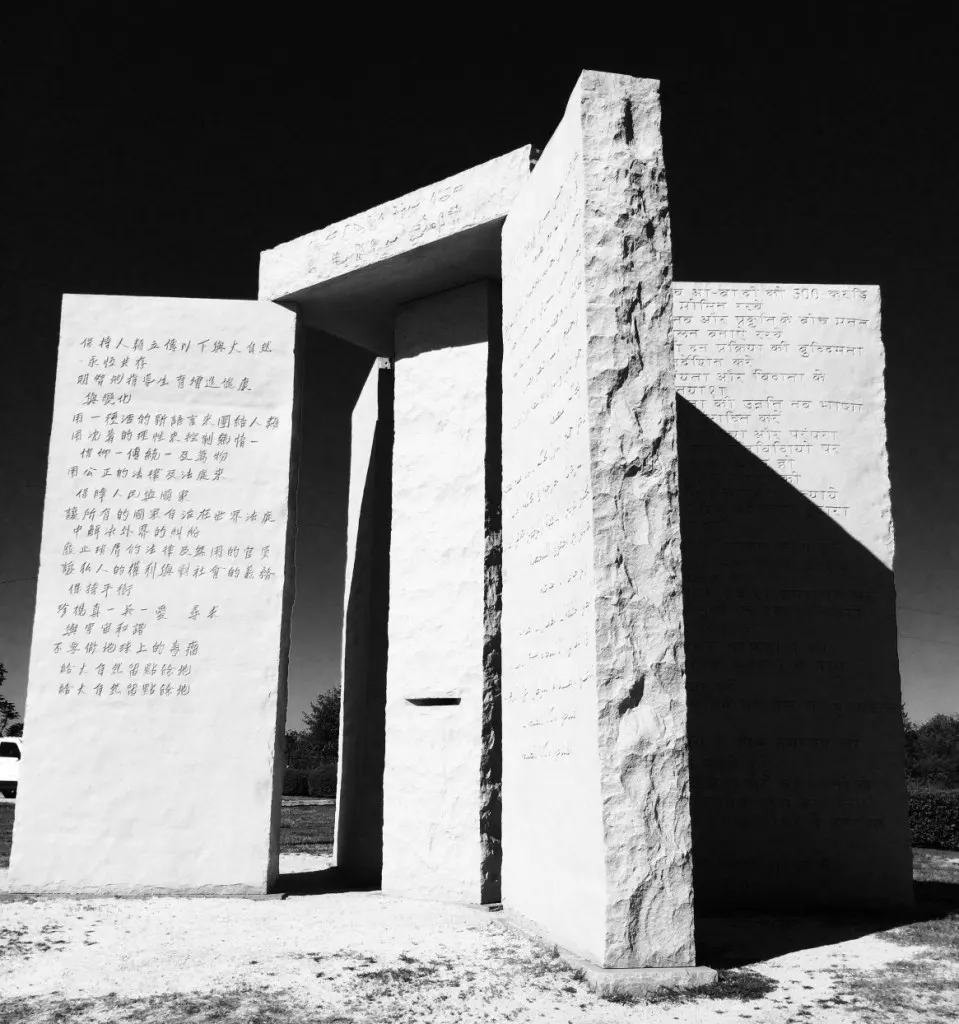 Who Paid for the Georgia Guidestones?
No one knows who paid for the Georgia Guidestones or why they are there. The Smithsonian reports that only one living man – the builder hired to construct them – knows about the creator's identity.
And he says he'll never tell, even at gunpoint.
Conspiracy theorists such as Van Smith and Alex Jones offer some thoughts. They suggest the Georgia Guidestones were created to spread Satanic messages or announce a coming transition to a totalitarian regime.
No evidence supports those ideas.
One clue to the truth is that the design included exacting astronomical specifications. Think Stonehenge on a much smaller scale. So the creator would have had an interest in related topics.
Pro Tip: After exploring the mysterious Georgia Guidestones, check out these Haunted Places in Georgia.
Can Anyone Visit the Georgia Guidestones?
Yes. The site is open year-round for self-guided tours.
Parking and admission are free.
Best Hikes Near the Georgia Guidestones
Richard B. Russell State Park
Located in the same county as the Georgia Guidestones, Richard B. Russell State Park offers over 2,000 acres and a large lake for recreation of all kinds. The park includes six hiking trails, the longest of which is estimated to take 2.5 hours.
According to the Georgia State Parks website, all hikes there are easy to moderate. Each route offers different surroundings. You may encounter wildlife on the Cottage/Beach trail.
Whereas the Campground/Picnic route soon becomes an asphalt path from the picnic area to the beach.
North Oconee River Greenway
The North Oconee River Greenway is an impressive system with several parks and hiking opportunities. Sandy Creek Park is the largest at 782 acres and hosts various activities year-round. It's the only park in the system to have an entry fee, which is $2.
Cook's Trail, for hikers only, is four miles long and connects the park with the nature center.
The Sandy Creek Nature Center has four miles of trails through woodland and wetland areas alike. Their Education and Visitor Center has exhibits of aquatic animals, reptiles, and amphibians.
Riverside Parks encompass 20 parks along the North Oconee River. At Heritage Plaza and Trail, panels illustrating regional history are on display.
Pulaski Heights trail offers a short walk of only a quarter of a mile. However, the path will lead you to Southern Rainway's historic depot.
Trail Creek Park has five miles of trails for mountain bikes, and there is also a paved, half-mile multi-use trail.
Dudley Park is a 24-acre park at the confluence of Trail Creek and the North Oconee River. Two trails converge here as well, the Greenway Trail and the Firefly Trail. One advantage to this hike is its accessibility; it's just a short walk from downtown Athens, GA.
Pro Tip: While hiking around Georgia, check out these 7 Amazing Waterfalls In Georgia.
Best Camping Near the Georgia Guidestones
Watson Mill Bridge State Park
Watson Mill Bridge State Park offers a range of year-round camping options. Prices depend on which area and amenities you'd like. And, all vehicles must purchase a parking pass, whose rates also vary.
There are fun activities for all, including hiking trails and proximity to historical sites. One particular draw is this park's accessibility towards those who have horses and wish to camp near them.
Calhoun Falls State Park
Just over the state line in South Carolina, Calhoun Falls State Park offers tented and RV campsites. In fact, most of the sites are on the shores of Lake Russell. They have many policies around reservations, so it's best to call ahead to make sure everything is in order.
There is no WiFi here, though there is moderate cell service.
Pets are welcome but must be kept on a leash.
Is a Visit to the Georgia Guidestones Worth It?
Visiting the Georgia Guidestones is surreal. And, while in the presence of these massive stones, you can't help but come up with your own theories.
The Guidestones are often referenced in contemporary shows about historical mysteries and conspiracies, even in one Yoko Ono song. It's good to see what the fuss is about, even if we might never know the truth.
So, what's your theory about the Georgia Guidestones?
Discover the Best Free Camping Across the USA
To be honest with you, we hate paying for camping. There are so many free campsites in America (with complete privacy).
You should give it a try!
As a matter of fact, these free campsites are yours. Every time you pay federal taxes, you're contributing to these lands.
Become a FREE CAMPING INSIDER and join the 100,000 campers who love to score the best site!
We'll send you the 50 Best Free Campsites in the USA (one per state). Access the list by submitting your email below: