When one or two people are looking for a smaller form of transportation while RVing, they typically opt for a class B van.
Not much bigger than an SUV, the van of today has numerous amenities and features that rival any larger RV, without the worries of driving a humongous camper or finding a campsite that it fits in.
Let's look a little closer at the benefits that a class B van can bring to your next camping trip.
What Is a Class B RV?
Most commonly known as a camper van, the class B RV is the fastest-growing segment of RV motorhomes. It sits on a van or cutaway chassis and usually sleeps up to two people.
Some have expandable sleep areas created from seats with customized air mattresses that allow two more single-size beds.
The most common lengths for class B vehicles are from 17' to 22'.
These vans, like most other RVs, have evolved over the last several years. They've added solar power, electric sofas, full wet baths, and dependable generators or lithium power setups. T
he small space in class B RVs still includes kitchen, bath, living, and bedroom areas. And because of their short length, a class B RV can usually fit into any regular parking space.
A camper van is very maneuverable, making it easy to back up and turn. You should have no problem taking them for a short weekend spin or even using the class B as a second family vehicle.
Many vans sit on a Mercedes Sprinter chassis with a diesel engine. However, Dodge has a Promaster chassis with a gas engine.
And recently, Ford introduced a Transit chassis with a fuel-efficient EcoBoost gasoline engine. Over the past two years, many manufacturers have been building vans with all-wheel-drive options, so you can reach off-road camping destinations.
Why Choose a Class B RV?
Most van owners tout the ease of driving a small RV as their most important reason for purchasing a class B RV.
But numerous features make camper vans the number one choice for solo travelers and couples. Here are a few.
Better Gas Mileage
Sprinter vans with diesel engines get about 18 to 20 mpg. Many of the newer EcoBoost gas engines hit 16 to 18 mpg.
With gas prices skyrocketing, a class B van with either of these more recently adopted engines will give RVers more bang for their gas buck.
Be careful, however, because older camper vans with V8 or even V10 engines will only get eight to 12 mpg.
Easy to Drive and Park
Because of the shorter wheelbase and overall size of a class B van, they're extremely easy to drive. Without the height or length of a class A bus or a class C RV, you can drive a camper van as easily as a small truck or SUV.
Plus, parking is a breeze, as a class B RV will fit into an ordinary parking spot. You might need to back some of the longer ones into spots.
There are fewer blind spots with a smaller vehicle, so maneuverability on the road is simpler. The van is usually more responsive when making quick adjustments and turns, as well.
Travel Anywhere, Even Off-Road
Many RV manufacturers are producing all-wheel-drive vans, which have become quite popular with RVers. Not only do these class Bs come with all of the benefits of a smaller vehicle, but the AWDs let you go off the road to lesser-known campsites and boondocking areas.
This takes camping to a new level for the RV motorcoach crowd.
With less weight and size, the camper van is usually welcome in most neighborhoods. Even homeowners associations will likely consider it a second family vehicle, allowing these class Bs to park in private driveways.
Minimal Yet Functional Interiors
Many DIY van builders have gone the "minimal" route, placing just their most used necessities in their vans. But most class B RV manufacturers have come a long way since the days of the first van build.
Today's coaches have very functional design elements, with dual space use and cleverly planned equipment placement.
There's no wasted space or function in the camper vans of today. Sofas turn into beds, sink faucets become showerheads, and indoor and outdoor spaces share amenities. That ladder attached to the back of the van is not only useful when cleaning the solar panels on the roof.
Move it to the side of the vehicle and use it to climb to a rooftop platform for evening cocktails! Even cooking surfaces do double duty, as you can relocate an indoor cooktop to an outdoor table.
Easy to Maintain (It's a Van!)
These vans usually have engines that truck mechanics can service. Spend no more time looking for an RV mechanic to perform an oil change on your Ford EcoBoost.
Just take it down to the Ford dealership. That also goes for parts and other services.
And you won't be paying an RV wash service to clean the exterior of your class B. A manual car wash will work just as well and save you money. There's a lot less to clean on the interior, too.
Keep in Mind: Class B RVs aren't for everyone! These are 5 Reasons to Avoid Class B RVs.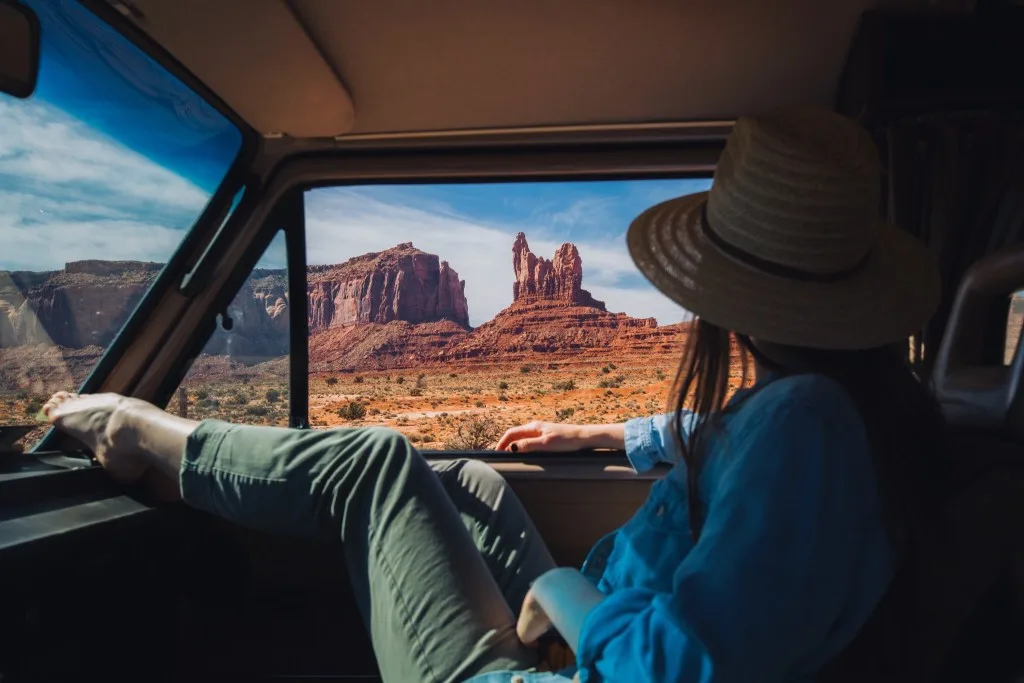 Do Class B RVs Have Bathrooms?
Commercially manufactured class B vans come with bathrooms, albeit "wet baths," mostly. This means that the toilet and sink are inside the shower, so everything gets wet when using the shower.
Many van lifers have designed their own build-outs to include an outdoor shower with a privacy curtain that folds out the back doors. And some don't include a shower in their design at all, choosing to use fitness centers and campgrounds for their showering needs.
DIY design may also include a hidden composting toilet. In some floorplans, the facility is in a compartment with a lid, or it may slide out from under a bench when in use.
But most private and commercial manufacturers have included this rather important piece of equipment in their finished products.
Why Are Class B RVs So Expensive?
Camper vans are the fastest-growing segment of the RV market today. But their cost is quite a bit higher when compared with class C and, in some cases, class A RVs.
All are motorhomes, but manufacturers don't mass-produce their class Bs. With more demand and fewer products on the market, the price rises.
Also, the cost of the expensive chassis gets passed on to the buyer. All vans, even those on the Ford Transit and Dodge Promaster chassis, pack some of the same features and equipment into much smaller spaces than on a class A or C RV.
This requires slower and more custom work by skilled workers using higher quality materials. All these concerns add to the final cost of a class B RV.
Pro Tip: Want to buy a Class B RV, but can't find one in your budget? We found The Most Affordable Class B RV in 2021.
Do Class B RVs Hold Their Value?
Because of the items listed above, like using more costly materials and skilled labor, a class B van seems to hold its value longer than its counterparts.
Manufacturers like Winnebago, Airstream, and Coachmen all build several different classes of RVs, but their class Bs certainly come with high quality.
Most come with enviable amenities and long-lasting engines.
Is a Class B RV a Good Investment?
Ultimately, the class B RV is probably the best investment in the RV industry. They're typically built with better quality materials because they're not mass-produced.
The vans are more versatile for use in everyday activities as well as camping excursions. Skilled craftspeople construct them, producing small numbers of these RVs.
Would you ever buy a class B RV?
Discover the Best Free Camping Across the USA
To be honest with you, we hate paying for camping. There are so many free campsites in America (with complete privacy).
You should give it a try!
As a matter of fact, these free campsites are yours. Every time you pay federal taxes, you're contributing to these lands.
Become a FREE CAMPING INSIDER and join the 100,000 campers that love to score the best site!
We'll send you the 50 Best Free Campsites in the USA (one per state). Access the list by submitting your email below: