Bohemian Grove is a redwood campsite that has hosted powerful men for over 100 years.
So why don't we hear more about it? They cloak most details in secrecy. And what we do learn is somehow more perplexing than knowing less.
We'll share with you whatever we were able to find.
Let's dive in!
What is Bohemian Grove?
The Bohemian Club, an exclusive gentlemen's club, owns a highly restricted campsite they call Bohemian Grove. They host an annual July gathering of prominent men from the worlds of politics, media, sports, business, and more.
The summer encampment has gone on since 1878.
Reports say members should leave networking and politics at the door, but they reportedly still discuss these things privately. They spend most of their time enjoying various performances, such as an annual play that around 300 members work on.
(After all, what would you expect the world's most prominent men to do together, if not put on a play?)
There's also plenty of drinking and a lot of secret conversations. They perform ceremonies of "revering the Redwoods," which many equate with druidic rites. One such ritual is "Cremation of the Care," in which a coffin effigy named "Care" is cremated in front of a 40-foot owl statue.
And, no, we're not sure how that shows reverence for trees. And what does burning care mean? The implications are frightening.
Pro Tip: While exploring California, make sure to visit these 5 Incredible California Castles.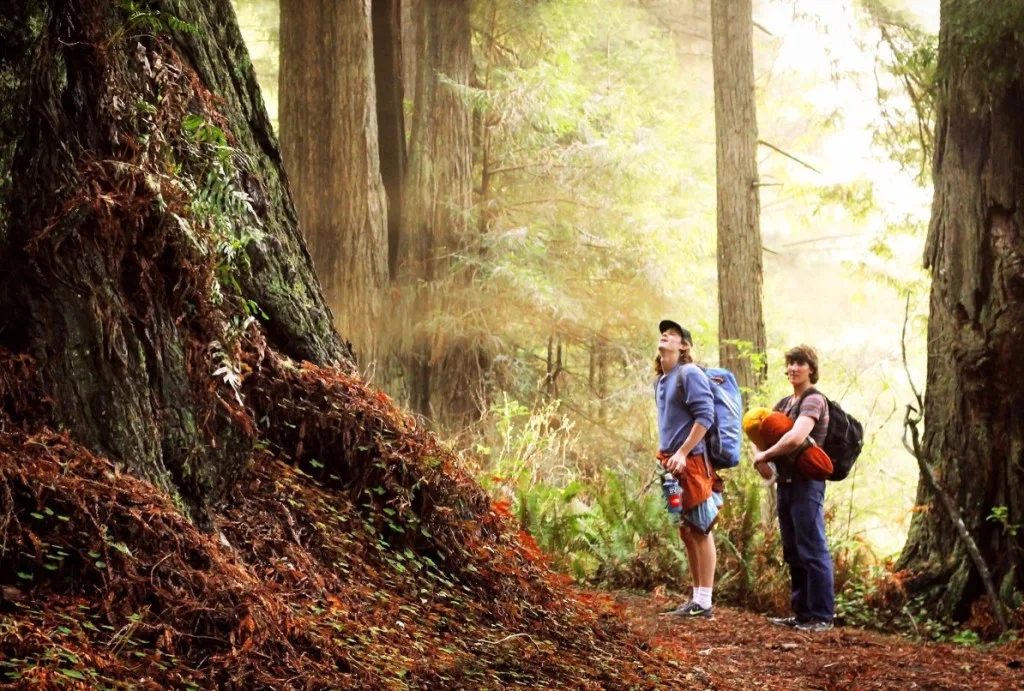 Where is Bohemian Grove?
Bohemian Grove is in the small Sonoma Valley town of Monte Rio, California. It's on a restricted 2,700-acre site. Pictures are hard to come by, but some have been leaked over the years.
They show an otherwise typical-looking, redwood-filled campsite – until you see all the outdoor seating arranged in mysterious patterns of interlocking hexagons or labyrinthine spirals.
Who Are Some Famous Members of Bohemian Grove?
Though there is no political party affiliation requirement, Bohemian Grove seems to especially draw famous Republicans. Herbert Hoover, Richard Nixon, Dick Cheney, Gerald Ford, Donald Rumself, and Ronald Reagan were members.
Some Bay Area journalists founded the Bohemian Club, and prominent writers such as Mark Twain, Ambrose Bierce, and Jack London have been among the ranks.
Currently, the club doesn't allow women to be full members, but they may be honorary members and be present on-site until around 10 pm. Past female honorary members include poet Ina Coolbrith, actress Elizabeth Crocker Bowers, and writer Sara Jane Lippincott.
Pro Tip: If you can't sneak into the Bohemian Club, stay at one of these Best Beach Camping Spots in California.
How Do You Become a Member of the Bohemian Club?
To become a member, several standing members must invite you. You could also rise to the top of your field and see if an invitation follows.
However you get there, you'll need to pay a $25,000 initiation fee, plus yearly dues.
Why Do We Care About Bohemian Grove?
Most likely, neither you nor us will ever see the inside of Bohemian Grove, even the men.
Yet, we are all impacted by talks there. In 1942, the club hosted talks for the Manhattan Project. Though they aim to leave out politics, they clearly discuss significant issues between play performances and owl statue worship. Perhaps the issue, then, is that we don't know how we'll be affected by decisions the men make – or even what topics they'll discuss.
Bohemian Grove draws protests each year, whether for their lack of female members or proposed logging projects on the site. In addition, as we mentioned above, the secrecy of the gatherings is unsettling.
The public wants to know how the Grove activities will affect global political, environmental, and social policies.
The Mysteries of Bohemian Grove May Never Be Fully Solved
Bohemian Grove is fascinating to consider due to the prominence of its members and its mystery. It seems like a less artful and more exclusive Burning Man.
In time, we may know more about what's transpired there over the years.
For now, we'll make do picturing world leaders putting on plays at their summer camp.
Discover the Best Free Camping Across the USA
To be honest with you, we hate paying for camping. There are so many free campsites in America (with complete privacy).
You should give it a try!
As a matter of fact, these free campsites are yours. Every time you pay federal taxes, you're contributing to these lands.
Become a FREE CAMPING INSIDER and join the 100,000 campers who love to score the best site!
We'll send you the 50 Best Free Campsites in the USA (one per state). Access the list by submitting your email below: