What To Know Before Driving the Tail of the Dragon in Tennessee
The Tail of the Dragon is a white-knuckle dream for adrenaline-seeking drivers. In fact, it's a stretch of road you don't travel to get anywhere.
You just drive it for the thrill.
People around the country flock there to try out their cars and motorcycles on all the turns.
Where is the Tail of the Dragon, and is it worth trying?
Let's dive in!
About the Tail of the Dragon
The Tail of the Dragon is an adventurous stretch of road for bold drivers. Throughout its 11 miles, there are 318 turns.
Yes, 318.
With all the turns, the road resembles a twisty dragon's tail.
Some curves have names like Copperhead Corner, Hog Pen Bend, Wheelie Hell, Sunset Corner, Gravity Cavity, and Brake or Bust Bend.
The Cherohala Skyway is nearby and has gorgeous scenery, especially in fall. If something a little less death-defying is your speed, go for the natural beauty. That part of Highway 129 is also home to other roads beloved by motorcyclists and sportscar drivers for the long sweeping corners.
The road is often desolate at night, and winter conditions can make it hazardous. In that 41 mile stretch of road, the only facilities are a couple of restrooms. The remoteness of these roads is part of their appeal and their danger too.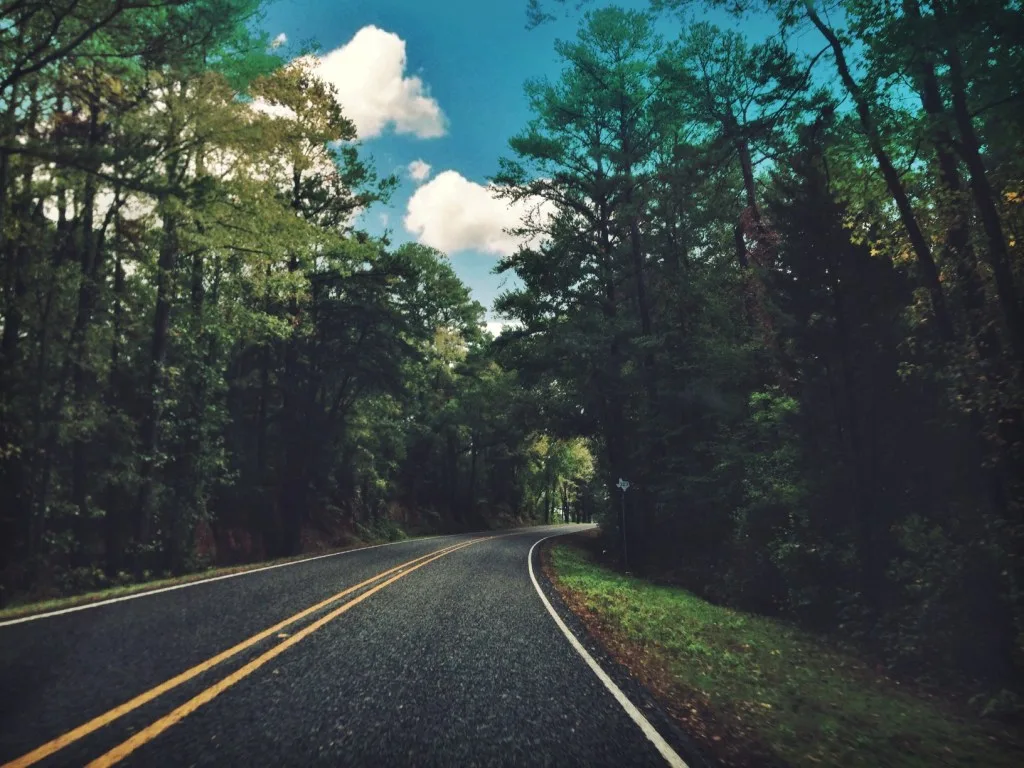 Where Is the Tail of the Dragon?
The Tail of the Dragon is entirely in Tennessee, though just past North Carolina's border. It's in the Deals Gap mountain pass outside the Smoky Mountains on Highway 129.
Pro Tip: Want to stop by the Smoky Mountains while driving Highway 129? We uncovered The Best Time to Visit Smoky Mountains National Park.
Is It Safe to Drive the Tail of the Dragon?
If this tells you anything, you can look online to find maps of the deaths that occurred there. Between 2000 and 2017, 37 deaths were recorded there.
Even at low speeds, the blind curves, narrow roads, and weather conditions add up to create a lot of risks in any vehicle. While adrenaline junkies celebrate besting the Tail of the Dragon, many regret trying.
There's a tree at the Deals Gap Motorcycle Resort known as the "Tree of Shame." Motorcyclists hang parts of their wrecked vehicles there as a warning to others.
Pro Tip: If you prefer driving a motorcycle over an SUV, we found the 5 Best Motorcycle Camper Trailers for your next adventure!
5 Tips to Know Before You Go
Go At the Right Time
Early mornings and late afternoons are the best, least crowded times to drive the Tail of the Dragon. Weekends between 11 AM and 5 PM are the busiest.
Do not attempt this drive at night.
Check for Closures
Sometimes the road is closed or inaccessible due to fallen rocks or accidents. Take a look at the Tail of the Dragon's Facebook page or website before heading out.
Tell Someone Where You're Going
When attempting something this risky, you always want to let people know where you're going. It's crucial here because cell phone reception is poor.
Before you go, text someone all the details about where you'll be and what you're driving and give a time by which you'll check in if all is well.
Watch for Motorcycles!
In 2018, 75% of crashes on the Tail of the Dragon involved motorcycles. Even the most attentive bikers and motorists can end up in dangerous situations. The best thing you can do to avoid such a crash is to leave space between your vehicle and others and take it slow enough you won't need to brake.
Stay in Your Lane
This is perhaps the most important tip of all. Stay in your lane exactly. You could be ticketed for even touching the double yellow.
Drive at Your Skill Level
Be realistic about what kind of driver you are and what level of experience you've had. Also, be mindful of what this drive is and isn't. It's not a place to speed and drift as if you're on a closed course.
Most accidents are due to speeding and over-braking. Allow plenty of space between you and the car ahead. Don't make any sudden avoidance moves if you see another car or motorcycle.
According to the local sheriff's office, most fatalities are of people outside the area. It couldn't hurt to get a little acquainted with the route before attempting the Dragon. Some motorists drive it at a slower speed than usual to familiarize themselves with the turns.
Bring an Emergency Kit
Because this is a remote area, you need to really prepare beforehand. The emergency room is an hour away, and you probably won't have cell service to call for help if you need it.
Bring a first aid kit containing bandages, rubbing alcohol, gauze, gloves, antibacterial ointment, and your preferred pain reliever. It's also a good idea to have food and water with you and ensure your phone's battery is full. You might even want to invest in one of those emergency chargers.
In addition, think about highway safety supplies you could need, such as reflective vests, cones, jumper cables, a fire extinguisher, and reflective or colorful cloth, so your vehicle stands out.
Is a Tail of the Dragon Drive Worth It?
Have you ever needed so many precautions just to drive 11 miles? Regular driving is plenty stressful as is! The thought of 318 turns makes us feel pretty queasy, and frankly, it's hard to justify the danger.
Though many have completed it safely, it's always a risk to yourself and others. Plus, that region is so beautiful that it might be worth taking your time and looking at the scenery instead.
Have you driven the Tail of the Dragon?
Discover the Best Free Camping Across the USA
To be honest with you, we hate paying for camping. There are so many free campsites in America (with complete privacy).
You should give it a try!
As a matter of fact, these free campsites are yours. Every time you pay federal taxes, you're contributing to these lands.
Become a FREE CAMPING INSIDER and join the 100,000 campers that love to score the best site!
We'll send you the 50 Best Free Campsites in the USA (one per state). Access the list by submitting your email below: