The tornadoes that ripped through Tennessee, Kentucky, and other parts of the Southeast recently left an area of devastation. The National Weather Service reported more than 30 tornadoes on Dec. 10 and 11, as well as some on Dec. 6.
Although there were no reports of fatalities or injuries from the Dec. 6 tornadoes, the later tornadoes were responsible for killing more than 70 people.
Some attribute these clusters of tornadoes to climate change. Regardless of what you believe, December tornadoes are rare. From 1811 to 2020, there had only been 16 tornadoes in December in middle Tennessee.
On Saturday, Dec.11, there were 15. Let's look at one particular instance of a tornado that touched down on Monday, Dec. 6. Although it didn't cause widespread damage, it did flip a school bus. A fifth wheel RV landed on top of the bus.
Let's take a closer look at this story.
How Did a Fifth Wheel End Up Landing on a School Bus?
On Monday, Dec. 6, what were thought just to be heavy winds tore through Trousdale County, Tenn. Instead, several tornadoes touched down in middle Tennessee. One of these tornadoes ripped down highway 25, where it toppled trees and outbuildings and even blew a fifth wheel on top of a school bus.
The school bus was parked at the driver's home. Don Robinson started his day just like every other day and went outside to start the school bus. He explains that all of a sudden, the rain and wind picked up, and the next thing he knew, the school bus was tipping over. He sat in his driver's seat as the school bus flipped on its side.

The fifth wheel camper was parked parallel to the school bus. The winds picked it up and crashed it on top of the school bus. Thankfully, Robinson was able to safely crawl out of the emergency exit on top of the school bus.
Did You Know: Tornados aren't the only extreme weather source for RV damage. Check out how this RV Fire Damages Nearby New-Car Dealership Inventory.
Were There Any People in Either Vehicle During the Crash?
The fifth wheel was empty at the time, and Robinson was the only person inside the school bus as it was warming up. He said he was grateful that he wasn't on the road or traveling with school kids. It could have been much worse.
Was Anybody Injured When the Fifth Wheel Hit the School Bus?
Since no one was inside the fifth wheel and Robinson was the only one inside the school bus, no one was injured. He was lucky to have been able to escape through the emergency exit.
He said he felt like the school bus was going to tip over and decided he would just have to ride it out. Robinson got out without any injuries and didn't show any signs of panic or stress when interviewed.
How Much Damage Did the Storm Cause?
This particular storm caused some power outages and downed trees. Robinson said he lost two horses in the storm, and his house suffered damage. However, the later-confirmed tornado only registered as an EF-0, which is the lowest rating for a tornado. This storm wasn't nearly as damaging or deadly as the storms that came later that week.
The later storms killed more than 70 people and caused widespread damage. The tornadoes didn't just hit Tennessee. They hit the whole area from Mississippi to Illinois. Some have estimated that the event could go on record as the worst tornadoes ever to hit the U.S. in December. Record-setting warm air in the region contributed to the number and intensity of the tornadoes.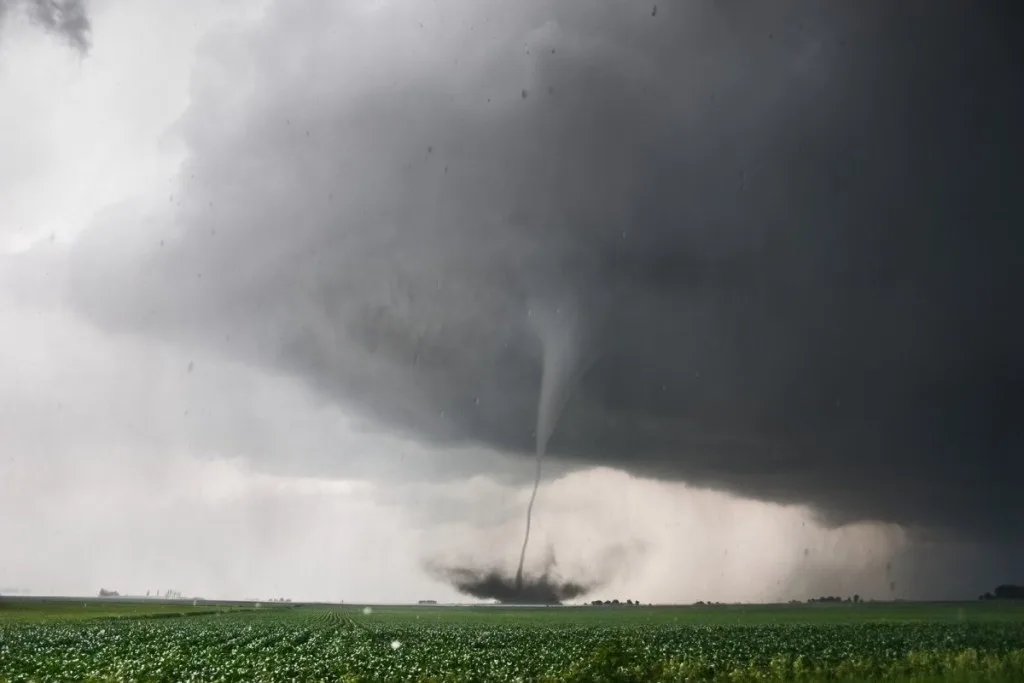 Did You Know: There is light at the end of the tunnel for these Iconic RV Parks Damaged from Hurricane Sally That Will Reopen Soon.
Be Storm-Aware
The Dec. 6 tornadoes were the first December tornadoes to hit Trousdale County and the surrounding area. The average number of tornadoes per year is increasing. Is this because of climate change? It's hard to say. But the warmer air is undoubtedly a factor.
The intensity with which the tornadoes later that week hit this area of the country is alarming. It's not just the number but the seriousness of the tornadoes that has people concerned.
No matter where you live, it's important to be storm-aware. Know what to do when experts issue warnings and watches for all types of severe weather. Everyone should invest in a weather radio. It's an easy way to stay in the loop and receive weather alerts that might just save your life.
Severe Tornado Season
The December tornadoes were devastating. Robinson's story has a good ending, but many others don't. Even though his school bus is probably totaled and the RV is probably beyond repair, insurance should cover the damage. Everyone involved got out safely.
It's truly a miraculous story in the midst of a dark season of severe tornadoes in Tennessee. Here's to hoping we don't have any more of these stories hitting the news any time soon. Have you ever witnessed a tornado?
Discover the Best Free Camping Across the USA
To be honest with you, we hate paying for camping. There are so many free campsites in America (with complete privacy).
You should give it a try!
As a matter of fact, these free campsites are yours. Every time you pay federal taxes, you're contributing to these lands.
Become a FREE CAMPING INSIDER and join the 100,000 campers that love to score the best site!
We'll send you the 50 Best Free Campsites in the USA (one per state). Access the list by submitting your email below: