Are you in the market for a luxury fifth wheel? Mobile Suites RV may be your answer.
Its RVs have everything from a washer and dryer to large residential kitchens. This article explores whether Mobile Suites RV is a good manufacturer.
We start by looking at who owns Mobile Suites and the pros and cons of its fifth wheels. Let's get started!
What Is a Mobile Suites RV?
The company produces luxury fifth wheels. It has 16 different floorplans that feature residential-style appliances and furnishings.
The fifth wheels range from 37'2" to 44'2" long from hitch to rear bumper. And luxury also reflects in the price, as Mobile Suites RVs run from the low $100,000s to low $200,000s.
Who Manufactures DRV Mobile Suites?
DRV Luxury Suite manufacturers Mobile Suites RV. The company started in 2003 with a vision to build quality, comfortable, and safe products. It strives to put its customers first and meet the demands of its growing family of RV owners.
The Benefits of a Mobile Suites RV
Luxury features are among the main benefits of Mobile Suites RVs. For example, each floorplan has washer and dryer prep, a large kitchen with residential-style appliances, and king-size walk-around beds. On the outside, you'll find features such as 100-gallon freshwater tanks, hydraulic jacks, and more.
The company also provides quality construction. It has 3¼" thick walls and 16" O.C. stud spacing with screwed and glued aluminum stud construction. And the company goes the extra mile to eliminate condensation with a ¼" Monsanto Fome-Cor vapor barrier. In addition, there's residential-rated R16 insulation throughout.
The roof of Mobile Suites RV has residential-rated R25 insulation and a ½" plywood roof overlayment. Its rubber roof is seamless and one-piece. Inside, the ceiling is soft-touch vinyl throughout, including on the slide-out ceilings.
Owner reviews like this one back up these benefits:
"We lived full time in our Mobile Suites, both on and off the grid. It was beautiful, comfy, well-built, and high quality. We never regretted buying a DRV, and we would buy another DRV without hesitation." — David B. (review from RV Insider)
Pro Tip: Looking for a new 5th wheel RV? Check out these Best Fifth Wheel Brands (2022 Models).
The Disadvantages of a Mobile Suites RV
The main disadvantage of a Mobile Suites RV is the size. Since the shortest fifth wheel it makes is 37'2" long, and the lightest has a GVWR (gross vehicle weight rating) of 20,000 lbs, you need a ¾-ton truck or larger for towing. This can mean upgrading vehicles or enhancing your current truck. However, it also limits some of the places you can park the RV, and it limits maneuverability in campgrounds.
Another disadvantage is problems with things breaking or not working correctly from the start. While its customer reviews reflect overall satisfaction with the units, there seem to be many issues during the first year of warranty.
Minor issues that get missed at the dealership are pretty typical with any RV, but given the price and emphasis on Mobile Suites' quality, it's worth paying attention to. One way to prevent issues is to have a third party conduct a full inspection before buying the RV.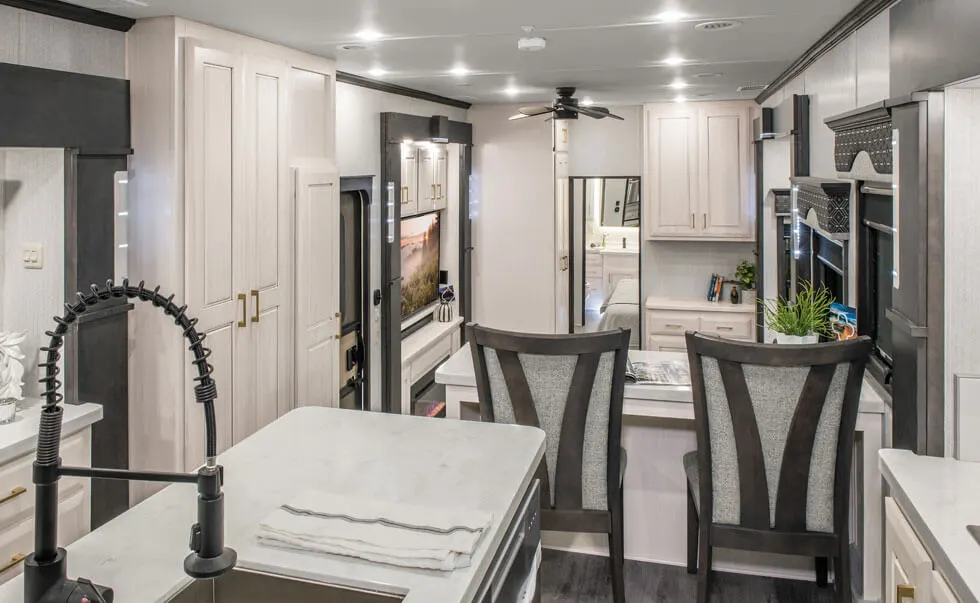 About Mobile Suites RVs
Mobile Suites RV has 16 floorplans. Each has a 101" wide-body frame and 17½" H-rated tires. They also have automotive disc brakes. The freshwater tank on all models can hold 100 gallons, the gray water tank holds 75 gallons, and the black tank holds 50 gallons. In addition, each has a 12-gallon hot water heater.
They have large kitchens with ample counter space, and most have a kitchen island. Each floorplan has a large full bathroom. In addition, the 43 Atlanta model has two full bathrooms. And the 44 Memphis has a bath and a half.
Mobile Suites RVs also have washer and dryer prep. Some have room for stackables, while other floorplans allow for a side-by-side washer and dryer. They also have a lot of storage throughout the fifth wheel, including large wardrobes in the master bedroom.
Floorplans vary in layout from front living rooms to rear or mid-ship living rooms. There's ample seating space and an entertainment center with an electric fireplace. In addition, there are two bunkhouse models that you can use as a second bedroom, an office, or extra storage space.
What Is the Most Luxurious Fifth Wheel?
DRV Mobile Suites makes the top of the list of luxury fifth wheels. Its vinyl wood plank floors and hardwood cabinets are among the features that rate it so highly.
Other aspects that reflect its luxury rating include the one-piece molded fiberglass roof and fiberglass fender skirts. Mobile Suites RVs are also highly liveable, and therefore full-time RVers are gravitating toward these fifth wheels.
Pro Tip: Do you prefer a luxurious RV life? We found the 5 Best Luxury Motorhomes.
Are Mobile Suites Quality RVs?
These RVs are quality in construction and luxury features. The company also provides excellent customer service, which is a significant benefit due to the certainty that things will always break on RVs. Having support from the manufacturer is essential.
Are you ready to check out a Mobile Suite RV? We hope you get the opportunity to walk through one soon. Be sure to let us know what you think.
Discover the Best Free Camping Across the USA
To be honest with you, we hate paying for camping. There are so many free campsites in America (with complete privacy).
You should give it a try!
As a matter of fact, these free campsites are yours. Every time you pay federal taxes, you're contributing to these lands.
Become a FREE CAMPING INSIDER and join the 100,000 campers that love to score the best site!
We'll send you the 50 Best Free Campsites in the USA (one per state). Access the list by submitting your email below: