If you want to head to some of the most popular national parks anytime soon, it may take some planning. Failure to plan may result in being turned away at the gate.
Several parks have adopted a new reservation system. So what's the point of the new national park reservation system?
Let's examine the system and how it could affect your travel plans.
What Sparked the New National Park Reservation System?
Many national parks have experienced a record-breaking number of guests each year since 2020. Year after year, many parks have exceeded their previous year's attendance. Great Smoky Mountains National Park shattered their previous record with a whopping 1.5 million guests.
The massive increase in park attendance has caused frustration for guests and park officials. Larger crowds mean more traffic to deal with and an increase in wear and tear on the park. Officials needed a way to provide a fantastic experience for as many as possible despite the increased demand.
Many parks tested the waters with reservation systems over the last couple of years. They've figured out what works and what doesn't.
The reservation system will limit crowds entirely or in some of the most fragile and popular sections. However, how each park uses the system varies.
Which National Parks Require Reservations to Visit in 2022?
It might surprise you to hear that a handful of national parks have implemented a reservation for 2022. If you hope to visit a national park this year, keep reading. Here's a list of which national parks require a reservation.
Pro Tip: Avoid the crowds by not going to these 5 National Parks to Avoid in 2022.
Acadia National Park
One of the highlights of visiting Acadia National Park is driving up Cadillac Summit Road. You can't beat the view from the top. However, you'll need to make a reservation to drive the route.
From May 25 through Oct. 22, you need to purchase a $6 vehicle reservation. The park releases 30% of the vehicle reservations 90 days ahead of the date. The remaining 70% of reservations get released at 10 a.m. two days in advance.
However, while driving up Cadillac Summit Road is an incredible experience, you can do many other things in the park without a reservation. Driving the scenic route can have you forgetting about any sadness of not scoring a Cadillac Summit reservation.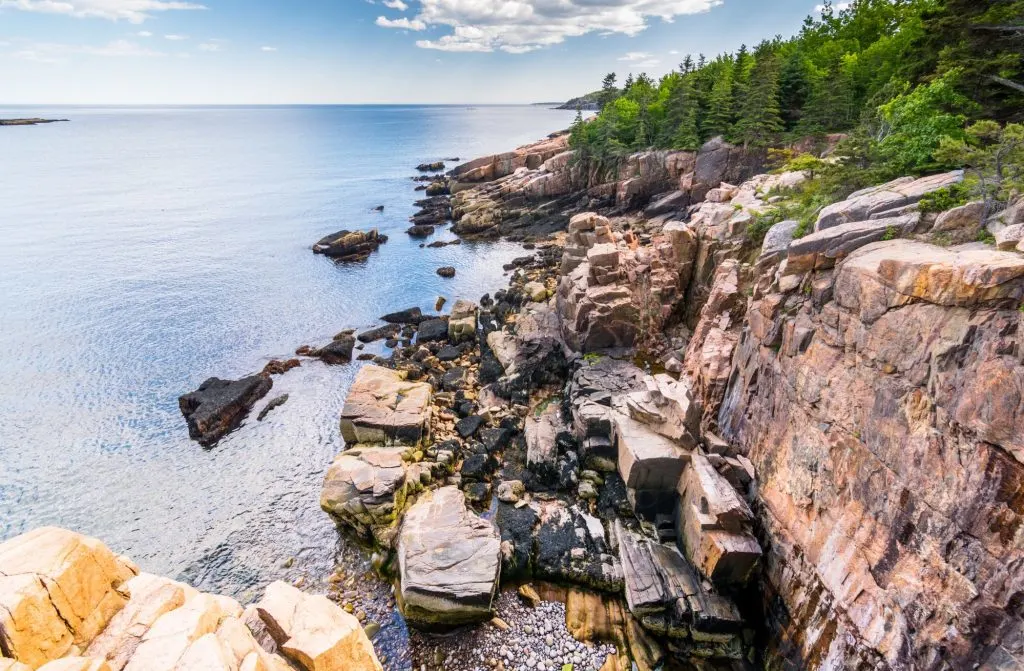 Arches National Park
When officials realized that some visitors were waiting in line for several hours to get into Arches National Park and struggled to find parking, they knew something had to change.
Over Memorial Day weekend 2021, the park did a timed-entry pilot program. The park was satisfied with the results and has decided to adopt the system from April 3 to Oct. 3.
Those visitors who can snag a reservation can enter the park during their designated time. They can stay for as long as they like, but they must enter during their allotted time or forfeit their entry.
The timed entry passes are only valid for a single day. The new system can make it extremely difficult for those who want to spend multiple days in the park during their trip.
Glacier National Park
In 2021, Glacier National Park adopted a ticketed entry system for Going-to-the-Sun Road. Guests needed either a ticket or enter before 6 a.m. or after 5 p.m.
The park adjusted the length of each reservation from seven to three days for 2022. Visitors will also need a one-day ticketed entry to visit the North Fork area of the park.
You can get tickets from May 27 through Sept. 11. Visitors can reserve their tickets 60 days in advance. However, you better be quick because they go fast.
Haleakala National Park
Haleakala National Park in Hawaii began using a reservation system on April 7, 2021, to limit vehicles at the park's summit.
The sunrise is a popular activity in the park, and so the park implemented a ticketed-entry system from 3 to 7 a.m. If you want to watch the sunrise from the summit, you'll need to book a reservation 60 days in advance.
Make sure you log in before the tickets go on sale. This will help you get a one, as they sell out quickly.
Rocky Mountain National Park
Starting May 27 and ending Oct. 10, you'll need a timed entry reservation to enter Rocky Mountain National Park.
You can get tickets on the first of the month preceding the date you want to visit. Additionally, 25 to 30% of the permits will be held and made available the day prior at 5 p.m.
The park will offer two different permits: one for the Bear Lake Road Corridor and one for the rest of Rocky Mountain National Park. Make sure you do your research to know which will meet your travel plans.
Shenandoah National Park
After doing a visitor-use study, Shenandoah National Park has decided to implement a day-use ticket system for Old Rag Mountain. Everyone must have a ticket, including hikers on the Saddle, Ridge, and Ridge Access trails.
This is a pilot program running from March 1 until Nov. 30. The park hopes to use data they collect during the pilot program to help adapt a more permanent system in the future.
Zion National Park
For those wanting to hike the Angels Landing Trail, you'll need to enter a permit lottery starting April 1. You can enter the lottery up to three months in advance or up until one day before the trip.
The park offers three different windows for hiking the trail. Permits cost $3 per person, plus a $6 nonrefundable application fee.
How Long Is This New Park Reservation System in Place For?
None of the parks implementing the reservation system have given any indication when they'll discontinue it.
As long as the massive demand for tickets continues, you can ensure the reservation system won't go anywhere anytime soon. So if you don't want to make a reservation, avoid these parks during the peak season.
Benefits of the National Park Reservation System
While the new national park reservation system can be frustrating, it does have some pros. Let's take a look at a handful of the benefits of this system.
Crowd Control
If you've tried to visit a national park in the past couple of years, you likely saw there were more crowds. There's been a massive increase in interest in the national parks. This has caused overcrowding at many national parks.
Most parks can't handle the large influx of guests. A reservation system controls the chaos by not overcrowding the areas and services.
Reduced Damage to Natural Spaces
The more feet walking on the trails and stomping through the national parks, the more wear and tear they experience.
Minimizing the number of guests in the park each day helps reduce damage to natural spaces like hiking trails and open fields.
The park's top priority is preserving the wildlife for future generations. If crowds damage the land, then the NPS has no choice but to implement a plan to minimize the damage.
Improved Experiences in the Parks
Visitors come to the national parks to hike and experience breathtaking landscapes. However, they often find crowded trails, lines, and circling packed parking lots.
Park staff want guests to have a better experience while visiting any national park.
Using timed-entry reservations ensures guests spread out over the day and lessens the big rush of visitors in the morning. This naturally creates a better guest experience and helps everyone have a memorable experience.
Keep Wildlife Safe
The parks protect the animals that call it home. Overcrowding can cause issues for the wildlife. Fewer visitors at a time can help protect natural habitats and improves the experience for the animals. It also keeps the people and wildlife safe.
Pro Tip: Want to party in a national park. Before you do, find out Is It Legal to Drink In National Parks?
The Reservation System Is Meant to Help
We can see both sides of the coin in the NPS reservation system. While the system can cause frustration for those looking to take a trip on short notice, it improves the park's longevity and its wildlife.
It can make planning a trip hard, but making a reservation can improve guest and animal experiences. We've had a situation or two where we had to make last-minute plans because we couldn't snag a reservation at a particular national park.
How has the new NPS reservation system affected your travel plans? Tell us about your experience in the comments!
Discover the Best Free Camping Across the USA
To be honest with you, we hate paying for camping. There are so many free campsites in America (with complete privacy).
You should give it a try!
As a matter of fact, these free campsites are yours. Every time you pay federal taxes, you're contributing to these lands.
Become a FREE CAMPING INSIDER and join the 100,000 campers that love to score the best site!
We'll send you the 50 Best Free Campsites in the USA (one per state). Access the list by submitting your email below: