The views at the Grand Canyon are stunning, especially at sunrise and sunset. The color variations are simply a marvel, and the immense size is indescribable.
But did you know that Mississippi has its own Grand Canyon? Of course, it's nowhere near the size of the wonder in Arizona, but it offers a beautiful view of geologic transformation over time.
Let's take a closer look at the Mississippi Grand Canyon, and perhaps you'll plan a visit soon.
The Mississippi Grand Canyon
The Pearl River begins in Neshoba County in central Mississippi and winds 444 miles to form the 115-mile southern boundary between Mississippi and Louisiana. The state's capital, Jackson, is located along the northern part of the Pearl River. It's along the banks of this river where natural erosion and weathering have created a colorful bluff in Marion County.
Just northwest of Morgantown, Miss., is Red Bluff, otherwise known as Mississippi's Little Grand Canyon. Foxworth is about a 15-minute drive south, while Monticello is about a 40-minute drive north. Red Bluff is located right off Highway 587.
The bluff rises about 371 feet above sea level. It displays red clay, sand, soil, and other sediments. But it's not a geologic formation stuck in time. This area has experienced so much erosion. It continues to change with every gust of wind and drop of rain that it has forced the movement of Highway 587 twice.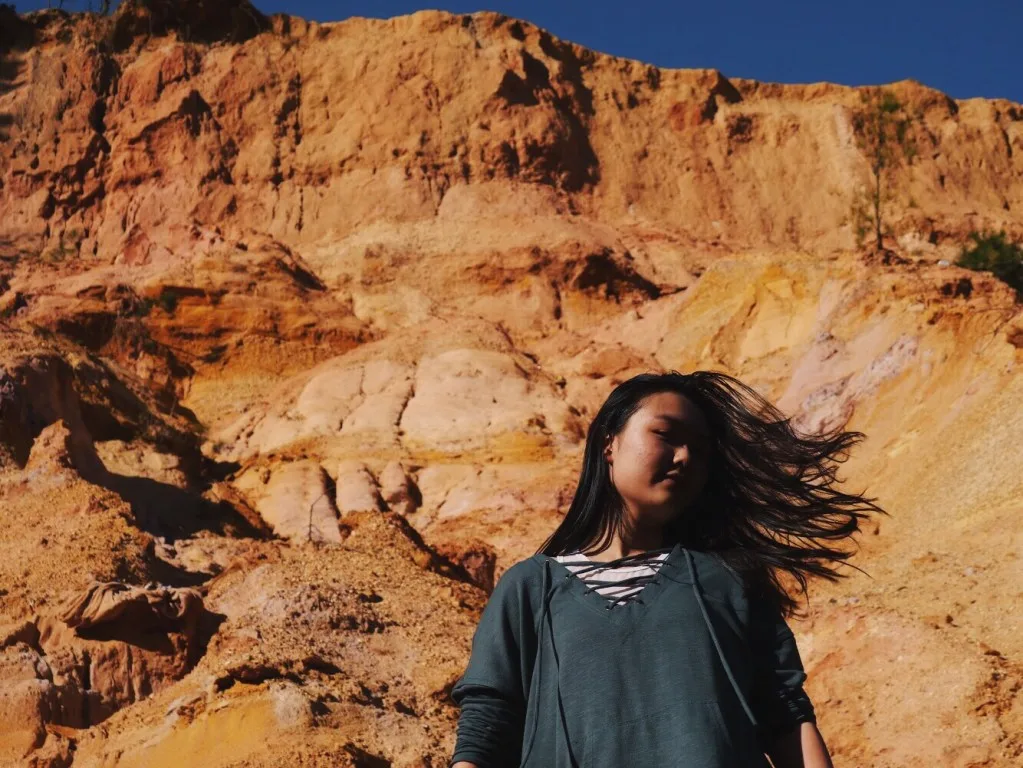 What Caused Red Bluff In Mississippi?
The Red Bluff is a beautiful example of Mother Nature at work. Just as the Colorado River carved the Grand Canyon in Arizona, water shapes the Grand Canyon of Mississippi. The Pearl River has worn away the rock to reveal an array of reds, oranges, and purples. The colors are very similar to the Grand Canyon in Arizona.
As weathering continues to shape the area, additional rockslides and erosion change the landscape with every storm. Since this area is prone to hurricanes, you can imagine how much change the bluff experiences with 100 mph winds. They may have to move Highway 587 yet again.
Pro Tip: After exploring Mississippi's Grand Canyon, have a drink at These Mississippi Wineries That Are Actually Good.
How Deep Is Red Bluff Mississippi?
Mississippi's Grand Canyon actually gets bigger with every rainstorm. In fact, it continues to threaten Highway 587. Erected barricades keep people out where the old highway is collapsing. According to Roadside America, the canyon is about 150 feet deep, half a mile wide, and nearly a mile long.
Who Owns Red Bluff Mississippi?
The state owns the highways. However, the land around Red Bluff is privately owned.
The entrance to Red Bluff is on the east side of Highway 587, about 10 miles north of Highway 98 at Columbia or 20 miles south of Highway 84 at Monticello. Several travelers mention that Highway 587 makes a right turn at one point, so make sure to follow the signs when traveling north.
Don't go hiking, take a picnic lunches, or go rock climbing. You're supposed to just park on the side of the road along Highway 587. However, many visitors claim that the trespassing rules aren't enforced, and the trek to view the canyon is well worth the adventure. It is quite a loose terrain if you choose to hike down to the canyon.
According to All Trails, there is a 0.9-mile loop that has some challenges and might not be suitable for everyone. But it's considered a moderate hike. The trail will take you down to the Pearl River and back up.
Pro Tip: If you still prefer to see Arizona's Grand Canyon, make sure to check out these 9 Most Beautiful Areas of the Grand Canyon.
Is the Mississippi Grand Canyon Worth a Visit?
If you're traveling along Highway 587, perhaps from Foxworth to Monticello, a slight detour should be in your plans. If you're traveling along Highway 44 or Highway 13, you may want to consider taking a few backcountry roads to get to Highway 587 since you'll be in the area.
Although millions of visitors aren't going to travel here every year, the Mississippi Grand Canyon is worth a visit if you're nearby. It's a beautiful area with stunning colors, and the continual erosion and its effects on the landscape are quite interesting.
Several reviews on Trip Advisor talk about how fun visiting Red Bluff is. One traveler said that Red Bluff is a "great place to hike, climb and take pictures." Another traveler said, "Fun day trip! It will not change your life, but if you are looking for something to do fun and adventure-filled, and you are within a two to three-hour driving range, it is worth the trip."
Finally, a third traveler wrote, "Who'd a thought there was topography and scenery like this in Southern MS."
Since you can't see it from the highway, it's easy to miss. But don't drive past it. Park the car, get out and explore, and soak in the marvel that is Mississippi's Grand Canyon.
Is the Mississippi Grand Canyon on your bucket list? Drop a comment below!
Discover the Best Free Camping Across the USA
To be honest with you, we hate paying for camping. There are so many free campsites in America (with complete privacy).
You should give it a try!
As a matter of fact, these free campsites are yours. Every time you pay federal taxes, you're contributing to these lands.
Become a FREE CAMPING INSIDER and join the 100,000 campers that love to score the best site!
We'll send you the 50 Best Free Campsites in the USA (one per state). Access the list by submitting your email below: