Camping has become quite popular. According to RV Travel, over 600,000 RVs were sold in 2021. This is a 19% increase from the previous record set in 2017. With more RVs on the road, campgrounds are filling up. This means some RVers need alternatives.
One location that has traditionally welcomed overnight RV parking is Cracker Barrel. But for how long will this privilege continue?
Has the growing number of RVers created a problem at these free overnight locations?
Let's look at what staying overnight at a Cracker Barrel might look like this year.
Can You Sleep Overnight in a Cracker Barrel Parking Lot?
You can sleep overnight in a Cracker Barrel parking lot, but not all locations will allow this. Sometimes you'll have city or county regulations that prevent overnight camping.
On the other hand, some locations even have designated RV spots to the side or in the back. So make sure to call ahead before staying in a Cracker Barrel parking lot to make sure that location allows it.
Pro Tip: Use these tips on How to Legally Camp at Cracker Barrel on your next adventure!
Will Cracker Barrel Camping Be Overcrowded This Year?
It is possible that Cracker Barrel parking lots could look a lot like small RV campgrounds with the number of RVers on the road. After being cooped up for two years, many Americans want to hit the road this summer. However, since you should only camp overnight at a Cracker Barrel, you'll probably be fine finding a place to squeeze in to get some sleep.
You need to follow some general rules of etiquette when camping overnight at places like Cabela's, Walmart, Bass Pro Shops, and Cracker Barrel. If RVers abide by these unwritten rules and standards, it will help with the possible overcrowding.
First, don't put out your slides. This takes up more space and could prevent an RV from pulling up beside you. Second, don't put out your awning. You aren't here to enjoy the outdoors. You should only use the space to sleep.
Third, make sure to park in designated areas. These may be marked, or you may need to ask the manager where to park. Don't pull across three parking spaces or park diagonally across an entire row.
The uptick in camping may mean less availability in Cracker Barrel parking lots. However, just look around the area for another safe place to park overnight. If there's a Cracker Barrel, you may also find a Walmart, Home Depot, or Costco. Check out rest areas and casinos that allow overnight parking, too.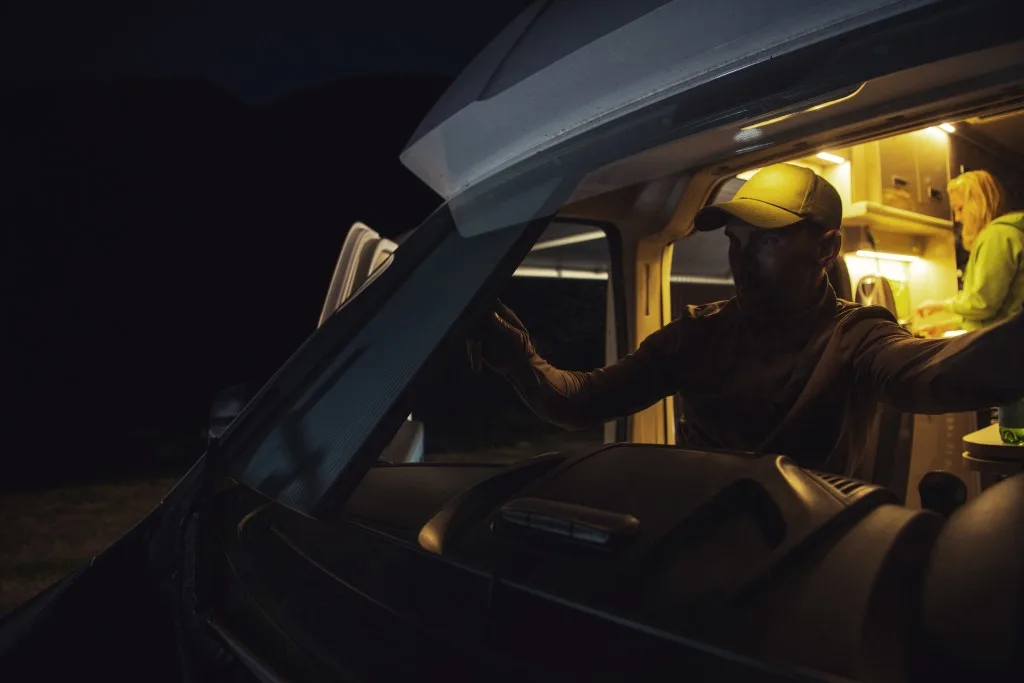 Are Cracker Barrels Cracking Down on Overnight Camping?
With the overuse and misuse that some Cracker Barrel locations have experienced, it's no surprise that some places refuse overnight camping. Others have cracked down on guests who don't abide by those unwritten rules of etiquette.
When one or two RVers leave trash, play loud music until midnight, and grill their own hamburgers in the parking lot, they ruin it for everyone like this Reddit user explains.
This is also why it's important to call ahead. The manager may explain that their location has seen irresponsible RVers in the past, and as a result, they no longer permit overnight camping.
Or the manager may give some rules for their specific location that you must follow. They may ask you to leave by a certain time in the morning or park in a designated area out of the way. If you choose to ignore common etiquette, the business may take the privilege away from everyone.
Is It OK to Run a Generator at a Cracker Barrel?
Most often, the answer is no. You might find a location that permits you to run a generator during a specific time, but that is rare. Remember, Cracker Barrels are restaurants. They aren't open fields or farms.
They're usually in the middle of an area with other stores and restaurants. And they have a business to run. No one wants to go out to dinner at a Cracker Barrel and hear a generator humming in the parking lot.
Pro Tip: Avoid these Don'ts of Cracker Barrel RV Camping to ensure you are respectful of the restaurant.
What Is the Etiquette for RV Parking at Cracker Barrel?
As already mentioned, you must follow the unwritten rules for overnight parking. These apply to any location, whether a Cracker Barrel, Walmart, casino, church, rest area, etc. Keep yourself as small as possible. If possible, don't put out slides, don't put out the awning, and don't park across multiple spaces.
Other rules of etiquette for RV parking include keeping your area free of trash and picking up after your pet. This is one of the worst complaints managers have, and the one way free overnight camping gets taken away. Just as hikers should "Leave No Trace," RVers should also leave no trace.
Overnight stays are also supposed to be for one night only. Don't overstay your welcome or take advantage of free camping. Park for one night and head out as early as you can the next morning. Check in with the manager when you arrive and then support the restaurant. This is just common courtesy. Grab a delicious dinner as a thank you for a free place to park overnight.
What States Have Cracker Barrel?
Cracker Barrels are everywhere. They're usually located just off the interstate, making them popular among travelers. They also typically have large parking lots that you can easily navigate RVs in. Some even have RV parking spaces.
You can find Cracker Barrel in 45 states, but not in Vermont, Alaska, Hawaii, Wyoming, or Washington. Florida boasts the most Cracker Barrels, with locations in 50 different cities, and some cities have multiple restaurants. So you have a high likelihood of finding a Cracker Barrel along your route.
Is It Still Worth It to Camp Overnight at Cracker Barrel?
Free overnight parking is always a plus if you camp on a budget. You may also have some days when you just need to stop driving. Maybe you got a late start, ran into heavy traffic, or had a flat tire that delayed your drive.
It's nice to have a place that welcomes RVers for a night. Cracker Barrels provide safe, convenient locations to stay. Let's all follow the rules of etiquette to have this privilege for years to come.
Have you stayed overnight at a Cracker Barrel location? Would you do it again? Tell us your experience in the comments!
Discover the Best Free Camping Across the USA
To be honest with you, we hate paying for camping. There are so many free campsites in America (with complete privacy).
You should give it a try!
As a matter of fact, these free campsites are yours. Every time you pay federal taxes, you're contributing to these lands.
Become a FREE CAMPING INSIDER and join the 100,000 campers that love to score the best site!
We'll send you the 50 Best Free Campsites in the USA (one per state). Access the list by submitting your email below: