It's among the most iconic scenes in one of the most awarded and popular films. After months of running across the country without an apparent goal or destination, Forrest Gump pauses on a road amid a breathtaking western landscape.
His crowd of followers halts, awaiting words of wisdom from the man they've literally followed through the desert. But he simply announces he's tired and wants to go home. He leaves his fellow runners to wonder whether their faith in him as a sage or prophet may have been misplaced.
If the background of this scene has stuck in your mind, you're not alone. But where exactly did it take place, and can you visit it yourself?
Lace-up your running shoes, and we'll hit the road to find some answers.
Where Did Forrest Gump Stop Running?
The location of this scene is instantly recognizable for anyone who's spent much time out west or even watched a lot of old cowboy movies. Forrest Gump stops running near Monument Valley. The exact point where the scene takes place is along US Highway 163, southwest of Mexican Hat, Utah.
Fans have even erected a marker for those making the pilgrimage or just passing through.
Pro Tip: Want to visit Monument Valley? We put together an Essential Guide to Monument Valley Camping & RVing.
Where Is Monument Valley?
This one-of-kind desert landscape straddles the border of Arizona and Utah in the western United States. It's roughly 325 miles north of Phoenix, Arizona, the closest major city. It's just under 400 miles to Salt Lake City, the closest city on the northern side. Other relatively nearby tourist attractions include the Glen Canyon National Recreation Area and several national parks, including the Grand Canyon, Capitol Reef, and Canyonlands.
Monument Valley is located on the Navajo Nation reservation. This remote landscape is sacred to the Navajo people. It was the home of their distant ancestors, known as the Anasazi, who left evidence of their ancient presence in the valley.
What Is There to Do in Monument Valley?
Visitors to this awe-inspiring place can experience it in several different ways. The most popular may be the 17-mile Tribal Valley Loop drive, which begins at the park's visitor center. This scenic drive takes visitors past some of the valley's most recognizable and breathtaking formations.
You may not mind the slow speeds required to navigate the unpaved yet accessible road because you'll enjoy the scenery. The park limits how many vehicles can be on the road at a given time.
Hikers can also enjoy the 4-mile round trip hike on the Wildcat Trail, which gets you up close and personal with some of Monument Valley's most incredible formations. This is the park's only hike accessible to visitors without a guide.
You can explore other parts of the park on foot or by car through local tour guides who've obtained the proper permissions from the tribe. They can range from drives through otherwise-inaccessible areas to tours of cultural sights and petroglyphs and opportunities for backcountry hiking.
Pro Tip: After visiting Monument Valley, check out these 9 Most Beautiful Areas of the Grand Canyon.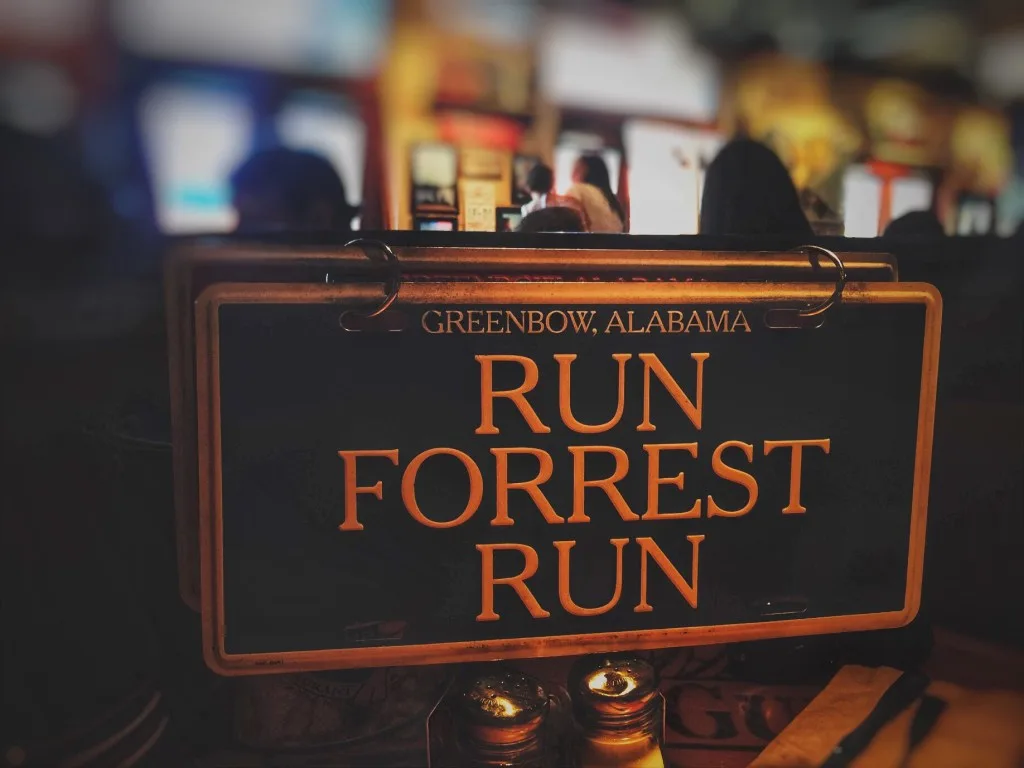 Can You Recreate the Famous Scene?
Fans of the film looking to have their own middle-of-the-road epiphany are in luck. Due to the relatively isolated spot with limited traffic, you can stand in the road to snap a pic. Dedicated reenactors can even get some video. However, you may feel like bringing a crowd of adoring fans and a scraggly beard.
While Forrest may have run here, we wouldn't recommend recreating that part of the film. Even the nearest town, Mexican Hat, is about 8 miles away. You'd have to run upward of 16 miles on foot round trip. And that's not even counting the time it would take to run here from anywhere.
Is It Worth Visiting the Places Forrest Gump Ran?
Monument Valley may be the most notable of Forrest's destinations, but it wasn't the only one. Forrest seemingly reached just about every corner of the country on his epic, nationwide runs.
He ran up to Marshall Point Lighthouse in Maine, just one of the dozens dotting this gorgeous stretch of coastline. It's not too far from the delightful shopping and seafood of Portland or the exciting adventures of Acadia National Park.
In the west, Forrest trod out over the Pacific Ocean on Santa Monica Pier in Los Angeles. The area's beautiful beaches, fun rides, and attractions are only minutes from the heart of LA. The film even briefly shows him jogging through the pristine landscapes of Glacier National Park in Montana, among other notable spots.
You may not feel like traveling to all these sometimes-remote locations just because Forrest ran there. However, nearly all of them offer incredible activities. So no matter what kind of traveler you are, there's a spot on Forrest's journey to visit.
Discover the Best Free Camping Across the USA
To be honest with you, we hate paying for camping. There are so many free campsites in America (with complete privacy).
You should give it a try!
As a matter of fact, these free campsites are yours. Every time you pay federal taxes, you're contributing to these lands.
Become a FREE CAMPING INSIDER and join the 100,000 campers that love to score the best site!
We'll send you the 50 Best Free Campsites in the USA (one per state). Access the list by submitting your email below: